Capeland Shelby® Cobra 1963: an interesting history and a powerful engine on the wrist
Strapped on the wrist, the Capeland Shelby® Cobra 1963 by Baume & Mercier does not fail to impress. We have worn and tested it.
Some watches have the ability to tell stories. They are often special editions celebrating an event or a partnership. The Capeland Shelby® Cobra 1963 chronograph by Baume & Mercier is undoubtedly one such example. Having said that, it must be acknowledged that there are two types of watches than can claim to have a history – those that can be understood, that is, those with a particular meaning, and those that seem to come from nowhere (to simply benefit from a name of good repute).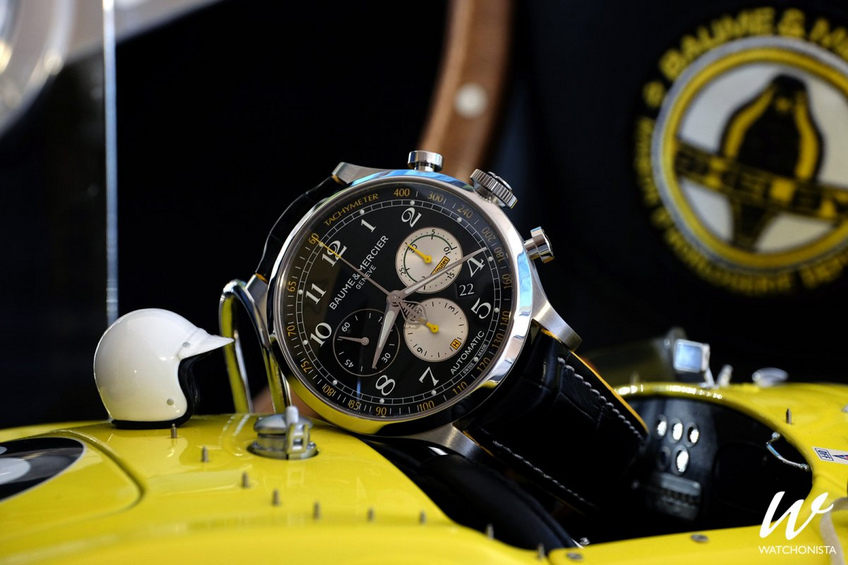 Baume & Mercier Capeland Shelby® Cobra 1963
In fact, it was thought that every aspect of the partnership between watchmaking and carmaking had been covered when Baume & Mercier made its – somewhat late – debut in this different mechanical universe. From Morgan to Ferrari and Bentley to Austin-Healey, every significant aspect of luxury and four-wheeled sports seemed to have been covered by one watchmaker or another.
Around fifteen watch/car partnerships had already been signed and it seemed there was no room for more. Wrong.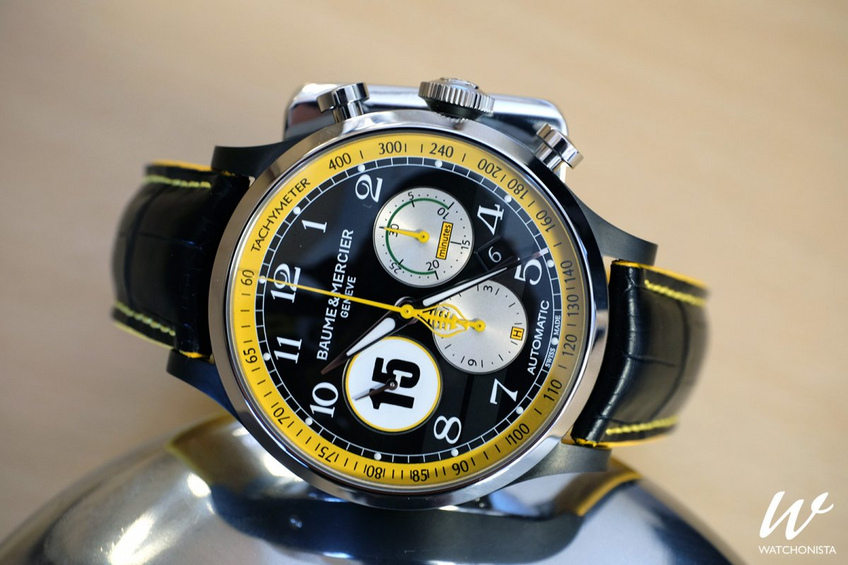 Baume & Mercier Capeland Shelby® Cobra 1963
Do you Know Carroll Shelby?
In 2015, Baume & Mercier signed a new partnership with Shelby Cobra (more specifically with Carroll Shelby Inc.) and thus showed that if you look carefully, you will find there is always something to be explored. And this despite the fact that apart from aficionados, very few people actually know the history of Carroll Shelby and its cars' current or past victories. In fact, most people only know the famous Cobra. Yet ultimately, it does not really matter as the "highly-specialized" aspect is maybe even one of the perks of yet another partnership between watchmaker and carmaker – the idea that only experts will completely understand and appreciate the collaboration may prove to be a promising marketing concept.
Cobra CSX2128 Sebring Roadster
Driven by this idea, Baume & Mercier started this partnership in 2015, followed by a series of new models based on the yellow and black codes that year. The colors were inspired by one of history's most famous Cobras – the CSX2128 Sebring Roadster, which competed with number 15 at the 1963 12 Hours of Sebring.
In addition to four 15-piece limited editions, each dedicated to the four drivers at the time (Dan Gurney, Ken Miles, Dave MacDonald and Allen Grant), there were also two different models in the 2016 batch – the Baume & Mercier Capeland Shelby Cobra 1963 and the Baume & Mercier Capeland Shelby Cobra 1963 Competition. They can be told apart thanks to their cases (steel for the first and black steel-ADLC for the second) as well as their straps (alligator for the former and vulcanized rubber for the latter).
This piece is dedicated to the Capeland Shelby® Cobra 1963. But first something about the watch: it features a large 44-mm steel polished-satiny case equipped with sapphire glass, the mentions "Shelby® Cobra Edition" and "One out of 1963" are engraved on the steel rim of the caseback and the number "15" has been stamped on the sapphire back. The chronograph movement Valjoux 7753 oscillates at 4 Hz and features a 48-hour power reserve. The black dial has two silver chronograph registers – the small seconds register is black – and yellow hands connected to the chronograph function.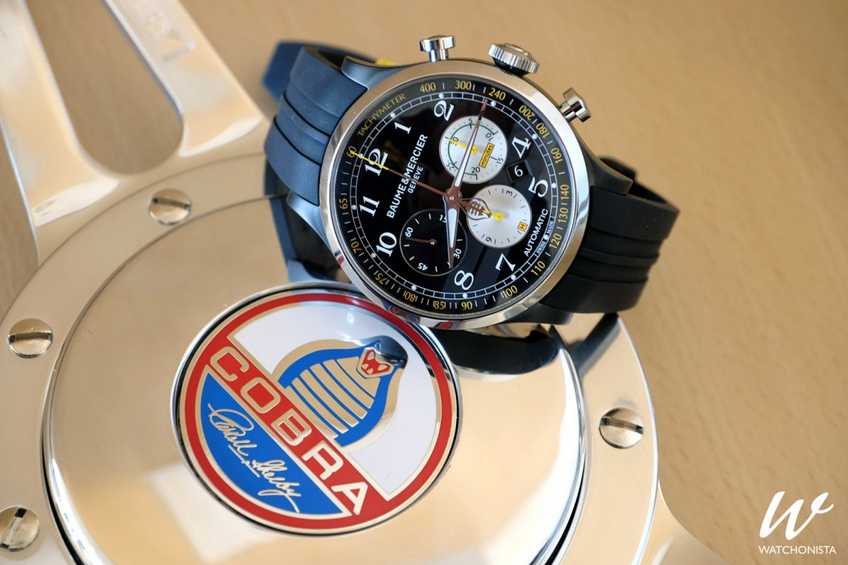 Baume & Mercier Capeland Shelby® Cobra 1963
Codes and symbols galore
During the fifteen days we wore the watch for, we noticed that its originality intrigued our interlocutors. The yellow on the watch definitely seemed to be at the source of their amazement. Some loved it while others felt that it wasn't a suitable color for high-quality watches. There's no accounting for taste. Other than that, there are some evident facts about the watch. Firstly, it is undoubtedly a sports chronograph, yet it is very distinct and immediately recognizable. Baume & Mercier went all out on the codes and the symbols referring to Shelby Cobra. However, the risk of this type of approach is to fall into the trap of going overboard. This watch is admittedly borderline in that sense, but we do appreciate its clear identity statement.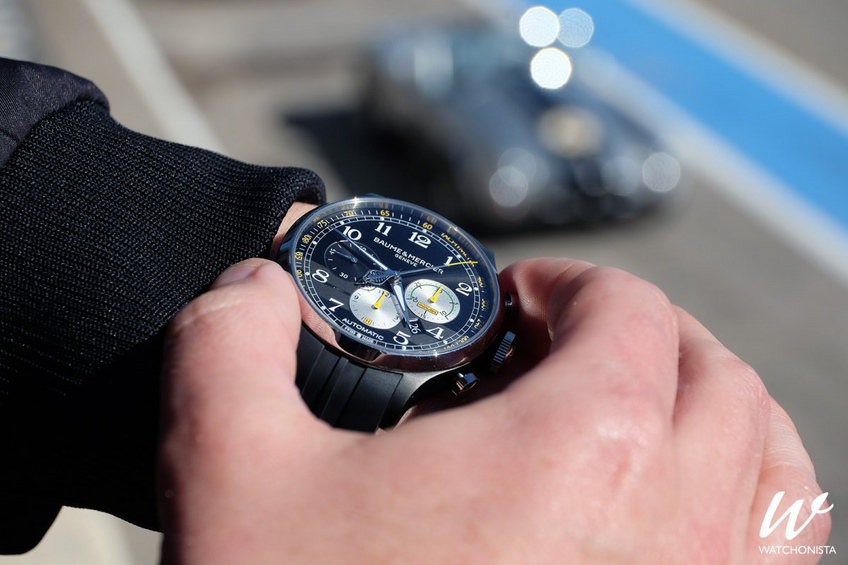 Baume & Mercier Capeland Shelby® Cobra 1963
The piece also features an unmissable cobra head ('why is there a fish?' someone actually asked me), which counterbalances the chronograph's seconds hand. Further it has registers inspired by dashboard clocks, hands in the shape of the car's steering wheel, two subtle tone-on-tone horizontal stripes on the dial – which remind us of the yellow stripes on the hood of the Cobra number 15 – and many other yellow touches.
It is clear that the watch has a story to tell. And that in itself is a great deal. It will most certainly appeal to fans of the Shelby Cobra as well as to those who favor powerful watches. But on the downside, it is probably safe to say there will not be only one version of such a distinctive piece. Yet, that is clearly not the first thing on the brand's list, as it has numerous other options that could also meet this particular demand.