Interview with Alain Zimmermann, CEO of Baume & Mercier about the Cobra
A partnership with the legendary Shelby Cobra has suddenly propelled Baume & Mercier into the watch/car circle. The brand has crafted a second range of Cobra models to pay tribute to drivers from the 1960s…
Speed, wind and the smell of asphalt belong to no one and to everyone at the same time. Supported by the passion and the vision of its CEO, Baume & Mercier has recently joined the car racing sphere. Is it a closed circle? Certain brands have numerous age-old – even historical – connections with this sector that have not only been a subject for discussion, but have also inspired particular collections.
Still, the brand founded by William Baume in Bois (Jura, Switzerland) in 1830 has recently lined up next to its several contenders in this universe. After only a few laps, it has made it to the top of the pyramid, determined to make a different and smart impression.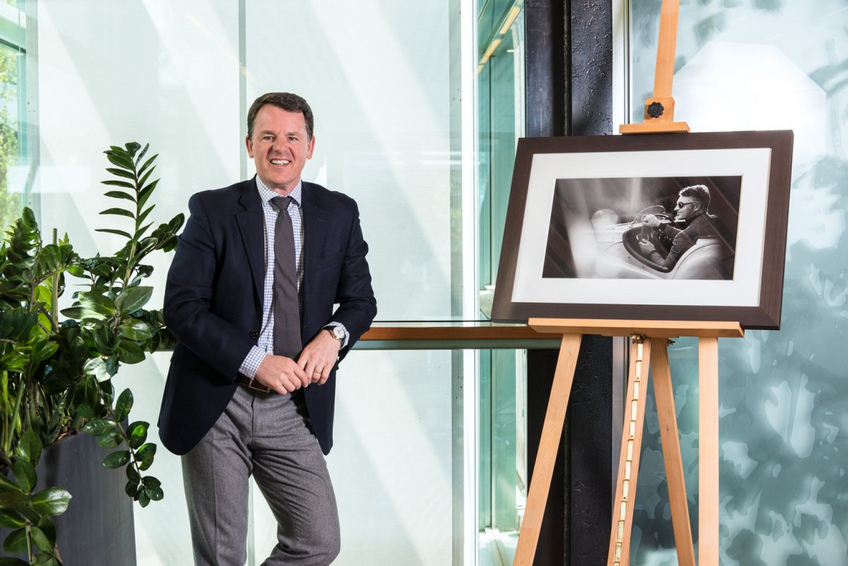 Alain Zimmermann, CEO of Baume & Mercier
And so, benefitting from its engine melodiously throbbing in its own way, the brand delivers a history lesson; that of Shelby American Inc. – the American brand and former car-racing team founded by ex-driver Carroll Shelby, who specialized in making alterations to Ford models, particularly the Ford Mustang.
How did the partnership between Baume & Mercier and the car manufacturer and car-racing team Shelby Cobra occur?
I thought about it for the first time more than two years ago – we had then just launched our new advertising campaign in collaboration with German photographer Peter Lindbergh. It all started with a picture that "oozed" success, that being a man driving a vintage car. And let me tell you something, it's no easy task to transfer the notion of success to a picture. This obviously inspired us so much as we received very positive feedback on the picture during this campaign.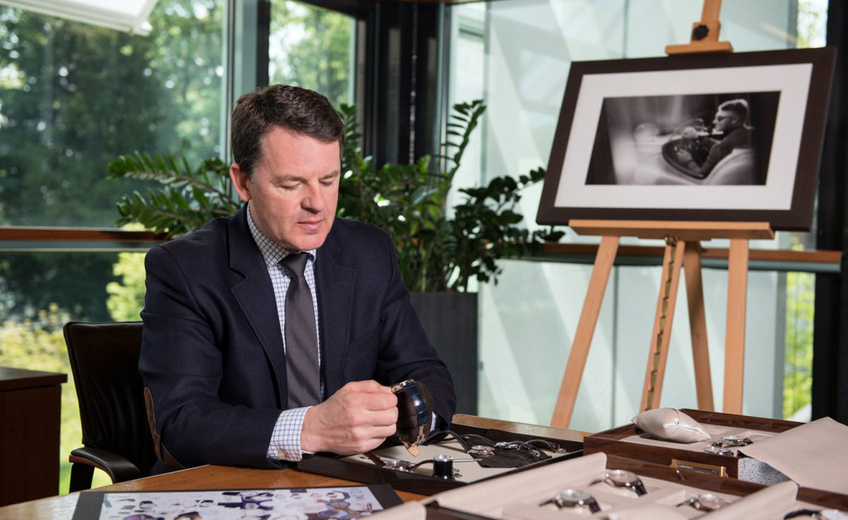 Alain Zimmermann, CEO of Baume & Mercier
Since then, how have you been perpetuating this image, how have you defined it and ensured that it lasts in the long run?
By choosing this quite crazy project. I say crazy because we were under the, albeit wrong, impression of being too late. Many brands had already signed partnerships in this niche. Yet, we were determined to try a new approach.
Instead of looking for a brand to collaborate with, we were first drawn to a car, which is in fact a legend – the Cobra 289. Afterwards came Shelby American. From there, things moved very fast. We went to them to establish a true partnership and not just to obtain a license. We share the same values, namely excellence, expertise and the quest for accuracy and performance. From that moment on, we engaged in a race against time as we had aimed to finish the first edition in just one year after the partnership was signed. We were even more determined as 2015 would mark the 50th anniversary of the renowned Caroll Shelby's world championship. We simply could not postpone the edition for 2016. It turned out to be a successful endeavor and we were met with unexpected success.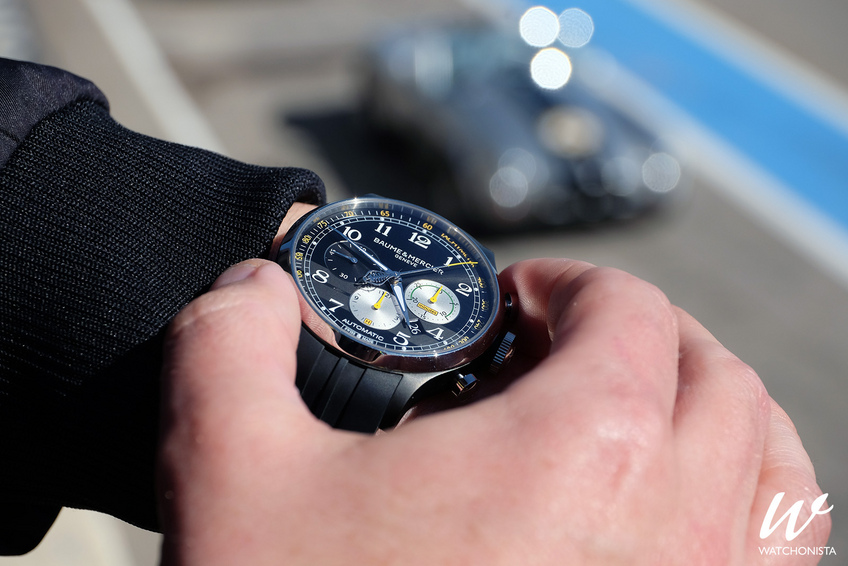 Baume & Mercier Capeland Shelby® Cobra 1963
You thus managed to set up a major car event at the Paul Ricard circuit in Marseille. Was it a huge challenge?
Indeed, because we could have chosen to do it the easy way by simply sponsoring an event that was already successful. But we set higher standards by creating a whole event with very famous partners. And it was a success. Our tour de force was that we managed to gather almost thirty outstanding genuine cars in different varieties and that we invited their owners.
These drivers put their trust in us by contributing to this unique event in Europe. So much so as its "Mistral Straight" makes the Paul Ricard track legendary. The event gave off an energy and a strength that made you feel like you had gone back to the sixties!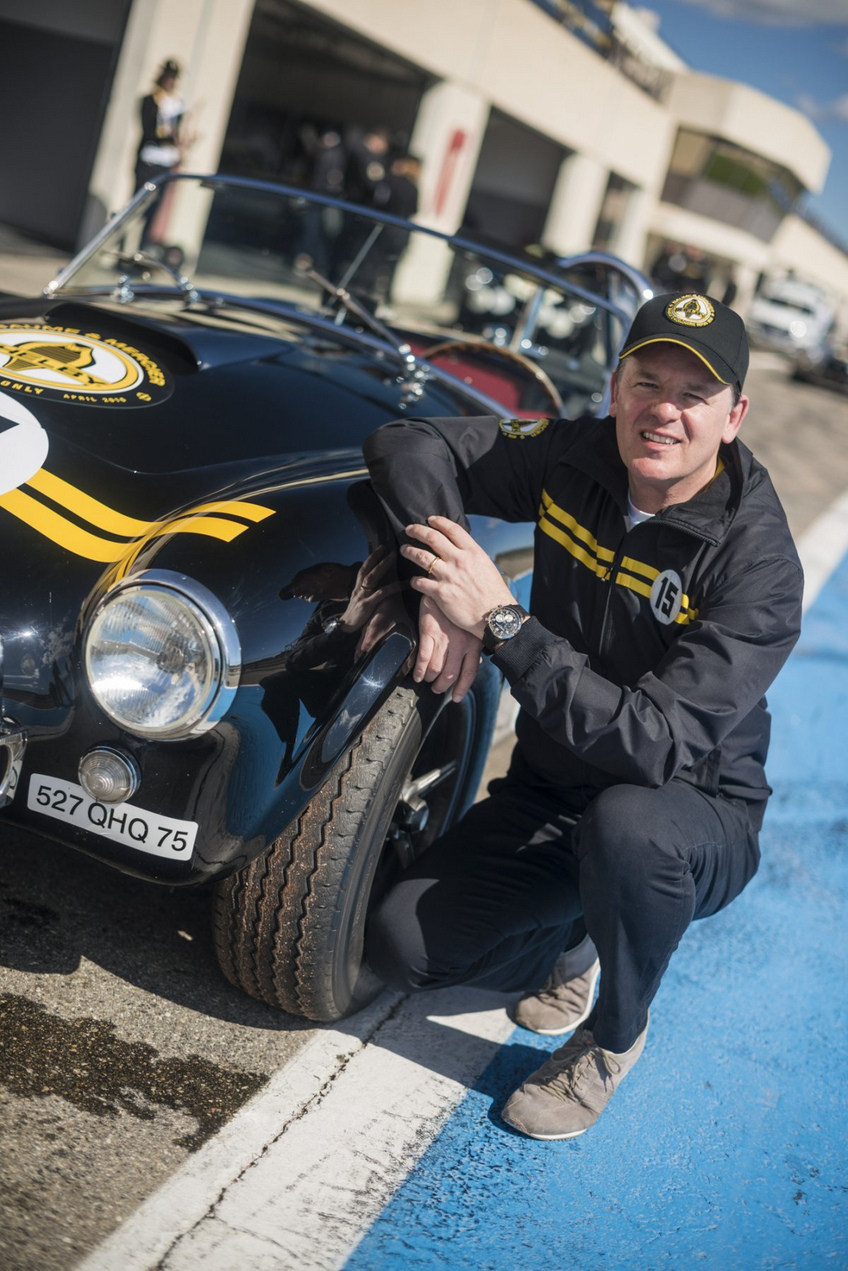 Alain Zimmermann at the Shelby® Only 2016 event
At the SIHH 2016, you reintroduced the two Capeland pieces launched the year this partnership was initiated. You also introduced four new pieces dedicated to four legendary drivers in ultra-limited series.
Indeed. The two 1963 pieces are the perfect reflection of this 2016 edition. For the record, it's a tribute to the 289 model and not the 427 from last year (editor's note: the number that gives name to the former refers to the horsepower of the Ford V8 engine that Caroll Shelby altered to have a better chance of winning the American championships as from the 1963 season. In the case of the latter, the number refers to the Cobra 427, which was an evolution of the first Cobra that was equipped with a Ford V8, 427-ci engine). And it wasn't just any Cobra – it was the CSX2128 (editor's note: one of the Cobra cars to have won most races of its history, the CSX2128, the 289 roadster, was built to compete at the 12 Hours of Sebring of 1963. Competing as number 15, this Cobra fulfilled Carroll Shelby's dream for glory). This year, we added a reference to the Sebring circuit with the 12 hours.
Moreover, I wanted to pay tribute to Caroll Shelby and his heroes. I feel a lot of admiration and respect for the drivers of these formula cars as they are true athletes. I wanted to have the element of surprise when I created these four editions for the four legends Dave McDonald, Ken Miles, Dan Gurney and Allen Grant, who works with us and is in top form. If you are wondering why we made15 4-piece kits, it is because it is the lucky number of the CSX2128. And since they are unique heroes, I wanted the pieces to be just as unique, which is why it is a limited edition.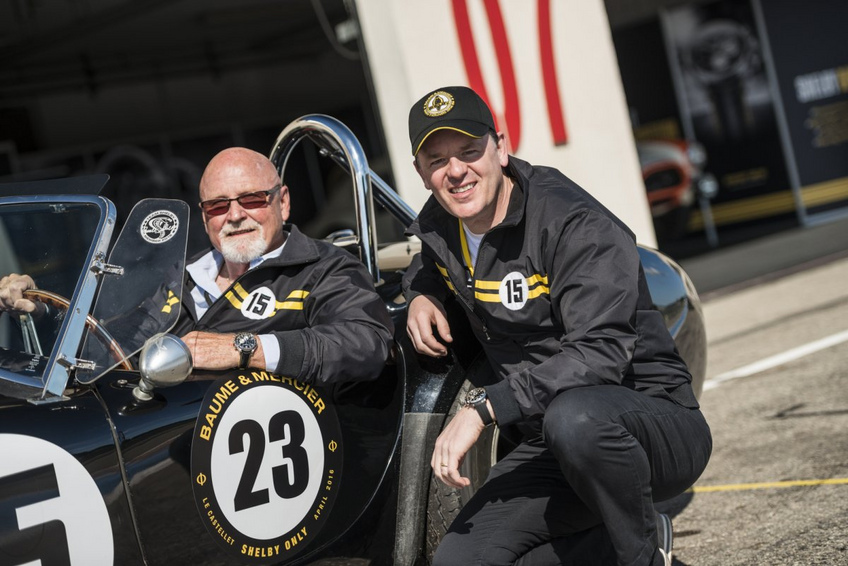 Allen Grant & Alain Zimmermann
How does one acquire such a piece?
I am afraid it will be quite a hard feat to achieve. A set will certainly be available in several countries. But they will be used to promote the partnership, like a roadshow. Some of the pieces will also be exhibited in watch markets around October or November, right before Christmas. It will likely be seen as a perfect gift for aficionados who feel in close harmony with one of these heroes.
Visit our dedicated page!
By
Michel Jeannot
,
Contributor
Strapped on the wrist, the Capeland Shelby® Cobra 1963 by Baume & Mercier does not fail to impress. We have worn and tested it.