Allen Grant and Cobra: "Georges Lucas was our mechanic!"
Listening to Allen Grant, the legendary driver with close connections to the history of the famous Cobras from the 1960s, speak with such enthusiasm fills one with adrenaline. No wonder it made the delight of Baume & Mercier, partner of Carroll Shelby Inc.
With its Capeland Shelby Cobra chronographs collection, Baume & Mercier brought back a key player of car racing history to watch aficionados and attracted the fans of vintage cars in its wake. Indeed, if engine manufacturer and car preparer Carroll Shelby shares a special connection with the Cobra, which was initially a Ford car tweaked by him, it is because his successes and struggles against leading brands and their most prestigious drivers also concern all those who have a soft spot for these old cars that are forever imprinted in the collective unconscious. With a very affable air, the American told us stories about his love for this car, of which he owns two versions. He also spoke of a certain Georges Lucas who, now one of the most fascinating filmmakers after the success of Star Wars, was then his mechanic.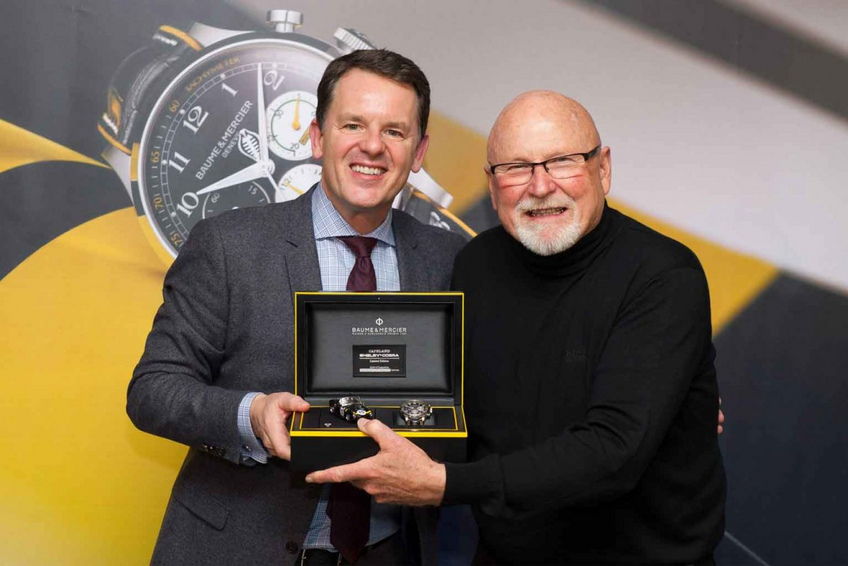 Baume & Mercier CEO Alain Zimmermann & Allen Grant
Is such a car difficult to drive? I'd like to know what is your sensation as a pilot during a race?
To drive the Cobra? Not an easy car to drive! It is really powerful and really lightweight. With the powerful engine, when you accelerate, the car has too much power and the car goes sideways. And going into a turn, in racing terms, you actually drive the car like a dirt track. It means that when you come in into the turn, you step on the breaks, let the back-end start sliding around and then you accelerate through the turn, driving sideways, then off. It's fun to drive but some people get intimidated because this car looks out of control.
Can you also drive the Cobra in town?
Yes, absolutely! The race car has obviously a more powerful engine, it has four Weber carburettors, you just have to be careful not to put too much gas…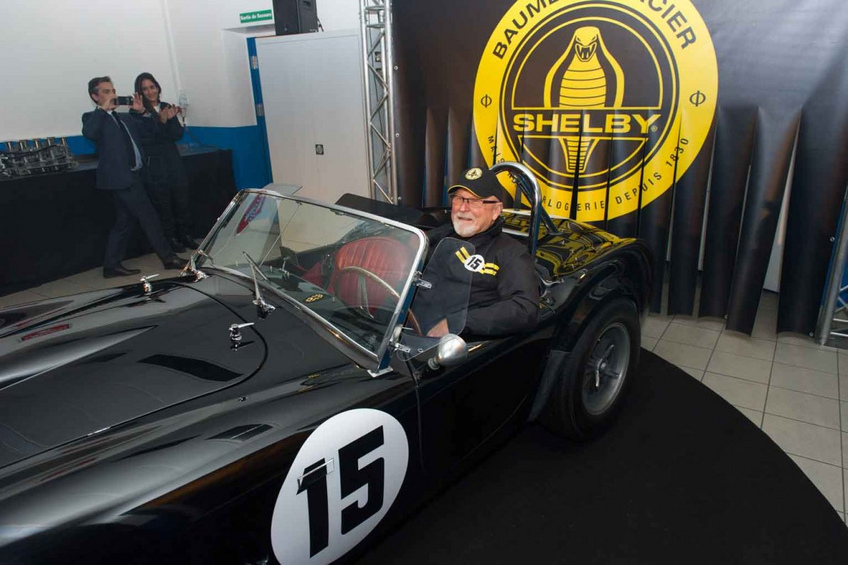 Allen Grant at the Shelby® Only Event 2016
This race car which could be used in a town is a little bit like the Baume & Mercier Capeland Shelby Cobra which is a sport watch you can wear also in town?
In fact the chronograph, when I race, is very important. As you are going through, you try different lines…
Can you read it during the race? You put the gearbox on? Can you compare your time with another?
Yes, during the race, exactly, yes!
How many Cobras do you have?
I have two Cobras, the roadster, and the Daytona Coupe. The roadster top speed at le Mans, or Daytona Beach Florida, was 155 mph. Ferrari, who was our competitor, they had a GTO and it was a coupe, with a roof. Much more aerodynamic… The Ferrari, on the Mulsanne Straight, would do 175. So we had to build a coupe.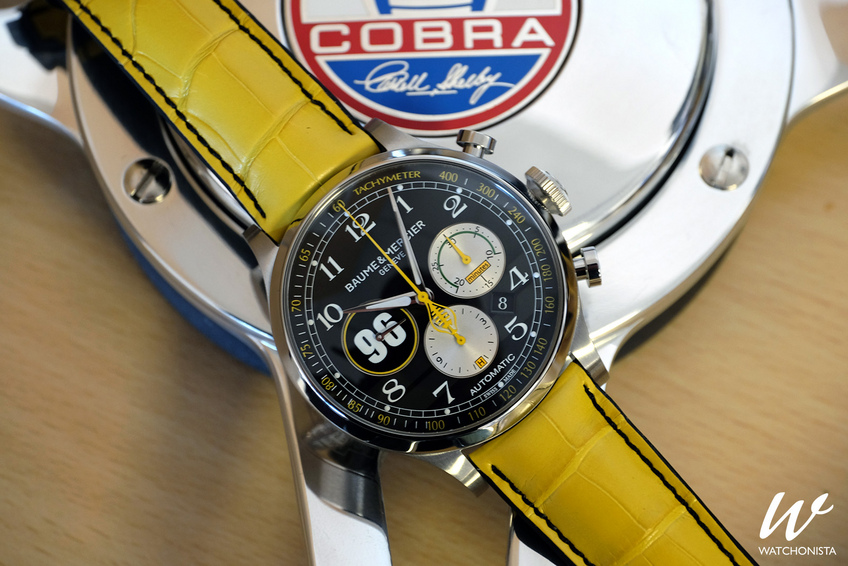 Baume & Mercier Capeland Shelby® Cobra 1963 Allen Grant limited edition
With such a kind of hard top? It is a very beautiful car…
Only six made. And this would go 185 mph. And 20% better gas millage. Engine the same, suspension the same… The only difference is the bodywork, the coupe. (showing some pictures) This is, when I was racing, my car, the yellow car.
Yellow? But images are in black and white. Difficult to imagine it's yellow?
(Showing another picture) You see, there, it's Georges Lucas from Stars Wars.. It is him, right there. This is my car at Sebring 65. That's me driving. Georges Lucas was our mechanic, we called him crew chief. hHe was 18 years old, I was 21!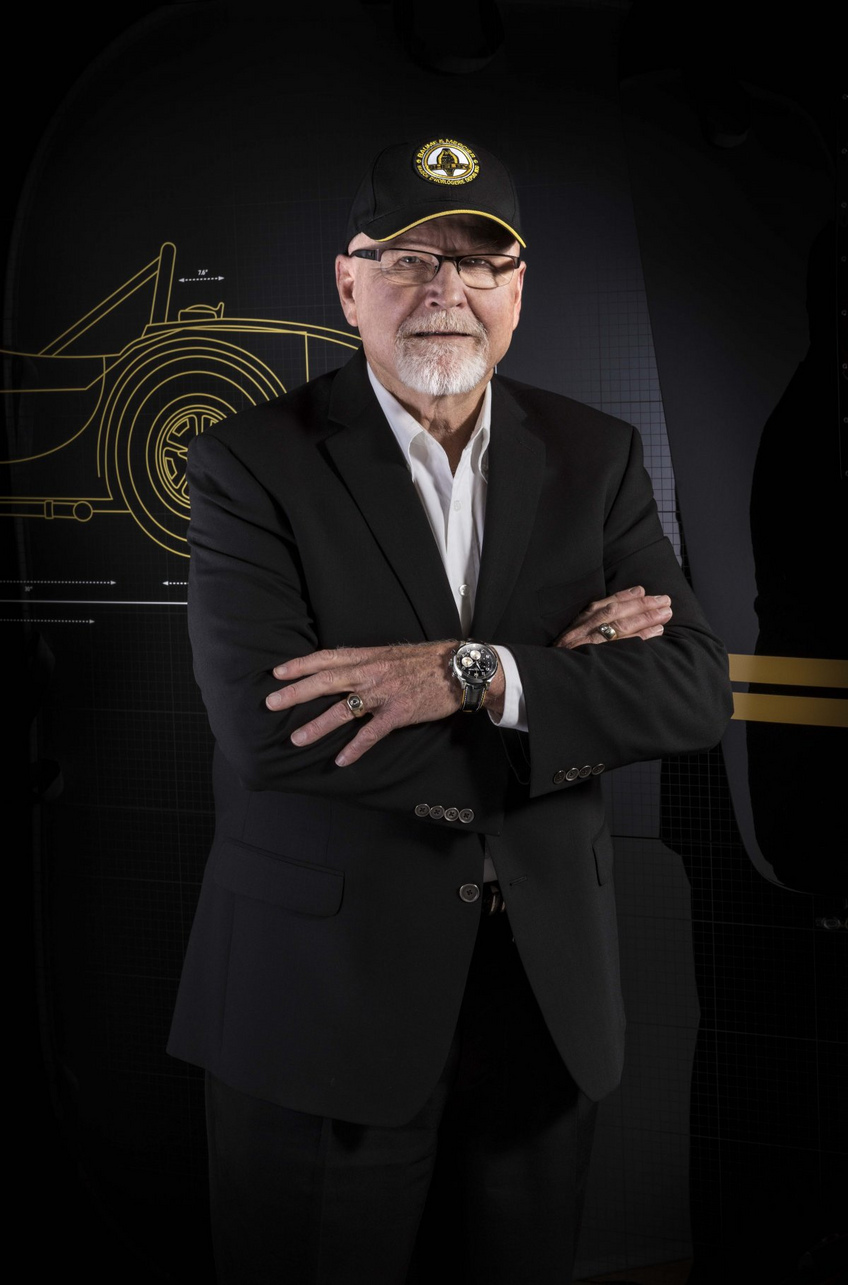 Allen Grant with the Baume & Mercier Capeland Cobra Shelby© 1963 watch
We should see in Star Wars if Georges Lucas uses the design of the Cobra for any spaceship!
Well, in the movie American Graffiti, the 32 Ford, you notice, is yellow. Then in the book "Skywalking", the author asked Georges "do you project yourself in any of the characters of your movies"? And he aid "Not consciously, but unconsciously I can't probably help it". Then the author said "And what about John Milner in American Graffiti?". He responded… "Oh no, that was Allen Grant! Allen Grant was my hero, I wanted to be like him!". Now I want to be like him!
Back to the watch now? Do you like it?
I love it, it is so striking! It is elegant, at the same time really functional. In racing, as you well know, it has to be functional. I really happy.
Visit our dedicated page !
By
Michel Jeannot
,
Contributor
Strapped on the wrist, the Capeland Shelby® Cobra 1963 by Baume & Mercier does not fail to impress. We have worn and tested it.
A partnership with the legendary Shelby Cobra has suddenly propelled Baume & Mercier into the watch/car circle. The brand has crafted a second range of...
By
Vincent Daveau
,
Contributor
Baume & Mercier's Capeland chronograph and the remarkable Shelby® Cobra team up to offer mind-blowing performance and prove that it was only...