Bulgari and watchmaking part 2: The industrial Manufacture
The brand's expertise in major complications dazzles an increasing number of collectors. But did you know that Bulgari is also working to achieve industrial excellence in the production of its basic calibers?
What started in the wake of the third millennium is now a fact: Bulgari has joined elite watchmaking. At this level of watchmaking, craftsmanship is ingrained in the blood and manual skills and ultra-complications are the norm. The brand is a master of both tourbillons and minute-repeaters. Its expertise even reaches the esoteric universe of "Grande Sonnerie" makers in the newly extended workshop in Vallée de Joux. We say that a brand is among the best when it is able to create pieces one by one, when it excels at developing major complications, and when it can have one watchmaker working on a caliber for days. A brand is also among the best when we can call it a "Manufacture", a word sometimes wrongly limited to its manual work.
A true Manufacture and evolving cornerstone calibers
Even though actual caliber manufacturing is sometimes only a small share of their operations, many brands make it their driving force. The widely known image of a frowning watchmaker looking through a magnifying glass hides a secret: the increase in production leads to brands hiring subcontractors. This doesn't apply to Bulgari, though. In order to ensure future independence in terms of mechanical movement supply, the brand has decided to go all the way in developing and producing its own cornerstone calibers. Let's face it: it is easier to pretend to be skilled in Haute Horlogerie than in industrial production. Only a few elite companies and independent craftsmen, often with a significant historical background, are acknowledged as true manufactures.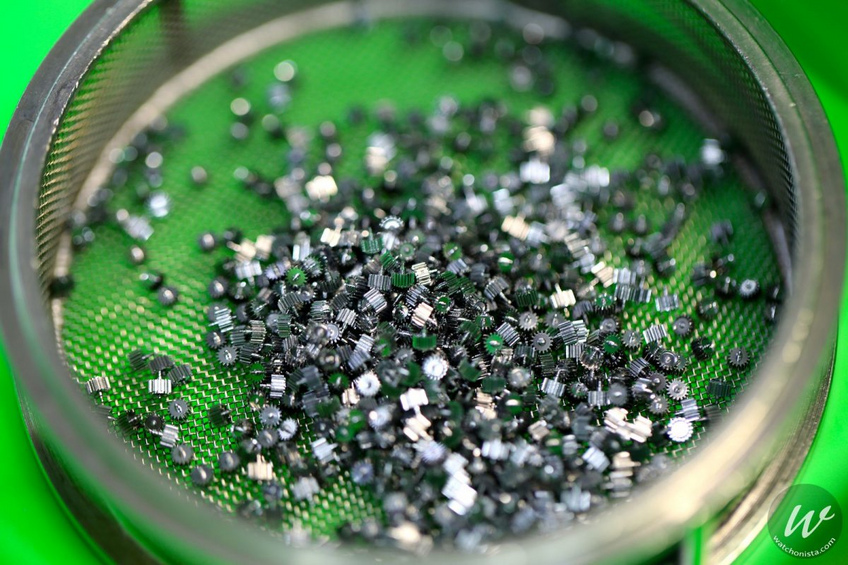 As part of the industrialization process, the brand wanted to have at its disposal a production tool that could support its large-scale production, particularly that of iconic pieces such as the Octo or the Bulgari-Bulgari. To this end, Bulgari designed its own cornerstone calibers and then worked on enhancing their reliability. It started with the hand-wound Solotempo movement, which it developed and produced in-house.
In 2014, with the extra-thin self-winding Finissimo caliber which oscillates at 28, 000 vibrations per hour, the brand introduced a new range of mechanical movements that were among the best in their category. The cornerstone "Heure Minute" caliber is 2.33 mm thick and has a 65-hour power reserve, whose indicator can be seen through the case back. The piece is equipped with a small second hand, elegantly fitted at 7:30.
Rue Volta in La Chaux-de-Fonds: Bulgari's industrial side
Two years ago, Bulgari built an industrial division in La Chaux-de-Fonds to provide its strategy of in-house calibers with its own space. As we enter the universe of the factory on Rue Volta, we immediately see an impressive range of famous CNC (Computer Numerical Control) machines, one next to the other. There are old machines here and there, such as the unbreakable Zumbachs that after being completely restored became state-of-the-art digital instruments. They ooze the same modernity as the factory and remind us that some deeply rooted things in watchmaking will never be obsolete because they will always provide laudable and irreplaceable services. The factory is currently in full swing.
The air is filled with the characteristic smell of milling oil and, in the background, we can hear the reassuring rolling sound of the giant machines operating uninterruptedly.

After the industrial tool had been acquired, renovated and developed, it was the turn of human skills. These needed to be honed and wisely optimized in order to meet the levels of competitors in Vallée de Joux in terms of design genius and distilled production. This shows better than any marketing strategy that the brand has provided the means to fulfil its ambitions. In addition to Bulgari's 350 watchmaking employees, there are another 25 working here at a stone's throw of the factory. They work at the end of Rue Noma Droz, in this cradle of skills and know-how, and proudly partake in the growth and development of BMHH ("Bulgari Manufacture Haute Horlogerie").
Here is where movement kits – also known as "steels" in watchmaking jargon (i.e. the movement-blanks, plates, bridges and gear trains) – are made. The spacious area hints that there might be plans to extend the premises at some point.
A metal tube cut in circles according to calculated diameters serves to produce the plates whereas calculated blanks and outlines cut out from a metal band serve to produce components.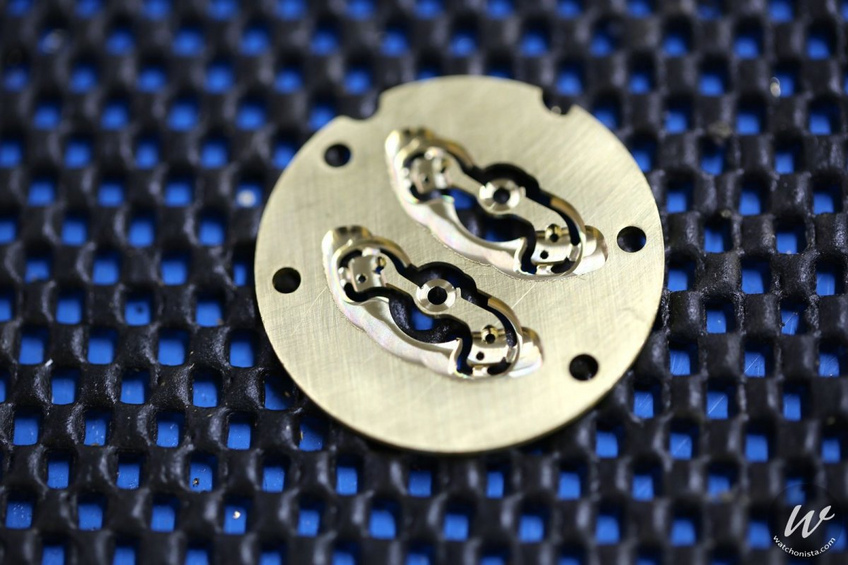 The only components the factory does not produce are the screws, rubies, setting organs and, of course, barrel springs. Neither does it apply thermal treatments or carry out certain tasks such as profile-turning, cutting and leakage. As expected, there is a monitoring department that oversees and checks the quality of the whole production thanks to regulating machines. These check the rigour in the production of each series and pieces several times during the production phase. The tools the manufacture uses for this do not miss anything that is below the margin of tolerance. The laser testing tools find any flaws in materials or machinery that the human eye might miss.
Industrial expertise: the way to independence
The brand, whose Italian elegance is at the heart of new or reinterpreted iconic designs is clearly determined to pursue industrial excellence. What better proof that Bulgari is indeed a true manufacture.
Especially seeing as it has perfectly integrated the production of external parts, cases and straps to its work and that it has mastered dials and finishes. It is precisely the latter that will be the subject of the third chapter of this saga. To be continued…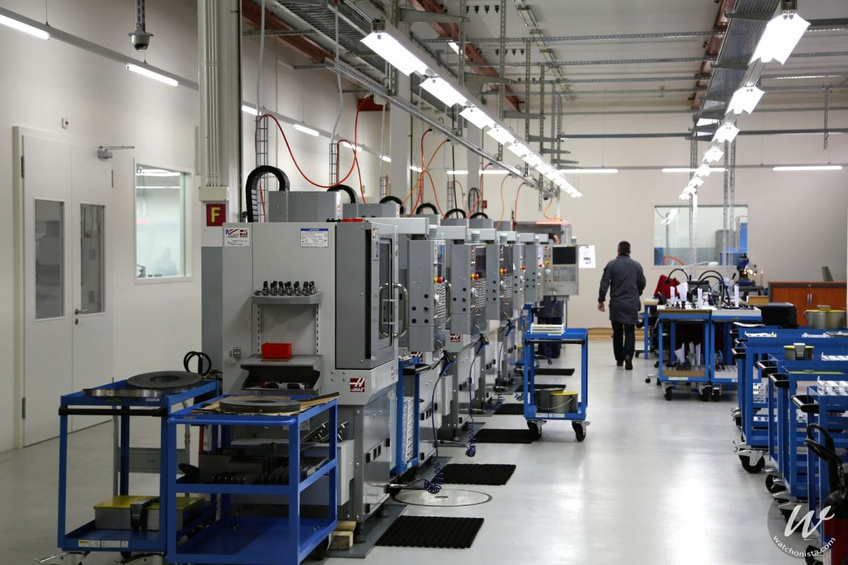 Coming soon: two new chapters of the "Bulgari and watchmaking" saga: External parts, dial and watch case crafts – Minute Repeaters and "Grande Sonneries"
--

Re-read also our previous articles on Bulgari
Bulgari and watchmaking - Manufacture: mastering ultra-complicated watches
Design at Bulgari: in conversation with Fabrizio Buonamassa 1/2
Design at Bulgari: in conversation with Fabrizio Buonamassa 2/2
By
Frédéric Brun
,
Contributor
In August Bulgari organized a spectacular rally along Monterey Bay in California. The Roman brand, with its 130 years of refinement and elegance has paid...
By
Joel Grandjean
,
Editor-in-Chief
Does "Italian style" really exist? We talked to the designer of the most Italian watchmaking brand. He told us about the History of a brand...
By
Joel Grandjean
,
Editor-in-Chief
At the turn of the 21st century, Bulgari started an incredible race for verticalization. Here are the highlights of a visit to Le Sentier.