Design at Bulgari: in conversation with Fabrizio Buonamassa 2/2
When asked about his pride and joy Bulgari creation, he confesses that it will be "the next one". Fabrizio Buonamassa is the discreet face behind the brand's creations.
How free is a designer who deals with the constraints of a legacy, such as that of Bulgari's?
It is a significant constraint but it is also a priceless inspiration. Bulgari has a unique history and owns archives that are a major source of inspiration in the use of color, proportions and countless details from old products. When designing a new product, we must make it recognizable as a Bulgari product. It's like a recipe; you have to find the right amount for every ingredient.
Bvlgari has produced many watchmaking icons. How do you go about designing such emblematic pieces?
Products are always attached to their historical and economic context. You need to contextualize them to be able to understand them well.
I personally try to understand the opportunity that a new object represents rather than standing paralyzed in front of it. It's quite a responsibility to know that we work on products which are part of the brand's history, and all the more so when they have become icons because they perfectly convey the brand's aesthetic codes. In some cases, we only have to modernize some details, such as their rays or reflections. This is how we proceeded with the Bulgari Bulgari, which is an essential product that owes its success to its calculated simplicity. We usually pay attention to the details on the dial like the indexes, the hands or the color of the back and its treatments. However, in other cases, we have to find a way to rejuvenate icons; it is essential to identify the elements that made icons timeless and adapt them according to contemporary taste.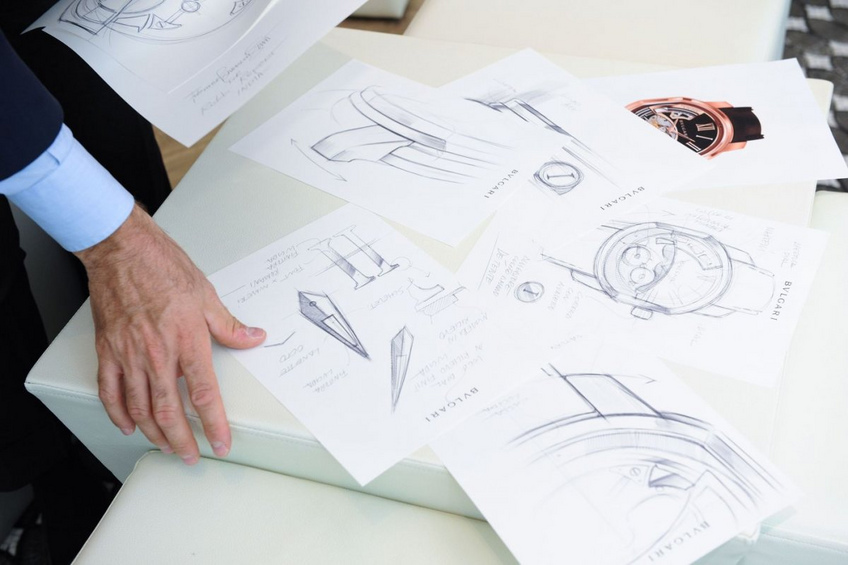 Fabrizio Buonamassa designer at Bulgari
Even the logo is iconic
The logo engraved on the bezel of Bulgari Bulgari watches has evolved in both proportion and dimension throughout the years. It has also been perfectly adapted to the defining characteristics of each specific historical period. In the 1980s, fashion and design trends were both too immoderate and the proportions and colors from that period are completely opposed to contemporary ones.
The logo engraved on the bezel of Bulgari Bulgari watches is today smaller and more discreet compared to previous years.
When you revisit an icon, do you feel like you are betraying it?
No, it only feels like a great privilege and a huge responsibility.

Do designers use other terms to express what marketing rhetoric means by "identity codes" or "a brand's DNA"?
As you will have noticed, we use terms like proportions, materials, colors and shapes to talk about design. It comes down to the same thing as the brand's codes. These codes enter the brand's history and define its DNA.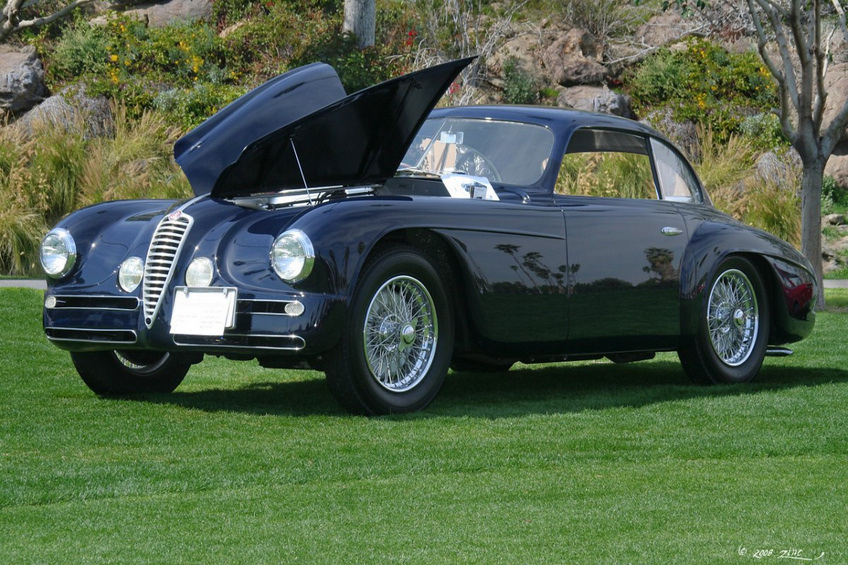 Alfa Romeo 6C 2500 by Carrozzeria Touring 1949 (picture from wikimedia.org)

Who are your gurus?
Design masters in general, and not just Italians. My training taught me how to distinguish the fundamental characteristics and meaning of a product, be it a car designed by Carozzeria Touring, a chair signed by Gio Ponti, a Divisumma calculator by Mario Bellini or a Braun electric shaver by Dieter Rams. I learned how to use the appropriate language for the right product and how to convey the skills that a brand used in the production of an object. In other words, I learned the "Product Culture".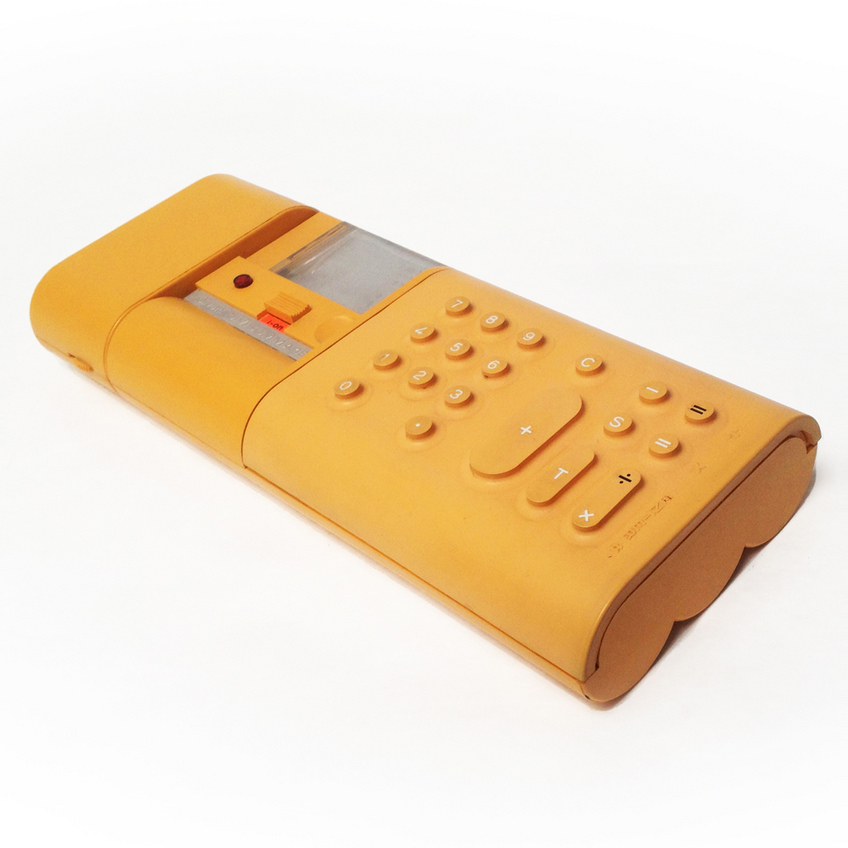 Olivetti Divisumma by Mario Bellini
What are the pieces you wish you had invented or designed in another life?
I could go on listing them forever. Well, they would be all objects that have a strong identity or certain excellency attached to them. I like Charles and Ray Eames' single-material objects which only use layers of bentwood to define their function and shape because their richness lies in their simplicity. Next come military objects due to their streamlined functionalities, but also the Arco Floor Lamp, the balance of Gio Ponti's "Superleggera", the irony of the Mezzadro Stool, the gear shapes of the Abarth 2000 by Pininfarina, the aerodynamic romanticism of the Alfa Romeo 6C by Carrozeria Touring or the discreet proportions of the Lamborghini designed by Carrozeria Bertone. The list continues with the "simple containment" of the Fiat Panda, the Fiat 500 by Dante Giacosa and the Vespa by Corradino D'Ascanio; all of which have offered Italians the dream of individual mobility.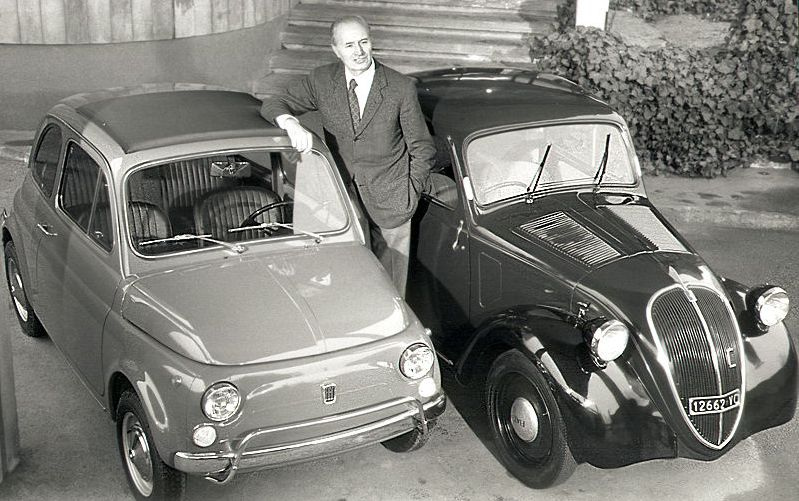 Fiat 500 by Dante Giacosa 1957 (picture from wikipedia.org)
What is your pride and joy Bulgari creation?
It will be the next one… Designers are never fully satisfied and constantly seek something new to design.
--
Read the first part of this interview on Watchonista.
By
Joel Grandjean
,
Editor-in-Chief
Does "Italian style" really exist? We talked to the designer of the most Italian watchmaking brand. He told us about the History of a brand...