Bulgari and watchmaking - Manufacture: mastering ultra-complicated watches
At the turn of the 21st century, Bulgari started an incredible race for verticalization. Here are the highlights of a visit to Le Sentier.
Back in 1982, the Italian brand, a flagship of luxury jewelry making, opened a watchmaking affiliate, Bulgari Time, in Switzerland. The brand, which had already produced its first timepieces in the 1930s, made thus official its decision to integrate watchmaking fully. However, things only sped up from the year 2000 when the brand acquired the Manufacture de Haute Horlogerie Genta & Roth in Vallée de Joux, the heart of complicated watchmaking. Since then, another building has been added to the site.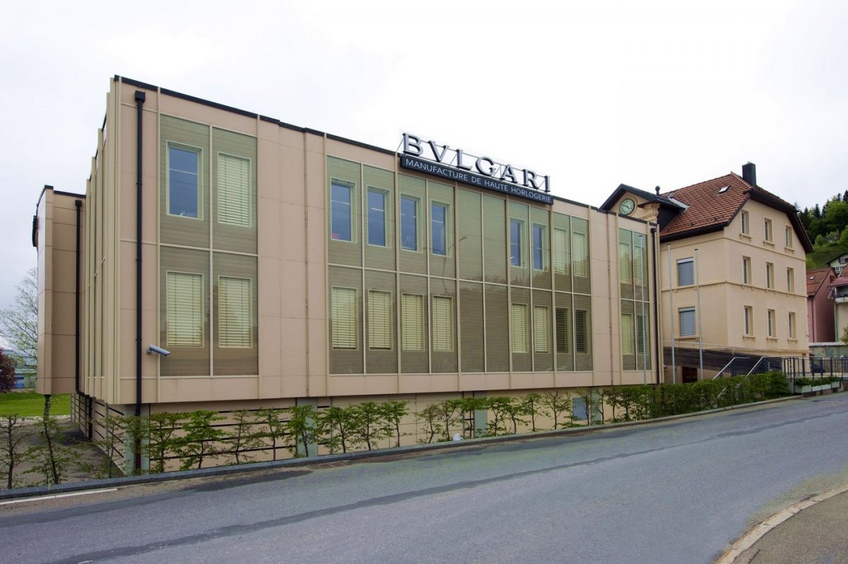 Bulgari Manufacture de Haute Horlogerie - Le Sentier
15 years: the expression of historical legitimacy
The brand, which was for a long time renowned for jewelry-making, is only now gaining ground in watchmaking as well. Bulgari's key asset is that both the intimate circle of global watch collectors, and those who have surrendered to its Italian style, have been awestruck by its micromechanics and its animated gear trains, and are thus interested in this niche universe.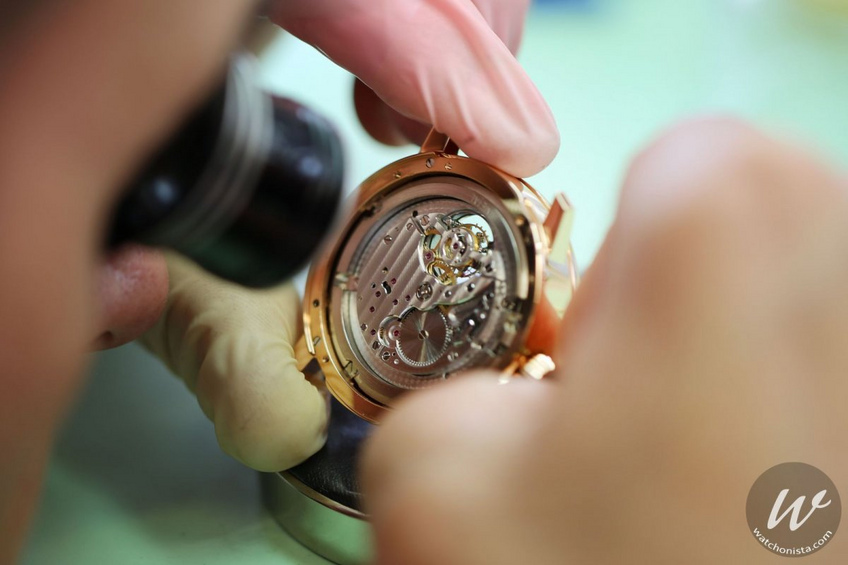 Bulgari Bulgari Tourbillon assembly
This enriching transition of Bulgari's image started at the manufacture in Le Sentier. It is there that the brand's complicated calibers are conceived and produced. The prevailing tradition of the brand, which is that a timepiece must be hand-made from start to finish by the same watchmaker, still has a bright future ahead.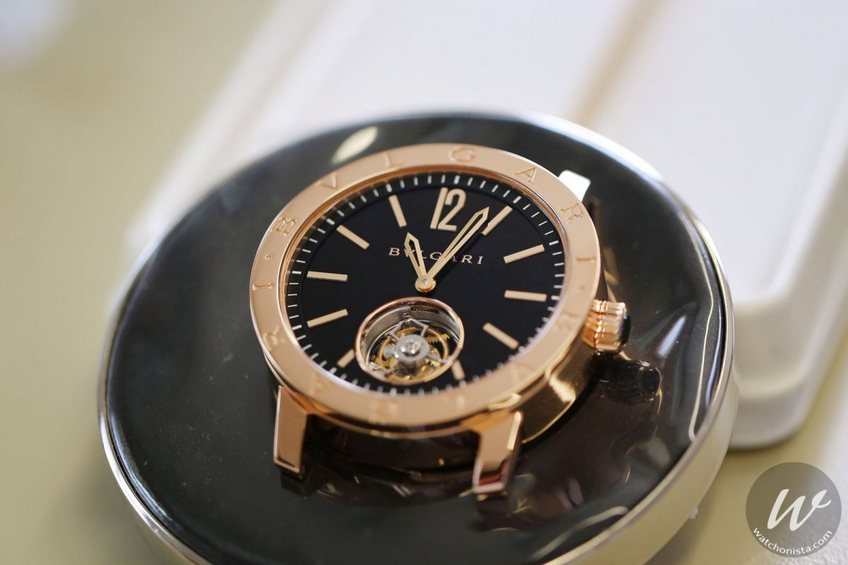 A Bulgari Bulgari Tourbillon

Almost fifteen years ago, when the brand acquired Genta &Roth, only a few brands and groups, and sometimes a promising engine manufacturer, mastered such skills which often involved craftsmanship. Therefore, during this period of time quite a number of tourbillons – with sometimes complex functionalities – were produced. However, it is nowadays very rare to find Manufactures who count on watchmakers capable of producing perpetual calendars, minute repeaters and "grande sonneries". The historical character of Vallée de Joux and the contemporary history of the Manufacture in Le Sentier confer Bulgari unprecedented legitimacy. Rich of a legacy of treasures such as additional plates and memorable feats, Bulgari perpetuates endless creativity in Le Sentier.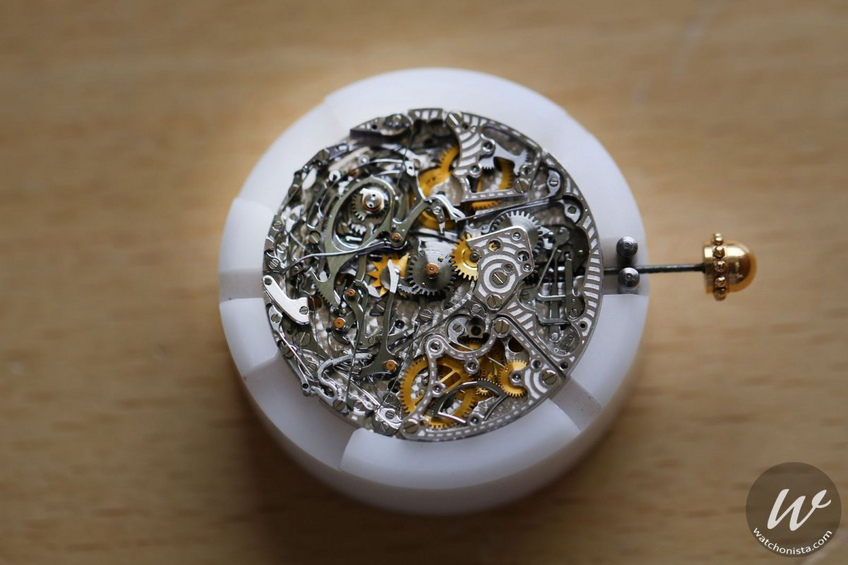 Assembling a Grande Sonnerie movement
Up to "Grandes Sonneries"
The new Octo Finissimo tourbillon, thinner than a CHF 5 coin, is 1.95mm thick and is the world's thinnest caliber. It is an accomplished and sophisticated extension of this complication, which came back as strong as ever in the late 1980s. What's more, state-of-the-art methods are employed in the creation and production stages, from the first sketches to the final process of production and, most importantly, finishes. For that purpose, the brand always seeks and comes up with endless innovating solutions. For example, it chose to include two bridges in Octo Finissimo. The first one is for the minutes' plate and the second one is for the tourbillon frame to move by making a 1-minute rotation. They also chose seven ball-bearing trains for the mobile parts, three of which are surrounding the barrel. Through them, the performance of the spring is enhanced and thus the power reserve reaches 55 hours. The skill to produce ultra-thin pieces – a Tourbillon in this case – sprung from the basic in-house developed and manufactured caliber: Finissimo. The Octo Finissimo features the hand-wound caliber whose large couple and frequency of 28,800 vibrations per hour (i.e. 4 Hertz) gives us a hint of the complications to come.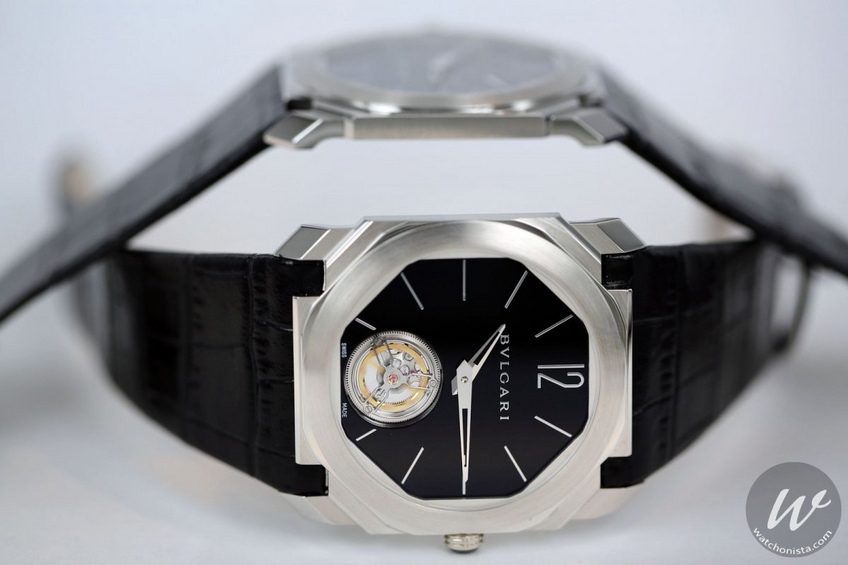 The Bulgari Octo Finissimo Tourbillon
The watch also features the brand's typical elegance and style as well as an off-centered small second at 7:30, which intensely transcends its Italian character.

When I was in the workshop of great complications, I had the chance to hold in my hands the queen of watchmaking complications, that is, a "Grande Sonnerie" Perpetual Calendar. With an air of wonder, I perused the information provided by its calendar. With some emotion, I listened to the melody of its "Carillon de Westminster" chimes. Housed in a very refined case, its caliber, composed of 923 parts, was built by a master watchmaker for a full year. When such a mechanism is placed on a wooden plinth – the most precious wood from violin-making workshops around the world, which is taken from the forest of Risoux – it conveys extreme happiness. Indeed, its production requires a unique blend of skills, be it in terms of acoustic or material science, energy mastery or miniaturization. To top it off, there is a soundproofed room at the back of the workshop which was specifically designed in collaboration with the engineering contest of the "Ecole polytechnique fédérale de Lausanne" (EPFL).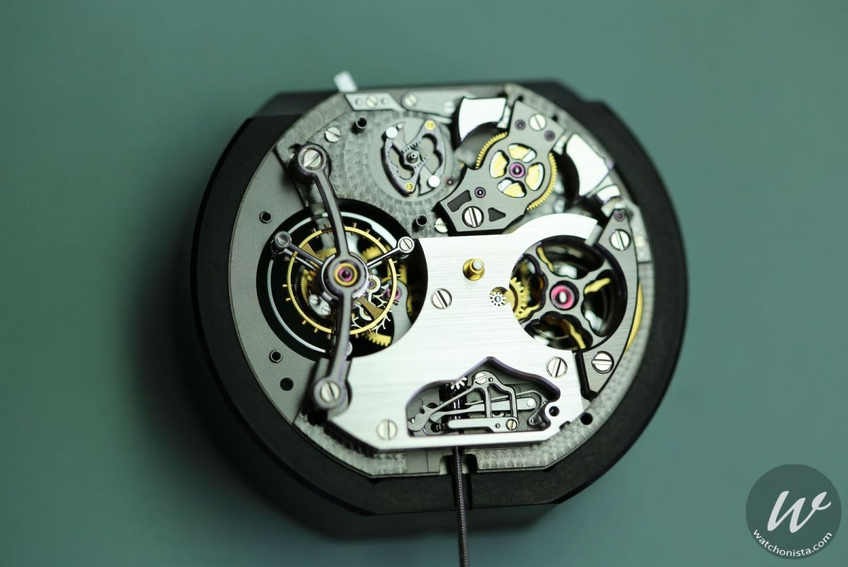 A Bulgari Carillon Tourbillon movement
The quest for verticalization
Bulgari, henceforth renowned for its ultra-complicated watchmaking started its journey towards full independence in the production of complex timepieces based on these skills so rare that they are no longer taught at watchmaking schools. To be continued…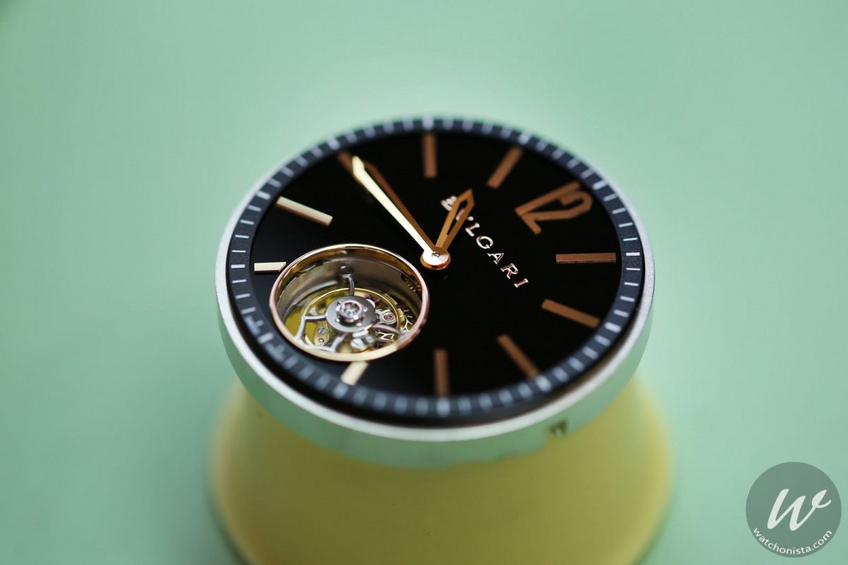 Assembling a Bulgari Bulgari Tourbillon

The next three sections of "Bulgari and watchmaking" will be: The Industrial Dimension of Caliber Production; The Crafts of External Parts, Dial and Watch Case; Minute Repeaters and "Grandes Sonneries"
By
Joel Grandjean
,
Editor-in-Chief
The brand's expertise in major complications dazzles an increasing number of collectors. But did you know that Bulgari is also working to achieve...
By
Joel Grandjean
,
Editor-in-Chief
Does this watch loosen tongues? In any case, the flight attendant on this Geneva-Nice flight confided in me.
By
Vincent Daveau
,
Contributor
In 1884, the Greek creator Sotirio Bulgari founded the brand which celebrates its 130th anniversary this year.