Design at Bulgari: in conversation with Fabrizio Buonamassa 1/2
Does "Italian style" really exist? We talked to the designer of the most Italian watchmaking brand. He told us about the History of a brand marked by more than a few icons.
When you set about designing a watch, do ideas come flowing or are they the result of a methodical and fastidious plan?
It depends; every watch is unique. Sometimes, ideas come to us quickly and at other times it is a slower process. When – as is my case – your work is based on trying to refresh one idea in order to adapt it to a concept, you end up doubting whether the result is what you really wanted. But when the idea works, you know it immediately because everything automatically falls into place.
Is the "Italian style" a myth or a fact?
The emergence of the "Italian style" in design is linked to a historical period, which was very important for the industrial development of post-war Italy. It was a highly prolific period for culture, economy and industry.
The development of new technologies and new materials, together with the initiative of visionary entrepreneurs who asked architects and artists to design new objects are at the inception of Italian design, as we know it today.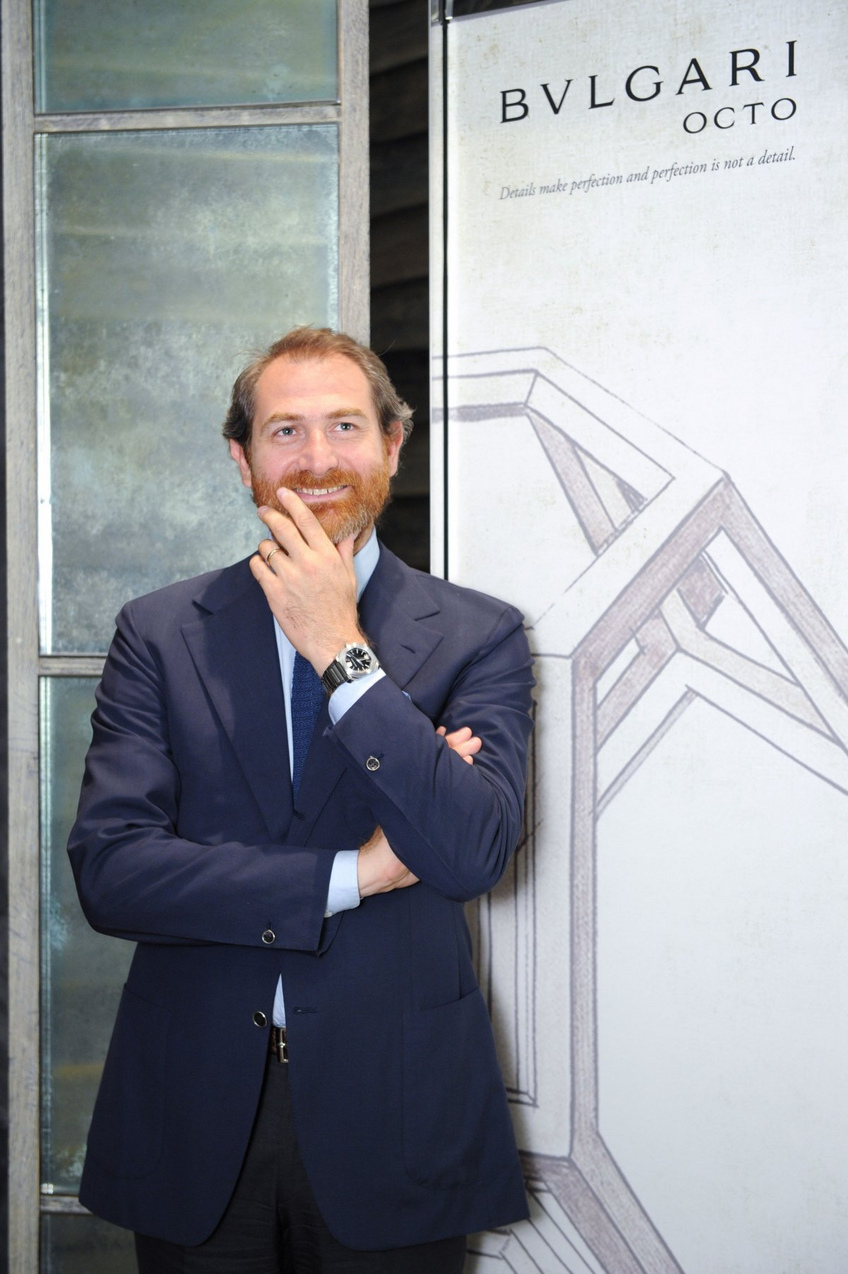 Fabrizio Buonamassa Bulgari's Designer
What distinguishes Italian designers from others?
They have fully established themselves in all industrial fields. Indeed, people like the Castiglioni brothers, Bruno Munari, Marco Zanuso, Mario Bellini and many others have transformed industrial products into objects; some of which we still use today. Balanced dimensions and knowledge of shapes were often involved in important innovations that were not only technical but also typological.
Can we talk about "Italian genius" in terms of design then?
The idea of "Italian genius" often appears when constraints and obstacles need to be overcome. For instance, when faced with the need to develop plastic materials, Italian designers applied the typical Italian irony and culture. In this sense, they have often succeeded in turning production constraints into functional and formal features.
How does Bulgari's style vehicle the intangible Italian "je ne sais quoi"?
With its approach and its way of conceptualizing the product. More often than not, the shape of our products is defined by their function or their functional element and not by decorative needs; hence, their unique dimensions.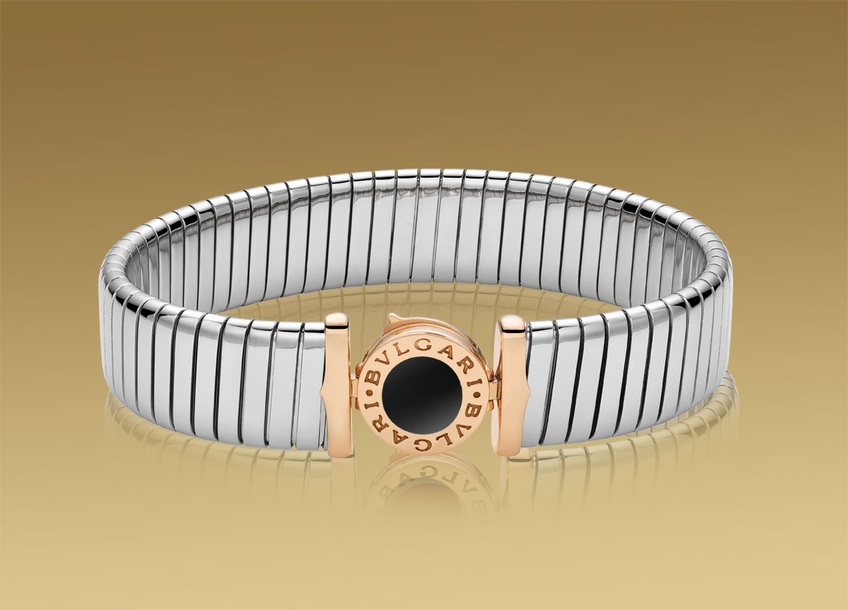 Bulgari Tubogas bracelet in 18kt pink gold and steel with black onyx.
For example?
The Tubogas perfectly illustrates how the aesthetics of a product is defined by its function and its production method. Designers can use their skills to transform something mechanical, cold and devoid of aesthetics into an iconic product that intrinsically conveys the brand's typical features.
What about the Bulgari Bulgari?
That is another example. In the late 1970s, most of the watches produced had weird shapes and were often unattractive. The Bulgari Bulgari represented a remarkable innovation both in terms of typology and aesthetics. Indeed, it was a three dimensional cylindrical gold watch whose square lugs linked the case to the strap in a simple way. It also featured a 12 and a 6 on a black dial and an engraving on the bezel in the style of an ancient Roman coins.
An important part of the brand's clientele felt drawn to the watch. These people knew the brand well and appreciated the sobriety of the black dial which did not feature the brand's logo and displayed only two numerals. They were also fond of the tangible proportions of perfectly round bezel with the brand's name.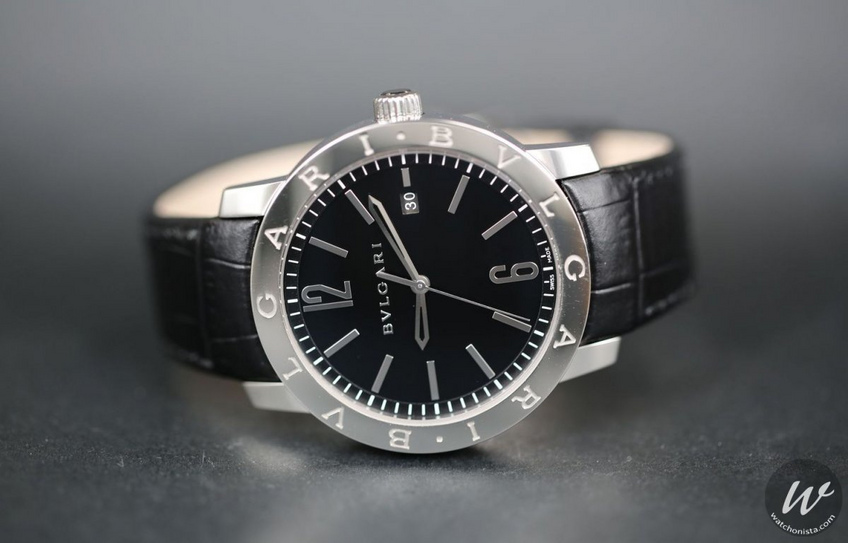 Bulgari Bulgari white gold unveiled at Baselworld 2013
How about the Diagono?
Here again, its function defines its aesthetics. The hinges of the Diagono were meant not only to give it a unique shape but above all to give the strap appropriate mobility.
Does Bulgari have a sort of internal file with all its stylistic guidelines?
We always use the brand's characteristic aesthetic codes. The challenge however, is to add a fresh perspective without changing their common essence.
If you had to define Bulgari's style in only a few words, what would they be?
I suppose that the right description for men's watches would be: a rigorous sobriety blended with typically discrete Italian creativity. However, I would say that jewel watches are a world apart, where precious stones and colour are more important than shapes.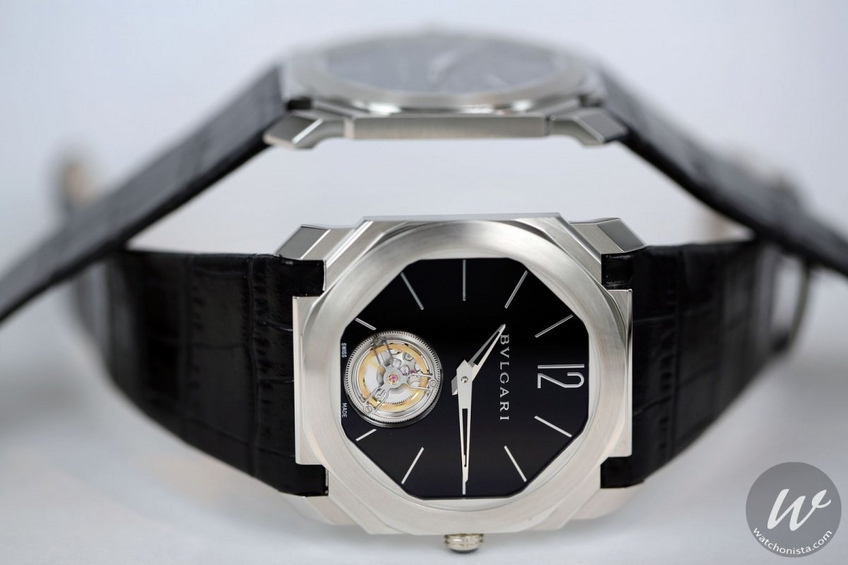 The Bulgari Octo Finissimo Tourbillon uveiled at Baselworld 2014
Does the "Swiss rigor" in watch production have any effect on the rest of the brand's stylistic values?
Today, Bulgari produces watches that blend pure Italian design with obvious Swiss know-how. When we add the right amount of each of them, the results are pieces like the "Octo Finissimo". The "Swiss rigor" does not in any way inhibit the creative process.
--
Read the second part of this interview on Watchonista.
By
Joel Grandjean
,
Editor-in-Chief
The brand's expertise in major complications dazzles an increasing number of collectors. But did you know that Bulgari is also working to achieve...
By
Joel Grandjean
,
Editor-in-Chief
When asked about his pride and joy Bulgari creation, he confesses that it will be "the next one". Fabrizio Buonamassa is the discreet face behind...