A Watchmaking Escapade: Armin Strom Sets Sail For Mallorca
Just back from Mallorca, summer quarters for the independent Bienne micro-manufacture, which is increasingly carving a name for itself among collectors. It's 2017, and I'm in the grip of a two-fold passion, sailboats and watches.
The best sponsoring experiences often spring from friendly connections. Here, in Mallorca, amid the first signs of an imminent summer heatwave, a childhood friendship has been taken to a new level under the gentle breeze and salty spray of the Mediterranean. On the one hand, Flavio Marazzi, skipper and helm of the Armin Strom sailing team, which has already successfully skirted the waters of Lake Thun, and on the other, Serge Michel and Claude Geiser, the two-man team of watchmakers/managers at a Swiss watch brand simply bursting with promise.
May the wind be in your back
My only regret, on arriving in Palma de Mallorca, was not having my Armin Strom watch on my wrist, namely the model I had configured in the user-friendly configurator launched by the brand at Baselworld 2017, and which has been imitated so many times since. Unbeknownst to me at the time, I had breathed life into an object that would turn into a premonition. What better than the Gravity watch could encapsulate the white sea salt spray, the blue ocean depths and the enveloping red gold heat of these shores? Luckily, a screen capture brought me straight back to the result of my artistic endeavours, forever to remain a memory of these blessed sun-soaked moments off the Spanish Balearic coast of my dreams.
My initial meeting with the team members is already redolent of bonhomie and camaraderie, the depth of shared relations, the fervour of elbow-to-elbow teamwork and the strong whiff of adventure. Or so it would appear on the surface. But upon closer inspection, I soon realise I'm faced with a mountainous array of complementary skills, men operating as one, like a well-oiled machine. On the horizon is an imaginary finishing line, resistant to the tug and thrust of the tide, the reward at the end of all these efforts, a symbol of self-sacrifice. Such is my experience aboard a futuristic catamaran, directly inspired by one of the finest technical and aesthetic successes of the America Cup.
Aboard this magnificent sailing vessel, tailor-made for the GC32 Racing Tour, I sense that as soon as the wind ruffles the canvas, it will rise above the water and fly, barely touching the surface. The merest hint of a hull, a thin blade bereft of all resistance, connecting it to the silvery ocean, guides it this way and that. It instantly puts me in mind of a spring coupled to an escapement, the regulating organ of a mechanical watch, at once light and spatial, seemingly weightless, as if disconnected from temporal reality, but not quite.
Reliable as clockwork
It's an experience tantamount to a baptism. It's an impressive sight, one that moves you body and soul in one almighty surge of adrenalin. Clinging as hard as I can to some nearby rope or mast, I no longer know which, I end up gracefully admitting defeat and leave it to the steady hands of the experts. They appear to function together like clockwork, in total harmony and complementarity. Amid all the rigging, here and there are wheels set in motion by muscled arms, elsewhere power is transmitted by invisible cogs, belts, sprockets and chains, each assuring its own functionality. The ground slips away from my feet, hard terra ferma has given way to a muddle of fishing nets, wires, lines and cables and skeletonized cages.
It's hard to imagine such adept sailors being any more in tune with their vessel even mid-race. Now they are just going through the motions, everything seems so effortless, they have not yet begun to galvanise their forces. One of them confided to me, on the eve of our departure, how they had been planning to challenge the record for sailing around the island of Mallorca, a record they would need to beat in under 16 hours, weather and tidal currents permitting, not to mention the co-operation between wind and sails. It wasn't to be the case this time, but it's only a matter of time, despite the tight schedule. A series of competitions awaits that will take them away from these Balearic shores from Calvi (13 to 16 September) and on to Marseilles (12 to 15 October 2017).
A winning team, working in resonance
Come what may, whatever the outcome, it's already a winning team. In its wake, it trails a high-octane cocktail of media successes, prestigious benchmarks which resonate with those representative of watchmaking excellence, as practised in Bienne with vision and precision. While on the subject of resonance, amid all the conversations taking place on this magical island, the main talk was about another type of resonance. The physical phenomenon that sees mechanical calibres enter into synchronisation and generate even greater precision. It's the level of accuracy that prompts looks of astonishment on the part of watchmakers, ever keen to raise the bar when faced with the inexplicable.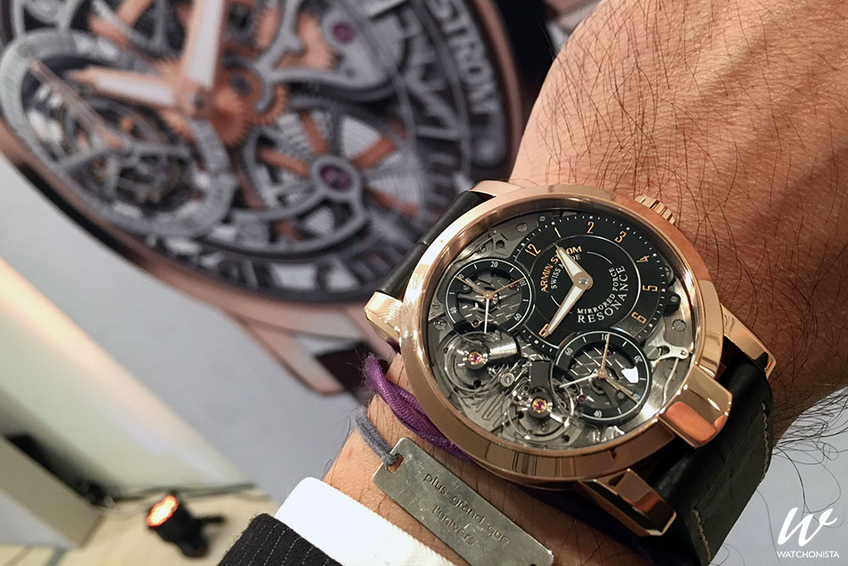 The Mirrored Force Resonance collection, which brought with it a watchmaking revolution (please see my article on the subject, published exclusively on the eve of the world launch in London at end of 2016 was the focus of fevered discussion: a fascinating micromechanical ballet in which two regulating organs suddenly synchronize in a display of osmosis that pushes back the boundaries of chronometry. It would appear that experienced sailors come across the same phenomenon on the high seas. Boats are suddenly tugged along by a magical force, which causes a kind of rolling or pitching motion rendering the vessel uncontrollably at one with the watery elements.
By
Hyla Bauer
,
Contributor & Special Projects
Two new Mirrored Force Resonance watches now feature guilloché dials, while the pared-down Pure Resonance is a study in simplicity.