Armin Strom pioneers the art of customisation: competition alert!
Watch enthusiasts often aspire to owning a unique timepiece, a watch that stands out from the customary catalogue offering. Over at Armin Strom, the phenomenon is being taken very seriously. And there are prizes to be won!
The idea is rapidly gaining ground. If one had to define luxury, the exclusivity factor might sometimes prevail over price. Swiss watchmaking brands, and indeed many similar sectors, know it only too well. More than ever before they are being asked by customers to operate out of their comfort zones and make them off-catalogue models, models unique to them alone, watches "adapted" to their tastes and specificities. What do you do? Dig your heels in and refuse to sell your soul, never give up your legendary brand identity? Or do you think up a perfectly adapted, intelligent response and turn to old manufacturing processes originally designed to cater to these one-off market demands?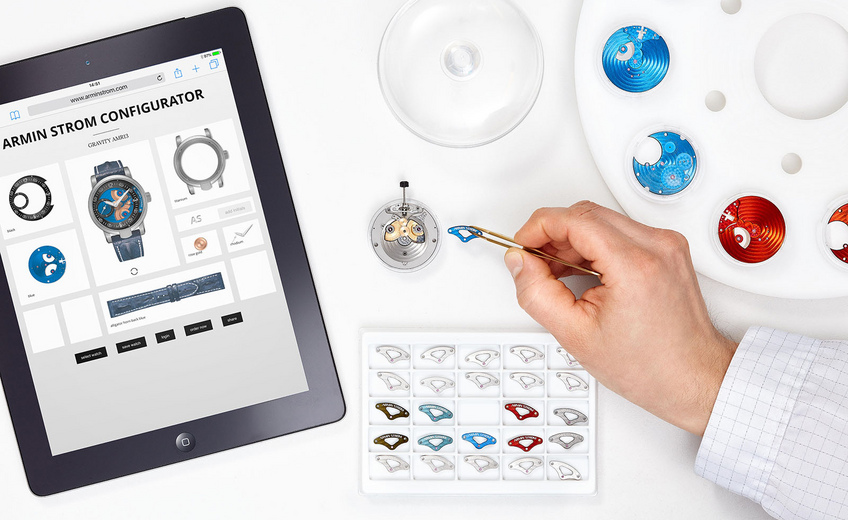 For Armin Strom, the micro-manufacture with the human face, jewel of the independent watchmaking industry and a pioneer appealing to a growing audience of enthusiasts, there's nothing particularly shocking about the idea. What's more, it's a long-forgotten notion that once formed the cornerstone of the brand's identity. Every watchcase sports a little "lip" at 6 o'clock designed for engraving the owners' initials, coat of arms, or even, in these digital times, emoticons.
As for the motorisation of the watch, the fact that it is designed, manufactured and perfected in-house, the fact that its basic architecture already lends itself to a myriad development opportunities, makes it the perfect platform for creativity. Basically, thanks to the interchangeability of some of its components, thanks to the many permutations possible and the sheer modularity of the design, your next Armin Strom will be both the pure distillation of watchmaking excellence that you have come to expect from the brand and the intimate expression of your innermost desires.
The configurator is born: try it out without delay!
In other words, it's important to listen to the customer and give the appropriate response. That response was recently showcased at Baselworld 2017 in the form of the fascinating configurator. We ran it through a few tests and found that no stone had been left unturned. It's not only user-friendly, intuitive and logical, but there are a myriad of possibilities to help you design a bespoke watch. There's also the formative aspect to the process, one that lets you discover more about the art of watchmaking, and about horology in general. You are directly invited to become immersed in the manufacturing process, take a look backstage, behind the scenes of a prestigious watchmaking manufacture. What's more, it will be just you and your screen and the infinite realms of your imagination, you need not feel embarrassed at your ignorance on the subject, or discouraged by your novice attempts at design. Perfectly alone and away from prying eyes, you can give free and unashamed rein to your imagination online. And, of course, at the end of the exercise, you can see your efforts immortalised and even get to take part in the competition.
And something that might help you understand the different prices applied to seemingly similar models, you also get the chance to play around with case materials, finishes and motorisations. It's an amazing learning experience, which means that next time you visit a watchmaking workshop, you'll have all the answers at your fingertips!
Major competition! Enter before 15 May 2017 and maybe win a prize!
Once you log on, you'll have a choice of 6 different watches. You'll be greeted by the sight of models that define the very personality of Armin Strom, the DNA at the source of one of the first and most talented skeltonisers the industry has ever seen: Edge, Gravity, Gravity Date, Manual, Skeleton Pure and Tourbillon invite you to start experimenting with bold marriages between colour, material, micromechanics and chronometry.
But watch out, it can be addictive! Perhaps you'll be forever infected by the bug for watchmaking skills that embrace a mix of semi-industrialisation and traditional craftsmanship. Every time you check out the end result on the screen, the price comes up, revealing not only the affordability of your creation, but also a few intimate details about your true personality. Believe me, you'll want to carry on playing when you see the attractive prizes up for grabs. The most popular designs will be awarded 'package' credits ranging from CHF 5,000 to 15,000.
Take part in the competition: deadline 16 May 2017
Gravity, my choice of simulation, by Joël A. Grandjean

My bespoke Armin Strom will be white! My pale winter skin needs a little colour, so I thought what about a white 'horn back' leather strap teamed with a sea blue dial in anticipation of those hot summer days? It's just begging for a tan. A watch like that would look great on bronzed skin... I've gone for the Gravity model, which is featured on the home page of the amazing Armin Strom configurator. Gravity with a G. G for Grandjean... In the end, I opted for the 18K rose gold, just a few touches here and there, as well as on the bezel, because I think it's the best match for the blue and the white. Then, I honed down my choices and posted screen captures of my final two options on Facebook, one with white overstitching, tone on tone, the other with "yellow gold" overstitching. Even as I write, my 'friends' are still trying to help me choose. I must admit, I was also tempted to have a blue strap... or a grey one. In fact, what if the brand gave you the option of having 1 or 2 extra straps? Especially now I see the price displayed at the bottom of my screen: CHF 24,212.96! Better to round off the numbers. By the way, don't forget it's my birthday at the end of September! It's OK, you've still got a bit of time …
Armin Strom Configurator – Josh

After Basel, I sat down and spent some time with the Armin Strom configurator. It's nice to the brand venture into atelier style e-commerce. Back at the office, Joel had the idea for the Watchonista staff to all design an Armin Strom that would suit their needs.
I went with the manual line as I don't currently own enough manual watches, plus I liked the clean minimalist stylings. I ended up choosing the white dial as I felt it gave a nice contrast to the exposed main plate. The brushed titanium case was chosen for weight. Since I wear a lot of blue, I went with a blue main plate under the white dial. For a splash of elegance, I chose the yellow gold gear train. I kept the original rhodium hands, and added a blue strap with white stitching.
The final retail price of my custom Armin Strom was 12,638CHF. Not bad for a one-of-one watch!
Marco Gabella: 'It's nice to choose, but it's better to customise'

One of the questions put to the Armin Strom team by a number of journalists during BaselWorld was: 'What if the configurated watch turns out ugly, will you make it anyway?'. It's an interesting question, but irrelevant, since one man's meat is always another man's poison. An expert in configuration, Armin Strom offers customers a high-performance tool with which to configurate their own options. As it turns out, customers have pretty good taste. Just take a look at the many unique creations shared on Instagram under the hashtag I #designarminstrom.
For me, the experiment was a big success. I simply thought of the watch I'd like for summer and the result was an interesting contrast between steel and rose gold, with the blue of the strap and the bottom plate referencing the sky and sea. The ergonomics of the interface are intuitive. The price adjusts itself with every modification, meaning you can always go back on your choices if the budget gets out of hand. Where my choice was concerned, I was in for a lovely surprise when my bespoke piece came out at only CHF 9,565 (see price featured in screen capture). That's one of the best things about this tool: you can see exactly how much your chosen watch will cost. I think it's very commendable of Armin Strom to adopt such an approach in an industry where many purveyors of luxury items are still reluctant to advertise their prices openly, as if money were a taboo subject.
Follow all the bespoke creations on Instagram > #designarminstrom