Curiosities that intrigue and fascinate
His name is Martial Gueniat, the Watchonista team, like all Lausanne people, know him through his shop Ouranos. He has also opened Curiosity on rue Grand-Chêne, a Cabinets of Curiosities that also features watchmaking objects.
At the Rue du Grand-Chêne, near the headquarters of your online magazine, between that of a déco boutique and the rebellious attitude of the M.A.D Gallery – the boutique opened by Maximilian Büsser & Friends (MB&F) in Geneva. The newcomer to retailing from Vaud intends to immerse its visitors in a universe of dreams, uniqueness and fascination.
Curiosity Shop, Lausanne – Ambiance
Curiosity Store, more than just a shop
The shop offers "amazing objects", which are unique pieces delivered in special presentation cases by some brands, all of which trigger the "wow effect". As Martial Gueniat put it: "The pieces will be introduced in limited editions and sometimes even as world premieres".
And so, just a few meters away from the Lausanne Palace, we find brands such as l'Epée 1839, Plonk and Replonk, Marc Newson, Ovale and Reuge. Furthermore (did someone say we needed to keep our feet on the ground?), said names share the store's almost 120 m2 with the only Baccarat space in Lausanne with its range of decoration objects such as chandeliers, vases, glassware and gifts.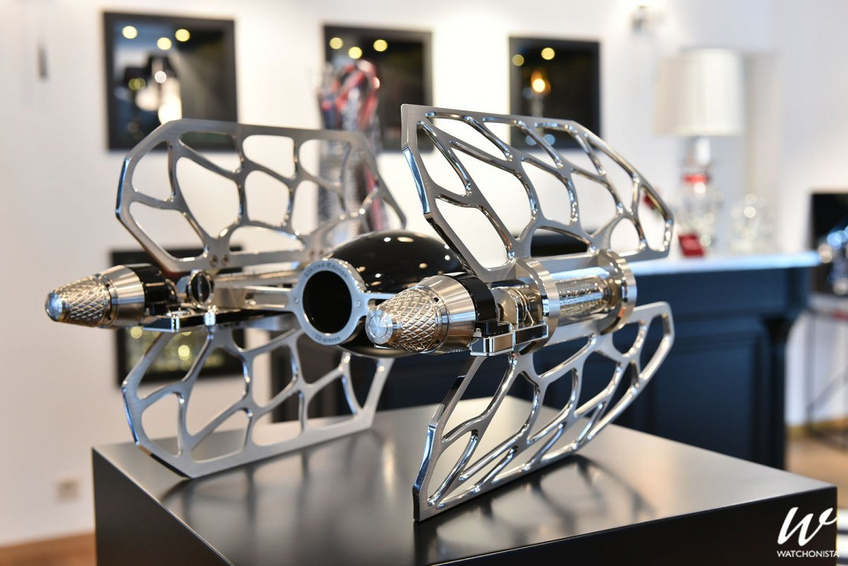 Curiosity Shop, Lausanne – MB&F + REUGE – MusicMachine N°3
When it comes to out-of-this-world timekeeping experts, it is absolutely impossible to miss the imprint made by the figurehead of new watchmaking, Maximilian Büsser, Indeed, its incorrigible and constantly astonishing similarities with Swiss institutions such as L'Epée 1839 or Reuge Music have not only cast the spotlight on age-old sectors but have also generated works of art issued in limited editions. These have in turn become unmissable targets for collectors and all that despite (or because of?) the five or six zero figures they sell for. The same applies – though on a more accessible scale – to Marc Newson's hourglasses; its skill to transform trickling time into artistic creations, and also for the luminous letter display that is characteristic of Qlocktwo watches and wall clocks.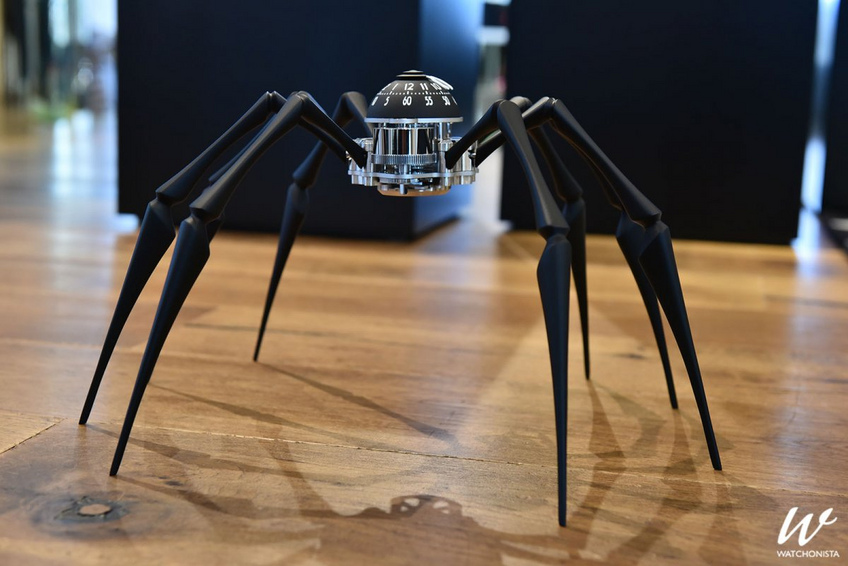 Curiosity Shop, Lausanne – MB&F + L'Epée – Arachnophobia
Close and historical connections to watchmaking
The shop that has now opened in Lausanne is the materialization of a modern trend – window display. Indeed, Cabinets of Curiosities are quite in vogue right now and have actually become more fascinating than ever. This 'pre-museum' concept that thrived in Europe and the rest of the world during the Renaissance were spaces (and sometimes mobile exhibitions) filled with magic and fantasy, with diverse objects that sometimes came with far-fetched scientific explanations. They were often discoveries issued from imaginary stories and buried treasures that held a promise of adventure.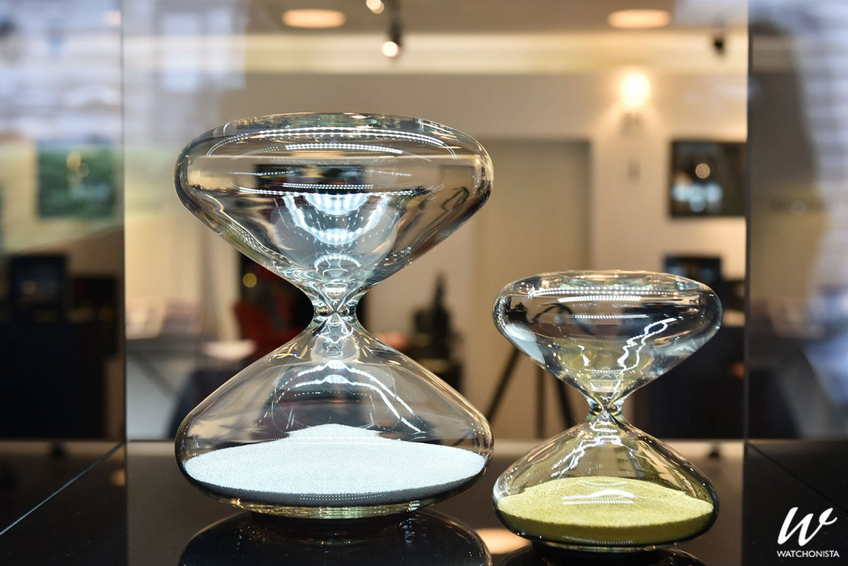 Curiosity Shop, Lausanne – Marc Newson Sablier
The very first demonstration of the fascination for Cabinets of Curiosities in Geneva was probably from the former People photographer Jean-François Schlemmer who opened a restaurant and named it "Curiosita". After that, said fascination reached watchmaking brands. Among them was La Chaux de Fonds-based Girard Perregaux, which incidentally still has more to come since it would seem that every year new references are due to join its "Chambre des Merveilles" collection that was launched in 2015.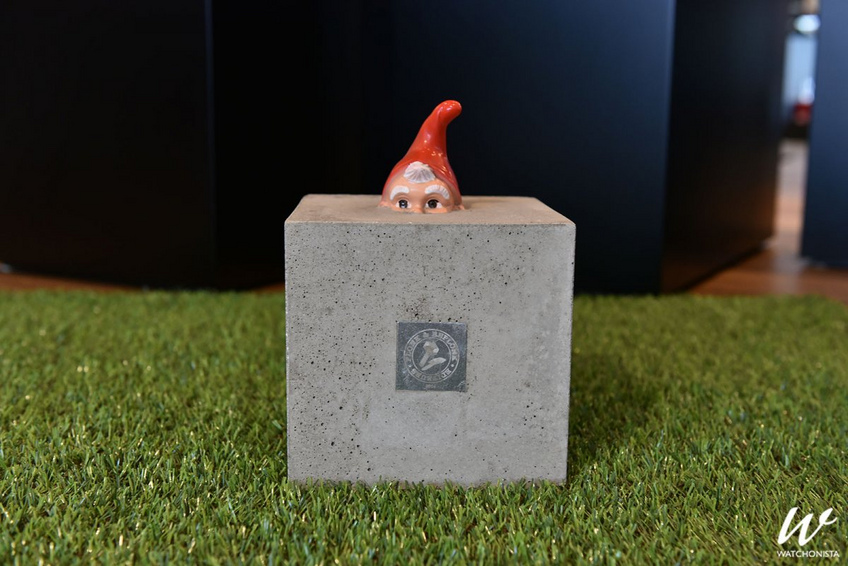 Curiosity Shop, Lausanne – Nain de Jardin
Avant-garde approach and museum
The "Cabinet de Curiosités de Thomas Erber" is a network of designers that was launched by a mega-creative individual who became a consultant after a career as a discoverer-traveler in the media. It often provides Swiss watchmaking brands original opportunities to promote themselves via its exhibitions or points of presence in shops like Colette (Paris). If, after this article, you need further proof of the historical link between watchmaking and Cabinets of Curiosities, I invite you to read "Du cabinet de curiosités au Musée d'horlogerie du Locle" (From Cabinets of Curiosities to the watchmaking museum in Le Locle). The book reminds us that the first exhibited objects of the flagship institution, also called the Château des Monts, were watchmaking collections from the local Cabinets of Curiosities founded in 1849.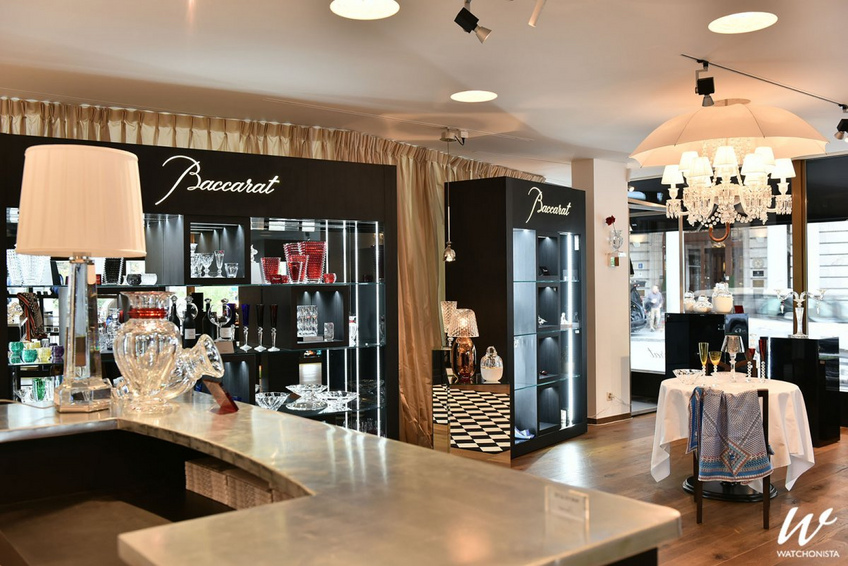 Curiosity Shop, Lausanne – Baccarat