MB&F HM8 Can-Am Drives Ahead Time
The famous Horological Machines (HM) of Maximilian Büsser are not always in sequence and sometimes they share certain features. This poet of nouvelle horlogerie, who always has a twinkle in the eye, keeps on surprising us.
Hervé Estienne, manager of the M.A.D. Gallery in Geneva is an early bird. The business hours posted on the door say: open at 10 a.m. but through the window, one can see his silhouette bustling about even though it's not yet 9 a.m. I pass by the shop each morning as I am lucky to live just a few short way from there. Hardly any other store window succeeds in grabbing the attention like this one, young children often force their parents to stop and look. The mechanical magic and poetry of the items displayed exert such a powerful magnetism. I give a little wave and am let into the shop. I wonder: Will I have the rare privilege of discovering the HM8 "Can-Am" before the official opening? I'm on pins and needles.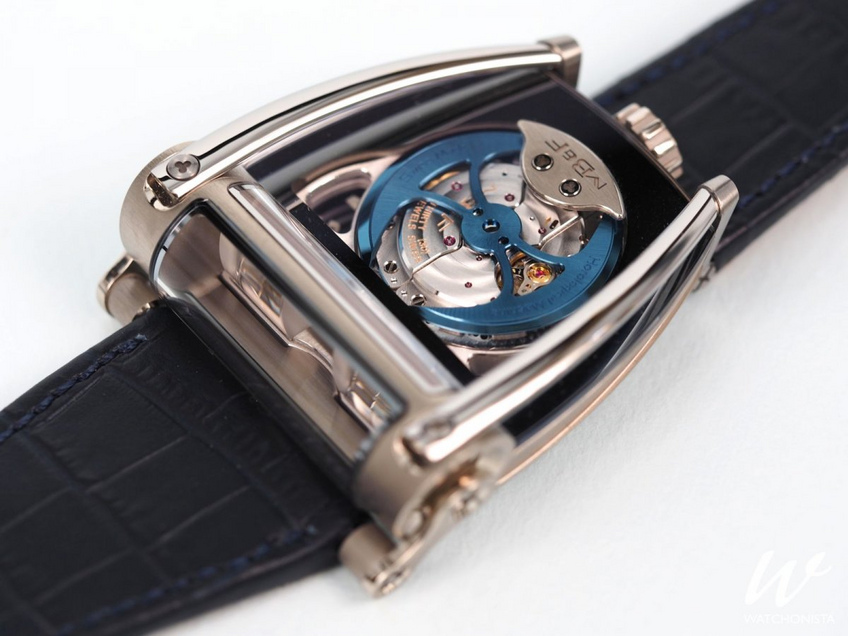 MB&F HM8 white gold and titanium
The reluctant marketing man
Even though he's the first to say no, Maximilian Büsser would really deserve a marketing professorship at some university. He's a man who makes decisions, but he attributes them to serendipitous encounters, to the kind of curiosity-driven opportunism that transforms ideas and contacts into life goals and then into an entrepreneurial career. What he does not say, is that they are born of a vision, of planning, in short of some calculation. And yet his choices could be taught like case studies in the most illustrious marketing institutions. Was it not he who, after meeting François-Paul Journe in the halls of Baselworld, decided to launch the Opus saga for a brand he was in charge of? A brand that had long maintained a high-jewelry image, before Büsser's stroke of genius? In a twinkling of an eye, and disregarding the warnings from professionals in the sector against anyone who would so bold as to venture into the realm of co-branding, Büsser managed to endow Harry Winston with an ultra complex watchmaking dimension that has become highly coveted by collectors and those wishing to discover this world.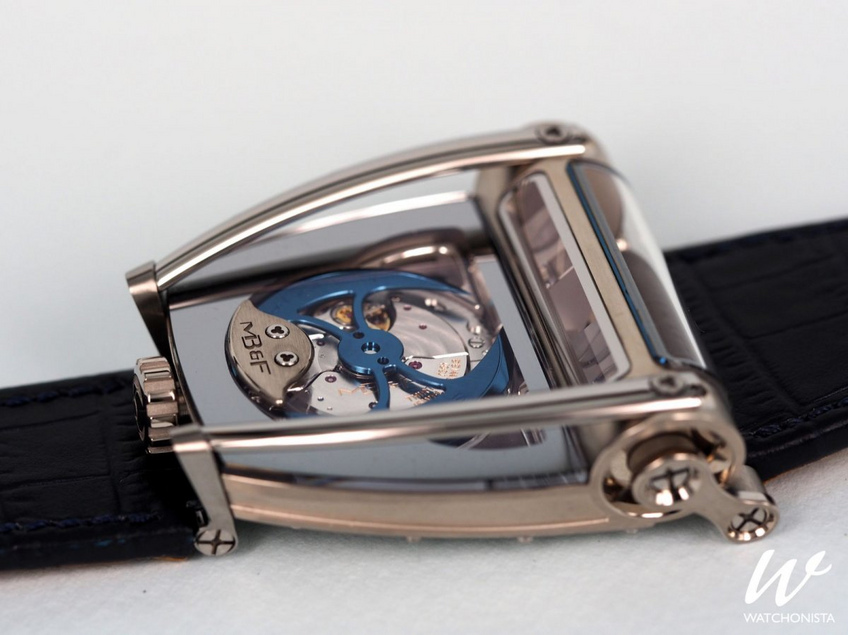 MB&F HM8 white gold and titanium
Another fact with high added marketing value was the launch of his own brand, adding to his initials the word "friends." In some ways, he brought to watchmaking what street culture gave to hip-hop, a "featuring" aspect. He opened up his press pages where high-definition visuals are loaded and the latest press releases can be downloaded, while other brands barricade themselves behind codes and registrations that have to be confirmed and therefore undergo triage. He has applied the open source idea to information, and here too one finds a little revolution that is similar to the one of being totally transparent, because he also reveals the names of his suppliers, who've been subtly turned into friends. Finally, by opening his M.A.D. Gallery, he not only created a vessel for the objects he likes, will like and will continue discovering, but he has also given birth to an unfamiliar and elegant brand boutique. You almost forget that you are in a place that not only sells timepieces, but also incites you to buy one. What better place to steep his retro-futurist spirit, his child's soul, which sometimes lets itself be carried away and creates very daring pieces.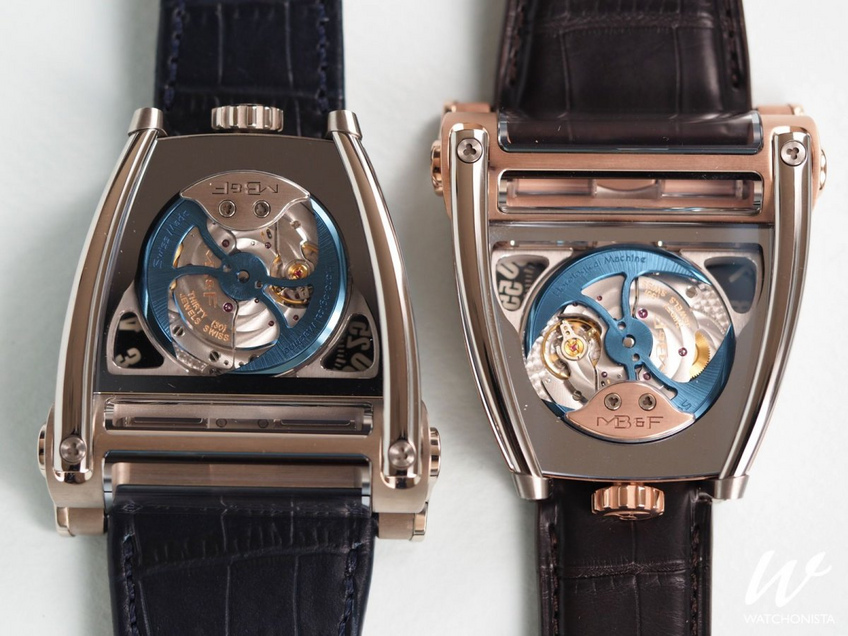 MB&F HM8 white gold/titanium and red gold/titanium
Hoops hinting at the Can-Am
It's a little like John Harrison, the man who was originally a carpenter but ended up winning the race for the Longitude Prize. Büsser also lists his works by adding a number after an H, standing for "horological." He then adds an M for "machine". Aficionados are in the know, they waited patiently for the HM7. But the watch was not ready (we often forget that with genuine watchmakers, the whole quality assurance process can last as long as the creation-conception phase), so it was the No. 8 that first saw the light of day at the end of September 2016, a year following the brand's tenth anniversary.
Changing the sequence was out of the question, because in fact –by happy happenstance –this timepiece does look like an esthetic contraction, both architecturally and functionally, of the HM3 and the HM5. From the former, it inherited the blued rotor shaped like a battle axe in 18-karat gold on the dial side. Of the latter model, it has picked up the lateral time display, a tribute to the angular Amida watch of the 1970s, or the famous Casquette by Girard-Perregaux, as well as to their prismatic display.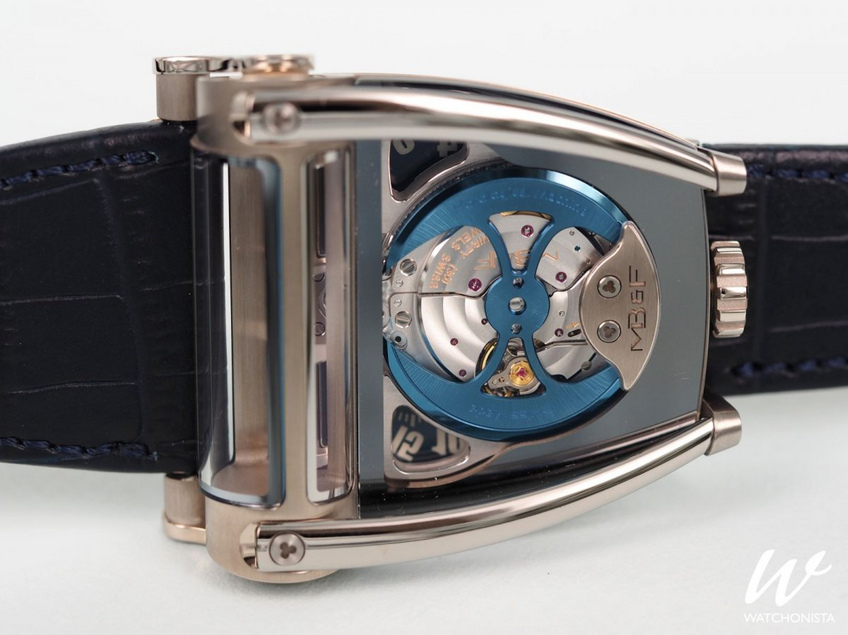 MB&F HM8 white gold and titanium
Maximilian Büsser would have wanted to be an automobile designer but having missed that opportunity, he became the creator of a new species of timepiece. With his HM8 in a white gold and titanium case, or rose gold and titanium case, it's obvious that the Can-Am reference, this American-Canadian race at two cities in Canada and four in North America, really stayed with him…Between 1966 and 1974, and again between 1977 and 1986, it was the most rebellious and disruptive automobile race ever, a genuine competition for innovation, an orgy of power and technology. There were no restrictions when it came to engines or bodies. In short, the craziest people back then were given carte blanche; it became a competition blending prototypes and misappropriated vehicles and during which some did not hesitate to soup up their machines, while others spiked their fuel. These were events that inflamed people's imagination: During a race in 1969, a certain Bruce McLaren launched his first car.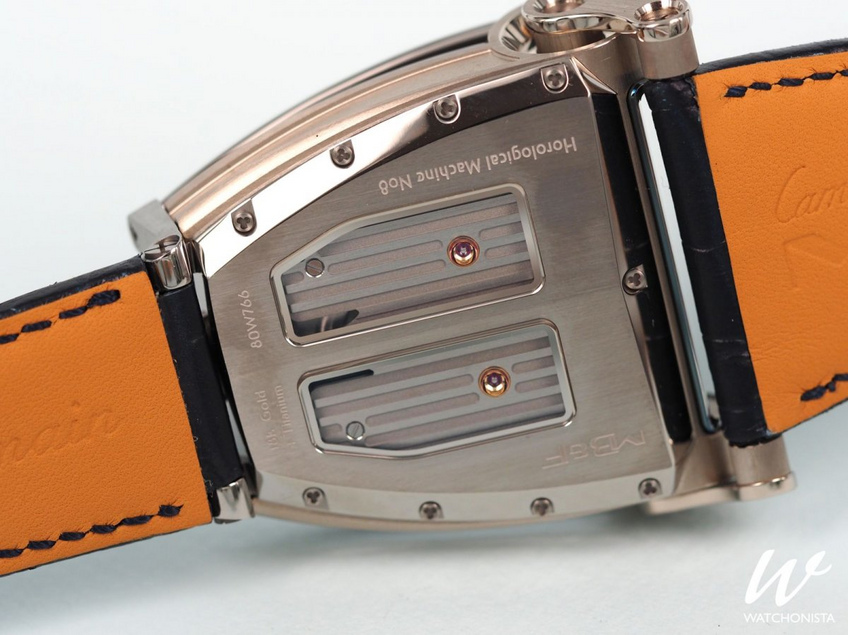 MB&F HM8 white gold and titanium
The hoops are the stars of this design. They recall how, when the cars turned over, the pilots' lives were saved. They have been machined in a full block of grade 5 titanium and then polished meticulously by hand, which enhances the brilliance of the tubular structure. The engine roars at 28,800 vibrations per hour and boasts an autonomy of forty-two hours. It is based on a Girard-Perregaux caliber supporting a module developed in-house with bidirectional, jumping hours and trailing minutes. The watch undresses fully before our very eyes, thanks to a large sapphire crystal that ensures backlighting of the display or the charging of the luminescent mass on the hour and minute numerals. At the back of the watch, a surprise: two stylized crankcases that would have suited the unhinged cars from way back when and look here… on the sides, and in spite of the optical illusion – which is typical for roll hoops – there is no glass. Just an open space to suck in the wild, unruly air. The air that smells of the freedom feeding the creations of a genial serial conceiver…
By
Josh Shanks
,
Editor-in-Chief
One of our favorite watches from SIAR wasn't a watch at all. Say hello to the 1839 Colt Table Clock by The Unnamed Society and L'Epée.
By
Benjamin Teisseire
,
Contributor
For years, MB&F's Founder Maximilien Büsser has been creating Horological Machines that double as watchmaking art. Max along with his friends (the...
By
Benjamin Teisseire
,
Contributor
Launched in 2007 with the HM1, the Horological Machines collection from MB&F offers original and innovative time-keepers which combine the best of...