Vincent Calabrese: a lifetime of innovation
At a time when everyone has proclaimed him the inventor of watchmaking, we pay tribute to a resourceful genius who has helped many talented craftspeople step into the limelight.

Vincent Calabrese was born in Naples, Italy, in 1944. He is thus an "Italiano vero" (true Italian), but to the power of ten because of his Neapolitan origins, and has brought out the true meaning of rigor and the notion of honor. In the early 1960s it was practically impossible to earn a living at the foot of Mount Vesuvius when you were born into a family of modest means; you had to go elsewhere to survive. Vincent therefore moved to Switzerland in 1961. He was only 17 back then but this did not stop him from working as a watchmaker for various companies. A few years later, between 1972 and 1977, he ran a watch shop in Crans-sur-Sierre.
1977: the turning point
1977 was a turning point in Calabrese's life. He made his first movement because he sensed that watchmaking could go beyond quartz or other simple round mechanical calibers.
This beauty – and the adjective suits this exceptional development perfectly – became a flagship movement in watchmaking. Indeed, it was the predecessor of the Golden Bridge, which contributed largely to build Corum's reputation at the time.
After winning a gold medal at the Geneva International Inventions Exhibition in 1977, Vincent pursued his work as an independent craftsman. He also produced watches based on completely exclusive mechanical and physical principles and in so doing he invented spatial watchmaking. In this context, he made watch movements in the shape of letters of the alphabet and various other symbols. In 1985, guided by the same philosophy, he created a completely new flying tourbillon that was the first to be made after the advent of quartz watches. He has never stopped creating watches. He has always had a gazillion ideas and created crazy mechanisms to the delight of all great watch collectors from around the world.
Vincent personally works on all his watches either by inventing the movement or by developing a specific additional mechanism. All his watches are entirely produced in his workshop, either as unique versions or as prototypes. In the forty years he has been running production, Calabrese has filed some thirty-five patents. Such a number of inventions changed the approach to classical watchmaking.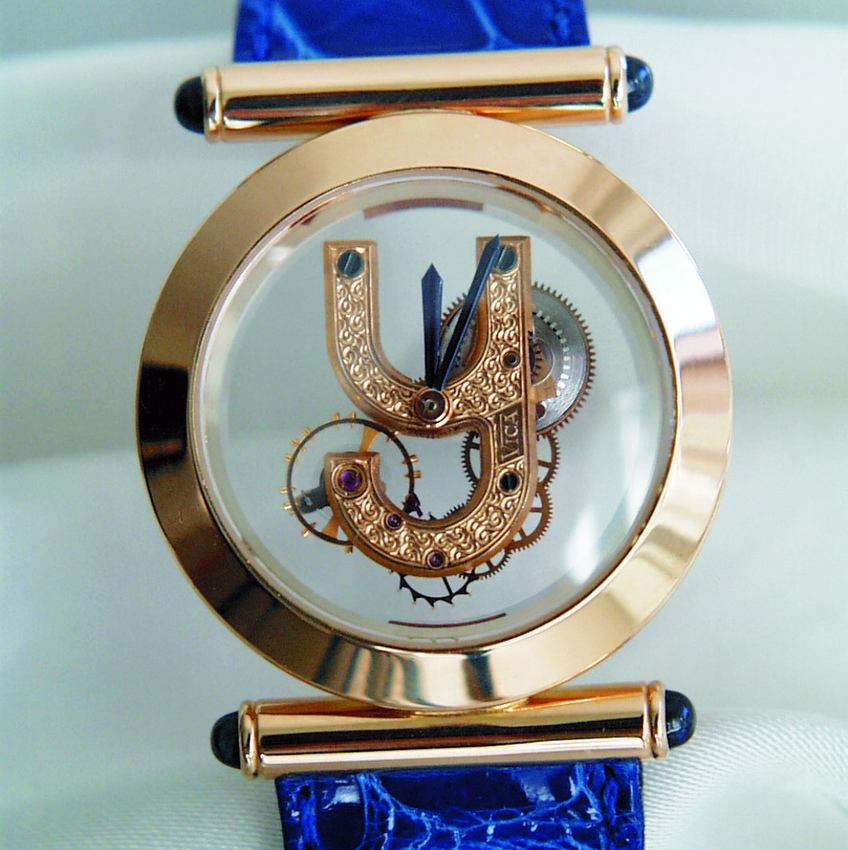 A watch movement in the shape of the letter "Y"
Bringing the best out in everyone
Not only did Calabrese revolutionize watchmaking technique, but he also revealed his unifying spirit. In 1985, in collaboration with Svend Andersen, he founded the "Académie Horlogère des Créateurs Indépendants". Yet he has not only worked independently; many prestigious brands have called upon his inventive talent. Indeed, he is responsible for many watch creations, such as Blancpain's 8-day Tourbillon or the Janus by Universal Genève amongst many others.
A self-taught man, iconoclast and philosopher, his creations are as provocative to mechanical traditions in general as they are to watchmaking traditions in particular. The amount, diversity and originality of his creations earned him worldwide renown as one of the most prolific creators ever. Vincent is also one of the very few watchmakers able to execute hand-made movements. He normally creates 18-carat movements but he is also the only one to have produced platinum 950 movements up till now.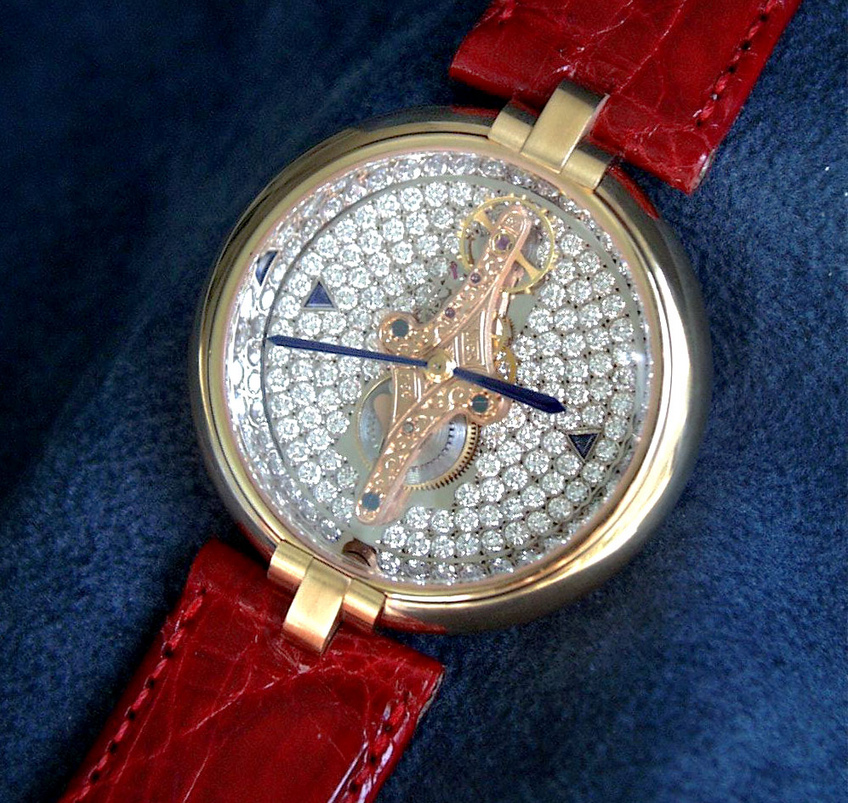 Vincent Calabrese Esprit Petra
Nothing is impossible for the Neapolitan
A tireless explorer of watchmaking technique, Calabrese is fond of taking up challenges that previously disheartened his predecessors. He is always successful in achieving and making possible what had been formerly tagged as "impossible". As yet another proof of his talent, let's go back to the exceptional karussel he created for Blancpain. Such a development proved, as he put it: "A church in the middle of a village is like a balance at the center of a karussel". He often uses puns, in this case to illustrate that nothing is static; there is always something to invent.
In his latest development, he highlights the fact that history has wrongly exiled the karussel from politically correct technical rhetoric. By showing that the karussel was more reliable than Breguet's famous invention, he ended a long feud amongst experts that ended up generating no viable ideas.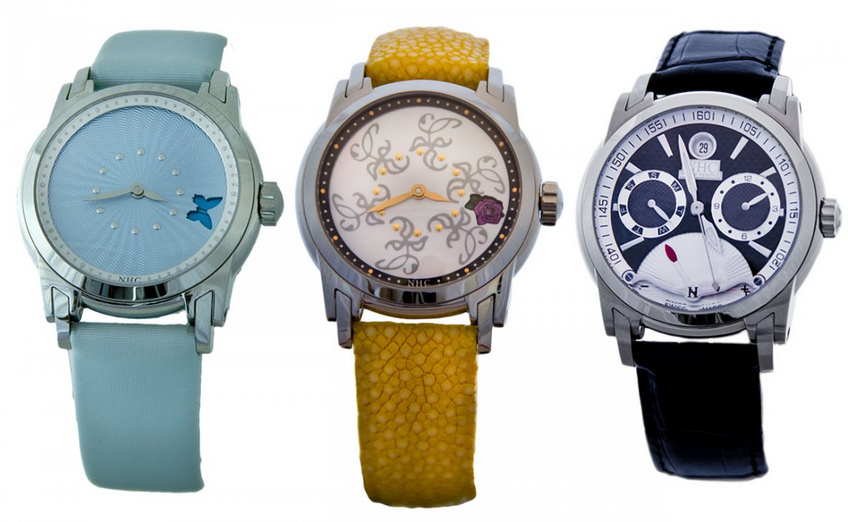 NHC Fly'Ora, Fi'Ora and Beauty Fuel watches
World premieres and many others
Calabrese signed wonderful pieces that obviously not everyone can afford, but he did not forget about those who like beautiful watches with some complications but at a reasonable price. That is the reason why he has created many different collections. Since it is not like him to take movements produced by others and add them to his cases, he makes it a point to add complications to those movements in order to offer quality but above all useful timepieces. In this frame of mind, he created a wonderful watch for travelers with the NHC brand ("Nouvelle Horlogerie Calabrese").
In 2004, the organizers of the "Grand Prix d'Horlogerie de Genève" (GPHG) defined this watch as the first of its kind worldwide and wrote: "Reading and using two time zones has never been as simple as with Vincent Calabrese's most recent creation. With this watch, he avoids the use of push-pieces and all the functions can simply be regulated via the crown. With its display of the time, the day, a second time zone and a 180° power reserve, this watch is a must for every traveler. The Beauty-Fuel is available in steel with three dial options: black, silver or blue, either with a leather or steel strap".

This timepiece is part of NHC's creations and it features a hand-polished and satiny steel case.
It is water resistant to 5 ATM (50 meters), it features double domed sapphire tops and a thin sapphire underside with an embedded logo fitted with four screws. Furthermore, it has a customized crown with an engraved logo, a 44-hour power reserve and hand-made leather alligator or steel straps, both of which close with a safety catch. The straps and their deployment buckles are polished and satiny and their internal parts are decorated with mechanical circular graining. It also has a two-year international guarantee. The base movement is an ETA 2892, which was modified by Vincent Calabrese. It displays hours, minutes, seconds, second time and day zones and a large power reserve. All these functions can be regulated via the crown. The watch is sold at approximately CHF 8,000, which is remarkably less than the general price set for this kind of watch.
Praise to you, my friend!
In this world of hyper communication where showing off is more important than demonstrating one's real talents, where quantity most often replaces quality and many usurpers shamelessly put their name on inventions that others had previously developed, it is high time to pay tribute to an honest man.
First of all, I salute you my friend. You have a heart as big as a house and you give us the warmth of your Latin affection. Under an appearance which sometimes borders irony, you hide a profound and extremely charming, sincere, kind and generous self. And how could you be anything else after having spent your life defying the limits of watchmaking technique and bringing this wonderful industry countless solutions that helped create exceptionally light and refined timepieces?
Then, I salute you, man of rigor. In more than forty years of practice, you have never wavered from your position. You have always created, you have always been original in your developments, and you have relied on no one.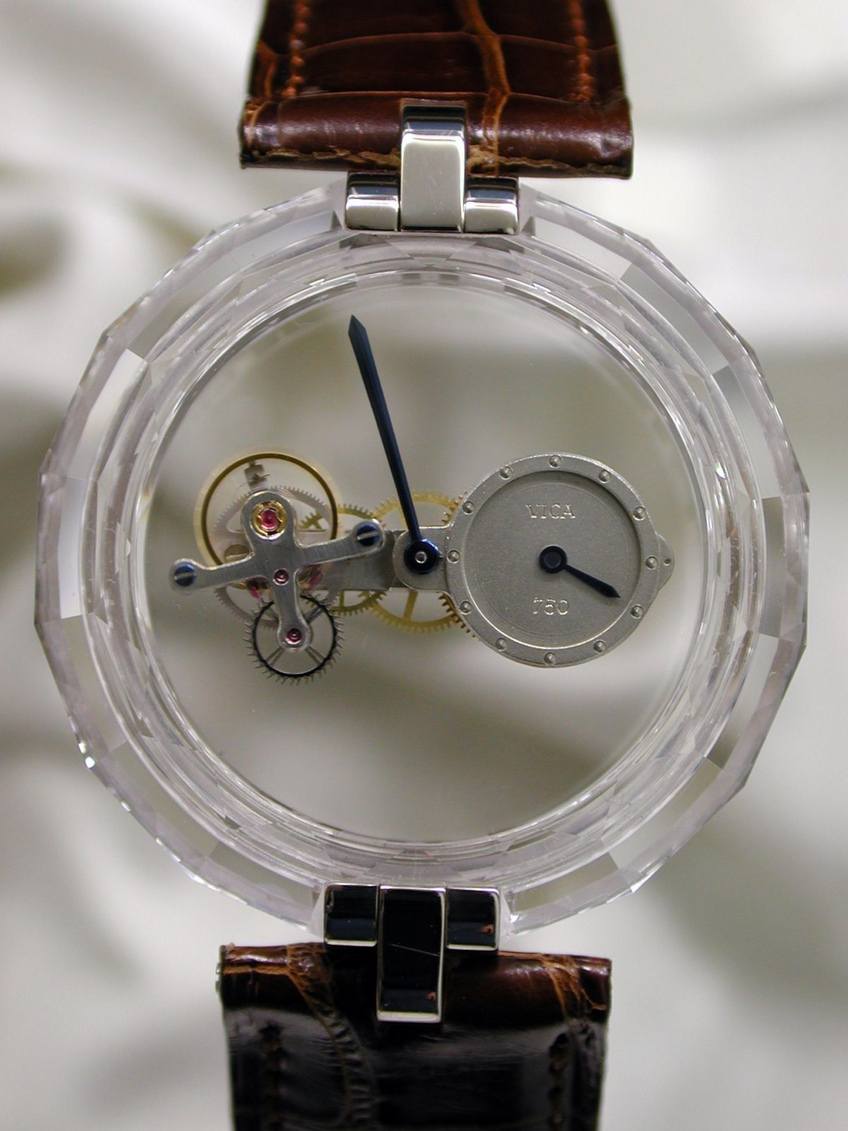 Vincent Calabrese movement with tourbillon
And finally, I salute you, the generous humanist. With the "Académie Horlogère des Créateurs Indépendants", you gave many anonymous craftsmen a chance to step into the limelight. Many in the corporation are deeply indebted to you; owe you their success, and even their fortune. Today, they unfortunately seem to have "forgotten" about this, but sometimes amnesia is just so accommodating!
By
Pierre Maillard
,
Editor in chief Europastar
Just published by Editions Slatkine, Le Temps d'une vie (in English 'A lifetime') is Vincent Calabrese's novel-like autobiographical account...
By
Eric Othenin-Girard
,
Specialised journalist
The man is amazing. Nearly 40 years after he created sapphire watches, the watchmaker still holds the element of surprise. We reviewed Stone, one of his recent...