F.P. Journe Tourbillon Souverain Tantale for Only Watch: precision charity
The manufacture F. P. Journe is daring to be luxuriously unique for its first participation in Only Watch. It will offer its very exclusive Tourbillon Souverain in a tantalum case.
The watch itself, launched by François-Paul Journe in 1999, immediately created a buzz back then, because it brought together a traditional tourbillon with a remontoir that rearmed every second.This very rare system is used to make sure that the energy from the mainspring, whether it is wound up completely or almost unwound, conveys constant force to the tourbillon carriage using a blade spring that is steadily recharged. It's a mechanism that one finds occasionally in building clocks, but not in wristwatches. It functions somewhat like a chain and fusée and gives the watch a sort of constant force movement. Add to that the tourbillon patented in 1801 by Louis-Abraham Breguet, and you have precision close to that of an observatory chronometer.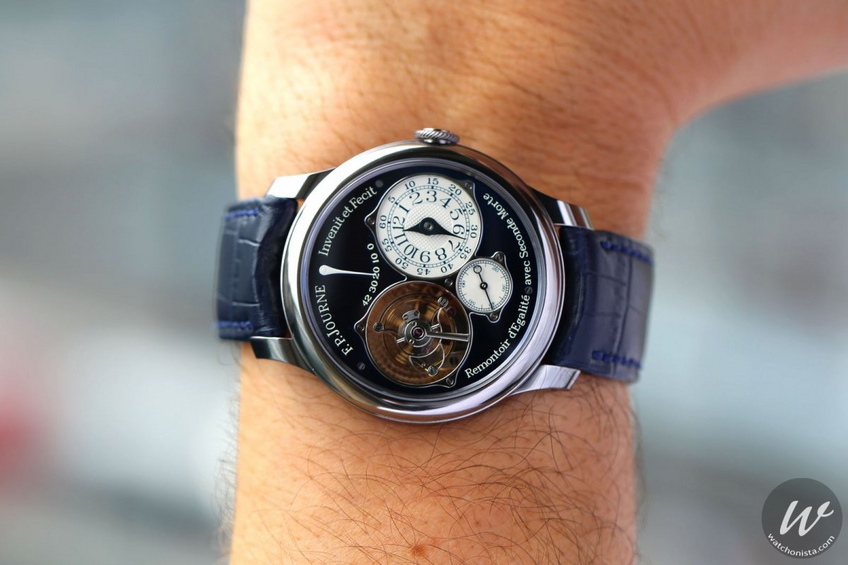 F.P. Journe Tourbillon Souverain Bleu Only Watch
Deadbeat seconds
Originally, the watch did not have a second hand on the dial, but rather a little wheel. It was modified to make way for a deadbeat second.In the new configuration, the second hand displayed is not directly driven by the main gear train, but rather connected to the remontoir mechanism, so it does not move along with the little jumps supplied by the escapement wheel. Instead, it passes from one gradation to the next once a second, the way a second hand would move with a quartz watch today.Obviously, the two different mechanical systems have nothing in common. The one used by F. P. Journe is, by definition, of incredible complexity and of a refinement that recalls the works that stoke his passion: those of Antide Janvier and the masters from the Age of Enlightenment, the Golden Age of the horological architect-designer.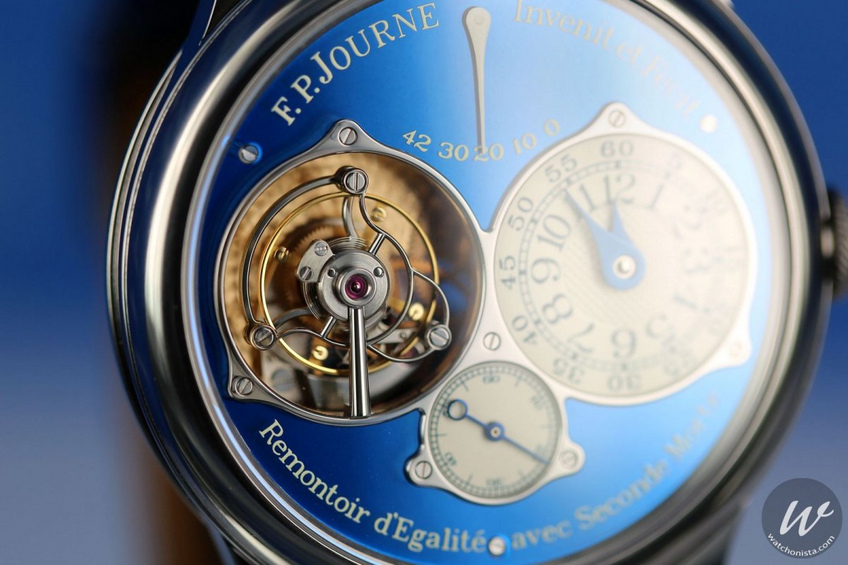 F.P. Journe Tourbillon Souverain Bleu Only Watch
As is the wont of this craftsman, who works in the middle of Geneva, this creation ticks to an in-house, manually-wound caliber made of massive eighteen-karat gold.It boasts 42 hours of power reserve and runs with a large balance wheel enclosed in a fine and airy tourbillon cage that makes one rotation per minute.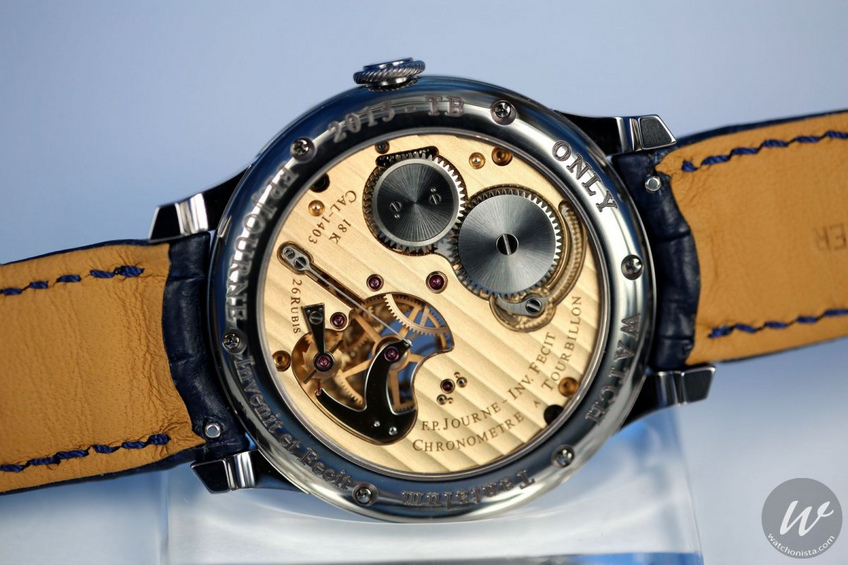 F.P. Journe Tourbillon Souverain Bleu Only Watch caseback
Tantalum for a surprising and unique piece
In its original incarnation, the model came in pink gold or platinum, in a 40-millimeter case. The one offered at the Only Watch 2015 is in a tantalum case, a rare, heavy metal with a greyish-blue hue that is very difficult to work because it is so hard.With an atomic number of 73, this metal is incredibly resistant to acids and it is biocompatible. Melting point is high, at 3016.85° C. With its natural color and extreme density, the metal was rightly combined with a blue chrome dial, whose color varies depending on the ambient light. It reinforces the presence of the dial for the hours, which was designed with a stirrup-shaped frame of metal inspired by the ancient marine chronometers. This outstandingly harmonious watch will be sold for the benefit of the Monaco-based Only Watch association, which will use the proceeds to combat Duchenne muscular dystrophy.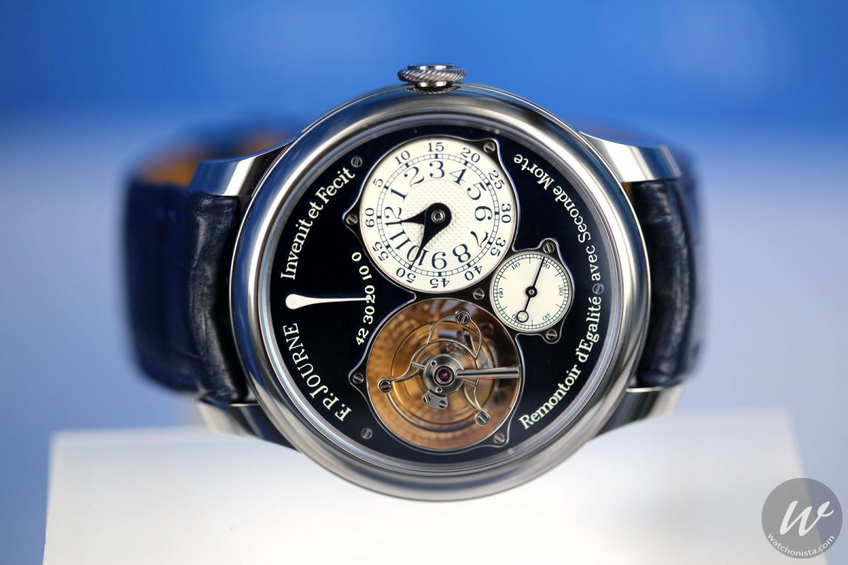 F.P. Journe Tourbillon Souverain Bleu Only Watch
It will undoubtedly be one of the highlights of this, the sixth edition of these watch auctions for charity, because F. P. Journe is not only there for the first time ever, but is also putting forth a genuine horological capstone in terms of sheer mechanics and especially in terms of unique finishing. Hard-core collectors will undoubtedly be bidding intensively for this model.