Le Tourbillon Souverain bleu de F.P. Journe en Tantale, interview
On the advice of a collector friend, in 2015 François-Paul Journe decided to take part in Only Watch for the first time. His very own Tourbillon helped to raise 550,000.- CHF, in other words four times the value of the platinum model.
Only Watch is a first for FP Journe watches. What made you decide to take part?
Claude Sfeir (Ed's note: a renowned collector) said to me: 'You've got to do it'. So I thought about it, because I'd never taken part before and it hadn't ever really appealed to me. Luckily, the fact that Aurel Bacs had taken over the running of it made me think it would be a bit more dynamic and better organised.
So you started to think about which model to donate to the charity auction?
Exactly. And given the time allowed, I wouldn't have been able to come up with a unique piece fitted with a movement specifically developed for the occasion. So, I asked myself: 'What's the most difficult thing I could create in our Workshop and that I would never produce in a series, unless I really wanted to shoot myself in the foot? And it was the blue dial and Tantalum case. It's the most difficult thing to make. So, I immediately thought of bringing out my Tourbillon in blue.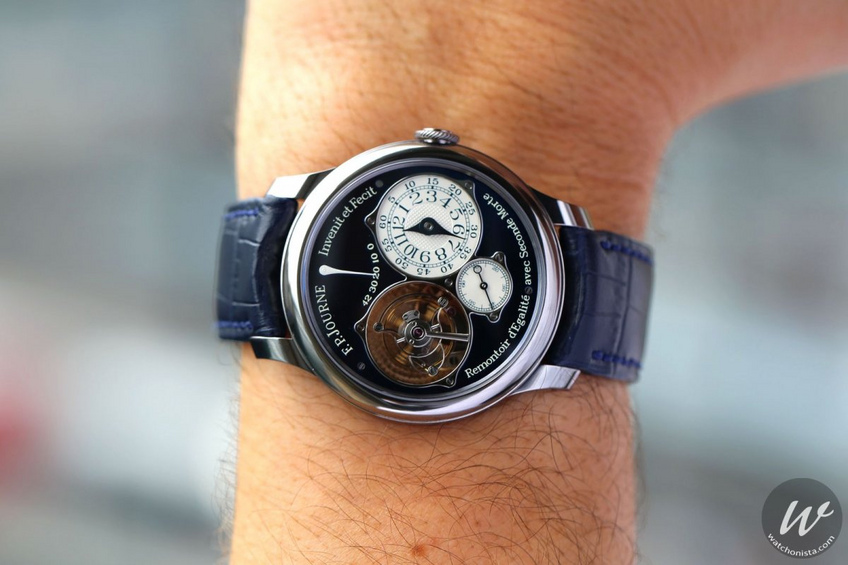 F.P. Journe Tourbillon Souverain Bleu Only Watch
Why the Tourbillon?
Well, I was already thinking that this year would be the year of the Tourbillon for us. We'd already made one for Action Innocence (Ed's note: another charity organisation). What's more, the tourbillon is getting a rough ride at the moment: there are lots of wannabe tourbillons around on the market that are more like carousels. Tiny mechanisms that rotate… not tourbillons in the true sense of the word, designed to genuinely improve precision. I told myself no way would we rest on our laurels, especially since our tourbillon is pretty exceptional and deserves to be in the spotlight. The tourbillon must set the standard.
Your Only Watch piece was an exceptional timepiece …
Yes, but if I'd made it 5 years ago, there wouldn't have been the same level of interest. Because we lacked the necessary maturity. Now, with our network of stores, which serve as a relay, and a whole load of other factors that have made people take us seriously, we're a lot more mature.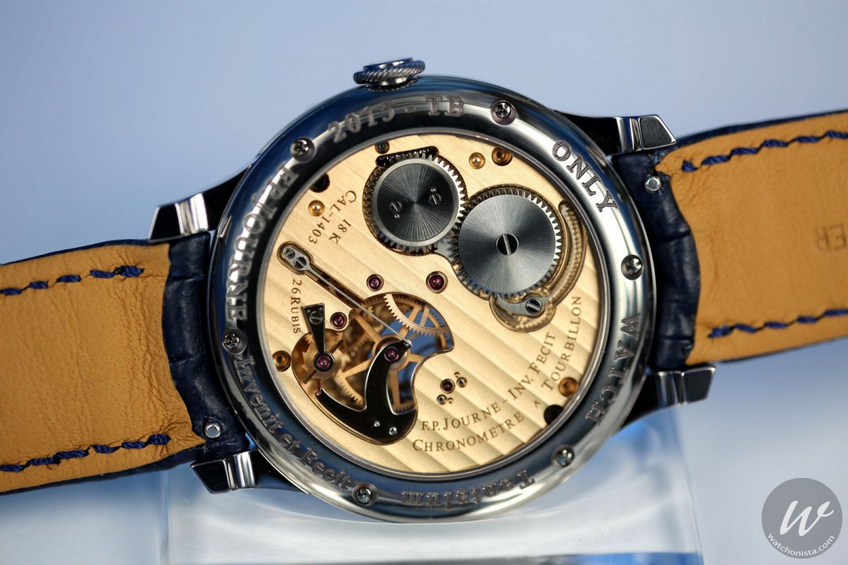 F.P. Journe Tourbillon Souverain Bleu Only Watch caseback
What gave you the idea of doing it in blue?
It's quite simple. Twenty-five years ago, for my first collection, I wanted to make watches with blue dials and steel cases. Because I was thinking, it's not the case I'm selling, it's the mechanics of the movement. Around that time, there were all kinds of brands who'd got stuck in a kind of steel rut. I thought to myself, it's getting very tacky. But I'd always loved the idea of white and seeing as I don't like white gold, I went for platinum, especially since I hadn't yet cracked a way of making the blue dial… In 2004, we had theCentigraphe. Jean Todt had become the sponsor for that one, because we were together at Ferrari when I came up with the idea of an instrument capable of timing a series of rapid actions. I chose a splendid chrome red, an F1 colour. Then, when I was at the Singapore Grand Prix in 2008, he commissioned me to make a Grande Sonnerie. I told him that using that particular red on such a complication would look a bit vulgar, after which he confessed 'I hate red, except on certain cars! In actual fact, his favourite colour is blue. And so he gave me some samples and colour swatches like they use in the motor industry. After making my choice, I gave the sample to my dialmaker saying I wanted the same. Now, when I look at the blue on the Grande Sonnerie, I know it's the blue I've always dreamed of.
Is it really the same blue?
Yes. The Grande Sonnerie bleue marked the genesis of the Chronomètre Bleu and therefore it had to be the impetus for the current Tourbillon. What's more, I'd decided that the combination of Tantalum and blue would then be reserved for the model I would donate to Only Watch in two years' time and beyond. The goal was to produce a collection.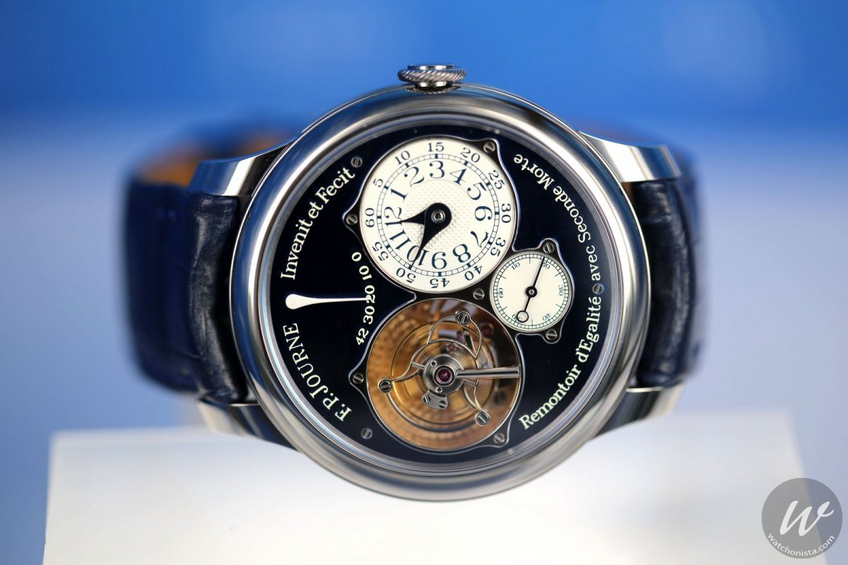 F.P. Journe Tourbillon Souverain Bleu Only Watch
More on Only Watch 2015: 10 million euros raised at Only Watch 2015 in Geneva