F.P. Journe Chronomètre à Résonance: "Love at Goodwood"
The hands-on test with the F.P. Journe Résonance turned into an exclusive privilege: that of wearing the famous timepiece for a whole weekend placed under the sign of mechanical passion.
After my numerous pleas to his team, François-Paul Journe finally gave in. I just got his answer: I shall be lent a chronometer for a full-scale test. I am very well aware that he does not usually do this and that this is a true privilege. After all, François-Paul Journe is one of the most talented master watchmakers of our time, a unique character in the watchmaking world as well as a true genius and phenomenon. Watchonista has been working with F.P. Journe for almost three years now. My various visits to the Manufacture thus gave me the opportunity to be around the man in charge and to get to know him a little.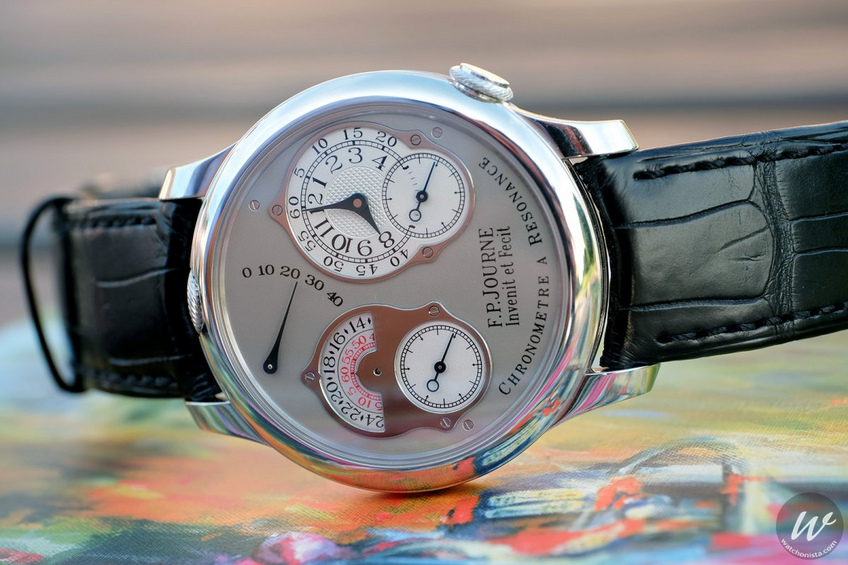 F.P.Journe Chronomètre à Résonance in platinum
On the way to the English countryside
"Goodwood, Festival of Speed" was clearly written in my diary. Let's go!
I wore the watch throughout my stay in Goodwood, where I attended the Festival of Speed. The annual hill climb gathers a unique selection of historical racing cars at the Goodwood House in the UK. Before I took off, I made a quick stop at the Manufacture in Geneva to fetch the watch. I did not want to lose a single minute of my allowed testing time. I immediately clasped it on my wrist and I fell in love with it right then.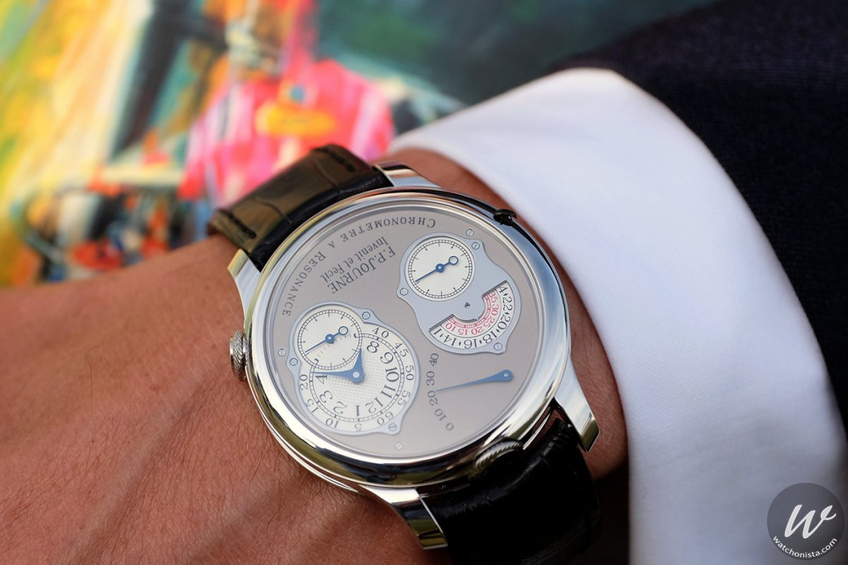 F.P.Journe Chronomètre à Résonance in platinum
This watch is just fabulous. This beautiful new version features a dial with two different displays and numerical 24 hours highlighted with red minutes. Without a doubt, this combination of a platinum case and a black leather alligator strap is my favorite. I feel that it will be difficult for me to take my eyes off my wrist. So much so as its 40-mm case perfectly fits it and that the almost-hypnotic oscillations of its double balance have brought me close to euphoria.
A travel watch
I admit that I am a fan of this timepiece. And thus, my first impressions of this atypical complication are obviously more than positive. The gold movement - which is visible at the back - reveals the piece's complexity and refined symmetries.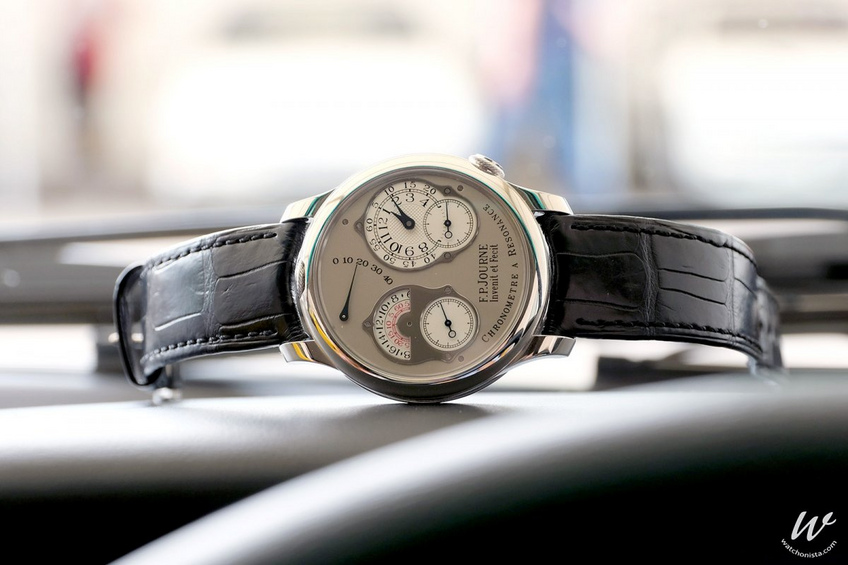 F.P.Journe Chronomètre à Résonance in platinum
The finishes are of high quality and it would seem that the whole F.P. Journe style was concentrated in this model.
Beyond the technical aspect, it should be noted that the Chronomètre à Résonance F.P. Journe is basically a travel watch. Its two time zones with enhanced readability immediately display the time once the 24h display is set. Obviously, when at Goodwood in the UK and with only one time zone difference from Geneva, it was difficult to manage the 24-hour timer. But if I were to travel around the globe and land in Japan, for example, the numbering of the hours would become a true asset compared to François-Paul Journe's first Résonance watches, which featured a traditional double display.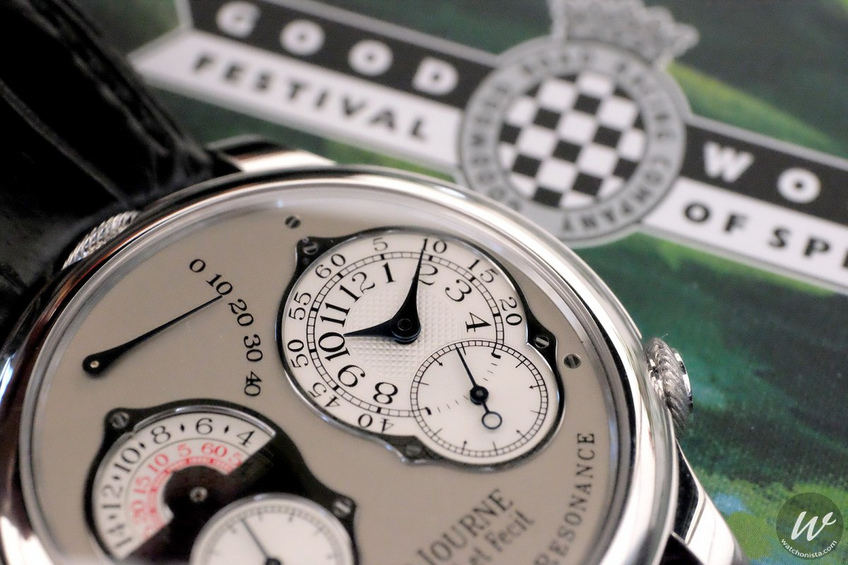 F.P.Journe Chronomètre à Résonance in platinum
So British: day and night reactions
Throughout my stay at Goodwood, what struck me most was everyone around systematically looked at the watch. So much so that I spent my whole afternoon at the Driver's Club - an exclusive place for drivers to take a break - taking it off my wrist for both drivers and collectors of old racing cars to be able to have a closer look at it.
At the same time, I did my best to give them some inevitable explanations: the reason why and in the name of which micromechanical phenomenon the watch is named Chronomètre à Résonance.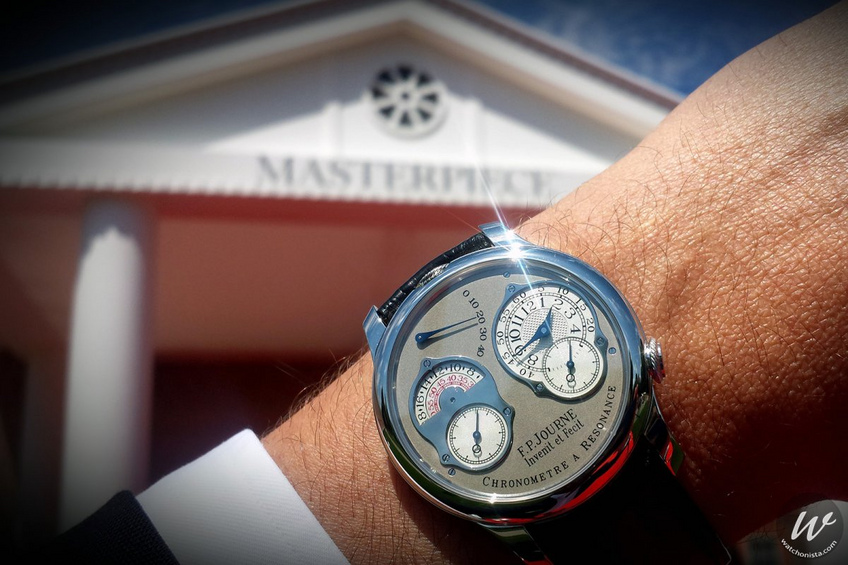 F.P.Journe Chronomètre à Résonance in platinum
Once my interlocutors took it in their hands, they all had the same reaction. At the beginning, their eyes were fixed on the dial and in the end they looked amazed at the sight of the movement. So, it was difficult not to repeat, since I anticipated the questions with a little pride, "Yes, it has two balances!" And suddenly, the famous guitarist of a legendary rock'n'roll band, who also happens a great collector of vintage cars, asked me:
- Alex, is this an F.P. Journe?
- Yes, Sir, it's a Résonance…
- May I have a look?
- Sure!
There is no doubt: I developed a strong attachment, bordering on addiction to this watch. Maybe it was because of the intimacy that the difficulty - almost impossibility - of keeping conversations with anyone else in the middle of the vibrations of free exhausts provided us with? Then a series of quasi-existential questions formed in my head: "What if I kept the watchl? Would it be reasonable? Should I flee with it?"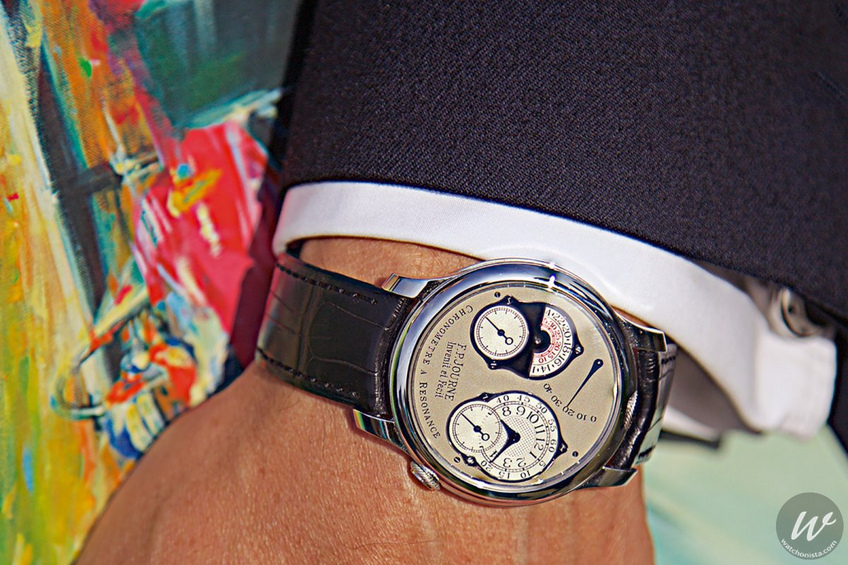 F.P.Journe Chronomètre à Résonance in platinum
Speaking about "mechanical resonance" during the famous FOS - Festival of Speed - was easier at the dinner party, as the audience there seemed predisposed to talk about technique. During the evening, the Résonance surprisingly and elegantly resumed its role of ultimate accessory for extremely fortunate gentlemen. Slipped under the cuff, it was fascinatingly attractive and powerfully seductive. This watch is after all a François-Paul Journe's creation, which means it does not at all follow the trends adopted by the majority of great watchmaking Manufactures. It is purely and simply Journe, a greatest Journe.
Back to reality
Yes, I was very much saddened to have to bring the piece back to the Manufacture. Now I understand better why the brand's customers are known to be so loyal and why these watches stand out from the rest on an emotional level. I also understand how people come to start collecting Journe watches and that how a Journe is a must in any self-respecting and beautiful collection. Journe's pieces are different. We are talking about a young brand that always draws its inspiration from great old-time watchmaking.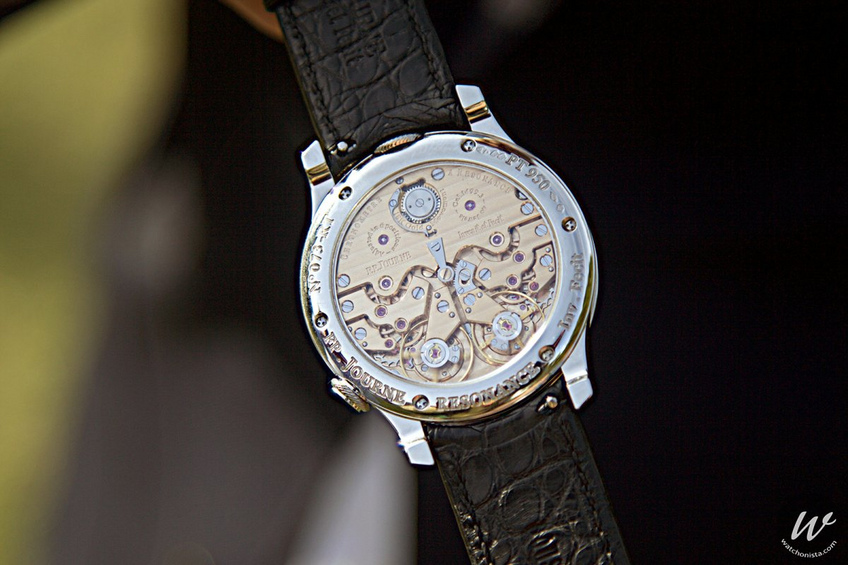 F.P.Journe Chronomètre à Résonance in platinum
If I were to give an assessment of my hands-on experience with this Résonance, I would say it is beautiful, deliciously technical, elegant and… differently complicated. In short, as the inhabitants of the green English countryside said amidst sheep bleats and whisky glass clinkings: "So sexy, isn't she?" In other words, it is a combination of Journe's style, skills and DNA. I need to have one!
Coming soon: an article by Vincent Daveau on FP Journe's Chronomètre à Resonance.
By
Josh Shanks
,
Contributor
F.P.Journe's newly opened Maison F.P.Journe promises to be THE gathering space for Miami's collectors, enthusiasts, and aficionados. Learn more!
By
Joel Grandjean
,
Editor-in-Chief
The watchmaking and automotive space will be open as of 9 March to coincide with the 2017 Motor Show. Watchonista is providing a showcase and promotional...
By
Joel Grandjean
,
Editor-in-Chief
From the moment it is released on 16 January 2017, the Vagabondage III is sure to be one of the most hotly pursued watches among collectors, if the craze...