BEST OF 2017 – Journe inflames collectors' passions with the Vagabondage III
From the moment it is released on 16 January 2017, the Vagabondage III is sure to be one of the most hotly pursued watches among collectors, if the craze initiated by François-Paul Journe with versions I and II is anything to go by.
The 2017 Season Greetings teaser has successfully aroused the curiosity of industry insiders on planet watchmaking. Without all the customary marketing rhetoric and histrionics, the F.-P. Journe Vagabondage series is already titillating the tastebuds of the most determined collectors. François-Paul Journe is offering them a third refinement at the annual watchmaking fair, in what is a world first: a 'digital jumping second'.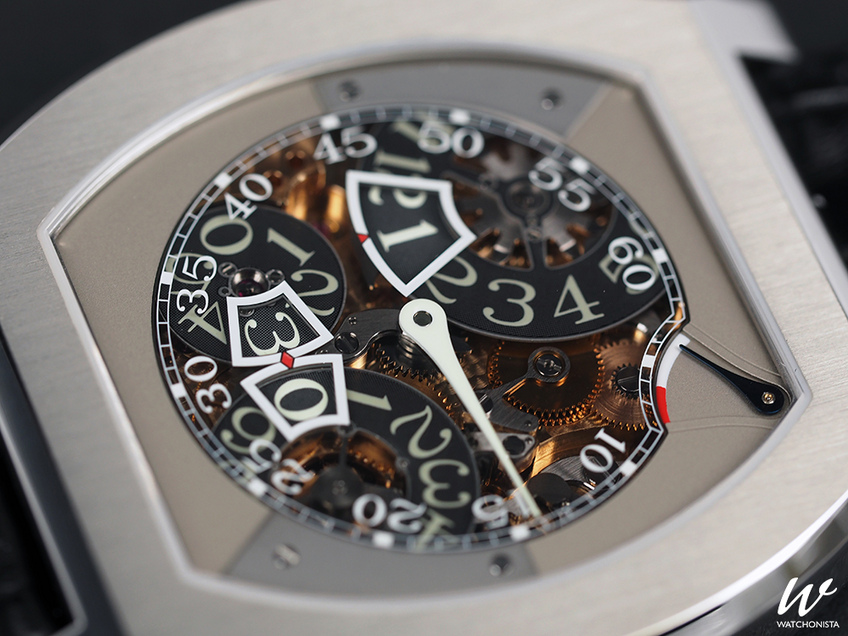 F.P. Journe Vagabondage III platinum
Birth of a legend
This particular master watchmaker is without doubt one of the last great patrons of horology willing to don an apron, sit at a workbench and pass on the pearls of his wisdom to his finest craftsman. But like any genius driven by curiosity and a hunger for exploration, he has sometimes felt the need to go elsewhere for his inspiration. So, he decided to make a little foray outside of his brand territories, off the beaten track. Like a wandering nomad, if you will. The result was a timekeeper with a patented flat 'tortue' form, a departure from the hitherto signature round cases and a contrast with the style for which he was renowned.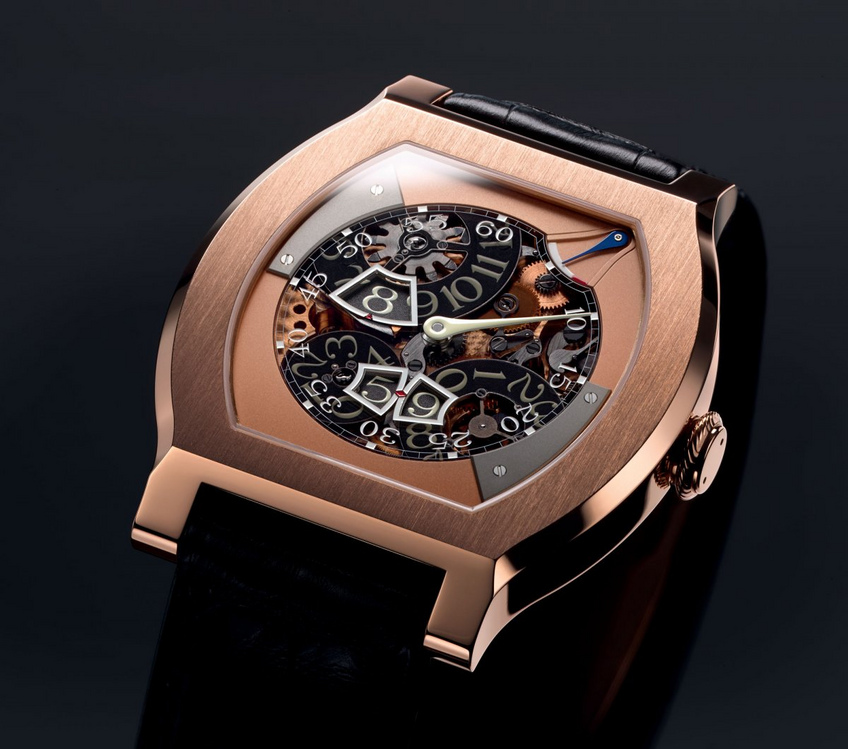 F. P. Journe Vagabondage red gold
What's more, the piece in question offered a vagabond-style wandering digital display, in other words time-telling via a 'jumping' mechanism visible through a display window. In fact, it's no surprise that those enamoured with pure craftsmanship and unique watchmaking, with limitless funds, a collector's passion and tendency to deny the existence of a crisis, immediately made it their own personal legend. Another detail likely to feed the frenzy of the fanatical is that, in an elegant move to return to its roots, these Vagabondage timepieces are deliberately bereft of their maker's signature. It is almost like the creature breaking free of its creator to find its own identity.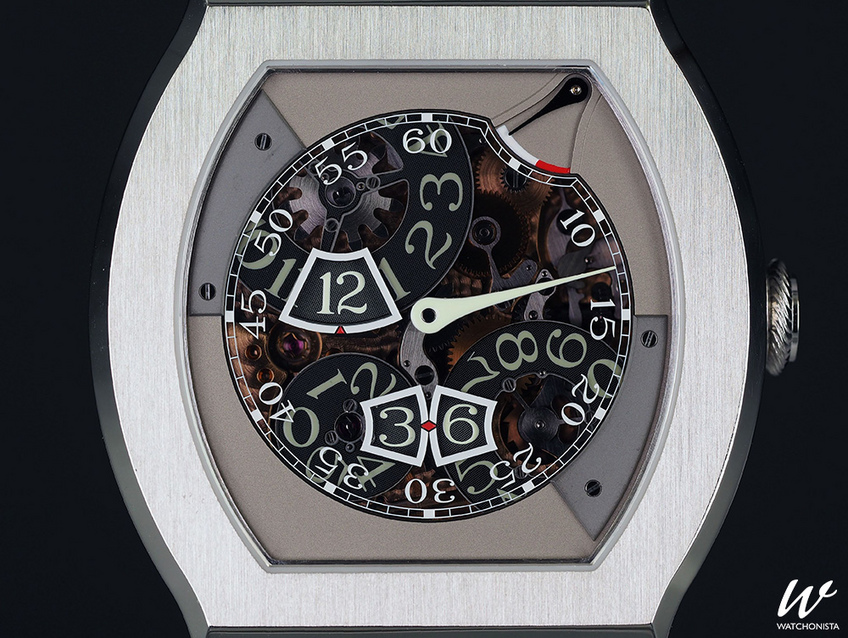 F. P. Journe Vagabondage III platinum
The first two instalments
It all began in Geneva in 2004 when the watchmaker, François-Paul Journe, was asked to make a donation at a charity event in favour of the ICM (Institute for research into brain and spinal cord disorders). It was planned as a fund-raising gala event culminating in an auctionfor which he created this one-of-a-kind piece. The model in question had the special feature of a digital jumping hour and came in three versions: one with a white gold case, another in rose gold and yet another in yellow gold. It sold for triple the initial estimate. Without promotion or publicity of any kind, the Manufacture of Invenit et Fecit fame made 69 pieces in platinum and a further 10 in platinum set with baguette diamonds. All were fitted with a mechanical calibre with manual winding crafted in 18K rose gold. Customers and aficionados of the brand went wild for it …
The Vagabondage II, launched six years later in 2010, had the same impact on collectors with its digital jumping hours and minutes. Especially since those who had succeeded in obtaining a piece in the first individually numbered series were entitled and even more eager to purchase an identical limited number from the second series. In this second version, also with manual winding, the realms of the possible were further expanded, however, with the addition of 68 pieces made in red gold to accompany the 69 pieces in platinum and 10 in platinum set with baguette diamonds. Here also, the mechanical calibre with manual winding was crafted in 18K rose gold. The watchmaker endowed it with a special barrel, as well as a constant-force device whose function, by means of the instantaneously jumping minutes and hours, was to ensure better power distribution and management.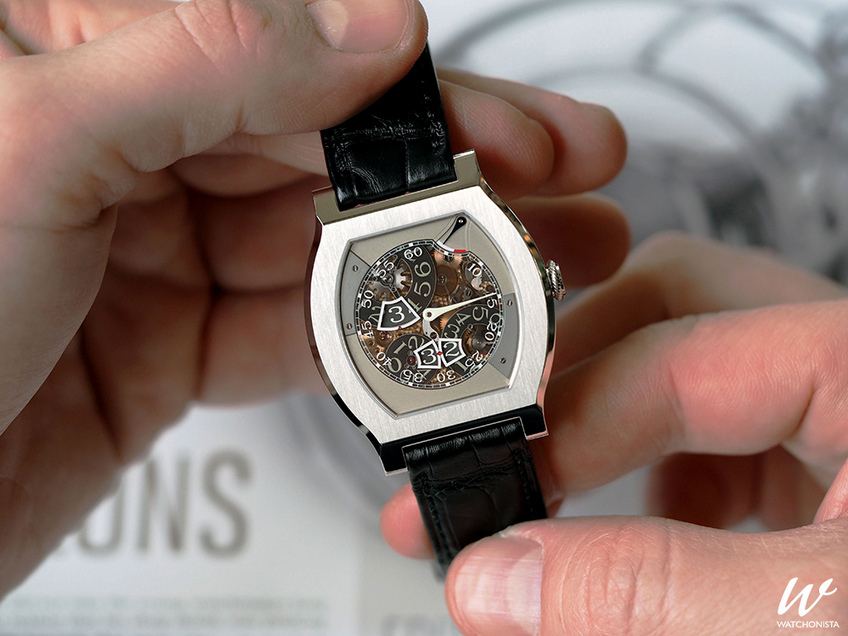 F. P. Journe Vagabondage III platinum
Vagabondage III, a calibre developed for 137 timekeepers
Beating at a frequency of 21,600 vibrations an hour, the calibre 1514 crafted in 18K rose gold is the keystone of this third instalment in the Vagabondage journey. This latest version is also fitted with a constant-force device completing one revolution per minute, a mechanism registered under patent no. EP1528443. Its 15 tooth in-line anchor escapement, double-spring barrel, fine decoration and finishing comprising part circular-grained bottom-plate, Côtes de Genève engraving for the bridges, polished screw heads, chamfered tour(head?) and slot and pegs with polished rounded ends, are bound to bring interest in the latest in the series to fever pitch.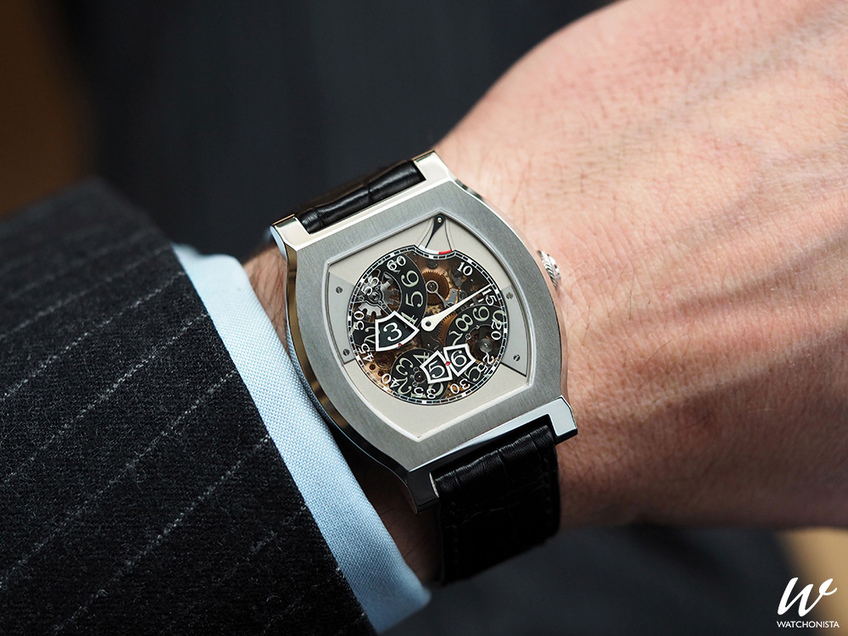 F. P. Journe Vagabondage III platinum
There will only be 69 pieces in platinum and 68 in red gold. Priority will be given to owners of one or the other, if not both of the previous editions. Wherever possible, the numbers may coincide. The case size is identical to that on the Vagabondage II and sports a smoky sapphire crystal, which leaves the passing time open to view in a play of opacity and transparency, again according to the 'jumping' principle. The Vagabondage III is offering, in what is a world first, digital jumping seconds. The digital display apertures, the hours at 10 o'clock, the seconds at 6 o'clock, are surrounded by a white filet. The white is echoed in the central minutes hand. But there is welcome relief in the form of a hint of blued steel, nonetheless, in the power reserve indicator at 1 o'clock. The spectacle is unrivalled and quite hypnotic: the balletic display of the seconds ticking away, and of numerals in the various digital displays coming together, dallying a while, then parting company, is nothing short of magic.
Trilogy and drama
As seen in this triptych of three digital displays, François-Paul Journe is to complicated watchmaking excellence what Krzysztof Kieślowski, with his colour trilogy Blue, White and Red, is to dramatic cinema. A unique individual, a genius, showered with awards and recognitions. An individual who, even when having built the loyalty of its public, is not afraid to startle and disorient by whisking it away to unexpected, colourful worlds suffused with red. Worlds that reek of anti-establishment and punky acts of rebellion …