Diving with Oris for a good cause and the launch of the Staghorn Restoration Limited Edition
Intrepid journalist on the search for a good story finds himself swimming with fish, planting coral, and ends up having the time of his life.
This crazy industry has taken me from Middle America to Dubai and many points in-between. Just when I thought I had seen it all, Oris convinced me to get out of my comfort zone, slip on a wetsuit, take a dip off the Florida Keys, and it was all for a very good cause.
At this year's Baselworld, Oris' North America CEO VJ Geronimo (great name btw) asked me if I liked to dive. Like any kid born in the 1980s my answer was a timid "umm are there sharks? If not, yes?". As an 80s child, I was inundated with a constant barrage of shark terror films (Jaws, Jaws 2, Jaws 3, and so on). In fact, so many shark films were made, there's a Wikipedia article dedicated to the topic, plus this question was coming from the brand that made the Hammerhead Limited Edition.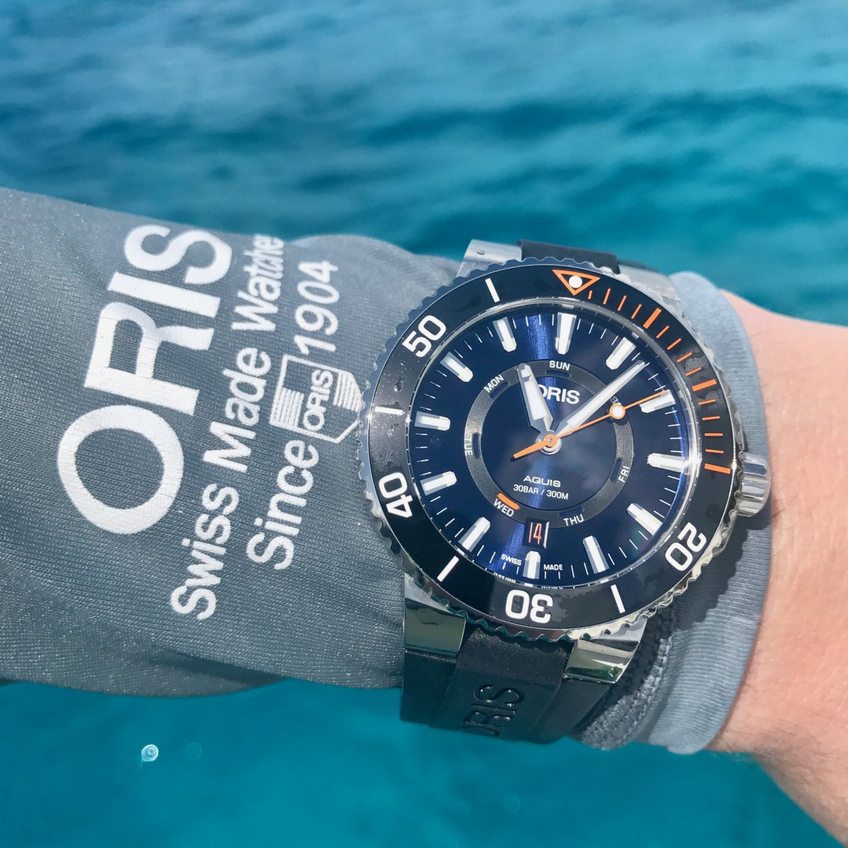 ORIS Staghorn Restoration Limited Edition
"Real watches for real people"
What inspired me to throw caution, shark abated fears to the wind is that Oris just plain knows how to have fun. The brand doesn't take itself too seriously and even brands itself as "Real watches for real people". Their watches are exceptionally well built, and their dive watches are purpose-built workhorses. Moreover, Oris watches are accessibly priced.
Recently, I purchased my first Oris, their Carl Brashear bronze piece. The watch has a unique chameleon-like ability to adapt to its surroundings and if given the right dose of saltwater, rain water, or even skin contact, can change colors. Continuing down the rabbit hole of Oris' humility, I was even sent an email from their CEO congratulating me on my purchase after he saw a picture on Instagram. Seriously, name another brand president that would take the time to email a collector that just purchased a few thousand-dollar dive watch, I'll wait…
Over the last 40 years, 90% of the worlds coral has been lost
Every year, around World Oceans Day, Oris partners with an organization focused on marine conservation. Currently, the brand is working with eight partners through sponsorships, and proceeds from the sales of limited edition watches created for these partnerships. This year, the brand is partnering with the Coral Restoration Foundation (CRF). For those unfamiliar, over the last 40 years, 90% of the world's coral has been lost. The principal factors behind this devastation are many, but include; global warming, overfishing, coral bleaching and careless tourism.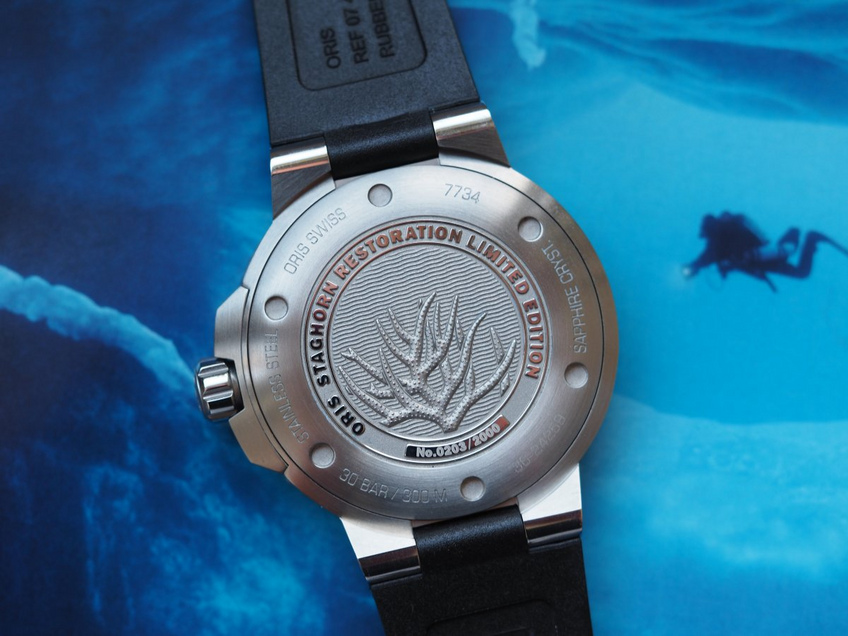 ORIS Staghorn Restoration Limited Edition
CRF performs a critical function in the restoration of these precious lifeforms
The foundation has already planted over 22,500 new corals in the Florida Keys, and over the next three years, they plan to plant an additional 50,000 corals across eight reefs in South Florida.
The process for these restoration efforts is surprisingly simply. New corals are grown in CRF's nurseries and then out planted to various reefs approx. three miles off the coast. The main species of coral that CRF grows and plants is Staghorn coral. They start with a two to three-inch piece attached to a small wire and then affix that an underwater tree of sorts. Within nine months, the small piece can grow to the size of a basketball. After the coral matures, it's then taken to a reef for out planting. Divers find a comfortable solid spot, test fit the coral to ensure it has three points of contact, and finally the coral is affixed to the seabed via an eco-friendly epoxy.
Most of CRF's employees are volunteers, and plantings are almost a weekly occurrence. For our trip, myself and approx. 20 other US and International Journalists and influencers joined CRF and Oris to take part in one such mission.
The sheer magnitude of CRF's nursery was astounding
Oris was kind enough to have watches on hand to try out and I went with the Staghorn Limited Edition for obvious reasons. Our first stop was the nursery, divers strapped on their gear and dove to a depth of approx. 60 feet to retrieve the cultivated corals. Snorkelers (myself included) watched this process from just below the surface.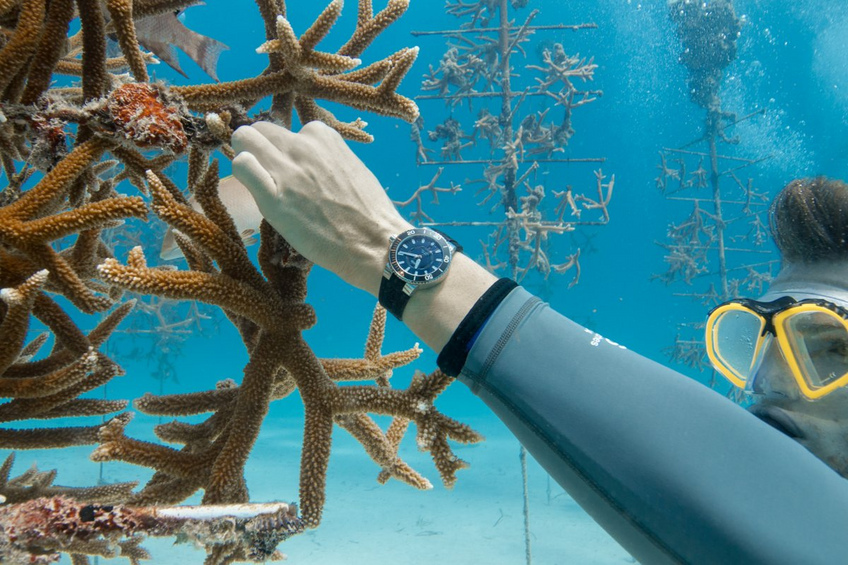 ORIS Staghorn Restoration Limited Edition
The sheer magnitude of CRF's nursery was astounding. In addition to Staghorn coral, CRF grows and reproduces Elkhorn, Boulder Star, Mountainous Star, Blade Fire, and Pillar corals. More information is available on their website.
Once we had the recovered Staghorn corals aboard the ship, they were soaked in sea water to reduce shock. Our boat then headed to Pickles reef where divers would out plant the coral. After a brief bout with a strong thunderstorm, and sea sickness for some, our group jumped in to see the final process. There's not a lot of things in this world that shock me, but seeing coral devastation first hand certainly had a profound effect. Imagine the coral reefs you see on TV and pictures, now imagine them eviscerated into dust. That's about how it looks.
It was refreshing to see corals being planted and fish finding a new home
As I sat below the surface of the water, diligently adjusting my snorkel and mask, I couldn't help but reflect on how special this trip was. There I was, wearing the very watch that was commissioned to help raise awareness for CRF, while CRF was below me out planting the very coral (Staghorn) that was inscribed on the back of my watch.
After about an hour of out planting, we all boarded the ship and prepared for our journey back to land. Taking with us memories and images that we'll not soon forget. We regretfully had to return the watches lent to us, with some protest from myself and others. It got to the point that a few of us (myself included), asked to purchase the Staghorn Limited Editions we wore on the water. After some deliberation, Oris agreed, and I ended up with #203 of 2000. While our day on the water was over, our night was only just beginning.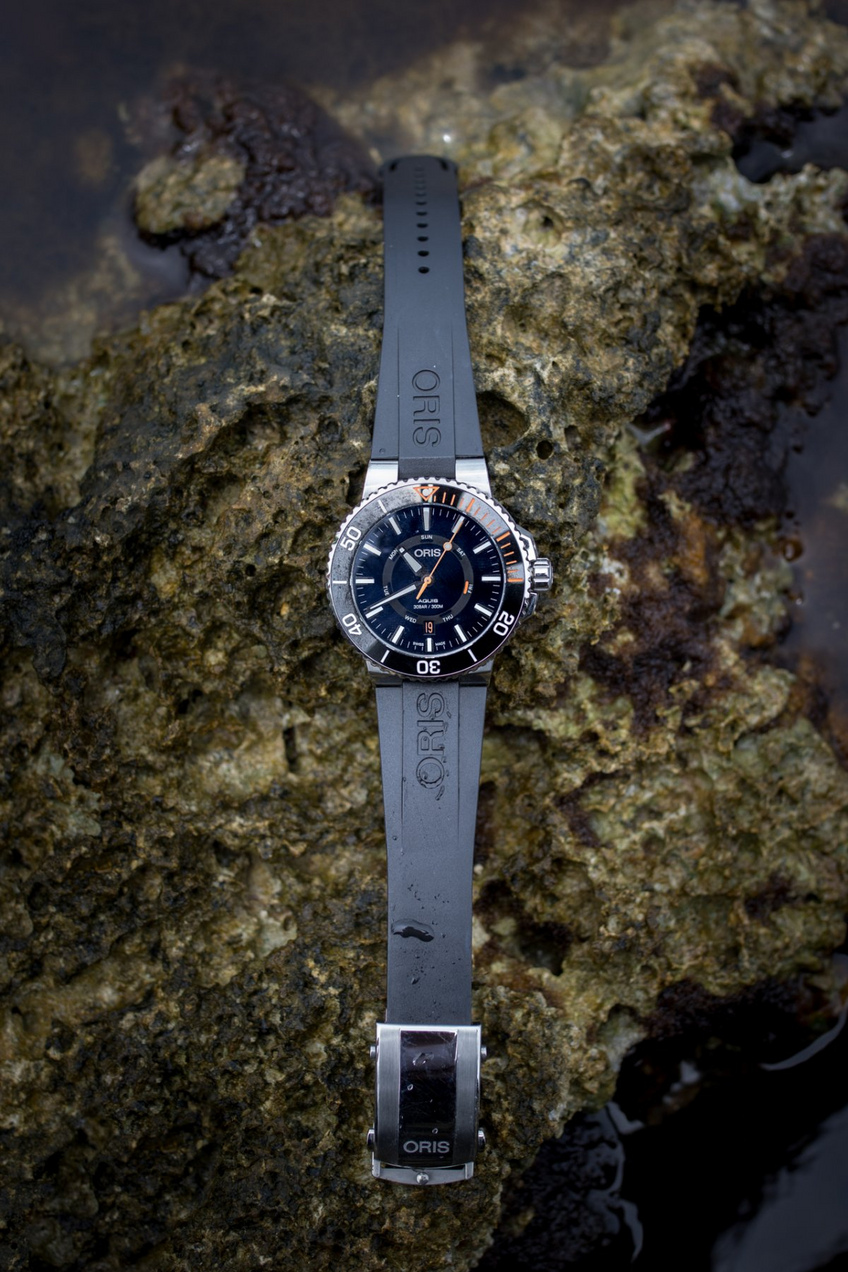 ORIS Staghorn Restoration Limited Edition
For this trip, Oris did a very nice job assembling the group of attendees. Everyone got along swimmingly (pardon the pun), and relationships were formed that will last far beyond this trip. That's the kind of thing Oris is known for. As was evidenced by our 2am karaoke outing (pictures under embargo), pool bar antics, and even a pickup game of basketball.
Reflecting on that day at sea and trip overall, I have a smile on my face. It's nice to see our community come together for a good cause. Additionally, it's great to see a brand who understands their target audience of buyers, collectors, influencers, admirers and goes the extra mile to cultivate relationships with everyone. I'm looking forward to being on the water again, seeing members of our group once more, and most of all, I hope this article sheds some light on the great work that Oris and CRF is doing to protect the environment, oceans, and coral reefs.
For more information about Oris, CRF, and coral devastation, please see the links below:
The Staghorn Restoration Limited Edition a limited edition of 2000 and is priced at $2,000 on rubber strap, and $2,200USD on metal bracelet. The watch will be available at your nearest Oris Authorized Dealer around August, 2017.
By
Josh Shanks
,
Contributor
French brand YEMA has been on a heritage roll as of late. Their new Superman Heritage 63 is no exception.
By
Josh Shanks
,
Contributor
When the word adventure is literally in your brand name you have serious shoes to fill. Luckily, Laventure isn't your average brand.
By
Barbara Palumbo
,
Contributor
More and more brands are stepping up to the plate when it comes to ethical-sourcing, sustainable practices, and protecting the earth and all who call it home...