Sapphire watches were born almost 40 years ago
The watchmaking community is always exploring new directions. However, in its exploration, it tends to forget that others have gone down those same roads long before them!
Watch brands realized that, if they wanted to be successful, they had to surprise, stun and provoke clients, aficionados, collectors and even their competitors. To be able to do so, it was essential to keep an open mind and to listen to suggestions, for as long as these were feasible. However, just like the world's most beautiful woman can only give what she has, technical watchmaking could not reinvent measuring time. And so, over decades, watchmakers have produced numerous combinations of complications and explored different ways of obtaining the highest possible precision. Indeed, watches worth one million euros must offer absolute precision or be as close to it as possible.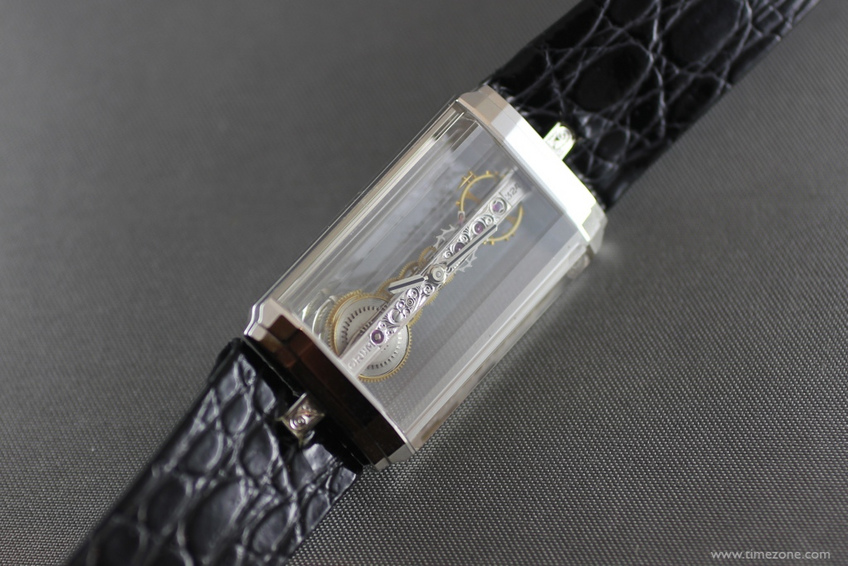 The Corum Bridge 1980 designed by Vincent Calabrese (photo timezone.com)
Seeing through sapphire
Almost everything has been done before in movement design, including the use of innovative materials. Hence, watchmakers took an interest in external parts and resorted to the most precious materials, the most gifted craftsmen and the most beautiful stones. And, of course, as it is in the case that the movement is housed, the former was also brought under scrutiny.
Some three or four years ago and all of a sudden, watches with external parts made of sapphire appeared. The lucky and very wealthy owners of these see-through "wonders" were hence able to admire the movements of the gears, springs and other hammers. This was obviously considered an amazing technical development and the first of its kind and the watchmakers behind these timepieces claimed it was a sort of world premiere. But they were wrong. In fact, watchmaker Vincent Calabrese created for Corum an all-sapphire piece in 1980 – the Golden Bridge.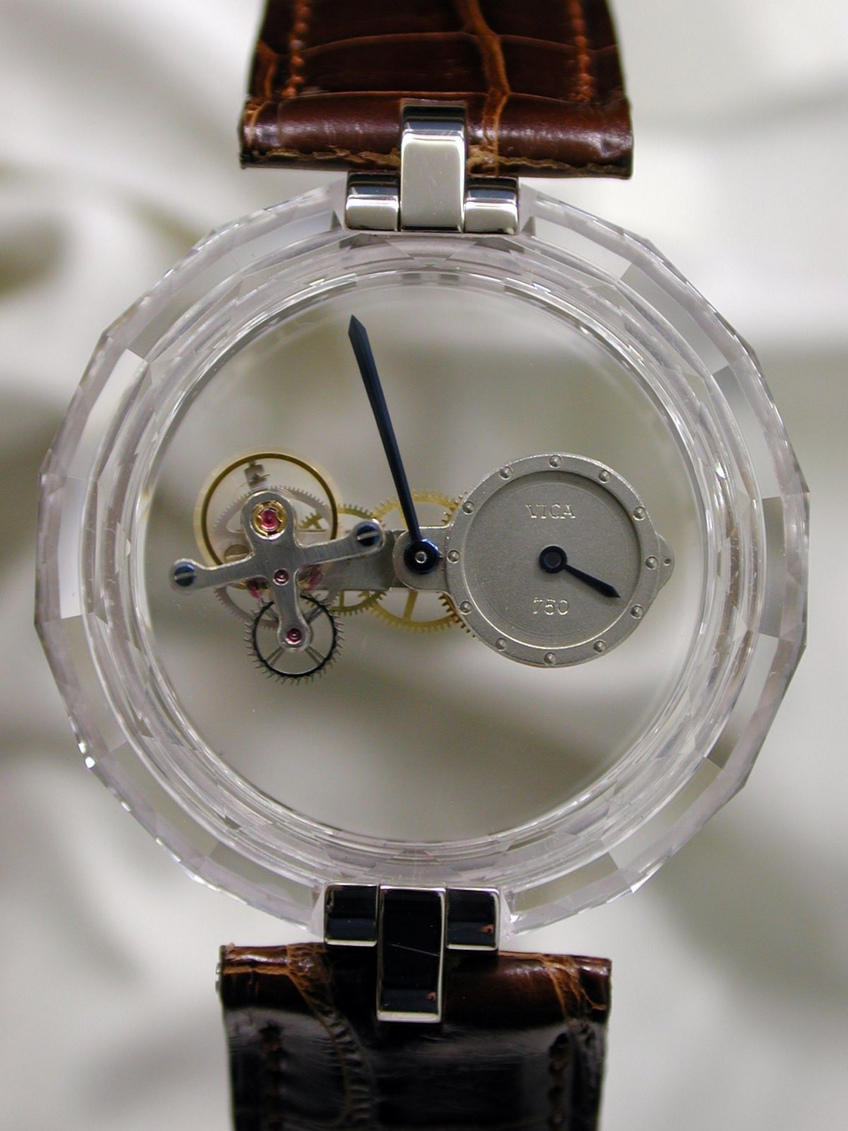 Vincent Calabrese Régulus flying tourbillon
Proving his worth
Originating from Naples, Vincent Calabrese came to Switzerland when he was quite young. Upon his arrival, he immediately started to look for work. And thus, he came across watchmaking. A young, self-taught genius, Calabrese was swift to climb the industry's ladders. After a few years working near the Neuchâtel mountains, he moved to Crans-sur-Sierre, in the Valais Canton, where he was entrusted with the management of the most prestigious watch store in the station and in the whole of the Valais area. At the time, the store had a very wealthy Italian clientele. Calabrese used to advise clients but never stopped refining his skills whenever he found time in between his duties. He never had basic training but rather, he learned everything he knew by reading technical literature and putting his conclusions into practice. That is how he slowly built a clientele who came in to ask him to create customized watches.
"In 1975, after I had been working in Crans for a while, I decided to test myself and create my "school watch". Indeed, watchmakers who underwent training had to create their own timepiece as a final project. Yet, I did not have my own and thus wanted to prove that I, too, could do it. But I had no simple watch in mind.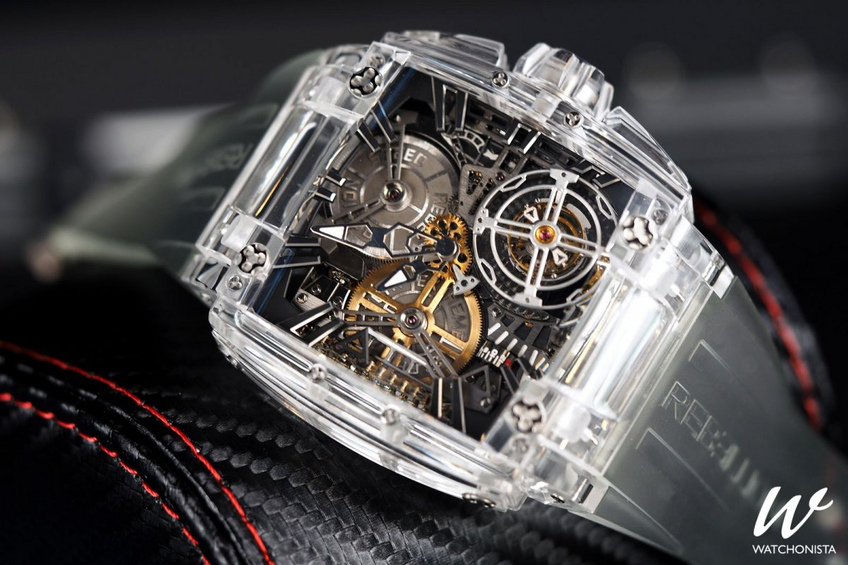 Rebellion timepieces Magnum 540 Tourbillon Sapphire
My piece featured two stunning aspects: the technical part of the movement and the external parts. That said, it took me two years to solve the problem of how to house the movement in an entirely transparent case by hiding the winding stem and pieces, and all this without using keys. After much deliberation, I came to the conclusion that the only solution was to hide the winding stem under the barrel. Indeed, I could not hide it behind the dial, as in a sapphire case, and there was 'no coffin in which to bury it'".
Many a patent
In the end, Calabrese hid the winding stem in a hollow barrel. This was, unsurprisingly, filed for patent in 1977. After that, he was given the green light to introduce his timepiece to the public and, during the same year, he was awarded first prize at the International Exhibition of Inventions. To confer the watch beauty and a poetic side, Calabrese created the famous baguette movement, levitating in the also-famous case. That was it: he had everything in place to draw the attention of the watchmaking sector. With his invention in hand, he went to Patek Philippe and ETA but they were not seduced. Finally, in 1980, he introduced the Golden Bridge for Corum.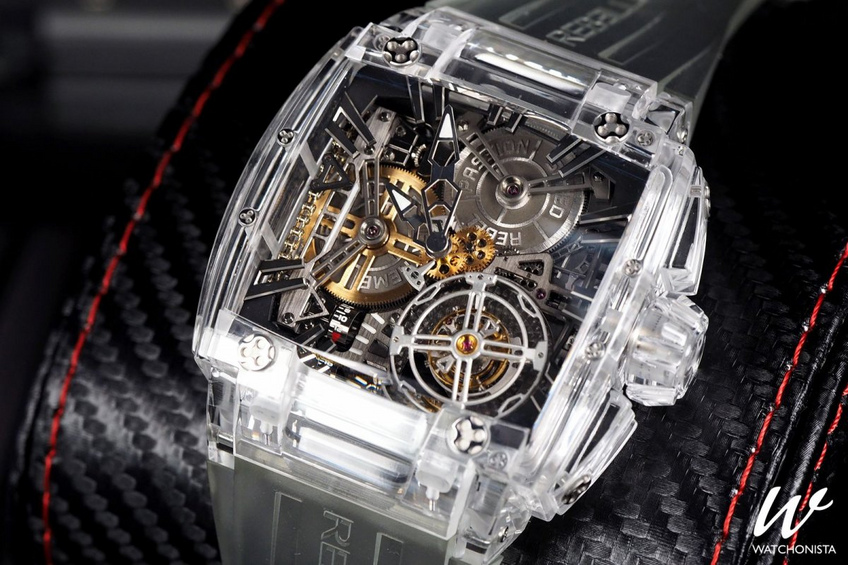 Rebellion Timepieces Magnum 540 Tourbillon Sapphire
Myriad of possibilities
Once he mastered technical and decorative skills, Calabrese set about creating watches with customized sapphire cases. As he reminded us, his first watches were square-shaped. However, in 1984, he assembled a skeleton and a piece with a pivoting case in which a movement smaller than a CHF0.50 coin was encased. In 1985, as a world premiere, he introduced a tourbillon in a sapphire case to commemorate the creation of the "Académie Horlogère des Créateurs Indépendants" (AHCI). Then, he worked on flying tourbillons and movements shaped in the initials of their owner. In short, Calabrese's sapphire watches are spread throughout the world. Why, still today Asian clients seek him out to make a piece.
After he proved his worth or rather won his place among the best watch creators ever, we were pleased to see how he still invested himself in the creation of sapphire watches. Here are some examples. In January in Geneva, the independent brand Rebellion introduced the 540 Magnum Tourbillon equipped with, in the brand's words, the craziest sapphire case ever made.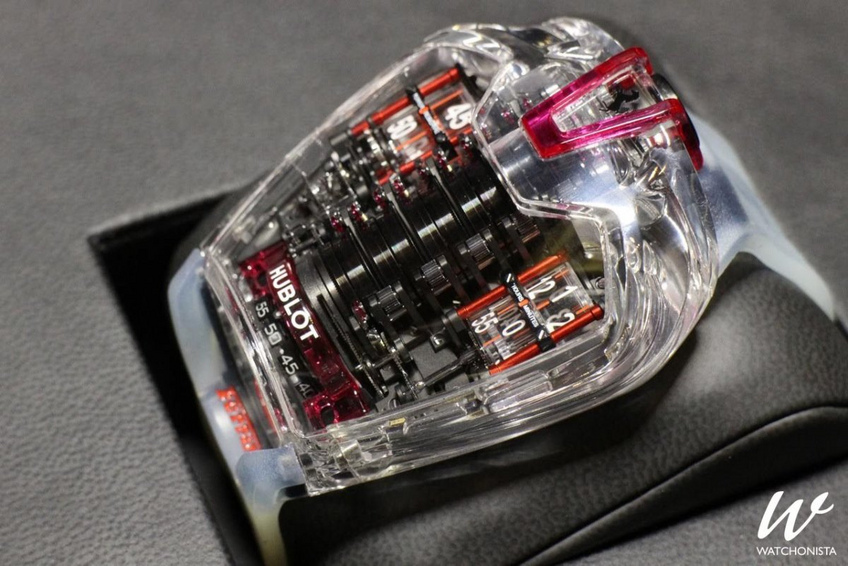 Hublot MP05 Laferrari Sapphire
As he put it: "It took 47,600 minutes of diamond milling, that is, 99 working days, to manage to extract the eight specifically-cut sapphire blocks that make the case. It was a challenge that went beyond the magic of transparency".
It all started with a crazy challenge issued with dare and passion. Certain master watchmakers are absolute masochists. David Candaux took up the crazy challenge, which was to produce the sapphire case imagined by Eric Giroud – an ultra-complex case in steel, gold, titanium or carbon. However, he did not quite know what to expect. But with the faith of pioneers, somewhere in between a reckless disregard for danger and the need to avoid disappointing, he achieved an unparalleled exploit.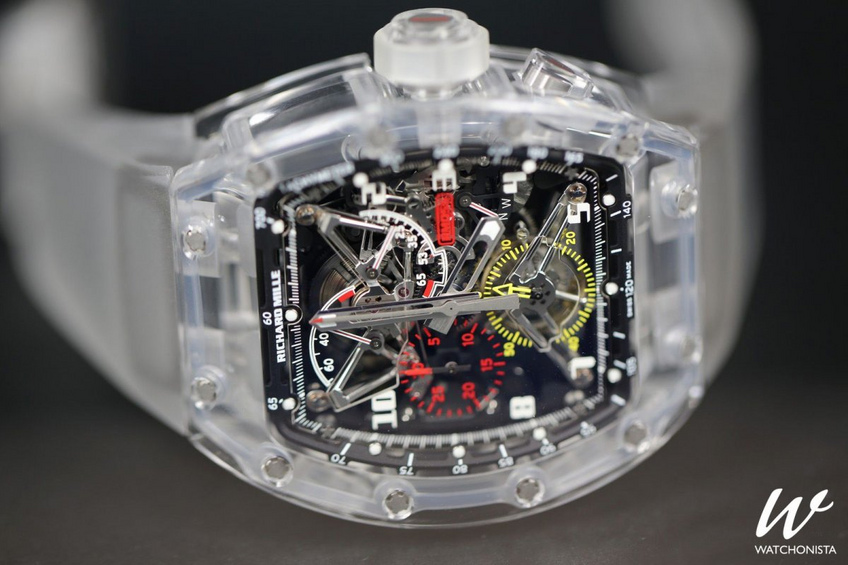 Richard Mille RM 56-01 Sapphire Crystal Tourbillon
The 47,600 minutes that turned out to be necessary for the milling and polishing of this uncommon case do not take into account the long hours spent on the design and on checking final feasibility, step by step.
A herculean task that only the computer simulation of an advanced and especially reprogrammed 3D program could validate. And thus, some attachments and anchor points that were easily hidden in steel, gold or titanium masses suddenly looked like aesthetic warts when sapphire and its accompanying transparency gave uninhibited visual access to the watch's internal mechanics. This of course meant that everything had to be reinvented and reshaped – from the head of the smallest screw to the least accessible parts for man-made tools and the water resistance joint made in transparent silicon. When the challenge was over, Candaux confessed: "We needed all our ingenuity to find a way to avoid modifying the aesthetics while successfully assembling the elements and designing invisible attachments".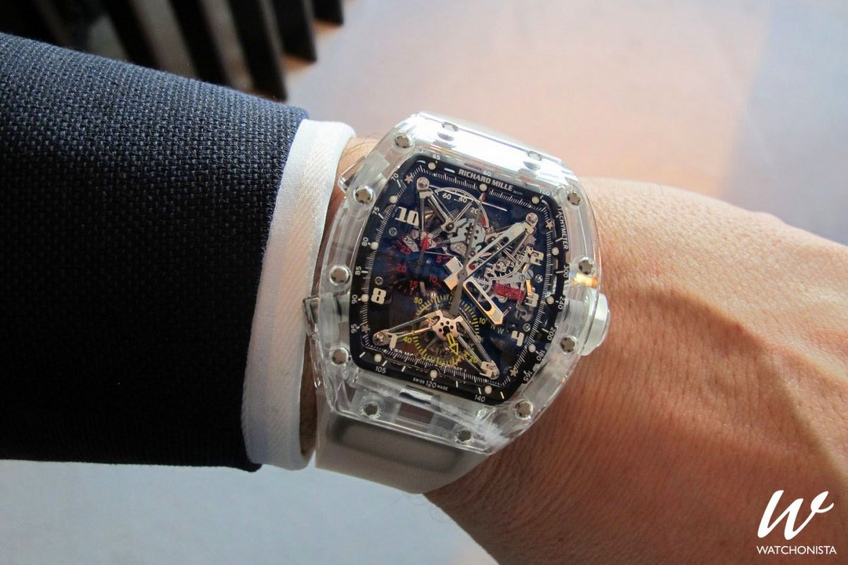 Richard Mille RM 56-01 Sapphire Crystal Tourbillon
The tools needed for this assembly were also designed and produced or, at best, adapted. While transparent, sapphire is no less particularly hard and friable.
Meanwhile at Hublot
Led by Ricardo Guadalupe, under Jean-Claude Biver, owner of the brand belonging to the LVMH group, it was unconceivable that Hublot were to be left behind in this sapphire adventure.
And just like its competitors, the brand announced a wonderful piece, covered in all the finery of the most sophisticated industrialization. However, it appeared after Richard Mille's sapphire models that had drawn the attention for the first time three years before. Of course, introducing unprecedented creations may be of little importance given that manufacture methods are specialized and thus mumbo-jumbo for non-experts. Yet, sapphire watches were a huge success in spite of low sales due to their prices. Indeed, they drew the attention of novice watch lovers to the brands that produced them and also inspired some clients who, although not willing to spend a million on these pieces, were amazed enough to dig into their savings and buy a more accessible watch from the same brands.
Hublot Big Bang Unico Sapphire
Hublot also set about explaining things and underlined that the brand once more used its creativity and its expertise in the field of materials to create a watch the world had never seen before. The brand adapted the skills it had developed through working with very hard materials – such as Magic Gold – to produce a unique line. Named the 500 Big-Bang Unico Sapphire, it was cut from sapphire and without taking anything away from sapphire's uniqueness and rareness, the watch made the material more accessible.
"After the provoking art of its skeletonized movements, Hublot says it all. A transparent case that spotlights the Unico movement – the heart of the watch. Sapphire's transparency is spread even onto the invisible strap. Beyond symbolism and puns, the Big-Bang bares it all. It has nothing to hide and everything to show", underlines Ricardo Guadalupe.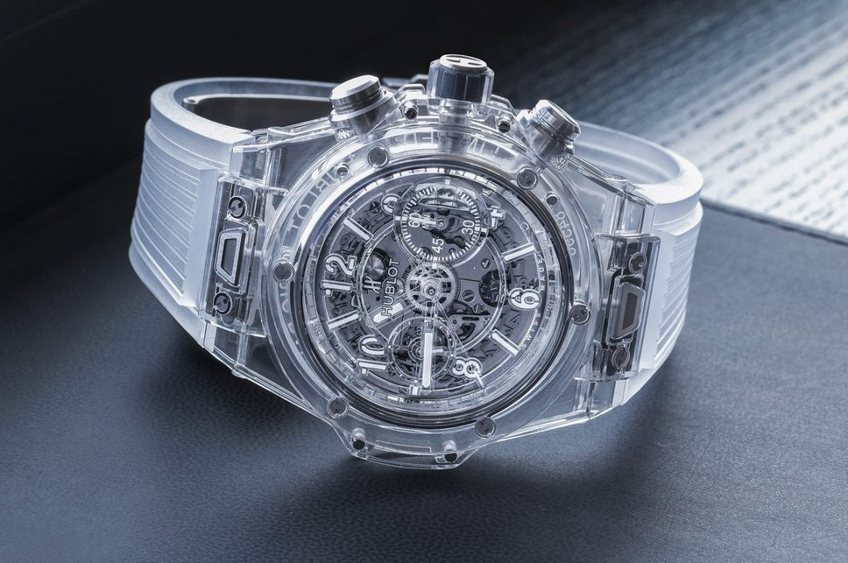 Hublot Big Bang Unico Sapphire
Sapphire is a material that is extremely difficult to work with and had until then only been used in unique pieces or for very private collections. After the ambitious MP05 "LaFerrari" Sapphire, Hublot benefited from the challenge and reminded us of its skills for shaping sapphire to interpret with a line consisting of 500 pieces. That was a first. Sapphire had, until then, never been cut "on such a large scale". A completely transparent collection which highlighted the much-appreciated assembly of the Big-Bang model and the performance of the in-house Unico movement. Finishes, textures and materials were all combined to make an indivisible whole. The middle, the bezel and the caseback of the Big-Bang Unico Sapphire were cut in sapphire blocks.
It is a material that is almost as hard and scratch-resistant as diamond (9 vs 10 for diamonds on the Mohs scale). Hublot has added yet another string to its bow: it now has an exclusive partnership with the Swiss expert in sapphire. Only a few of the watch's essential pieces are in titanium: the screws, the crown (molded from silicon) and the deployment buckle. Its transparent resin skeletonized dial reveals all the gears of the in-house Unico HUB1242 movement and its finishes. The final touch to the ethereal silhouette of this piece is its transparent strap that reveals the wrist.
By
Joel Grandjean
,
Editor-in-Chief
There are some crazy challenges that go further than the diaphanous magic of sapphire. It took 99 working days to make the modular sapphire case of the 540...