Endurance and sophistication: the most amazing sapphire case by Rebellion
There are some crazy challenges that go further than the diaphanous magic of sapphire. It took 99 working days to make the modular sapphire case of the 540 Magnum Tourbillon – the first of its kind.
Very few watches are perfect epitomes of their creators' skills, but the 540 Magnum Tourbillon by Rebellion is one of them. The Swiss brand is deeply connected to endurance car racing. Rebellion Timepieces is the only Swiss watchmaking brand to have its own car racing team –the Rebellion Racing team. The brand mostly draws inspiration from the values of motor sports: full on sportivity, performance, precision and endurance. Furthermore, it has been awarded many prestigious trophies as well as won the FIA LMP1 World Endurance Championship several times. With its very masculine contours, the 540 Magnum Tourbillon is an extension of the brand's street victories.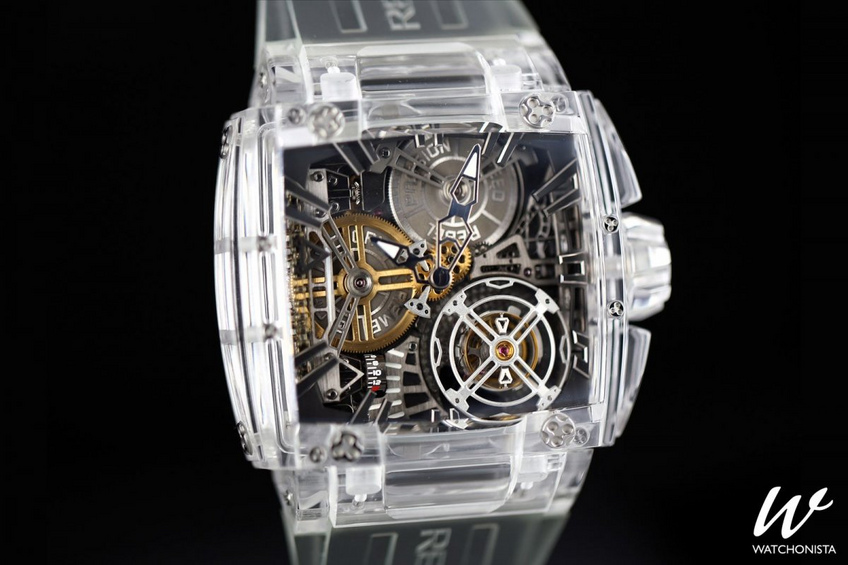 Rebellion Timepieces 540 Magnum Saphir
This exceptional tourbillon embodies Rebellion's involvement in the car racing world and gives off an air of robustness.
The rectangular assembly of the REB T-14 caliber with a double barrel stands out straight away due toits large tourbillon carriage. The mechanism, invented by brilliant physicist and watchmaker Abraham-Louis Breguet (1747-1823), is equipped with finishes and subtleties that reflect mastery ofwatchmaking and complications in this original interpretation. With a circumference of 54 mm (540 tenths of a millimeter, hence the name "540 Magnum")and a diameter of 17.2 mm, the mechanism takesupthe whole dial in its aluminum carriage, like a kinetic crater over an active volcano. It also featuresthe world's smallest chain that helpsto movethe 12-day power reserve indicator with conical gears.
The design of the structure and the frame of the 540 Magnum are inspired by racing cars – they are light but definitely solid. The Magnum 540 also features the materials usually used in car racing. For example, it features a carbon fiber plate that controls the gears between the barrel and the escapement.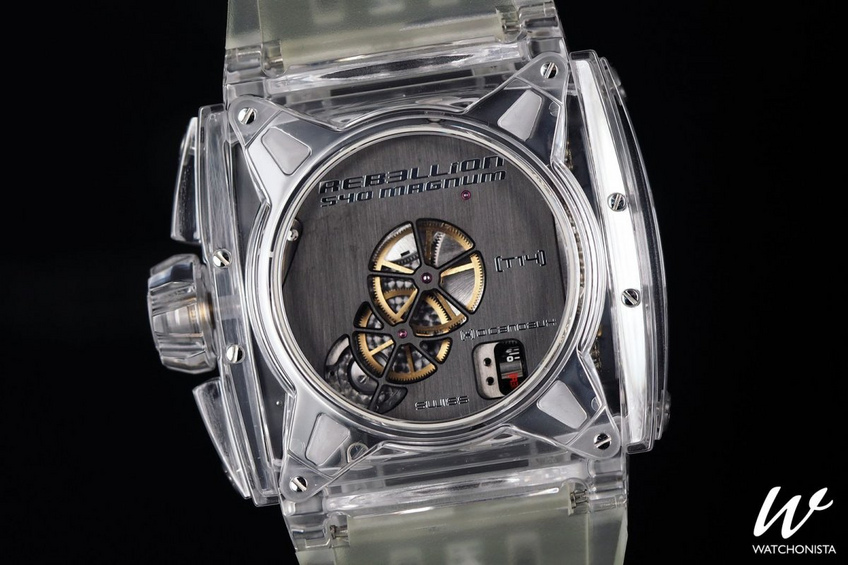 Rebellion Timepieces 540 Magnum Saphir caseback
A crazy challenge
But undoubtedly the star of this watch introduced in early 2016 is its sapphire case. After diamonds – incidentally the only material that can be used to work it – sapphire is the world's hardest and most resistant material. It all started with a crazy challenge, issued with dare and passion. David Candaux is one of those master watchmakers who like to push their limits by trying to manage unimaginable achievements. Yet, the expert artist did not quite know what to expect when he took up Rebellion Timepieces' far-fetched challenge. With the faith of a craftsman, a reckless disregard for danger and the need to avoid disappointment, he achieved an unparalleled exploit – producing the sapphire case imagined by Eric Giroud. That is, an ultra-complex case in steel, gold, titanium or carbon.
Rebellion Timepieces 540 Magnum Saphir
The 47,600 minutes, i.e., 99 working days, that turned out to be necessary for the milling and polishing of this uncommon case do not take into account the long hours spent on the design and on checking final feasibility, step by step.
A herculean task that only the computer simulation of an advanced and especially reprogrammed 3D program could validate. Thus, as Philippe Dubois, CEO of Rebellion Timepieces put it, "some attachments and anchor points that were easily hidden in steel, gold or titanium masses, looked like aesthetic warts when sapphire and its accompanying transparency give uninhibited visual access to the watch's internal mechanics". The challenge was to reshape the case: "the hard part was that sapphire was impossible to tap and thus inserts were absolutely essential", concludes Candaux. All in all, this assembly was radically different from the one seen on the titanium or gold cases in Eric Giroud's XXL-version design of 46 X 56.7 X 19.6 mm, whose most striking feature was their oversized wheel-nut crown.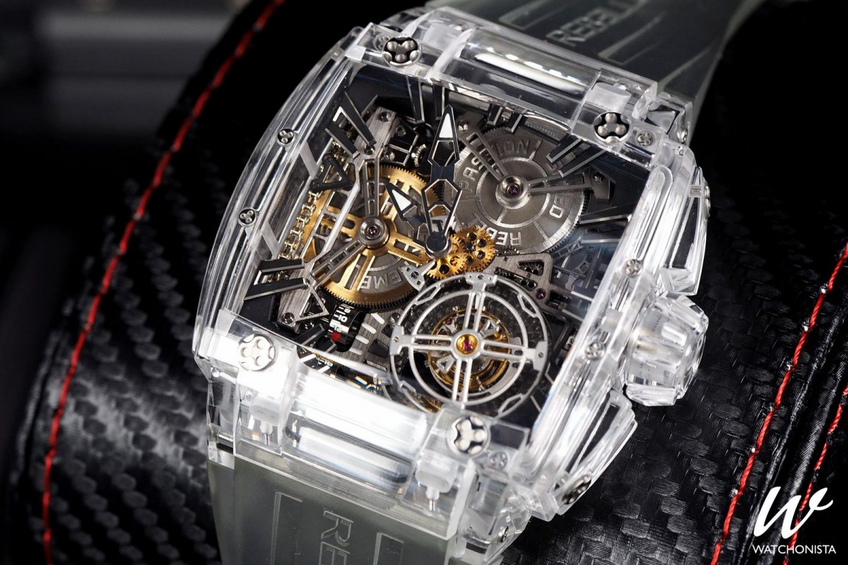 Rebellion Timepieces 540 Magnum Saphir
Customized creativity and tools
Everything had to be reinvented and reshaped - from the head of the smallest screw to the least accessible parts by man-made tools, and the water resistance joint made in transparent silicon.
When the challenge was over, Candaux confessed: "We needed all our ingenuity to find a way to avoid modifying the aesthetics while successfully assembling the elements and design invisible attachments". The tools needed for this assembly were also either designed and produced or, at best, adapted. While transparent, sapphire is no less particularly hard and friable. It is one of the most challenging materials to work with. A session of diamond milling ranged from 5 to 30 minutes maximum. Incidentally, only diamonds could be used to cut through the saphire's hard shield and mill it.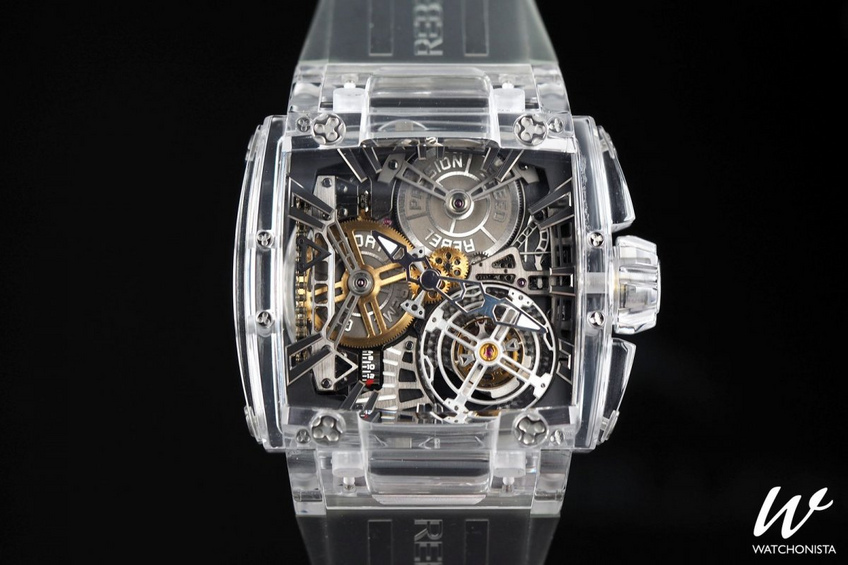 Rebellion Timepieces 540 Magnum Saphir
And since assembling and dissembling things is an intrinsic part of watchmaking, three perfect pieces were sacrificed to obtain the model that was eventually introduced at l'Espace Fert Barton in Geneva, during the watchamaking trade fair week in January 2016. Friends of the brands, experts and specialized media attended the first public launch of this achievement.
By
Vincent Daveau
,
Contributor
Fusing exceptional watchmaking and racing car technology within the Predator 2.0 Regulator Tourbillon, the Rebellion brand hopes to steal a significant lead by...
By
Eric Othenin-Girard
,
Specialised journalist
The watchmaking community is always exploring new directions. However, in its exploration, it tends to forget that others have gone down those same roads...