Passionately Journe: Claude Sfeir – the great collector
When it comes to François-Paul Journe's creations, not one escapes Sfeir's collecting appetite. From first to last watch, he has them all. Not to speak of special orders…
Watch aficionados rarely ever discuss their collections. As a rule, keeping a low profile is part of the etiquette in the business. Claude Sfeir is different. He acknowledges his passion for watches and hides neither his intentions, nor the luxuries he indulges in. Indeed, the mere mention of his name will charge the batteries of most agents at leading auction houses. They are not only familiar with him because of his great wealth, but also for his nearly incurable passion for beautiful watches, more specifically, vintage watches. François-Paul Journe is aware that his watches are this eccentric collector's first choice, even though he is hardly a name that will boost the historical value of a museum. Journe has been in the profession for over thirty years. He is a contemporary watchmaker, still young and full of creativity.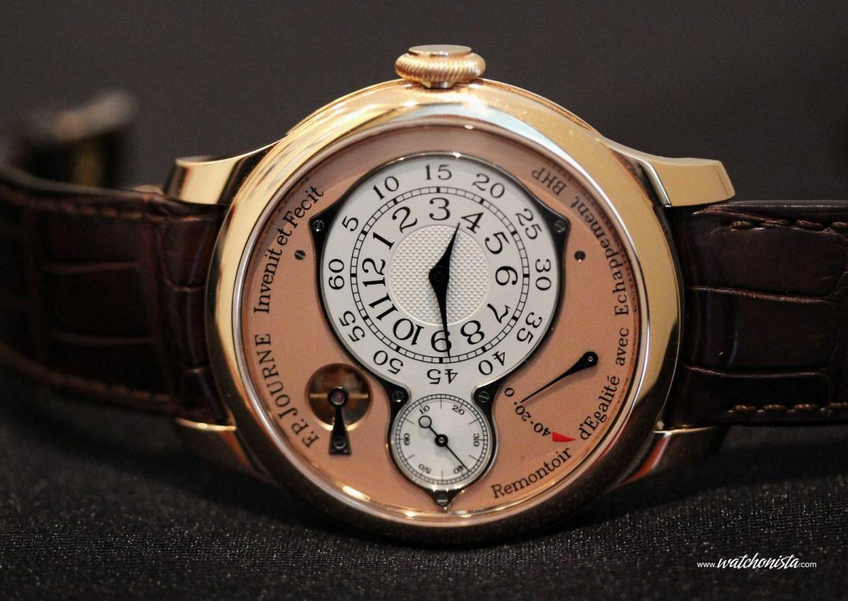 F.P. Journe Chronomètre Optimum
How far will Claude Sfeir go?
Only he knows the answer. Those without the financial wherewithal should abstain from trying. As an international businessman, Sfeir plans his work around the main watch and jewellery auctions. This is how this compulsive bargain hunter cultivates his passion. He is known to travel long distances to outbid others and acquire a few dozen timepiece, including some of the rarest and most coveted ones.
Claude Sfeir wearing a Quantième Perpetuel from F.P. Journe
He was only 16 when he caught the incurable bug for watches. He purchased his first timepiece from a dealer in Dubai named Seddiki for 300 dirham (CHF 75!). It was "a plain Rolex"; that is, the steel version of the Rolex Precision, Reference 6694. He has remained a devoted fan of the brand with the crown logo, though his collecting frenzy also includes the star brand of auctioneers, Patek Philippe, in particular Patek vintage and second hand pieces… the kind of timepieces whose performance on the block of famous auction house grandstanders usually makes it to the news.
Does he buy watches the way one might go about an investment? "I would say that the heart has its reasons but that reason is not far behind", he once told a trade journalist. "I do not buy watches for nothing, I wear them, often two at a time, one on each wrist."
He flatly refuses to ever consider selling one or more of his pieces to get a new one: "Never! I will neither barter, nor sell, that is not me", he answered with verve. By the same token, he admits to still getting enthralled by particular timepieces, to the joy of the three leading auction houses, Christie's, Sotheby's and Antiquorum. And therefore going to great extremes, if need be…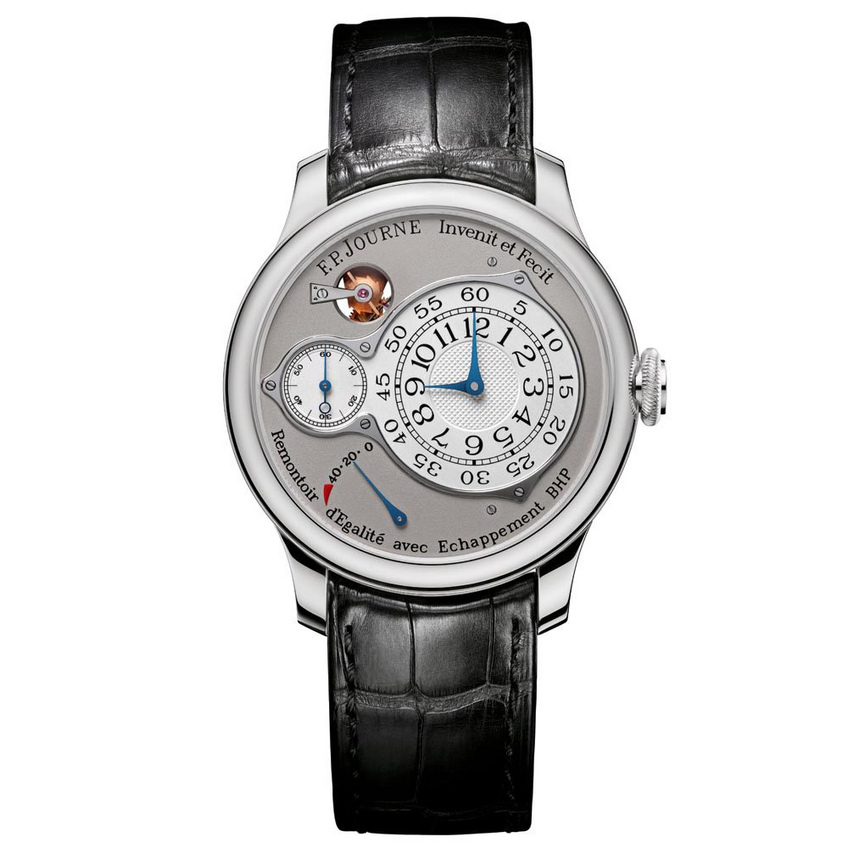 F.-P. Journe Chronomètre Optimum
What does Sfeir think of Journe?
They first met in Geneva at the Brasserie Lipp in 2002. Two years later, he acquired at Antiquorum three unique timepieces of the Vagabondage series, which had been sold for the benefit of the Institut du cerveau et de la moelle épinière(Institute of the Brain and the Spinal Cord, ICM) The institution was founded and presided over by Professor Gérard Saillant and was actively supported by Michael Schumacher. Its vice-president was Jean Todt, head of the International Automobile Federation (FIA). Since that day in 2002, whenever Sfeir visits Geneva, he spends some enriching downtime with Journe, who never ceases to fascinate him. Journe often excuses himself from the dinner table because he suddenly had an idea and must absolutely get back to the manufacture (or workshop or drawing board, or whatever you want to call it). Sfeir is also impressed by the Invenit et Fecit spirit that the watchmaker applies to find a solution to simplify even the most complicated challenges.
To date, Claude Sfeir has collected around forty Journe watches. "Once you wear one, you will always want to wear one", he confides. He is most attracted to their timeless look, a vintage style that is both bold and contemporary. It will come as no surprise that he was first on the waiting list for the Optimum Chronometer. And Sfeir makes no secret of his admiration for the recent Perpetual Calendar: "It is beautiful and big; easy to regulate," he explains. "Its leap year indication is especially clear and can be adjusted by a corrector lever concealed behind the lug, which is unusual." He has already ordered three models: platinum, red gold and black. This is only one example among many others. Indeed, this collector who commutes between Dubai and Geneva, owns all of the brand's reference pieces, be it the first or last one of a series, plus the unique pieces…
F.P. Journe Quantième Perpétuel Platinum