From our special envoy in Beirut: together Journe and Sfeir open a boutique
Extraordinary collector Claude Sfeir and genius watchmaker François-Paul Journe share unswerving mutual respect and have opened a boutique in Beirut, Lebanon. Below is an account of two interviews with them.
Unusual, surprising and right on the spot. What could bring a seven-times "Grand Prix d'Horlogerie de Genève" laureate to Lebanon? Why, it's not like the country's profile is at all related to complicated watchmaking and neither is it known for financial stability. There is still an aura of conflict here and there that might make us forget the flair used to inspire the wish to live an eastern dolce vita style, sometimes punctuated by nocturnal party excitement and consumption. And yet, a well-known watch collector, famous in the sector and amongst leading brands, works in this megalopolis. He is known for his uncommon wealth and his good taste in watchmaking; he favors niche and high quality pieces.
Sfeir was already the subject of one of our articles and he is someone who can give a brand international recognition both with his name and with his undeniable influence. The Foundation of the "Grand Prix d'Horlogerie de Genève" was right in appointing him a jury member.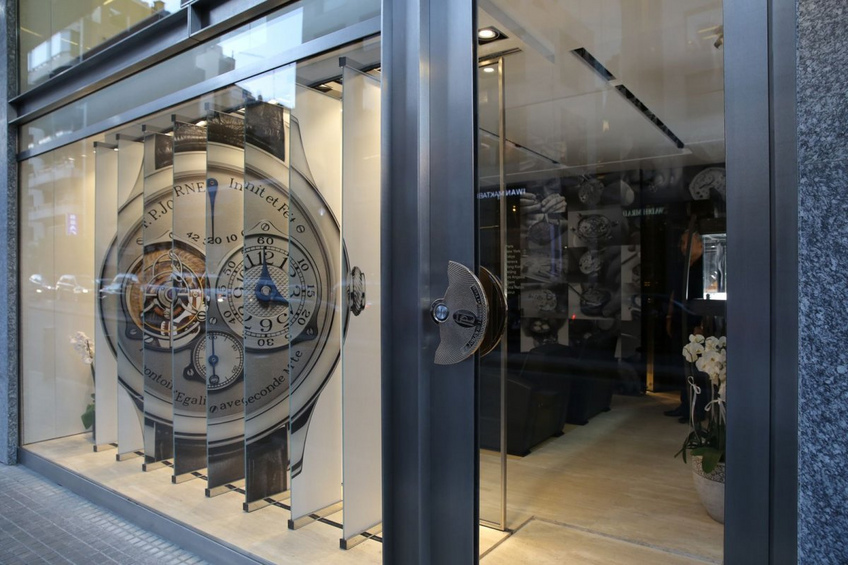 F.P.Journe celebrated the opening of its 10th Boutique in Beirut
On my way back from a trip to the USA, it was hard to resist the temptation to make a stopover in Beirut to attend both the opening of this symbolic place, which is the 10th Journe boutique, and the exceptional launch of the model produced especially for the occasion. The "Chronomètre Bleu Byblos" was inspired by a dreamy historical coastal town a few kilometers to the north of Beirut. Byblos was indeed the first Phoenician harbor and, from 4000B.C, the most important commercial and cultural crossroads. They have most definitely "Invenit et Fecit" (invented and made) but also "Veni, Vidi" (came and seen) and maybe one day they will "Vici" (conquer). Here is a joint interview with the two friends and business partners:

François-Paul Journe:
"We had quite a Lebanese audience, including Claude, whom I first met as a client. I kept toying with the idea of doing something in Beirut and I asked him for advice after contacting different actors here.
He always gave me the same answer: 'Don't do this, what's wrong with you, you cannot trust anyone, you will not be able to exercise any control whatsoever...' Claude has always been a loyal collector and we have developed a genuine friendship. One day when I was in Beirut, we went together to a boutique that was about to go bankrupt. That was when he told me 'I think I'm going to buy this boutique'. He did so and obtained permission to renovate it, which took a very long time".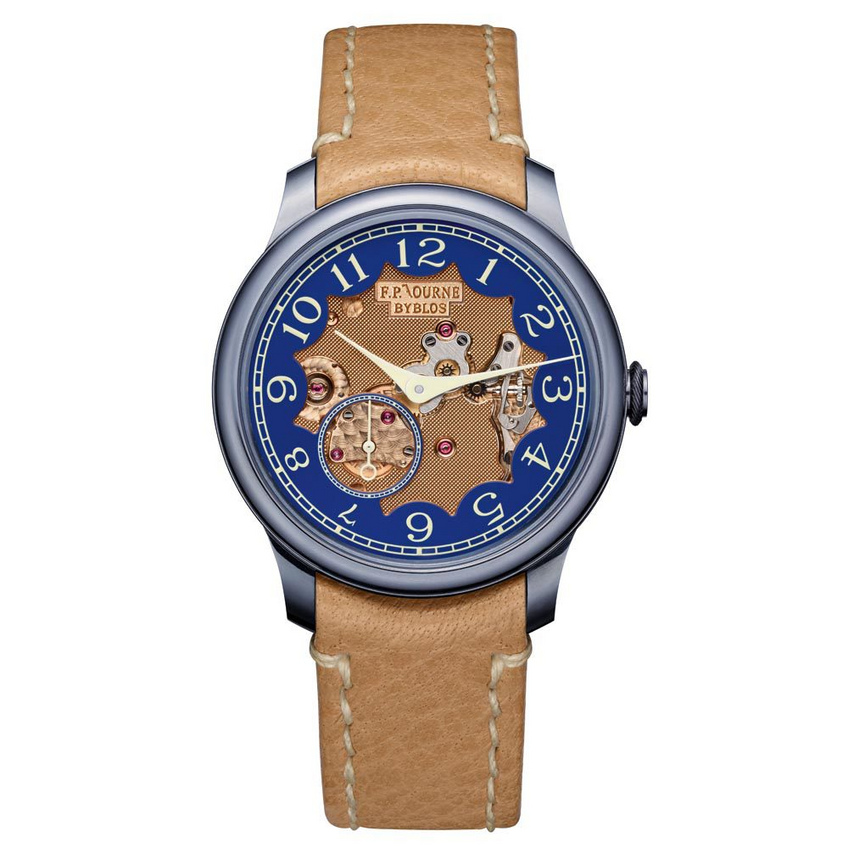 F.P. Journe Chronomètre Bleu Byblos
Claude Sfeir:
"…very long! François-Paul Journe used to joke about it saying we absolutely needed to open in 2020-2025 at the latest! We've known each other for thirteen years now and I have always been a client, a normal client with no discounts or privileges. I have always bought his pieces, either the first or last one of each of his series. And as his first boutique was in Tokyo, I used to go there to buy almost all my Journe watches. Sometimes, however, I went to Geneva. Two years ago, we decided to open a small boutique together in the Middle East and, being a culture and history enthusiast, he liked Byblos".
François-Paul Journe:
"Before we opened, people used to ask me why I had chosen Beirut. I think that if you want to sell pieces which have a cultural dimension, you need to do so in a place where culture or even ancient culture has deep roots. This place is more fascinating than Dubai or Abu Dhabi. Even Los Angeles has some cultural background what with being 300 years old and the hub of cinema. Miami embodies architecture, New York is the Prague of the United States and even has an old feel to it …"
François-Paul Journe cut the official ribbon, accompanied by Sami Sfeir (left), Claude Sfeir, partner of the new F.P.Journe Boutique, Madame Ruth Flint, Her Excellence the Swiss Ambassador to Lebanon, and Mr Ziad Hawat, Mayor of the city of Byblos.
Claude Sfeir:
"François-Paul Journe is currently the best living watchmaker. He has created movements in solid gold and complications that actually work as opposed to other watches whose function deteriorates as time goes by. This boutique is a very positive thing. We receive clients that we had never seen before, despite the fact that I have known the trade for 36-37 years now. I would never have thought I would be selling new watches directly to clients, but things are different with this brand for which I have the utmost respect. Very few people actually understand it; it needs explaining. We never give any discounts; here I sell a watch and I have to wait 2-3 months, sometimes even 6 months before I sell the next one. Before the opening, for which we started planning at least a year ago, we had around 60 watches in stock. My friendship with François-Paul makes me put my heart in this. I do not need money; I do this because I am a watch collector.
Most of my friends come here to this small library on the first floor. We do not force anyone to buy. Some people just want an expensive watch and not necessarily because it is a complication. Thus, I give them some background on François-Paul so they understand the value of the brand: he is a creator, a watchmaker, and an important man who has won the "Grand Prix d'Horlogerie de Genève" several times".
François-Paul Journe:
"The Byblos model was initially designed for a group of collectors a few years back. They said they wanted around thirty pieces for their club. Thus, I drew a little sketch with an open dial on the movement. That was as far as we got to at the time. When Claude and I talked about creating a special piece for the boutique, I showed him the sketch. We modified a few details and then agreed that a blue dial and a cutting that represented the sun would look beautiful. We produced 99 models of the piece, of which 50 were for the boutique in Lebanon. The rest were sent to the other nine remaining boutiques; 5-6 pieces per boutique; it varied. Funnily enough, after sending them to our other boutiques, they have been sold everywhere, even in Hong Kong".
Claude Sfeir:
"We created the Byblos because we wanted to have something unique or a limited series for this boutique only. Both of us had ideas. François-Paul had the idea of openworking the dial to represent the sun in the Middle East and I agreed with him".
F.P.Journe Boutique Beyrouth: Sofil Center, Charles Malek Avenue, Achrafieh, Beyrouth, Liban.
Tel. +961 1 325 523, beirut@fpjourne.com
When it comes to François-Paul Journe's creations, not one escapes Sfeir's collecting appetite. From first to last watch, he has them all....