A symbolist? Kerbedanz's secret weapon
A sentence caught my attention in the press release praising the "tailor-made" virtues of the watchmaking brand. It was very short and placed between words where one would least expect to find linguistic pearls…
Is there a new watchmaking craft? The sentence in question was this: "Kerbedanz hires the services of a symbolist". The independent watchmaking brand based in Neuchâtel is not new to creativity. It actually invents words, expressions and even new crafts. It also did not hesitate to take on an activity that rival brands in the top level of the luxury pyramid try their utmost to keep secret
Complete customization
Some brands still hesitate to include the concept of "tailor-made" watchmaking in their official communications. It's not very often that a leading luxury watchmaking brand would admit that they get regular demands to customize their most sought-after and prized models.
Said demands are sometimes whims or crazy wishes that are as unexpected as they are simply impossible to achieve. No brand would want to encourage a phenomenon that is not only time-consuming but that could also suggest that they, as brands, are bland. And yet, with unlimited funds at their disposal, aficionados very often tend to ask for favors that are granted in the most Swiss-like discretion.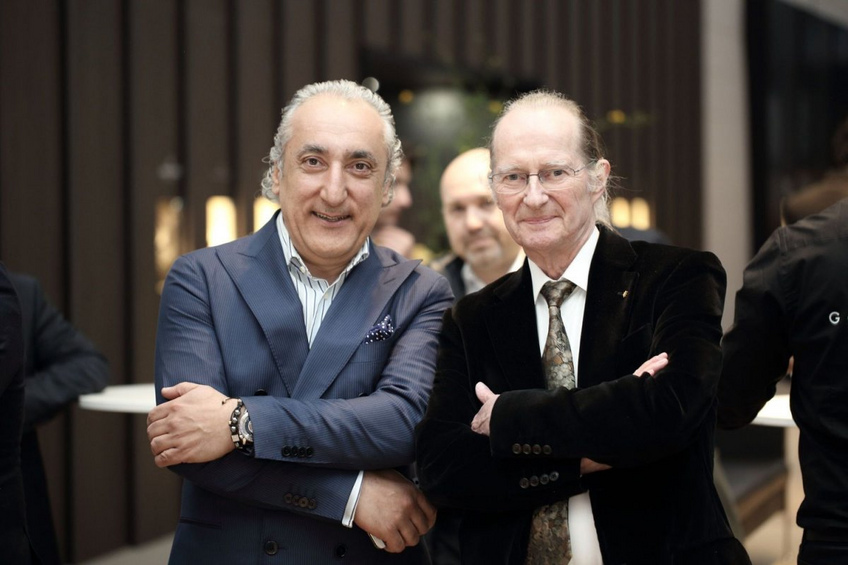 Aram Petrosyan with Michel Cugnet, symbolist
It is refreshing that Kerbedanz does not quite share the same logic. Unique pieces that are produced afterwards in ultra-limited series and systematically numbered are part of its DNA. Incidentally, the brand has relocated to opposite the Neuchâtel lake after having sold approximately 400 pieces for personal orders and thus joins the spotlight of international haute horlogerie, at the heart of Swiss watchmaking.
A symbolist and an initiation process
Customers can thus ask for, adapt and transform everything. When they wish to buy a Kerbedanz timepiece, they can choose the case's size, the watchmaking complication that will define its caliber, the motifs that will feature on its dial and the materials with which both the visible and invisible parts will be made. While claiming that it intends to "give sense to beauty"in its slogan, the brand takes on these endless possibilities that will make the desired object completely unique. Even better, it encourages this approach that consists of several meetings during an intense stage where its team of five designers and customers bounce ideas off each other.
This is where the symbolist comes in. Michel Cugnet is an author and a scholar, however he is also an expert in symbols, a very good mapmaker and interested in all current and past civilizations. His input is based on the wishes of the future owner –both in terms of getting what the client wants and also anticipating what they might want. He imbues said input with his know how and explores every bit of its potential. "The brand masters both common and confidential elements. From what might initially be classified as ordinary yet successful aesthetics suddenly sprouts a luxurious array of symbols, allegories and references that refer, more or less directly, to social or geopolitical contexts", states the official press release.
The brand has become an expert in personal case studies, as can be seen with the"E"collection which revolves around converting the subtlety of zodiac signs into accurate and intimate details. It does not hesitate to go much farther than just a date, a specific time or an exact birthplace. "Many watches have a story to tell, but unique pieces are inspired by the history of their owner", explained Kalust Zorik, head of marketing management. He continued: "Kerbedanz is the only high-end watchmaking brand to use initiatory journeys to enhance its appeal. Every creation is a digest of symbols and is filled with references to old cultural and religious remains as well as to different territories".
Expanded vocabulary
Kerbedanz builds on originality and to embody this. It has playfully added a few neologisms to its vocabulary, for example, it coined the term MIP –Most Important Personalities –for its in an endeavor to take distance from the almost-clichéVIP abbreviation.
The brand's head designer, who likes to sketch his work in a traditional fashion, has been appointed Chief Designer Officer (CDO) because he is part of the leading team and is also a key player in the brand's tailor-made strategy. It therefore came as no surprise when the brand announced that they had created a new job in watchmaking: the symbolist!