SIHH 2015 - Day 2 by Eléonor Picciotto
Eyes are wide open, woken up with memories of the past few hours I mechanically get out of bed and start writing about Parmigiani's unique pocket watch with the opale crown, keep on describing the new AP Millenary tourbillon with an inside fully paved flower and mention the Ralph Lauren stirrup piece with a snowfall diamond setting when I come to realize that it is 3 :42 in the morning. #Seriously ?
Back to sleep just for a nap rather than the end of the night, I managed to get to the fair before it opens. Perfect timing to admire Greubel Forsey's vitrines waiting for a tea, until I got the opportunity to sneak into one of their offices to admire the third piece ever made with diamonds of the 24 seconds Contemporain Tourbillon. 9.71 carats of baguette diamonds mounted with an invisible setting on the buckle, horns, bezel and directly on the mouvement. Half of the dial shines with diamonds letting the titanium oxydated blue dial and off-centered tourbillon cage pop out. A combination of technique and aesthetics made for women… #Wow!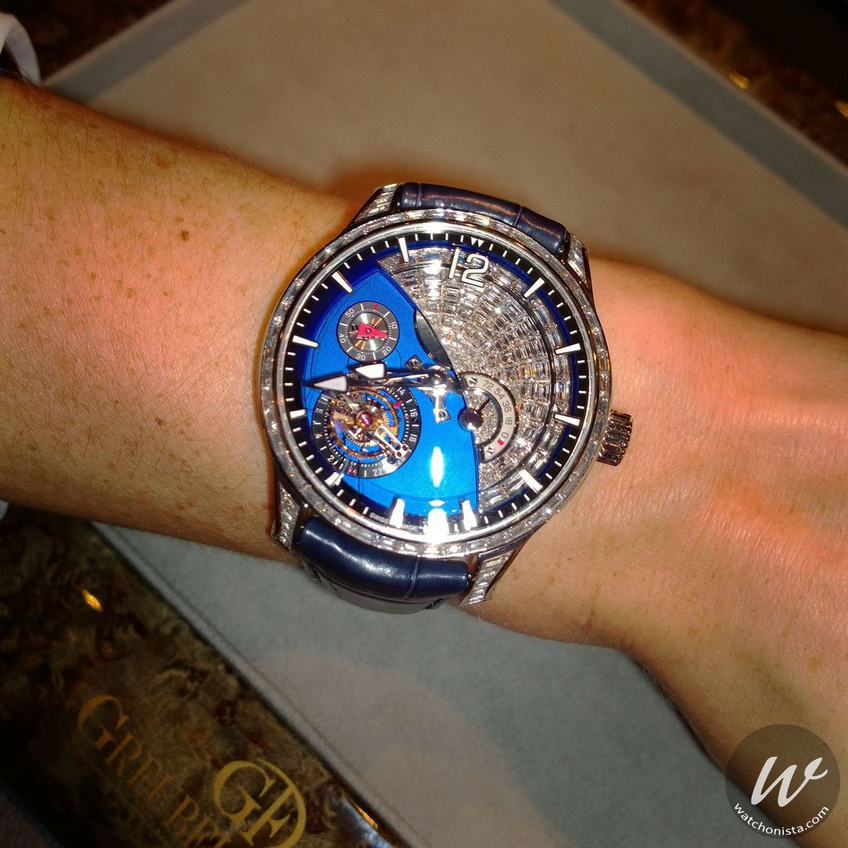 Greubel Forsey Tourbillon 24 secondes White Gold and Baguette Diamonds
Soon forgiven for the massive delay they took before presenting the upcoming dozen of watch references, Cartier unveiled the new Vibrating Setting on the Ballon Bleu after five years of developement and three patterns. Inside the case and on the dial, 123 diamonds are mounted on springs and move by the vibration of the mechanical movement- calibre 430 MC- combined to the movements of your wrist. Cartier managed to give life to diamonds in this limited edition of 20 pieces. #Mind-blowing !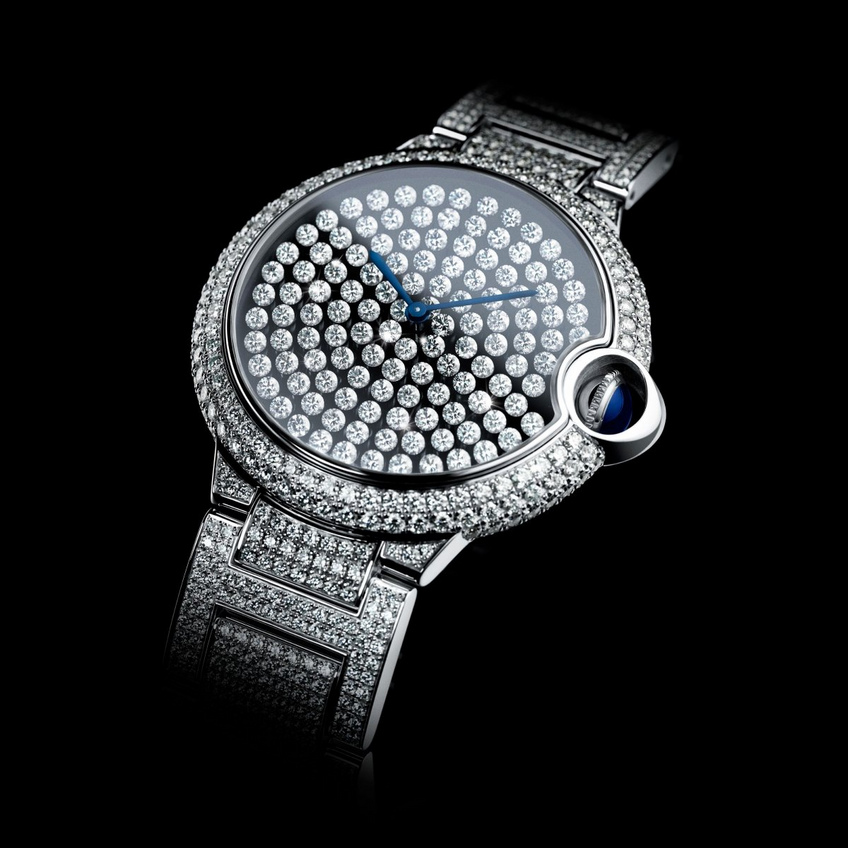 Cartier Ballon Bleu Serti Vibrant
Running around and catching a few glasses of water in and out of the booths, while being hugged, waved and stopped by a variety of people from the industry, friends and connexions, I face two floral creatures – to say the least- who let me in my last conference. Princess-shaped dress made of red roses, Richard Mille hostesses set the tone – on purpose or not- of the RM 19-02 launched this fair. Since there is a first to everything, the brand developed their first flying tourbillon on their first mechanical art piece. Every five minutes the petals of a magnolia flower open and close around the tourbillon cage within six seconds. #Automate !
After an obvious watch-themed dinner among which #watchfreeks, #watchaddicts, #watchcollectors talk about #mysihh and their experience at the #watchfair discovering the #watchesoftheday - Cinderella 2.0 needs to rest to hashtag properly in the morning and get to class on time. #Cheers !
Piaget Altiplano Gold Bracelet