Ferdinand Berthoud: The Return Of A Marine Chronometer-Maker
The comeback of a famous watchmaker is always fantastic news because it gives watchmaking the chance to act as a time machine as well as making it possible to relive the past and foresee the future.
Some names are better remembered than others. That is exactly the case of Ferdinand Berthoud, watchmaker to the King and the Marine. However, it took Chopard co-President Karl Friedrich Scheufele's passion for both watchmaking history and Fleurier for the idea of the revival of one of the most famous and creative watchmakers of the Enlightenment to take shape.

Today, thanks to the will of an industrialist, the name of Ferdinand Berthoud is not just a (famous) name to be found in the watchmakers' reasoned dictionary but a brand of its own. Indeed, on Tuesday September 22, 2015 said brand introduced to the main actors in the watch industry the first piece of a collection Karl-Friedrich claims to be completely distinct from the rest of Chopard's.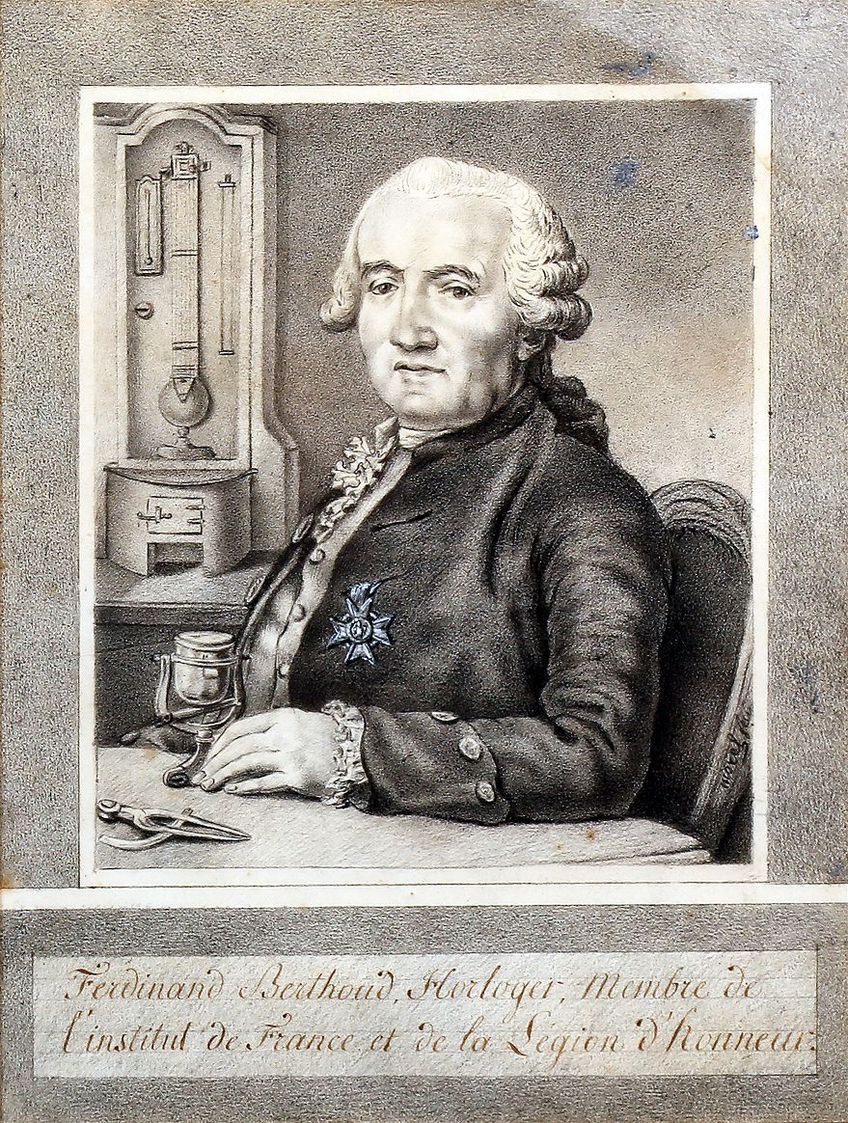 Ferdinand Berthoud with his Légion d'Honneur
A life, a work
By giving Ferdinand Berthoud's pieces a second life, Karl Friedrich Scheufele reopened the issue of applying chronometry to mechanical watches. Yet, before that, he put the spotlight on a man whose incredible career is surprisingly unknown to experts. Hence, before focusing on the new timepiece with a clear cut design that gets its inspiration from one of the first chronometers of the watchmaker with an incredible literary production, it is a must to first learn about the man himself.

Ferdinand Berthoud was born on March 18, 1727 to a prominent family of established watchmaking traders in Plancemont sur Couvet, a village in Val-de-Travers (Canton of Neuchâtel, Switzerland). At the age of 18, after completing watchmaking training, the young man left for Paris, the then capital of watchmaking, to perfect his art. In 1753, when he was 26, he obtained his Masters degree after having worked as a freelancer for various established master watchmakers. His open-mindedness was greatly appreciated by elite intellectuals, which led him in 1755 to start writing reference articles about watchmaking for the Encyclopedia of Diderot and d'Alembert.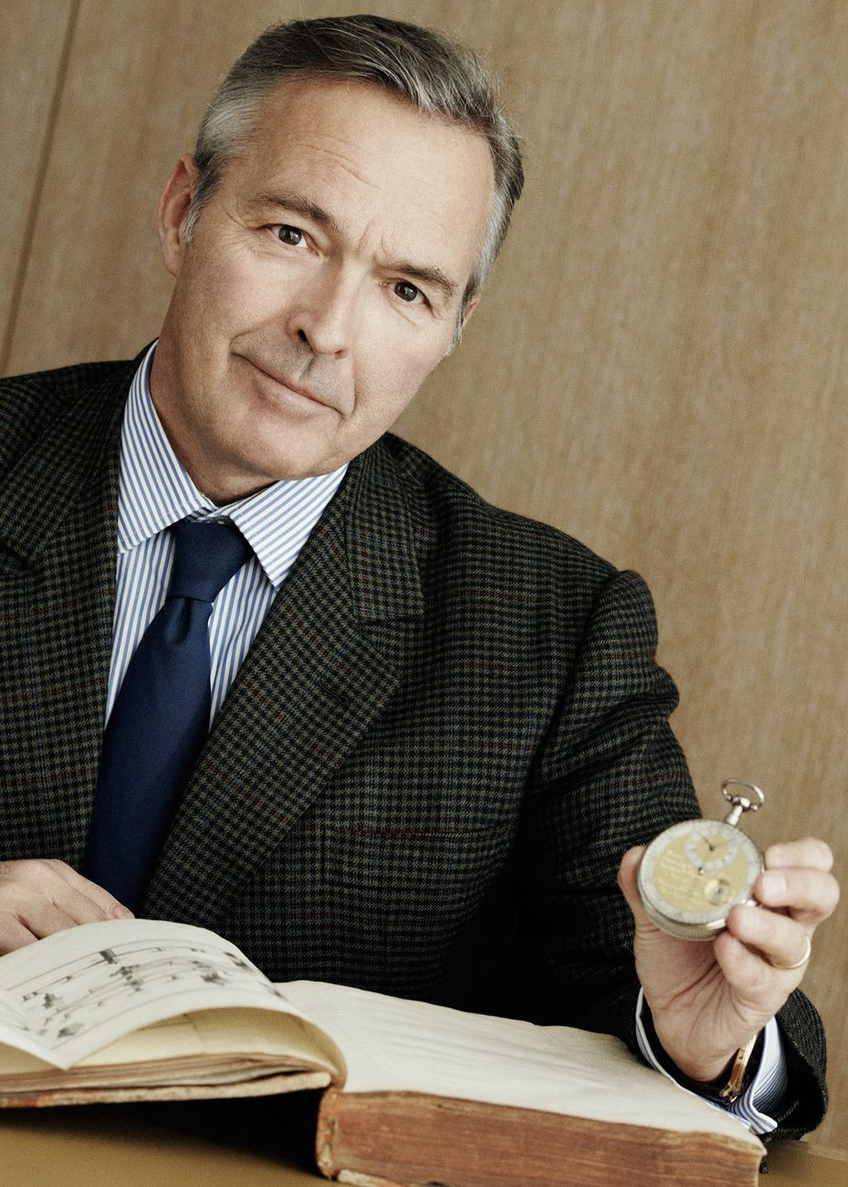 Karl-Friedrich Scheufele, President of la Chronométrie Ferdinand Berthoud
In addition to his horological creations appreciated for their functioning, Berthoud published a popularization treaty in 1759 entitled l'art de conduire et de régler les pendules et les montres. In 1763, he published another treaty named l'essai sur l'horlogerie.
In 1763, his career took a major turning point when due to his natural communication skills, the Academy of Sciences sent him to England to examine John Harrison's marine clock. In 1764, his skills and his broad-mindedness allowed him to become elected foreign Fellow of the Royal Society of London. It was then that he decided to focus on creating ultra-precise pendulums that could be used to measure longitude at sea. Thus, in 1766, he undertook the production of two marine clocks, named No.6 and No.8 and which are now exhibited at the Musée des Arts et Métiers in Paris. Back from his successful 18-month trial with them on board of the ISIS, Berthoud was appointed watch mechanic to the king and the Navy in charge of overseeing the production of marine clocks.
He then received an order for 20 marine clocks from the Admiralty to be used for world mapping and scientific expeditions.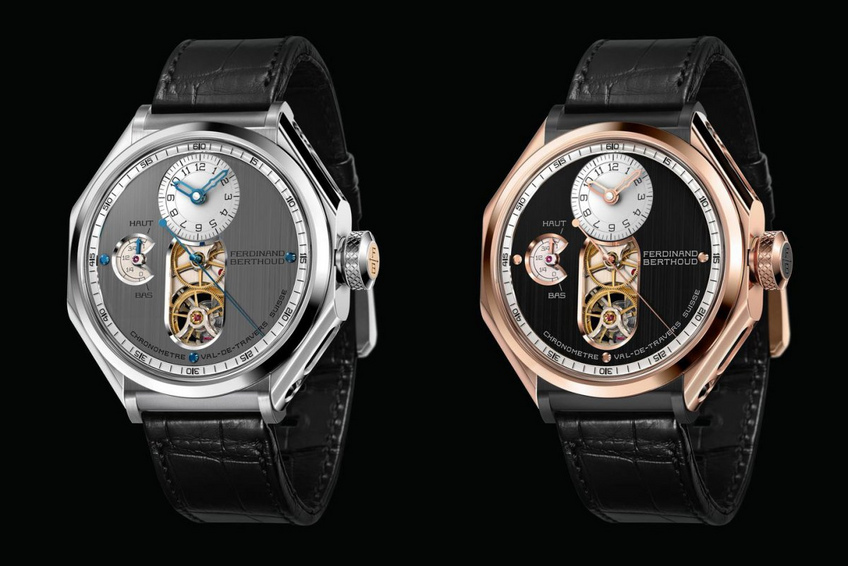 The chronometer Ferdinand Berthoud FB-1 is available in white and rose gold
In 1802, Berthoud, who was fundamentally French since he was a civil officer during the French revolution, published one of his most important works Histoire de la mesure du temps par les horloges, in which he illustrated his exceptional knowledge of the art of watchmaking mechanics. Aware of the importance of his published works and of his significant contribution to French influence, Napoleon made him a knight of the Légion d'Honneur in 1804. Berthoud died on June 20, 1807 in Groslay (France), aged 80. His nephews, Pierre-Louis Berthoud (1754-1813) and Charles-Auguste Berthoud (1798-1876), took over their uncle's work and became famous figures in chronometry art.
A contemporary piece to celebrate the genius of a visionary
Designed with Berthoud's watchmaking genius in mind, the new timepiece introduced on Tuesday September 22, 2015 embodies a modern vision of the timepieces that the master watchmaker would have created had he lived in our time. The introduction took place at the Yacht Club de France, one of the oldest in the world and founded by Napoleon III. Karl-Friedrich Scheufele, President of Chronométrie Ferdinand Berthoud, highlighted his intention to make this unique time-measuring instrument part of the continuity of the master chronometer-maker's work.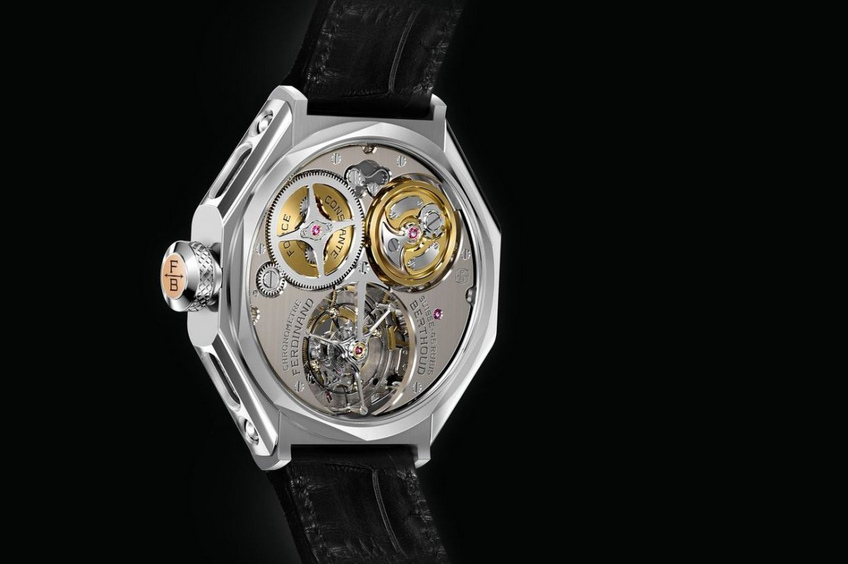 The transparent caseback of the Chronomètre Ferdinand Berthoud FB 1
In order to do this, he favoured a contemporary approach inspired by the master watchmaker's marine chronometers and guided by the same innovating philosophy.

The piece features a large octagonal case, which is the result of fixing some additional parts around the round middle. The new Ferdinand Berthoud chronometer has been named FB 1 and is driven by a hand-wound mechanical movement, part of which can be seen either through the dial or the transparent back but also through four water-resistant, porthole-like openings on the piece's sides. The 44-mm case is available in either gold and titanium or gold and ceramic and has been produced in 100 pieces. It is worth noting that its shape seeks to be an extrapolation of the cases of old on-board chronometers.

Also for the record, another famous chronometer-maker of the time, John Arnold, specialized in the design of octagonal-shaped cases. These designs are so similar they could lead to confusion, even if most amateurs are unaware of that.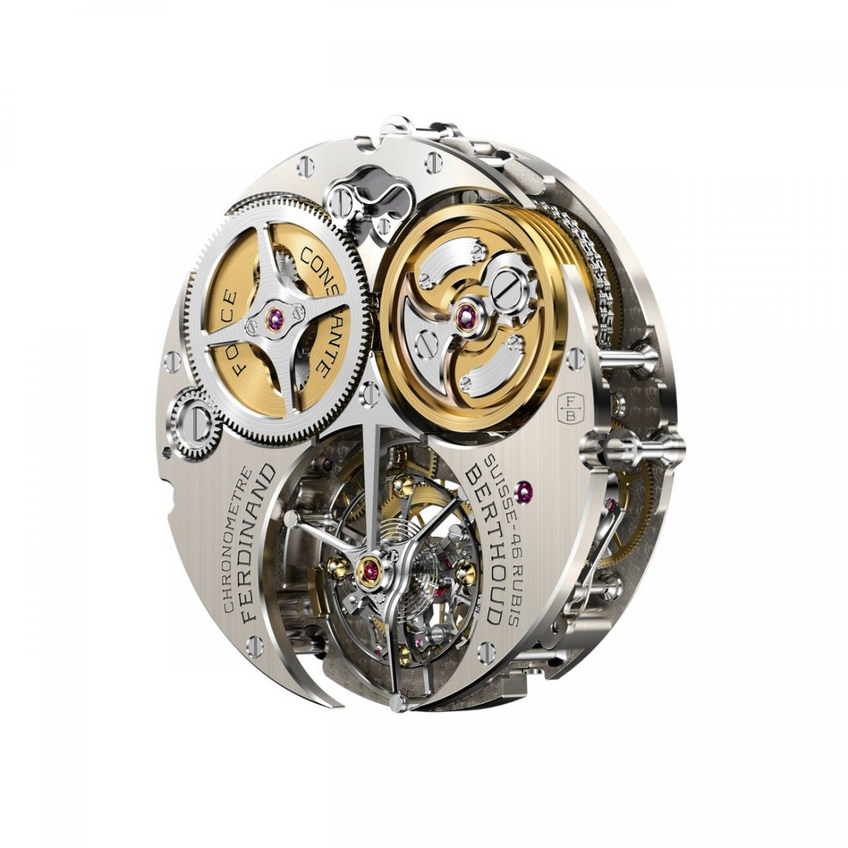 The movement of the Chronomètre Ferdinand Berthoud, the calibre FB-T.FC
In any case, the shock-resistant case is equipped with a large original winding crown and it houses a hand-wound mechanical caliber that was completely designed, developed and produced at Chronométrie Ferdinand Berthoud, based in Fleurier.
A heart that makes heads turn
Before we proceed to a deeper analysis of some aspects of this attractive mechanical piece, let's focus on numbers: The 35.5-mm x 8-mm FB-T.FC caliber is adorned with 46 rubies and 1,120 components, including the 474 steel links and over 316 pins of the one chain of the 28 cm-long chain-fusee group. Entirely designed, developed, and manufactured autonomously by Chronométrie Ferdinand Berthoud in Fleurier, the caliber FB-T.FC features a tourbillon with central seconds, a contemporary assembly of two German silver plates and polished titanium pilasters. It is equipped with a hanging chain-fusee regulating device that, whilst innovating, was inspired by Lépine's first developments with hanging barrels. The piece also features a power reserve system with a mobile cone (and it is to be noted that George Daniels and Audemars Piguet have used this type of power reserve in the past). Both the chain-fusee regulating device and the power reserve system have been filed for patent.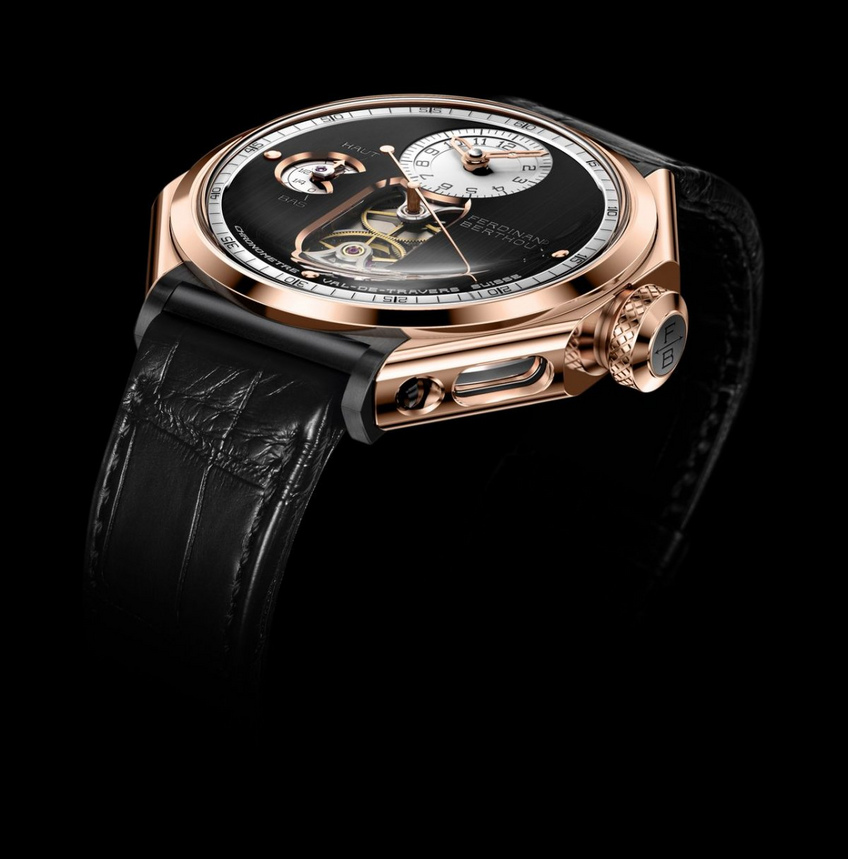 Chronomètre Ferdinand Berthoud FB 1
The chain-fusee paradigm
Everyone seems to agree that the design of the ultra-contemporary and unusual case (in contrast to the usual traditional calibers) of the piece conforms to the stylistic signature of Guy Bove. Indeed, the design has kept the water-resistant portholes that allow one to observe the beautiful and sought-after chain-fusee, whose usage, however, is not justified in the context of chronometer quality that complies with COSC's standards. We thus understand the choice to integrate it in this caliber was a reference to Berthoud's chronometric past. As it is, instruments from that time had springs made from simple forged blades, which presented a disadvantage: they transmitted too much force once the springs were completely winded on the core, and their power decreased as time passed. Hence, it was useful to have a mechanism that acted as an intermediary to correct said power evolution by means of a conical axis (which is a bit like the cassette of a racing bike).This made even more sense if we take into account that old-time escapements, with foliot or detent locks, were particularly sensitive to the difference in force transmitted by the barrel to the balance.
In free escapements, the infinitesimal force the wheel transmits to the balance with each movement of the lever limits the couple effect that the former may encounter as a result of not being in direct contact with the final regulating organ. This is a more recurrent problem in free escapements with a detent and is precisely the case of the Swiss lever derived from that of Thomas Mudge's (18th century and hence Berthoud's contemporary). In short, we may all have gathered by now, that an organ whose chain only requires 8 long hours to be assembled was nearly as useful as a tourbillon may be in the quest for utmost precision - that is, little. However, since installing an escapement with detent was thought to be complicated as it was allegedly too fragile to be worn, watchmakers opted to improve the watch's static adjustments by introducing a tourbillon that featured a balance with a frequency of 3 Hertz (21,600 vibrations per hour).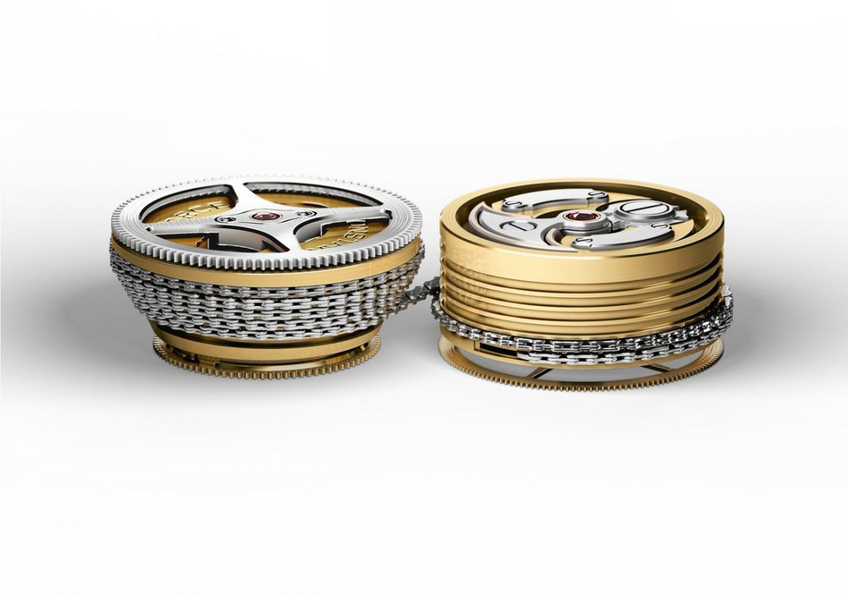 Chronomètre Ferdinand Berthoud FB 1's chain-fusee
The result is visually splendid and a pleasure to look at so much so as its finishes are very refined.
Further, while the wheels were greatly inspired by those of Berthoud, some of his signature details are missing, such as the gridirons that guaranteed appropriate thermal compensation and the balances that he used to specifically work on to provide maximum precision.


All in all, for an estimated selling price of around €230,000, a hundred future owners will be lucky to have the first series of contemporary pieces with the signature of a famous master watchmaker from the 18th century. Additionally, the production, aesthetic and setting qualities of these creations have nothing to envy the most exclusive references in today's market for. These pieces are thus addressed to collectors who wish to conceive today's watch industry within the context of the tradition that underpins modernity and guarantees the industry will always move forward.