Exclusive: Jean-Claude Nicolet Tells Ferdinand Berthoud (1727-1807) Story - Part 1
Jean-Claude Nicolet, former watchmaking professor who some regard as "the last of the great 'orlogeurs' ", gave me the text of a talk given at the MIH in 2003. Here are some historical excerpts that have never been published before!
Twenty years before his conference at the "Musée International d'Horlogerie" in La Chaux-de-Fonds in March 2003, the former watchmaking professor found an article about Ferdinand Berthoud on "L'Impartial", a local newspaper. As Nicolet reminisces: "The journalist had found a small book entitled "L'Art de conduire les horloges et les montres" (the art of making clocks and watches) in the Netherlands. He claimed the book had been written by a Ferdinand Berthoud and that, as there are many Berthouds from Neuchâtel and who live in Switzerland, this Ferdinand Berthoud could have been a Swiss watchmaker. It's a shame – he added – that we know nothing about him!"
Nicolet controlled his anger and the impulse to chide the ignorant journalist and then he realized, to his own astonishement, that he himself barely knew anything about Berthoud. That is except for the laudatory inscription that could be read on the monument made in his memory near the "Temple de Couvet" n Val de Travers (in the Neuchâtel canton, Switzerland). He knew that the man had been an outstanding watchmaker but he did not know what made him so. He realized that the school he himself attended and where he was working as teacher had never shed any light on that respect. "No man is a prophet in his own land" and Berthoud was no exception. "I learned about the Pierre Leroy rule, the Breguet setting, the Lépine caliber, the Arnold and Graham escapements, the cylinder escapement and the Thomas Mudge escapement that became the Swiss lever escapement after a few modifications. I heard about Christian Huygens, Robert Hooke, Edouard Philips, Jules Grossmann and many others, but never about Ferdinand Berthoud!"
Nicolet thus set out to write a passionate piece. A few selected excerpts which we offer are here:
Who is Ferdinand Berthoud, and what did he achieve?
Old documents and the biography of the Museum reveal that whilst he was well-known, he also sparked much debate. It would seem that every time he is named as the inventor of something, somebody comes out and says "sorry, but that's not his to claim". Did he invent marine chronometers? – Leroy and (especially) Harrison didn't think so. Did he make outstanding watches? – Breguet's pieces were more elegant and modern. Did he invent the detent-spring escapement? – Randall showed that that wasn't the case. Did he discover the secondary error of compensation? – Defossez confirms it but Gould denies it claiming that he never used the term. Did he invent isochronism? – Isochronism is an acquired quality, it cannot be invented. And he wasn't the brains behind thermal compensation either. It was his fellow countryman Charles-Edouard Guillaume from Fleurier who brought it to quasi-perfection a hundred years later.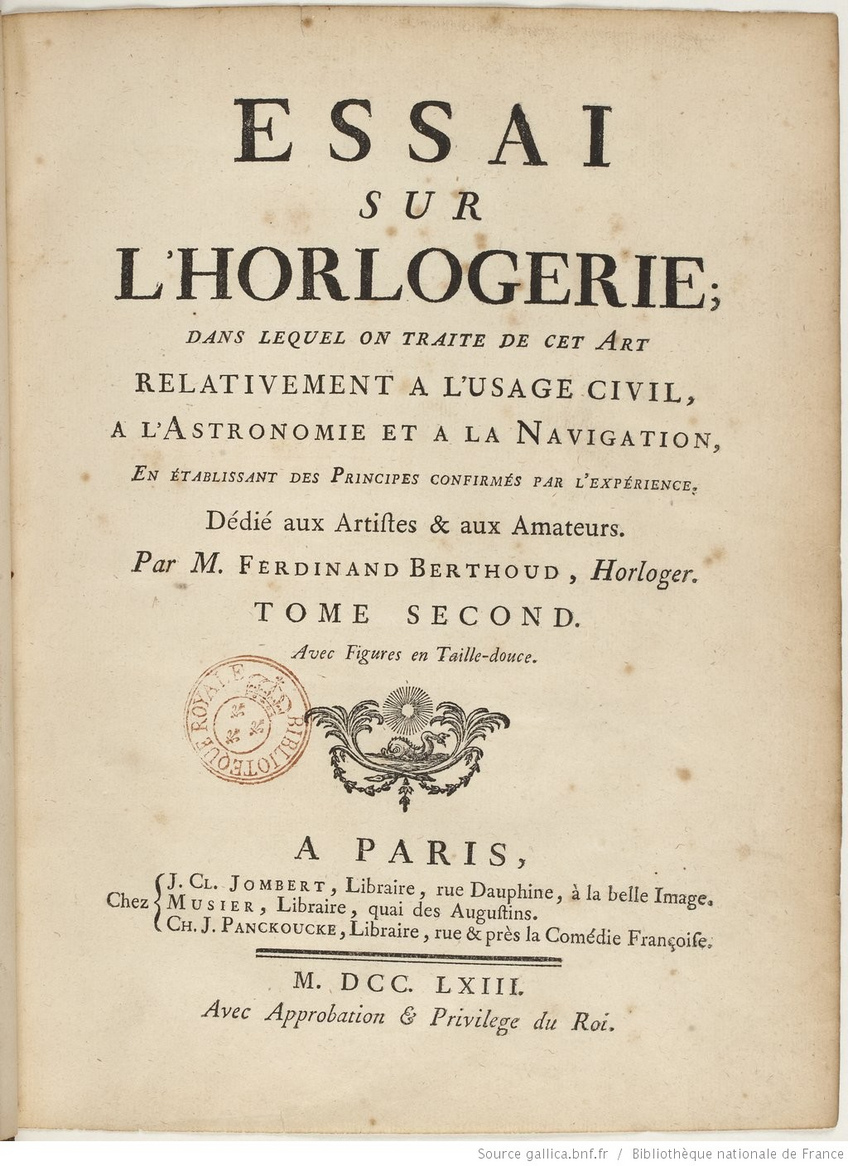 Essai sur l'horlogerie tome 2 by Ferdinand Berthoud (picture credits: gallica.bnf.fr)
Ferdinand Berthoud, great writer but bad speaker?
I want to testify in his favor with some irrefutable arguments. In addition to his merit in watchmaking – to which we will come back later –, Berthoud was undoubtedly the greatest writer-watchmaker from a practical and technical point of view. But before going into detail, I should like to determine the character of this great man. It is a known fact that people from Neuchâtel are not really skilled at making speeches. Our accent is slow and slightly thick, and not fluid enough. We stumble over our words. It's not the fireworks and sparkle of the French spirit.
We have kept a bit of the thick German accent acquired from the time Neuchâtel was occupied by Prussia. To express ourselves, we prefer writing over speaking because then we can take our time, come back and erase what we had initially written.
Berthoud was probably not your loquacious type and he undoubtedly spoke French with a Neuchâtel accent, so he must have contrasted strongly with Louis XVI's courtiers. I think that we need not look further as to why Berthoud – a foreigner, and a protestant on top of that – was able to live without any problem whatsoever through three very different political regimes in France. He may have been the silent type but he had amazing energy that always pushed him to undertake new assignments that would have killed a weaker man.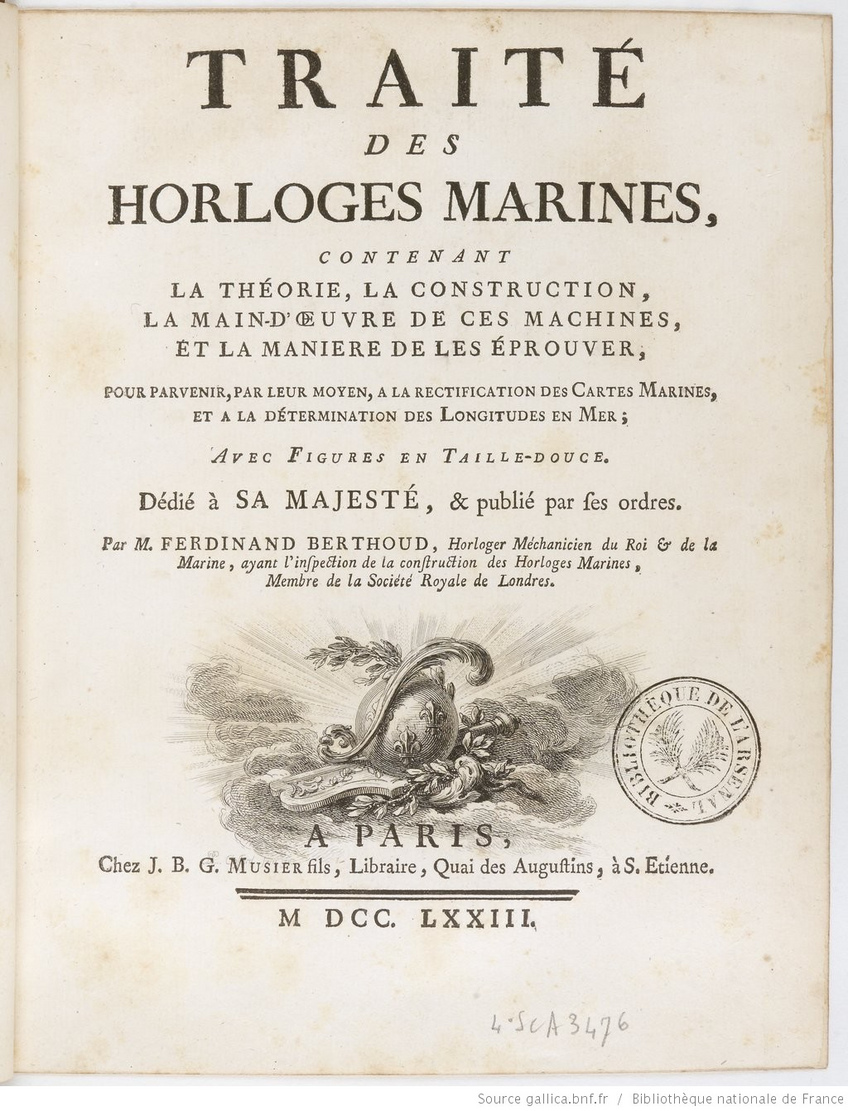 Traité des Horloges Marines by Ferdinand Berthoud (picture credits: gallica.bnf.fr)
We found a quatrain that one of the attendees to such conferences slipped to the person next to them. It went like this: "Dear Berthoud, when of the escapement / The theory you explain / Happy are those who find a way / The Academy to escape!"
Next article, part 2: Biography of Ferdinand Berthoud
By
Joël A. Grandjean
,
Contributor
On 8 January 2018, at La Chaux-de-Fonds, the man whom watchmaking purists dubbed 'the last of the great orlogeurs' made his last farewells...
By
Joel Grandjean
,
Editor-in-Chief
Jean-Claude Nicolet, a former watchmaking professor who some regard as "the last of the great 'orlogeurs'" gave a talk at the MIH in...