A philosophical deep dive into the F.P. Journe Octa Lune Havana dial
With its pale chocolate dial that changes hues under different lighting. The new Octa Automatique Lune Cadran Havana introduced recently by F.P. Journe is a watch that embodies the qualities of a hot Havana night, with the balance, sensuality, and desirability that Journe timepieces have come to be known for.
The Octa Automatique Lune from F.P. Journe is not just a beautiful watch. It's an exploration of the rich culture of Cuba itself. The rich brown dial is reminiscent of the colors of a fine Cuban cigar. It is first and foremost a concentration of ideas, a distillation of an expert's skills; imagine a philosopher's stone of the watchmaking industry transformed into a time-measurement device, a conveyor of rare values. In a paradoxical display of timelessness, innovations are nestled in an architecture created in the tradition of pure craftsmanship. In essence, the Octa Automatique Lune with its Havana dial is an arresting sight, it expresses its own unique, quintessential style, one that shines beyond the telling of time. Mr. Journe's award-winning manufacture achieved the perfect balance of technology and style with this piece.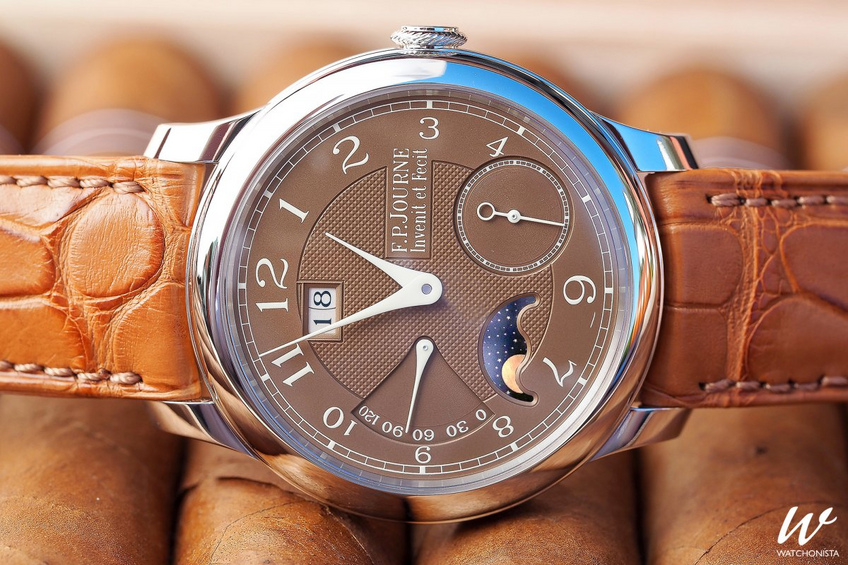 F. P. Journe Octa Automatique Lune Havana
Beauty is the splendour of truth (Plato)
In Antiquity, philosophers understood how the graphical harmony of hand-made objects could give sublime expression to man's genius. In doing so, they instantly acknowledged the divine nature of these creations. The Octa Automatique Lune is one such inspired creation. The new warm brown dial, dubbed the Havana, at once catches the eye of experts in the eternal quest of subtlety. The highly graphical treatment of the piece required much research before the current chromatic balance could be achieved. It provided an ideal occasion to revisit a piece whose movement forms the cornerstone of the entire collection and whose calibre has contributed much to Journe's contemporary vision of watchmaking.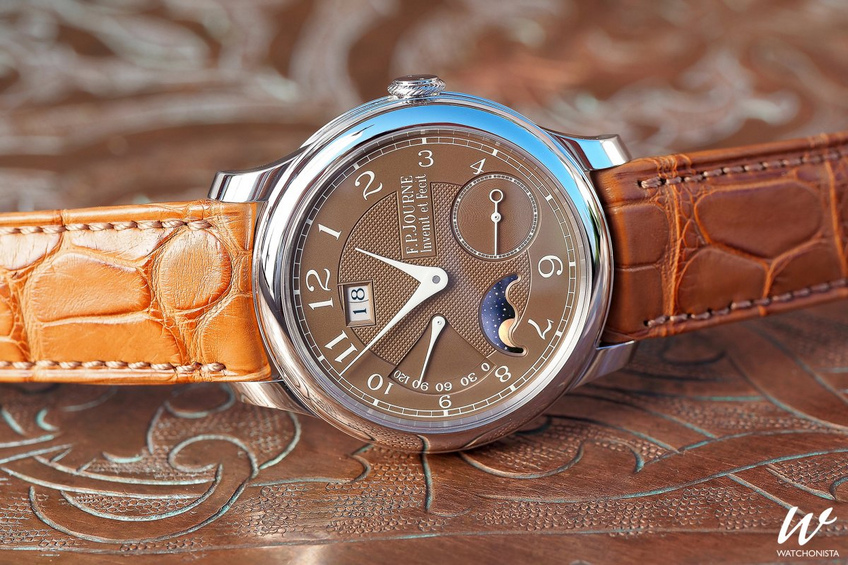 F. P. Journe Octa Automatique Lune Havana
Octa: a lucky charm
There isn't much more to be said about the calibre 1300.3 developed by François-Paul Journe in 2001, apart from the fact that it has led to a consistent collection thanks to the development of the specially designed in-house movement. This genuinely revolutionary invention can support a variety of complications, depending on requirements. Cleverly designed for ease of use and to serve as the basic calibre for this young manufacture, the movement also offers a whole host of innovations, such as optimised winding thanks to the use of a 1 metre-long spring to guarantee 120 hours of power reserve (5 days); or the superior chronometric precision obtained by inserting a variable inertia balance wheel. It also boasts a 22K gold mono-directional rotor and a main plate able to accommodate different functions and/or types of display, without any modifications.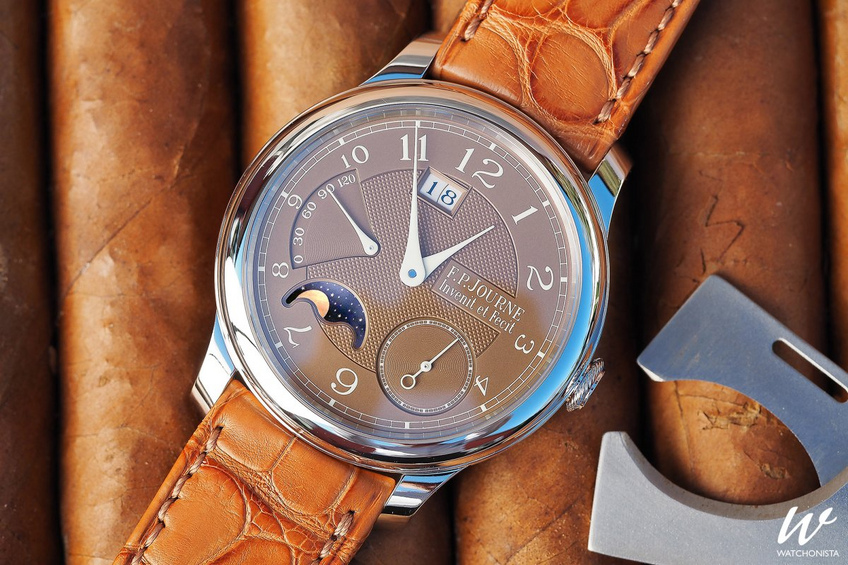 F. P. Journe Octa Automatique Lune Havana
A rich buttery hued dial, unique in the world of watchmaking
A consummate artist, François-Paul Journe, is not just a visionary when it comes to pure mechanical skills of the highest order. He has the ability to sense, if not anticipate, coming trends. This year, the avant-garde watchmaker brought us the Octa Automatique Lune with a variation on the Havana dial complete with Clous de Paris motif. This combination, adapted to fit the 40mm platinum case, is further enhanced by the addition of a caramel-coloured alligator skin strap. Watchmaking purists will be pleased to know that this rich, buttery colour is totally unique. It was developed in the dial maker's workshops known as Les Cadraniers de Genève, co-founded by François-Paul Journe, exclusively for the Manufacture. Indeed, contrary to what one might think, this particular shade of brown is applied with great skill and care to a gold base dial plate that's essentially the result of mixing ruthenium with gold. Even once the two materials are combined, only after months of adjusting the various formulas is it possible to achieve such a soft, warm hue.