A New Beginning For Chronoswiss
According to Mao Zedong, revolution comes from inside. Oliver Ebstein and his wife have assumed this idea and their own revolution is full of surprises.
M. Lang, a German citizen, decided to establish a new watchmaking brand in 1983. A fan of watches, he had dedicated a large part of his career to the Heuer-Léonidas maison, which later became Tag Heuer. For thirty years he and his Swiss wife worked hard to make Chronoswiss a true Swiss watchmaking brand. Even though its headquarters are in Munich, M. Lang has always carried out most of the brand's operations in Switzerland and the brand always had personnel there. Indeed, many watchmaking experts believed Chronoswiss to be a pure Swiss product, so much so that its timepieces were designed and produced according to the rules that the most prestigious Swiss watchmaking brands applied.
In 2013, M. Lang decided to sell his company, but he did not wish to yield to a group which would have kept the company name – admittedly a highly commercial one for a Swiss product – but produce its own timepieces. He wanted the person who took over his company to be interested in continuing the adventure as he would have done himself. The scene was set.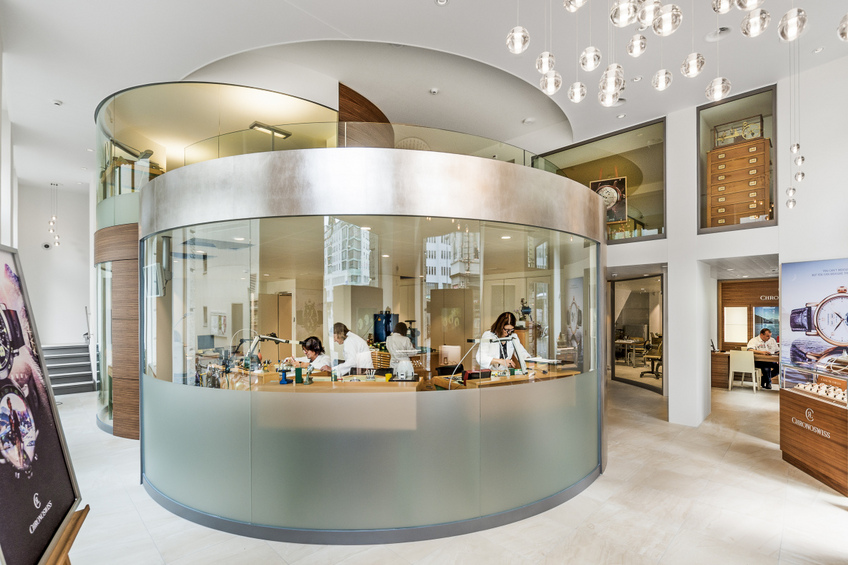 The House of Chronoswiss at Schauwerkstatt (Germany)
If you acquire a brand, you need to love it
That is how Oliver Ebstein came into the picture. As a manager, he had worked in several fields such as banking, pharmaceutics and hotels. "However I had never worked with an industrial company", he states. In any case, watches had fascinated Ebstein since his childhood when his grandfather gave him a Universal/Geneva timepiece. Nevertheless, Ebstein was obsessed with a Chronoswiss watch. It was one of the brand's first open worked chronograph models. He cherished this timepiece and believed M. Lang had a perfect sense of detail. This is why the watch was particularly well executed and radiated emotions.
One day in late 2012, a friend of Ebstein, who was acquainted with M. Lang, suggested the latter met with Ebstein and his wife. The appointment was thus taken and during their conversation, Mr. and Mrs. Ebstein learned that M. Lang was looking for an interested and interesting buyer for his brand. He stressed the fact that he absolutely wanted someone who maintained the mind frame in which he had managed the brand for thirty years. As Ebstein put it: "When we got back home, my wife and I discussed it and in late December 2012, we decided to consider it. Then, one day it became crystal clear to us that we had to acquire the brand as we both loved Chronoswiss watches. The timepieces display emotions and we take this very seriously. However, we also wanted to meticulously examine the economic aspects of the buy-out. For over two months, we talked to many people who gave us different advice and that is how we built our faith. We couldn't have done it any other way, as the industry was something completely new to us. As the prospects were good, we acquired the brand and kept its employees. Indeed, Chronoswiss watches were exceptional and iconic.
As you know, we follow pre-established guidelines in this brand and we thought that it was essential to love the brand in order to buy it".
Integration in Lucerne
When Ebstein and his wife acquired the brand they decided to centralize its activities in Switzerland, more precisely in downtown Lucerne. They left a subsidiary unit back in Germany whose main function is to manage the brand's marketing in that country. The rest of the activities, as we have mentioned, were thus moved to Switzerland, including the brand's suppliers. Today, the brand has forty employees and produces some 5,000 watches per year. There are two main watch collections. The first one, Sirius, stems directly from the range of timepieces that had been produced prior to the buy-out. The second one is called Time Master. These are the two basic axes to which the jumping hour regulator –an old but very elegant mechanism – can be added. However, the new owners did not hesitate to eliminate some timepieces from existing collections. When they acquired the brand, 170 references had already been produced.
Today, no more than eighty of those watches are left and these obviously include the iconic pieces. Ebstein explains why: "luxury products must always be timeless, but you must always be able to repair a watch that we produced even if it dates from thirty years back. If we want to stay within the defined line of the brand's founder, we need to get organized. Since we centralized everything, it is indispensable to start everything over again and redefine it. That includes the logistics that enable us to manage the creation of new Chronoswiss watches from scratch".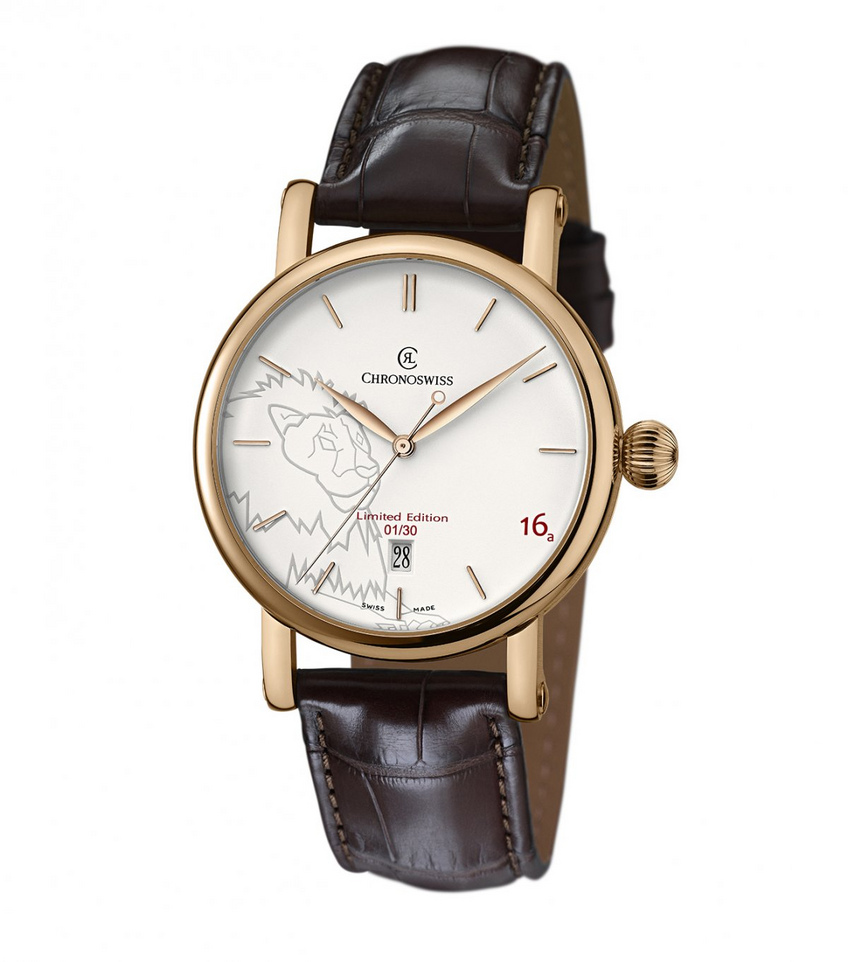 Chronoswiss Sirius Lion Edition Limited
Respecting the clients
According to the owners of Chronoswiss, working in luxury requires consistent creative effort without, however, giving in to changing for the sake of change. Ebstein makes it clear that they definitely need to follow the guidelines that made them successful in the markets. Thus, it is important to develop the timepieces but it is also important to avoid altering them completely. In other terms, they must respect the incrusted identity of the collections to enable clients to follow the creational evolution. On a different note, the new owners have also observed that clients of the 30-50 age range, especially in Europe, are looking for Chronoswiss timepieces which are a slightly more modern and different.
"This is how we came to skeletonize the Valjoux movement we used for our chronographs at BaselWorld 2014. It was an aesthetic success that was much appreciated", added the brand's CEO.

He further states: "Approximately 30% of our production of theSirius collection uses our in-house movement. For the rest of our production, we buy our movements mainly from the Swatch Group. Just to give you an idea of our integration in markets, we are present in approximately 350 points of sale around the world. Our main markets are Europe and Asia, particularly South-East Asia and Singapore. We are also present in Mexico and we also wish to grow in the United States".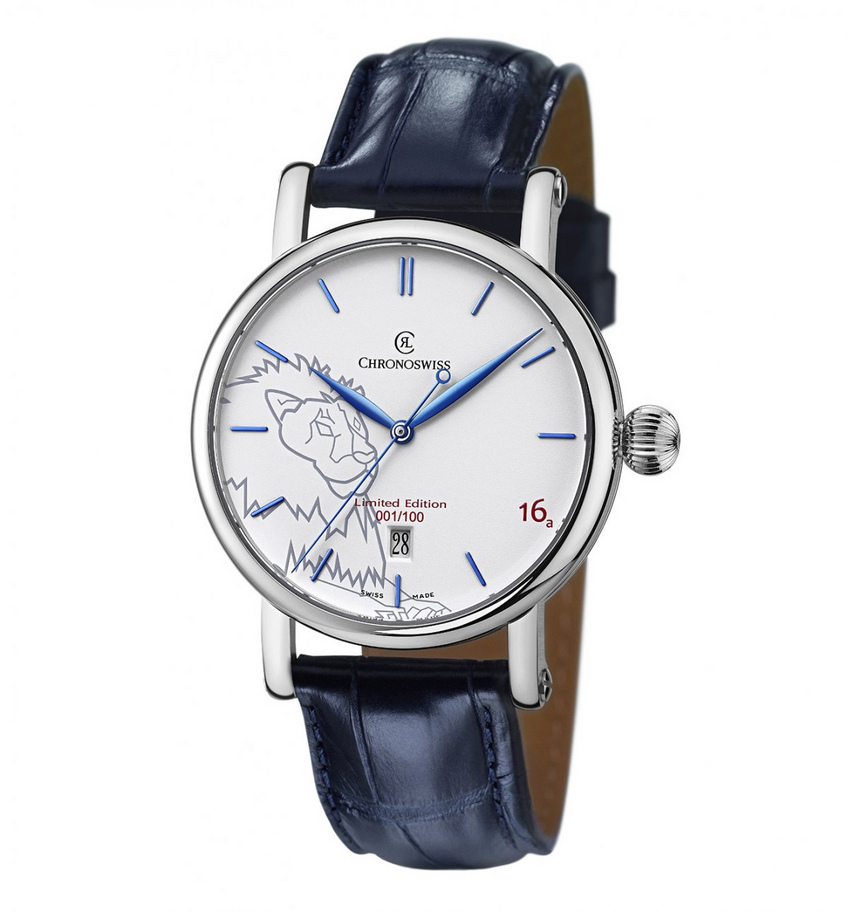 Chronoswiss Sirius Lion Limited Edition
Transparency for clients and aficionados
All of Chronoswiss endeavors have been centralized in Lucerne. However, Ebstein and his wife did not wish to hide the company's activities. Thus, they have built a structure right in the town center, where anyone can view a watch being assembled and the guilloché and enamelling being done.
In an open cylindrical space, visitors can observe watchmaking and artistic crafts. The employees ply their trade in a workshop that is protected by a glass panel. Thanks to wisely placed cameras, the public can also observe them through screens and zoom in to see the precise movements of the professionals responsible for the watches. They also set up a boutique in the structure, just like the glass panel, where the public can see watches, and by pressing on some surfaces on the window, obtain further information about them. In another part of the cylindrical structure, visitors can obtain general information about the brand and its history. This was a truly original idea that made it possible to those interested to see how a watch is made. And even if we know the process, seeing it is both very surprising and enriching.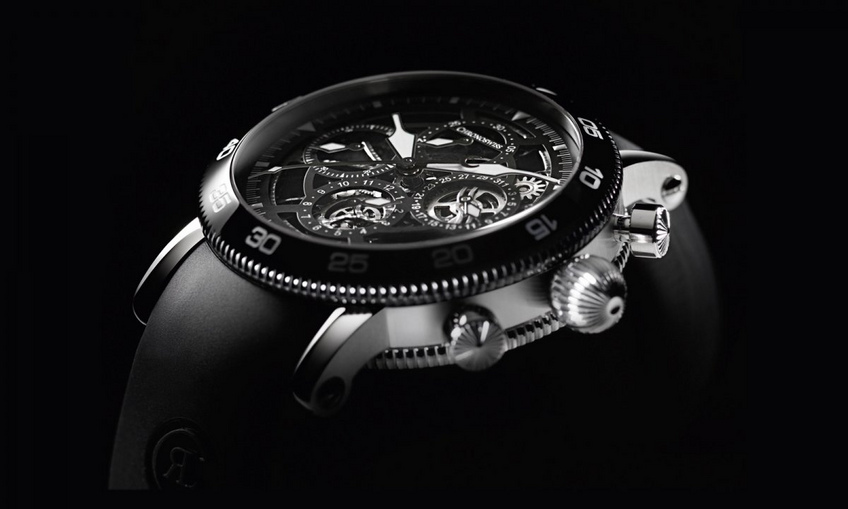 Chronoswiss Timemaster Skeleton Chronograph
Oliver Ebstein's favorite is…
… obviously the one he usually wears: a timepiece that is a digest of the brand's modernism and has great respect for tradition.
Indeed, the "Squeleton" chronograph is equipped with the elegant and clearly readable skeletonized movement characteristic of chronographs from the Time Master collection. Its iconic case was taken from the Sirius collection, as were the crown and the lugs of the case that equips every other watch in the collection.
Sirius Lion Edition pays homage to the city of Lucerne
A limited edition that will be produced to respectfully commemorate the inauguration of the company's building in the center of Lucerne.
By
Joel Grandjean
,
Editor-in-Chief
Founded between 1982 and 1984 by the German Gerd-Rüdiger Lang, the watchmaking brand was acquired by the Ebstein family from Lucerne right before its 30th...
The Swiss brand celebrates its 30 years of existence this year. It proudly announces its first participation to Only Watch like a thank-you message.