Campus Genevois de Haute Horlogerie: a watchmaking ecosystem according to Richemont
Leave the traditional image of university campuses behind – even polytechnic – and visualize the production centers of Cartier, Vacheron Constantin, Jaeger-Lecoultre and Van Cleef & Arpels spread out around Roger Dubuis' spectacular building.
Now add to that picture a Foundation – a school that teaches haute horlogerie crafts – and European headquarters and you will have the most unique project in the watchmaking industry.
The Campus Genevois de Haute Horlogerie (CGHH) seeks to bring together a number of crafts emulating real-life working conditions to provide synergy and rationalization as well as foster skill transmission. Needless to say, the achievement is full of symbols that are proof of accurate know-how. The rigorous and orthogonal plan helps organize the space and to set up the building on a common ground from which natural and life spaces emerge that have been treated as the most refined millefiori decorations – obviously a watchmaking allegory. "The brands of the group are placed like boxes on the unifying base with patios here and there that serve as quality spaces mainly used for common activities (neutral spaces), and depending on their layout, they either form streets or squares.
Making the most out of the significant difference in height between the upper and lower parts of the land plot, the base is bathed in natural light at the foot of the slope and turns into an accessible esplanade for visitors at the top," explains François De Planta, the Genevan architect responsible for the layout. The CGHH is a research and studies center where you will find a varied resident population that encourages knowledge and experience sharing and plays the card of collaborative work on this campus with an appealing vocation. It is also a watchmaking ecosystem where architecture also serves to develop a territorial influence zone… a city in the city somewhere between Silicone Valley and Watch Valley.
Brand: Richemont International SA
Title: The Campus Genevois de Haute Horlogerie (CGHH)
Address: Rue André-De-Garrini 7CP 144 CH1217 Meyrin 2, canton of Geneva
Telephone: +41 (0) 22 808 20 00
Website: http://www.campusghh.ch/
Use: European headquarters,production, training, research, promotion, resource and sharing center.
CEO: Richard Lepeu
Order: Richemont International SA. Final authorization obtained in April 2012.
Design: Specifications drafted in 2010
Opening of the building site: November 2012
Scheduled delivery date: December 2015
Effective delivery date: May 24, 2016
Architect: De Planta - Portier architectes (Geneva)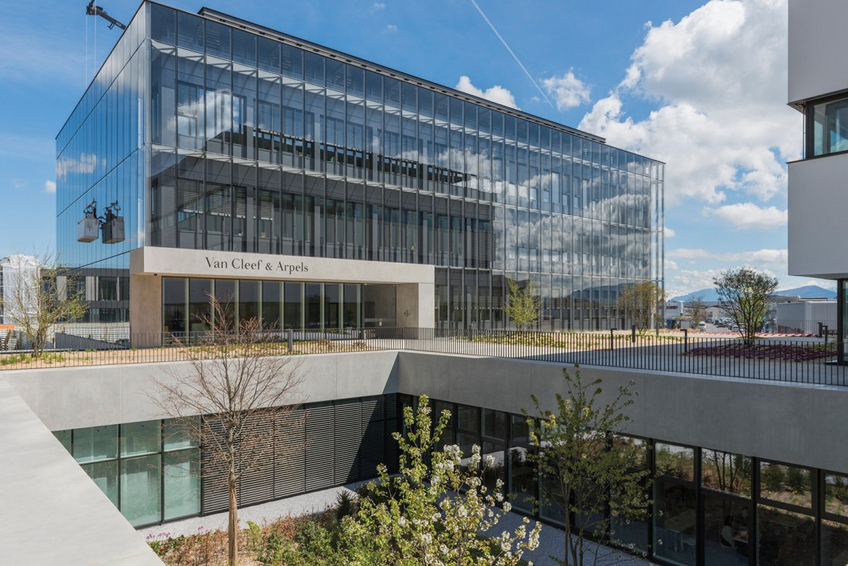 Van Cleef & Arpels © Luca Fascini
Some figures
Surface area: 45,000 m2
Gross built area: 34,200m2
Gross area allocated to the different activities:25,000 m2
Number of buildings: 5
Investment: CHF180 million
Number of employees: 900 (1,200 in 2020)
Two-wheel parking places: 140
2,600 m2 of photovoltaic solar panels that produce 530,000 kWh per year
Evolution of the site
According to CEO Richard Lepeu, "the main idea was to create an incubator that creates synergy forming an ecosystem". The strategy was clearly and openly based on Geneva's renown and its famous Poinçon as well as on the area's potential in terms of land. Hence, it called out to the whole of the watchmaking sector to establish a true thematic cluster, a center of excellence that can develop vertically and horizontal and obtain worlwide renown.
Quoting the architect
The word 'campus', which usually refers to university premises, means here a group of buildings designed for both teaching and living. The idea was to gather different elements in a given place that helped create an autonomous world encouraging skill and know-how sharing and which allows for socializationFrançois de Planta, Architect
A sustainable environment
The developer's motto is to lead by example and hence the site has been labelled Minergie Eco. It's a prowess for an industrial site where quality of life, respect for the environment and mastering energy production are fundamental pillars which bring in their share of innovation:
100% of its energy comes from renewable energy.
No carbon emissions.
Priority to natural lighting.
Over 50% of the overall concrete used was recycled.
Anticipated participation in the future district heating of Zimeysa.
40 200-meter geothermal probes create an adiabatic dry cooling system that reduces the use of air-conditioning by 80%.
The installations have obtained the label Nature and economy for their use of natural surfaces that are friendly to local flora and fauna on over 30% of the site.
Plan of soft mobility for the users.

Electricity supply points.
Right next to two historical watchmaking cradles, La Chaux-de-Fonds and Le Locle, there is an 18th-centruy Bern-style farm that just another example of why...