Lisbon: Interview with Grégory Dourde, CEO and HYT partner
CEO and HYT partner Grégory Dourde answered our questions in Portugal, with the Alinghi and the Sailing Series as backdrop. It was right before the brand was admitted into the Fondation de la Haute Horlogerie. Hats off to them!
After earning a science degree at Pierre & Marie Curie university and an engineering degree at the Ecole Nationale des Ponts et Chaussées (both in Paris), Grégory Dourde went on to study an MBA at the Collège des Ingénieurs in 1997. Armed with a successful academic journey, he who has a strong passion for life in general, arts and science can today afford to be very "cool" in a highly dynamic circle where skills and emotions blend together. His flawless career path has got him to master every aspect of said circle.
After a stint at Cartier and the Swatch Group, he became an expert in retail-marketing strategy. He then founded his own Consulting company in sectors where he was an expert – watchmaking, High-Tech and, by extension, medicine.
Always on his toes, Dourde has recently taken a new professional turn by succeeding Vincent Perriard as CEO of HYT. Good-willing and proactive, he insists that the "machine" never stops. And so, he may take any theoretical approach and turn it into a new and potentially revolutionary idea.
To understand how he envisions the future of a promising brand, we gave the floor to him while the Alinghi team was at the top of the Catamaran ranking in this stage of the GC 32 sailing series.
Where does HYT's strength lie?
In terms of watchmaking technical development, we can honestly say that we brought something new to watchmaking in the third millennium. With an original display that uses no hands but liquids held in capillary tubes through a complex mechanism containing bellows, we have proved that we like to be adventurous.
Would you call it a reconfiguration of traditional paradigms?
I see this display mode as revolutionary as quartz watches were in comparison with traditional watches in their time (editor's note: the real revolution, though, was the introduction of LCD in 1976. That system also used liquids to display time). With our new display system, we have dared to enter a new paradigm as we have redefined mechanics by borrowing part of what made the charm of their functioning. Another promising innovation we have introduced recently is the lighting mechanism of the display using two LED screens, which offers an unprecedented night display for a mechanical watch. We are sure that this mechanism has many potential uses.
Will you be introducing more innovations or breakthroughs soon?
The brand has only been active for five years and has been producing watches for only three. Both the people at the brand and the other actors of the watchmaking circle see our progress as phenomenal. It is not meteoritic though as the effect does not last long.
Obviously, we will not just commercialize between 300 and 400 watches per year. We have recently raised 21 million for HYT and its sister company Preciflex. This money will be used to accelerate our development. HYT will launch a new range of smaller and thinner watches at the end of 2018. They will be equipped with a new powerful movement that will see to the liquids' movements. Precilfex will also be introducing new micro-fluid concepts in medicine (editor's note: targeted medication by injecting pilot products with a system derived from that HYT uses in its watches).
Is there any field you have not explored?
We clearly intend to launch new pieces for clients who are seeking something different and contemporary. Our products are made with a digest of the latest scientific advances, particularly related to aerospace. However, our range of watches does not stop there. We pay particular attention to the emotions that are evoked in clients' experience with an HYT watch and throughout their relationship with the brand.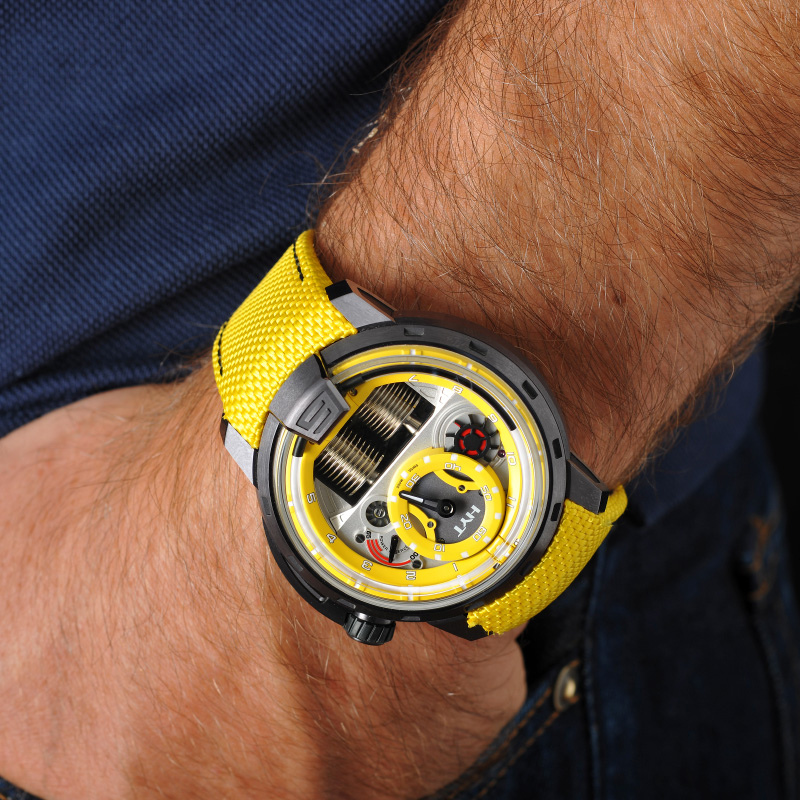 HYT H1 Colorblock Yellow
We celebrated our third anniversary with the H1 Colorblock. We aim to continue communicating with the public through a multi-channel axis with quite amazing new pieces, particularly in terms of customization. But those who are looking for timepieces that tell more than just the time are already our clients. Indeed, 30% of our total annual production are watches from our Skull collection, which do not indicate minutes. We share a different relationship with the ticking of time; ours is more fluidic and less riddled with numbers. Together with our partners, we also work on other sectors of communication. For example, racing cars, which are mostly equipped with avant-garde materials or other areas where liquid mechanics is at the heart of the adventure, such as Alinghi.
To conclude, what would the engineer in you like to say?
Regardless of the fields in which we invest our energy, liquid mechanics is at the heart of the system and is the answer to moving things forward and triggering emotions. We are thus in perfect harmony with our universe. Time is working in our favor!
Westime's Two Rodeo location played host to friends and collectors for a fluidic evening.
By
Josh Shanks
,
Contributor
HYT really knows how to get our blood pumping. 
By
Benjamin Teisseire
,
Contributor
Created in 2012, HYT has developed its own philosophy of haute horology with a unique fluidic representation of Time. A different conception of the space and...