Prix Gaïa 1996 – Günter Blümlein. Entrepeneurship category
He was awarded for his entrepreneurial skills that benefited three companies which, thanks to his help and choices, have successfully managed to reach the higher ranks of the watchmaking industry.
Training
Micromechanical engineer
Selected works
Chairman of the Board at IWC
Chairman of the Board at Jaeger-Lecoultre
Director at Lange und Söhne in Glashütte
Before Gaïa
After he graduated as a micromechanical engineer, he began his career as an apprentice in the technical and sales department at Diehl-Junghans for several years.
In 1981, he moved to International Watch and Co (IWC) in Schaffhausen, and one year later was appointed the director. During his time there, IWC came forward with new developments and earned a new image among enthusiasts and experts. For example, the brand started using new materials, such as titanium and ceramic that conferred watches remarkable lightness, resistance and refinement.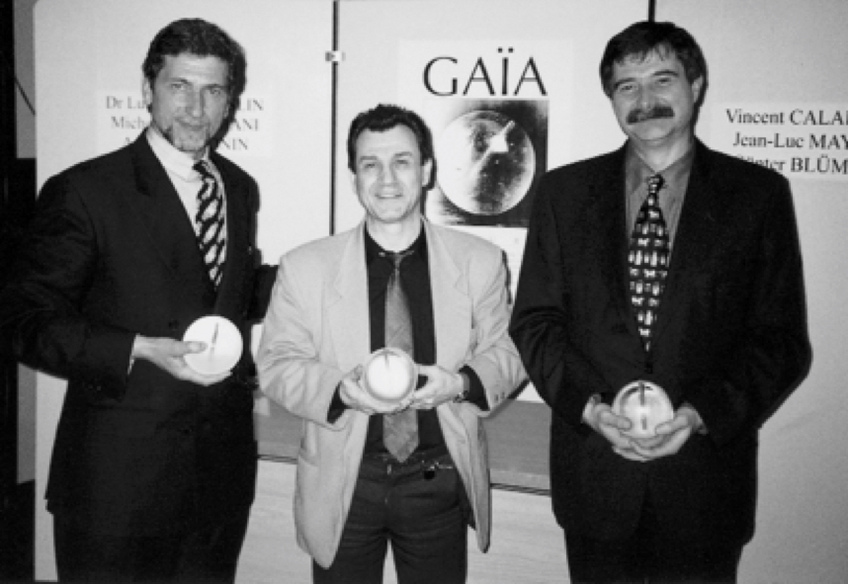 The 3 laureates : Günter Blümlein, Vincent Calabrese and Jean-Luc Mayaud
Blümlein's impetus led the company to make a breakthrough with the introduction of complicated mechanical watches in its production. His major creation was the self-winding Grande Complication made of 659 components striking the hours, quarters, minutes and equipped with a perpetual calendar (day, month, year, moon phase) set for 500 years and a chronograph (hours, minutes, seconds).
While he was director at IWC, Blümlein was appointed the Chairman of the Board of administration of Jaeger-Lecoultre in Le Sentier. At Jeager-LeCoultre though, he adopted a different philosophy. His approach was to revisit the best ideas of the brand's past. Thus was created Reverso, a watch with a reversible case. The Reverso dates back to 1931 and despite the evolution of trends and tastes, it has had no major modifications and its production is still going as strong as ever. The present version still rotates on its axis on a barely-rounded support on the bottom and displays a back that has been adapted to current trends.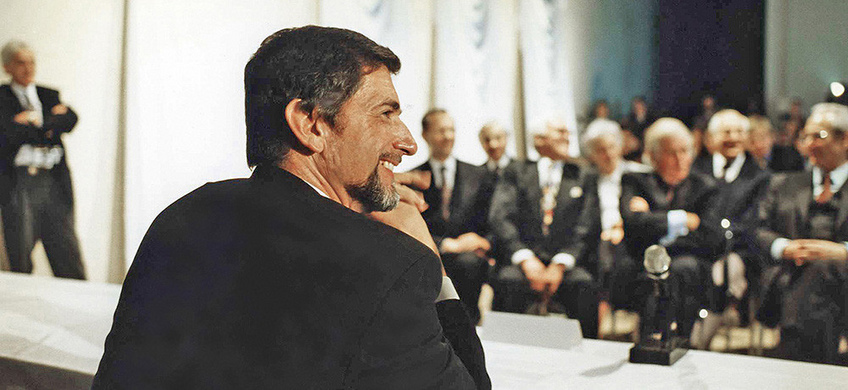 Günter Blümlein
In 1990, he was entrusted another responsibility in the form of managing Lange und Söhne in Glashütte. The former German company had to start from scratch to reestablish its credibility on the European and international market after the fall of the Berlin Wall.
After Gaïa
He continued his professional career within the three companies to which he offered his experience and, above all, his innovative ideas. However, he gave each one of them a distinct identity, thus eliminating any possibility of rivalry among them.
Deceased prematurely at 58 years old in 2001, he left a deep void in the world of great watchmaking industrialists.
By
Joel Grandjean
,
Editor-in-Chief
Fifteen years have already gone by since the master watchmaker left us. Winner of the Gaïa Prize in 1996, for which Watchonista is media partner, he made...
The self-taught man was honored for his undeniable talent that encouraged him to develop his watchmaking skills which is how he came to create complicated...
He was awarded for his studies on the history of watchmaking and micromechanics in Franche-Comté.