Prix Gaïa 1996 – Vincent Calabrese. Craftsmanship-Creation category
The self-taught man was honored for his undeniable talent that encouraged him to develop his watchmaking skills which is how he came to create complicated watches and clocks and design several original models.
Training
Self-taught watchmaker.
Selected works
Les Spatiales: complete movement of the watch "suspended" in the air.
The Flying Tourbillon
Techniques
Before Gaïa
Born in Naples, Vincent Calabrese moved to Switzerland right before he turned 18 in the early 1960s. After years spent working for others, he decided to set up his own company to make watches in the 1970s, when Swiss watchmaking was in the middle of a crisis.
Calabrese wanted his timepieces to highlight watchmakers' handiwork without any visual hindrance of the dial.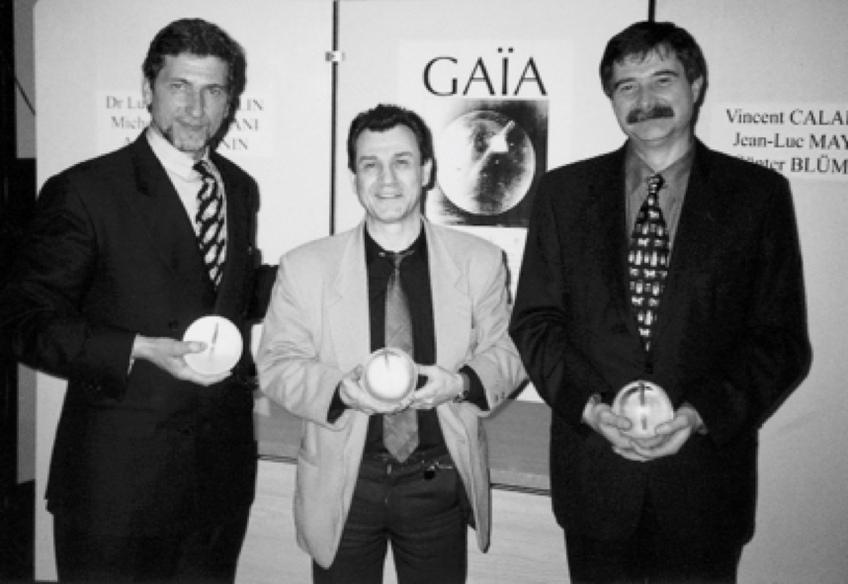 The 3 laureates : Günter Blümlein, Vincent Calabrese and Jean-Luc Maynaud
Thus were designed the Spatiales watches. They featured movements suspended at the heart of an entirely transparent sapphire case. The whole was affixed on the crown at the back of the watch. The system's ingenuity also included a strict minimum of components necessary for the watch to function properly. This particular watchmaking style allowed him to come up with unique movements that could be customized in any shape, as per the orders of his clients.
It is to be noted that his first piece won the Gold medal at the International Exhibition of Inventions in Geneva in 1977. Another of his biggest achievements is the Flying Tourbillon (1998) which had a "classic" or ""regulator" display. One special aspect of his work is that he developed all his watches on his own - from the movement to most of his components, as well as the case, engravings, enameling and jewel-setting.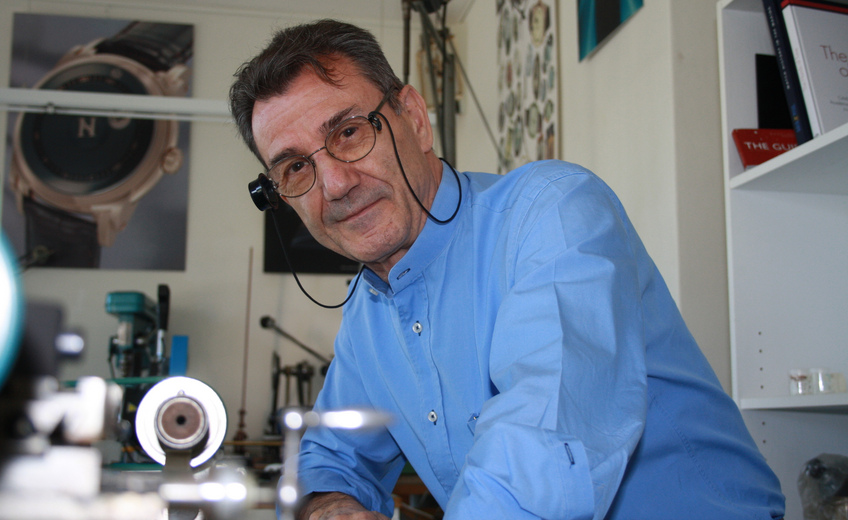 Vincent Calabrese
After the success of his first timepieces, Calabrese went on to invent other watch models. In 1989, he created Two Hands, a type of chronometric lever in which the entire movement was housed on the minutes hand and which displayed a minuscule pendulum equipped with a pin-type lever escapement.
He also designed watches for the Techniques collection. They featured a patented power reserve indicator – which was also the world's thinnest at the time – and additional mechanisms such as indicators of weeks, days and time zones, so that the time display and setting could be done more easily.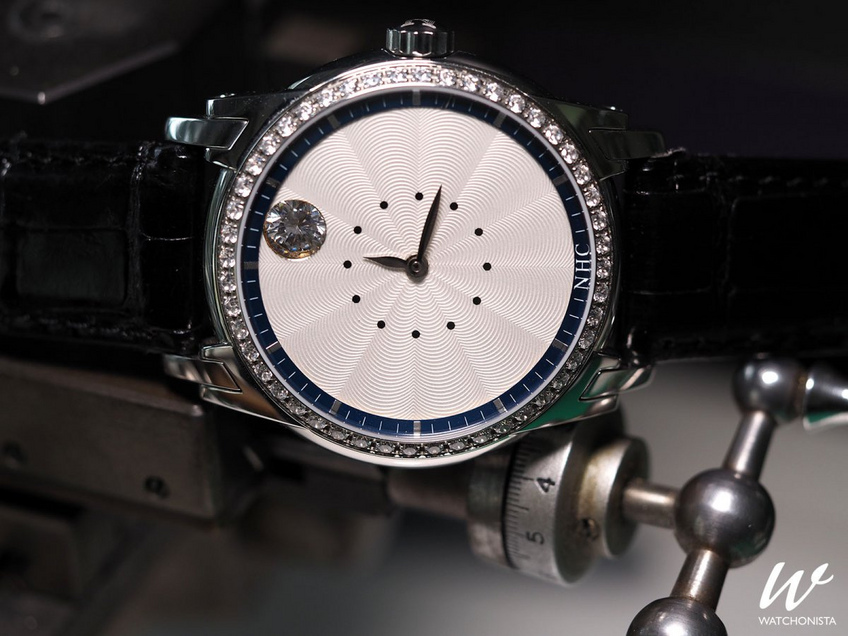 Vincent Calabrese Stone
The Ludiques watch collection offered a new way of reading time via jumping hours that bounced around the dial or stood in the middle. He is also the brains behind the Philosophiques watches, bearers of very personal messages, which were equipped with a quartz movement and a unique dial with stage curtains also featuring jumping hours, images and even written messages.
After Gaïa
Since 1996, Calabrese has continued designing and bringing about innovations. One of his most renowned watch is the flying tourbillon Regulus while he also produced several mechanisms.
By
Pierre Maillard
,
Editor in chief Europastar
Just published by Editions Slatkine, Le Temps d'une vie (in English 'A lifetime') is Vincent Calabrese's novel-like autobiographical account...
He was awarded for his entrepreneurial skills that benefited three companies which, thanks to his help and choices, have successfully managed to reach the...
He was awarded for his studies on the history of watchmaking and micromechanics in Franche-Comté.