Gaïa Prize: Günter Blümlein, the power of memories
Fifteen years have already gone by since the master watchmaker left us. Winner of the Gaïa Prize in 1996, for which Watchonista is media partner, he made a lasting impression on the industry. Here's a few things to learn about him.
In the early hours of October 1st, 2001, he died aged only 58. On this day, high-end watchmaking lost one of its key, most respected and prominent figures. Remembered as a relentless entrepreneur with a strong personality, his memory lives on. Now fifteen years later, his career path is still a source of inspiration. His career was so enriching that taking the time to learn about it might well give aspiring managers potentially business-saving impetus.
Human, hard-working and visionary
If it were not for him, it is highly possible that brands such as IWC, Jaeger LeCoultre and A. Lange & Söhne would have faded away by today. On the other side of the coin, many think that his name is not as important as it was.
However, there are those who have taken an interest in recent watchmaking history and whose passion for their collections keeps said history alive. For them, Günter Blumlein's memory deserves relighting with the glory of a carefully built opulence whose positive outcome still impacts on present days.
The visionary man understood watchmaking like no one else did. Clever and always ready to pinpoint the weaknesses as well as highlight the strengths of the industry, Blumlein knew when to take advantage of economic upturns and how to thwart dark times. Never overlooking the people without whom famous creations would never have been developed, he stayed on course by keeping a cold head. He knew how to make his ideas stand out. Whilst he would sometimes listen to advice before making up his mind, other times he would be inflexible and only relate to his own convictions. And when required, he could also smoothly convince others to agree with him and see things from his perspective. While he had the assured air of a company director, he would consistently show good judgement in his decisions.
Bumlein believed in humans and hence he never saw himself as a superior being.
He could be very cordial – occasionally sharing a Cohiba or a drink of Bordeaux wine, sometimes even both – with the people he spoke to, while they talked about all sorts of things. He would often have "The Köln Concert" by Keith Jarrett playing in the background.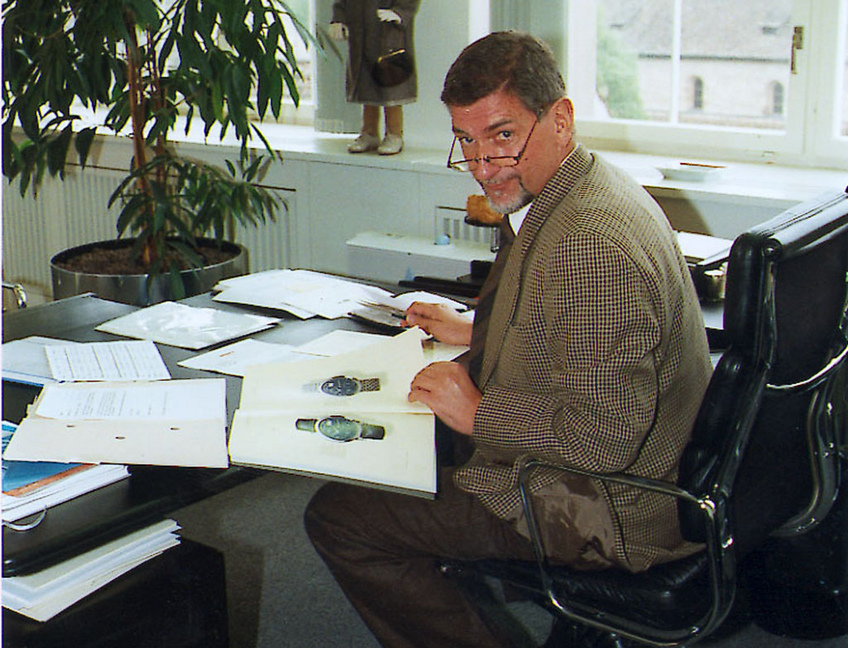 Günter Blümlein in his office in Schaffhausen
Starting with IWC and moving on to the Richemont group
In the 1980s, IWC and Jaeger LeCoultre expressed concerns about their future. At first, he offered them his services as a consultant. Then, in 1982, he was appointed manager. His managing skills brought Schaffhausen-based IWC (International Watch Company) to the safe zone by producing a range of wristwatches with innovative design and finely crafted finishes that were particularly loyal to the traditions of the manufacture. The new boss, who had foreseen the big comeback of mechanical watchmaking, played the complications card for the brand. When it launched the Da Vinci model in 1985, the first reasonably-priced automatic watch equipped with a perpetual calendar, the idea was acclaimed by watchmaking actors. The revival of the Pilot range took care of putting everything else back on track.
Though always close to the German side of watchmaking in Switzerland, Blumlein was appointed director of Jaeger LeCoultre in 1986, a company that he successfully rejuvenated as well.
And since good things always come in threes, as the saying goes, he brought back to life A. Lange & Söhne, at the time of the fall of the Berlin Wall. The brand was transformed into yet another true Manufacture. In 1996, Blumlein made his dream come true by founding the powerful holding named LMH, "Les Manufactures Horlogères", which the Richemont group would later spend several billions to acquire. That was of course after the three Manufactures became the spectacular war machines that they are today, all thanks to Blumlein's added value. Impressed by his performance, the acquiring group entrusted him with the whole of its high-end watch activities, including brands such as IWC, Jaeger-LeCoultre, Lange, Baume & Mercier, Officine Panerai, Piaget and Vacheron Constantin.
Unfortunately, fate intervened and did not allow him to complete his work. An insidious disease gradually intruded on his daily life, and took control of everything while he was left with no other choice than to fight for his health. Even though he did not succeed in that endeavor, the great man continued to work on his projects in his bed as only work kept him going. May he rest in peace.
Visit our special page