Prix Gaïa 2017 – Richard Mille. Entrepreneurship category
Richard Mille, founder and director of the eponymous company Richard Mille, embodies a new vision of modern watchmaking. Bursting with creativity, he designs luxurious and the most innovative watches.
Born in Draguignan, southern France, in 1951, Richard Mille is a passionate of mechanics who rapidly made an imprint in the Swiss watch universe. After his marketing studies in Besançon, he worked at Finhor, a local watchmaking company, as head of exports then rose to the position of manager of the watchmaking brands the Matra group acquired when it bought Finhor. In 1990, he became President of the watch division and Director of the jewelry shop Mauboussin and became, from then, on well-known in luxury watchmaking. Nevertheless, after a disagreement about the company's business strategy, Richard Mille left Mauboussin to set up his own brand. And so, in 2001, he embarked upon a new adventure and settled in Les Breuleux to produce his first watch, the RM 001.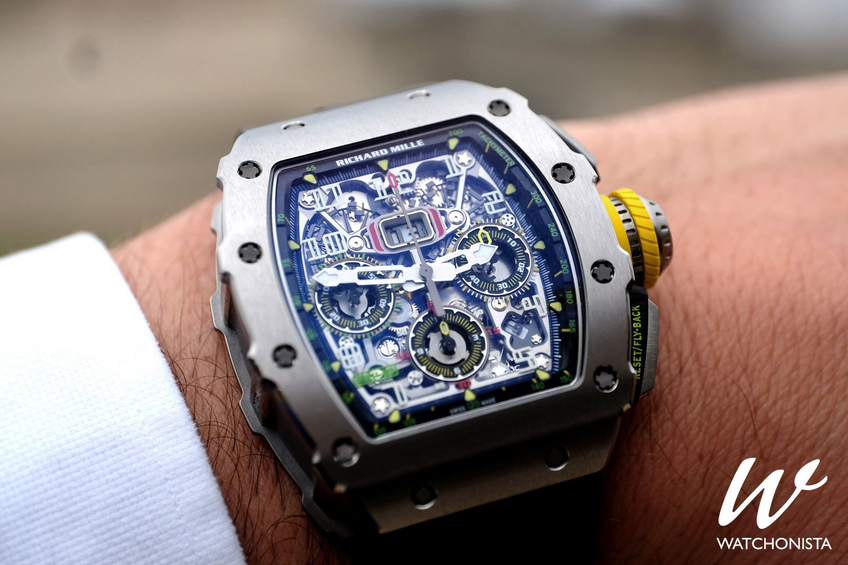 Richard Mille RM 11-03 Automatic Chronograph Flyback Felipe Massa
From the outset, the company aimed high. The objective was to take watchmaking to new heights based on three concepts - maximized technique, architectural dimension and hand-made finishes. Richard Mille's identity is a clean break with the past - its timepieces are highly innovative and freely creative, as seen by its watches' shapes which are inspired by aeronautics and the car industry. Richard Mille watches are today each distinctly recognized for their unique style.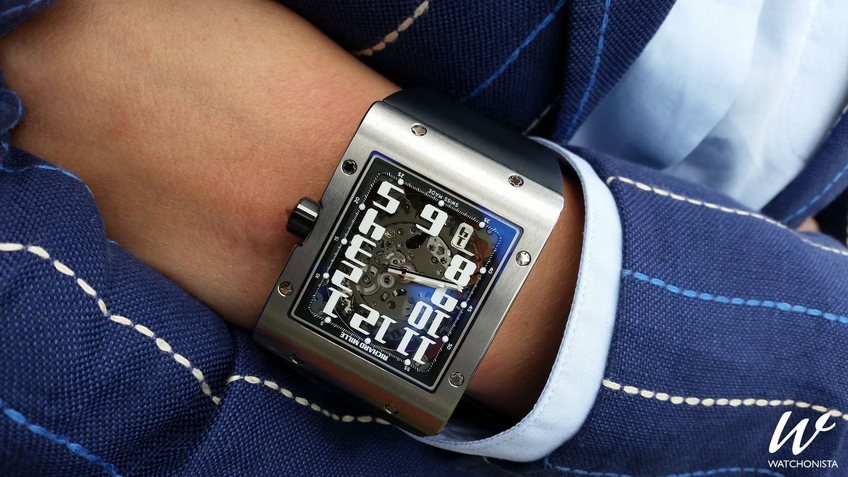 Richard Mille RM 016 Extraplate
Its modern vision of watchmaking codes and particular penchant for challenges allowed Richard Mille to attract the best movement producers in Switzerland and develop into prestigious brand, which now sponsors professional athletes.
Main achievements
RM 63-02 World Timer (2017)
The first piece of this line was introduced, and had a huge success, at the Salon International de la Haute Horlogerie in 2013. Created for frequent travelers, it made a strong impression thanks to its complex but user-friendly world timer mechanism.
Richard Mille RM 63-02 World Timer
The new version is even more innovative with a new self-winding movement, a turning titanium caliber indicating time zones.
RM 19-02 Tourbillon Fleur (2015)
With this model, Richard Mille revisited the watchmaking traditions of automata with a magnolia that opened and closed its petals based on minutes or on demand. Together with the refined flower that was produced and painted by hand, the tourbillon opens and reveals a diamond in a move similar to the flower's blooming. The mechanism allowing this spectacle is highly complex - five levers are hidden under the petals and a pinion activates the flying tourbillon.
Richard Mille RM 19-02 Tourbillon Fleur
RM 27 Tourbillon (2010)
This is the world's lightest tourbillon-equipped mechanical watch. Richard Mille designed it for tennis man Rafael Nadal, who wore it during his matches at Roland Garros, Wimbledon and US Open. After this watch, Rafael Nadal and Richard Mille renewed their partnership three more times.
RM 07-01 My Fair Lady (2005)
It was the first women's watch of Richard Mille's collection. It met the requirements of a new demanding clientele by combining harmony, elegance and technique.
Indeed, though the watch looked like a piece of jewelry with its various diamonds, it was made of original mechanisms that were visible thanks to a skeletonized movement. Since then, Richard Mille produced several other versions of women's watches, the most recent one being equipped with a case made with pink sapphire blocks.
RM 008 Tourbillon (2004)
This is Richard Mille's most famous watch and is considered as its first piece of art. A symbol of the brand's vision of watchmaking, it is a modern watch which is functional and aesthetic even if it can reach a high technical level. The piece stands out because of the quantity of challenges imposed by its mechanism - it is a hand-wound mechanical watch equipped with a split-seconds chronograph with 444 components and a variable inertia tourbillon made up of 77 pieces. To manage this successfully, a titanium column wheel ensures that the piece's movements are simultaneous and three pushers are respectively used to activate the chronograph, reset the hands and overtake the chronograph hand. Many other complications form part of the timepiece, and they all guarantee performance and strength.
Key dates
2013: Richard Mille settles in the new Proart building that was designed by Chavanne, an architect firm in Les Breuleux

2010: First partnership with Rafael Nadal, for whom Richard Mille has created four watches

2005: Writing of the "Richard Mille" book published by the Le Cercle d'Art. The book focuses on the brand's history of watches, and contained texts written by the poet Alain Borer

2004: Huge success of the RM008 Tourbillon

2001: Founding of Richard Mille in Les Breuleux and creation of the group's first watch

1990: Shareholder and general manager of the watch division at Mauboussin

1986: Export manager of all the watches owned by the Matra group, which had bought Finhor

1974: Richard Mille is appointed head of exports at Finhor in Villers-le-Lac

1951: Birth of Richard Mille in Draguignan (Var)