Prix Gaïa 2017 – Jean-Marc Wiederrecht. Craftsmanship-Creation category
Established in Meyrin (Geneva), watch designer and founder of Agenhor SA, Jean-Marc Wiederrecht is considered as the father of "Poetic Complications".
Born in 1950, Jean-Marc Wiederrecht graduated as a watchmaker in 1972. Following this, he worked at Châtelain for three years before setting up his own workshop in 1978. In 1988, he developed his first bi-retrograde perpetual calendar. Made for Harry Winston, the module was a first in watchmaking and heralded the start of a privileged relationship between Wiederrecht and the brand.
In 1996, Wiederrecht founded Agenhor, an abbreviation of "Atelier Genevois d'Horlogerie", which was dedicated to the study, development and production of watch mechanisms. The 1990s are interspersed with several inventions, including mainly retrograde and off-centered displays, such as the double time zone, the Tri-Retrograde, equation of time and Universal Time.
Since 1996, Jean-Marc Wiederrecht and his team have created new complications such as True North, Opus 9 and Golf Counter. To this day, Agenhor has filed for several patents, including the gear without play.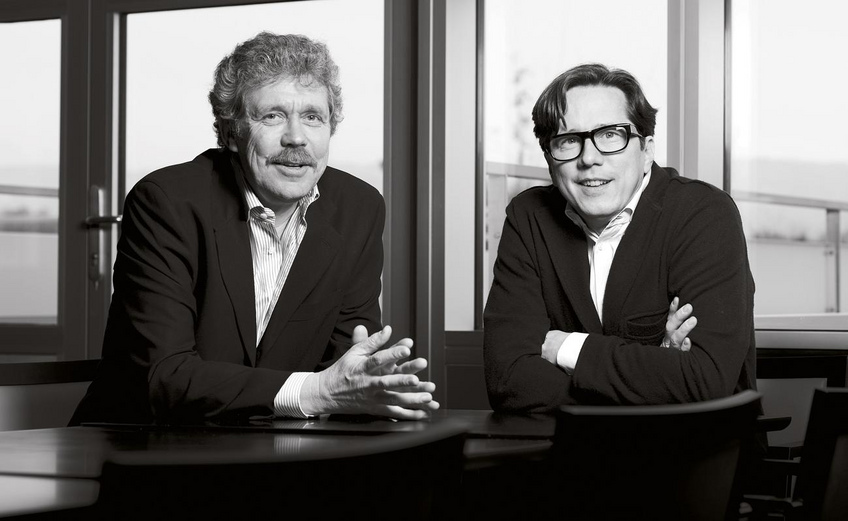 Jean-Marc Wierrecht & Eric Giroud - Harry Winston Opus 9
Wiederrecht is fascinated by the concept of ultra-thinness in watches due to the technical difficulties and constraints it represents. And so, the first complication he produced was a moon phase for Chopard, which was designed to fit in the same case used in the original model, which incidentally did not feature a moon phase. In 2005, he created his first "Poetic Complication", the Quantième des Saisons, for Van Cleef & Arpels. To quote him, watches with "Poetic Complications" embody advanced watchmaking techniques with the aim of stopping time to talk and think about it".
Discretion and simplicity – those are the key words of the philosophy of the company which employs around twenty people in a building that was designed with due regard to the environment and sustainable development. Agenhor SA produces around a hundred pieces for different brands per year. It is a family company – the wife and two sons of Jean-Marc Wiederrecht also work there.
Fabergé Visionnaire Chronograph
Main achievements
Gear without play: it guarantees optimum power transmission, clear display and steady hands thanks to which multiple world premieres have been produced.
Temps Suspendu for Hermès
The watch's special function is that it can suspend the hours and minutes hands for a set duration. It is a nice metaphor of the value of passing time. Behind a simple and playful gesture hides a sophisticated mechanism that steals time's thunder with a subtle play of cams, pinions and sectors. Protected by two patents - one for its architecture and the other for the adjustment gear teeth - the piece has 24 rubies and three adjustment wheels. The "running" and "standstill" phases of time are controlled by two synchronized column wheels - one for hours and the other for minutes and date. The retrograde mechanism at 360° of the hours and minutes erases the time from the dial without interrupting the movement's running.
Quantième des Saisons for Van Cleef & Arpels
The complex movement progressively and successfully reveals the inner mechanisms of the dial. Its technical prowess lies in its capacity to make the heavy enameled or aventurine glass disk turn at a pace of barely 1 degree per day. The Quantième des Saisons movement enables time to be structured according to the four different seasons.
Opus 9 for Harry Winston
With a combination of pure design and accuracy, the Opus 9 displays time differently. As the signature of Harry Winston timepieces, the technical innovation is combined with diamonds that are not simply decorative, but also an integral part of the time display mechanism. Two parallel diamond-paved small chains indicate hours and minutes. Each chain sports 33 emerald-cut diamonds, a Harry Winston signature, and features bright orange garnets to indicate hours and minutes. Made with brass, the small chains were designed to optimize mobility and reduce scratching.
Professional path
2017: Watch of the Year Jury Prize (Visionnaire Chronograph, Fabergé)

2016: Travel Time Watch Prize (Fabergé) at the GPHG

2015: Ladies' High-Mech Watch Prize (Fabergé) and Calendar

Watch Prize (Hermès) at the GPHG

2013: « Hommage au talent » Prize from the Fondation de la Haute Horlogerie

2011: Men's Watch Prize (Hermès) at the GPHG

2010: Women's Watch Prize (Van Cleef) at the GPHG

2009: Design Watch Prize (Winston) at the GPHG

2007: Design Watch Prize at the GPHG

1996: he founds Agenhor SA

1978: he is officially an independent watchmaker

1972-1975: he works at Châtelain

1972: he graduates with a watchmaker diploma

1950: Birth of

Jean-Marc Wiederrecht at Geneva