Oris and car racing: "racing watches for racing passion" – Part 1
A permanent fixture of the car industry for several decades now, the Swiss watchmaking manufacture Oris has patiently forged strong connections in high-level car racing and historical rallies. Cars are an integral part of its DNA.
Founded in 1904 by Paul Cattin and George Christian, watchmakers hailing from Le Locle, Oris – which means "running water" in Celt – is located in the small Swiss village of Holstein. The independent manufacture only produces mechanical watches from pure watchmaking traditions with appealing value for money. Their signature feature is the red rotor, a registered trademark and symbol of the "high-mech" brand. A philosophy that is essentially summarized in the brand's slogan: "real watches for real people". Oris has slowly but surely built its reputation in the general public and among fans of refined mechanical watches.
Car racing has been part of Oris' DNA for several decades now. The watches in its collections are varied and come with a particular cultural wealth and radiate the "racing" aura obtained through the partnerships that the brand has secured with leading teams, races and drivers over the years.
Pilot watches inspired by car racing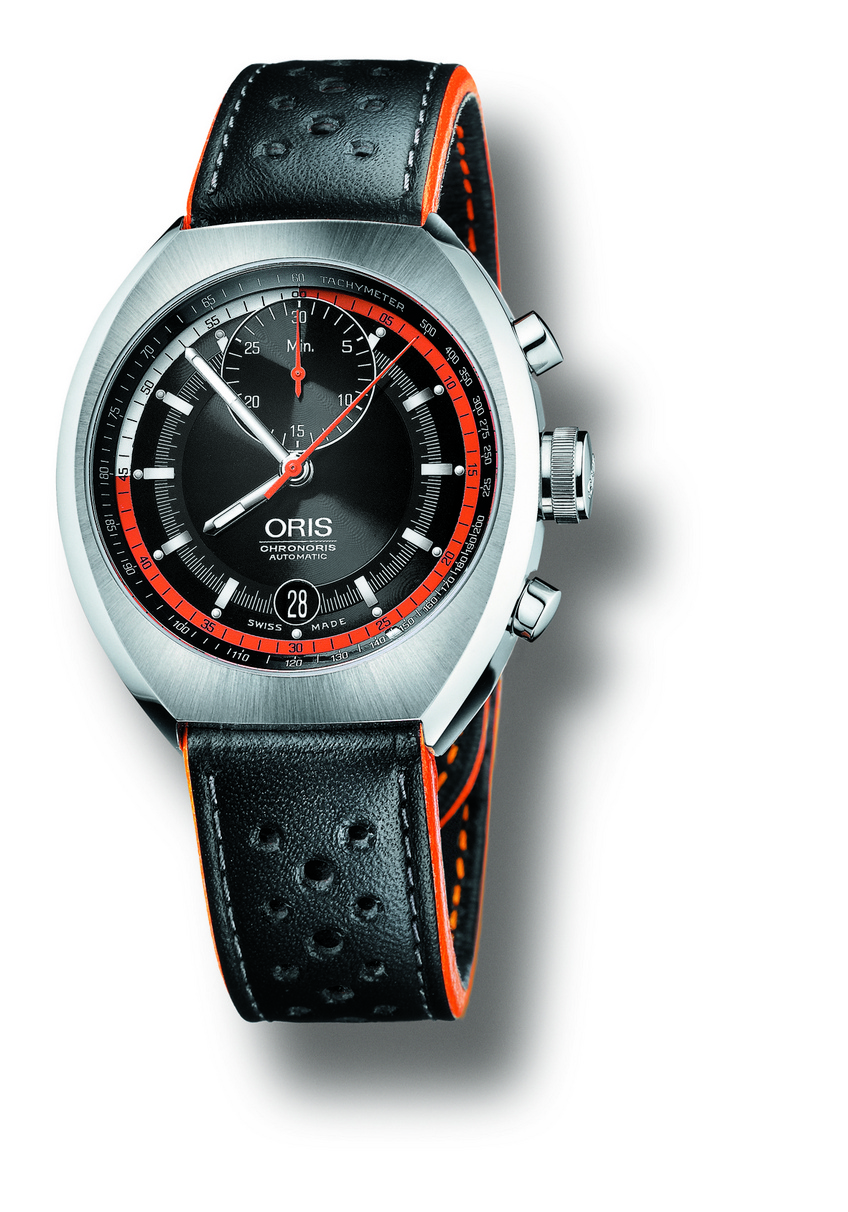 Oris Chronoris (ref. 01 672 7564 4154) - 2005
Oris' connections with car racing date back to the golden age of Formula 1 in 1970 with the introduction of the ChronOris, the manufacture's first chronograph movement. It housed the hand-wound Oris 725 caliber, which was based on a Dubois Dépraz column-wheel caliber. With an oval-shaped case and orange hues, it is today a "classic" watch. One particular characteristic of the ChronOris is that it is a single push-piece chronograph that has no sub-counter for the minutes. Instead, the dial displays a turning flange graduated from 0 to 60 and activated by a second crown. The tachometer scale at the center measures speed. In 2005, Oris launched a reinterpreted version that was well acclaimed.
Compared to its predecessor, the Chronoris (ref. 01 672 7564 4154) features a sapphire glass, a minute counter, a second push button, a crown with the exclusive Quick Lock safety system and the automatic Oris 672 caliber, which is based on the indispensable Valjoux 7750.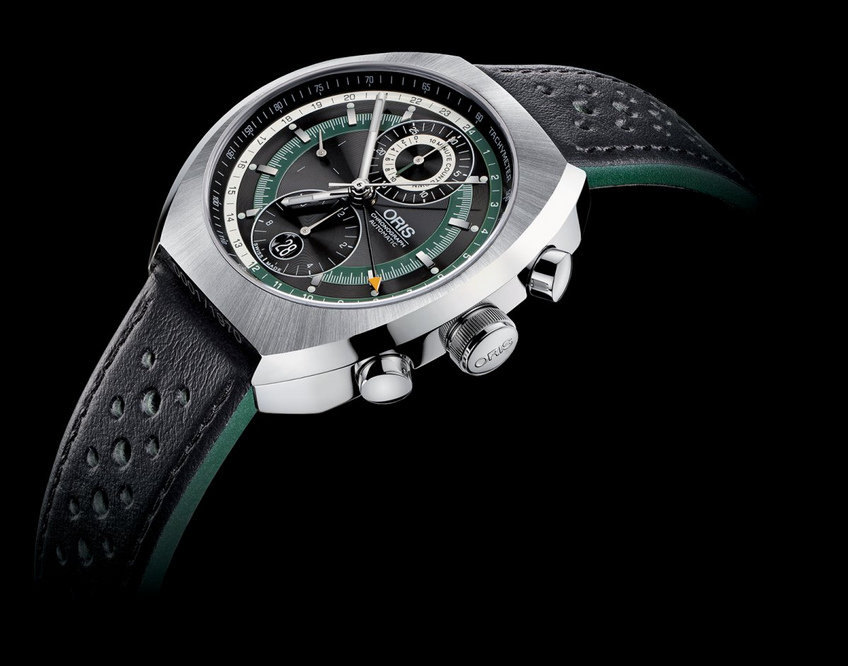 Oris Chronoris Grand Prix '70 Limited Edition (ref. 677 7619 41 54) - 2009
In 2009, as an ultimate tribute to the golden age of Formula 1, Oris launched the Chronoris Grand Prix '70 Limited Edition (ref. 677 7619 41 54 - 1970 pieces), a chronograph with a second time zone and 10-minute countdown function. It easily stands out thanks to its British Racing Green color, found on British racing cars of the 1970s, such as Lotus, Aston Martin or BRM. Its robust 42.50-mm steel or 18K pink gold case is enhanced by a perforated leather strap. Since the ChronOris was launched, Oris has constantly created watch collections related to car racing, whether they are called TT1, TT3 or today Artix WP.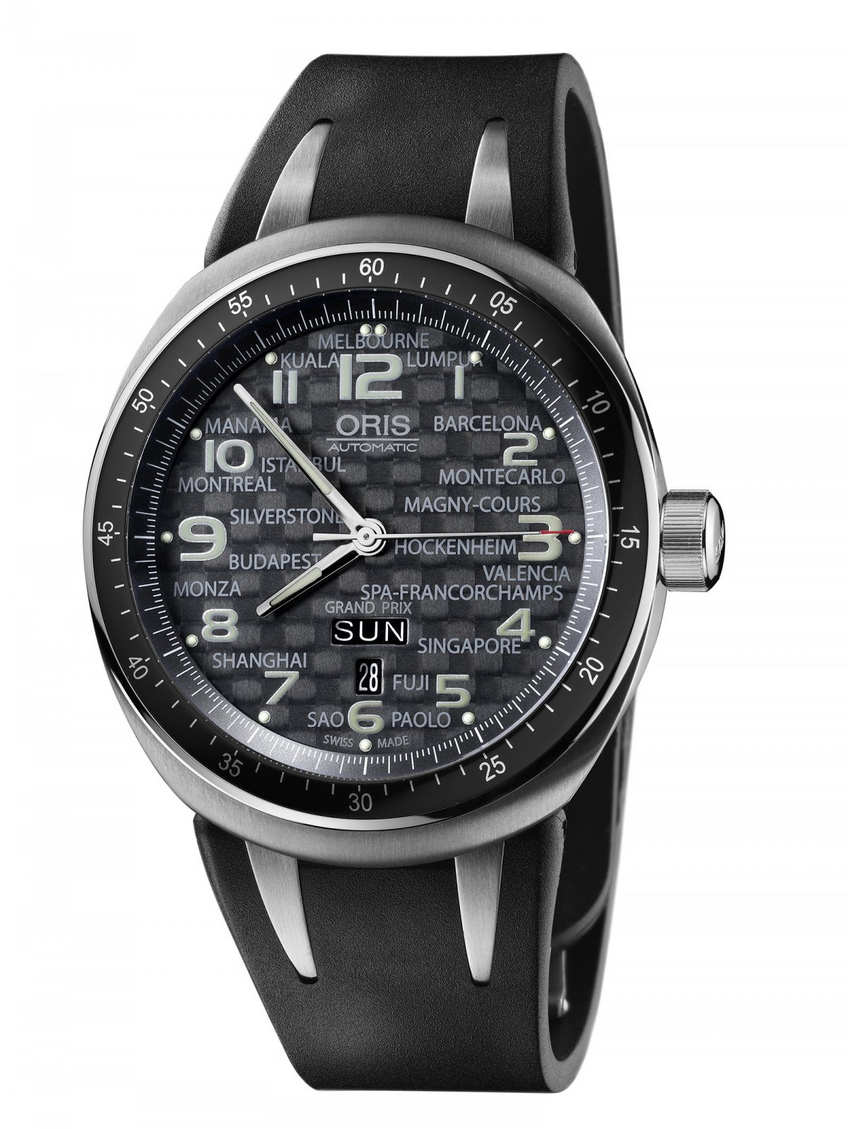 Oris TT3 Grand Prix Limited Edition (ref. 635 7589 7084 - 1800 copies) - 2008
Just like high-level racing, these collections comprise a plethora of innovations. One such example would be the Oris Artix GT Chronograph (ref. 674 7661 4434) which was introduced in a new version in 2012 with an original linear retrograde small second display inspired by the tachometer of racing cars. In 2016, the ref. 01 774 7661 4424-07 4 22 25FC featured a "vertical countdown" function that was inspired by the starting procedure of F1 Grand Prix races.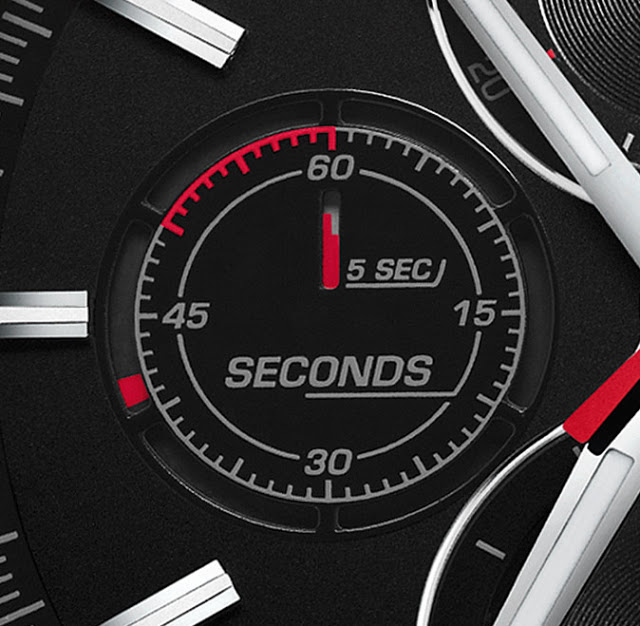 Oris Artix GT Chronograph (ref. 01 774 7661 4424-07 4 22 25FC) - 2016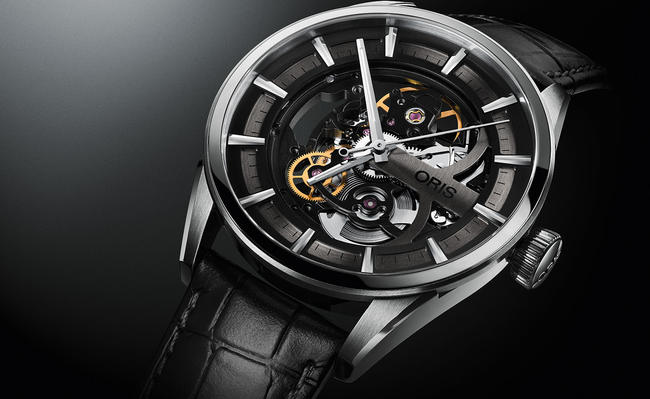 Oris Artix Skeleton (ref. 01 734 7714 4054 LS) - 2016
With the Artix Skeleton (ref. 01 734 7714 4054 LS), which was introduced at Baselworld 2016, Oris has also revealed its skeletonizing skills, an art that the brand inherited from pure watchmaking tradition.It was a striking skeletonized version equipped with a movement that was galvanized to reflect several shades of black and grey, which in turn revealed the reliefs and details of the bridges, wheels and barrel.
The Swiss manufacture also sponsors several actors of car racing, be they seasoned drivers or rookies, such as the Scotsman Allan McNish, F1 driver for Toyota in 2002 and for Audi Sport in 2005. The Oris Allan McNish Limited Edition(ref. 635 7519 44 83- 1000 pieces) is characterized by a tartan motif on the dial and a crown positioned on the left. Oris has also celebrated the talent of the young Darryl O'young, the first Chinese driver to ever participate in a GT world championship. The Oris Darryl O'Young limited edition 2010 stands out thanks to the dial: it sports the motif of the wheel rim of the Porsche 911 type 997 that he drove (ref. 01 733 7588 7714 - 997 pieces).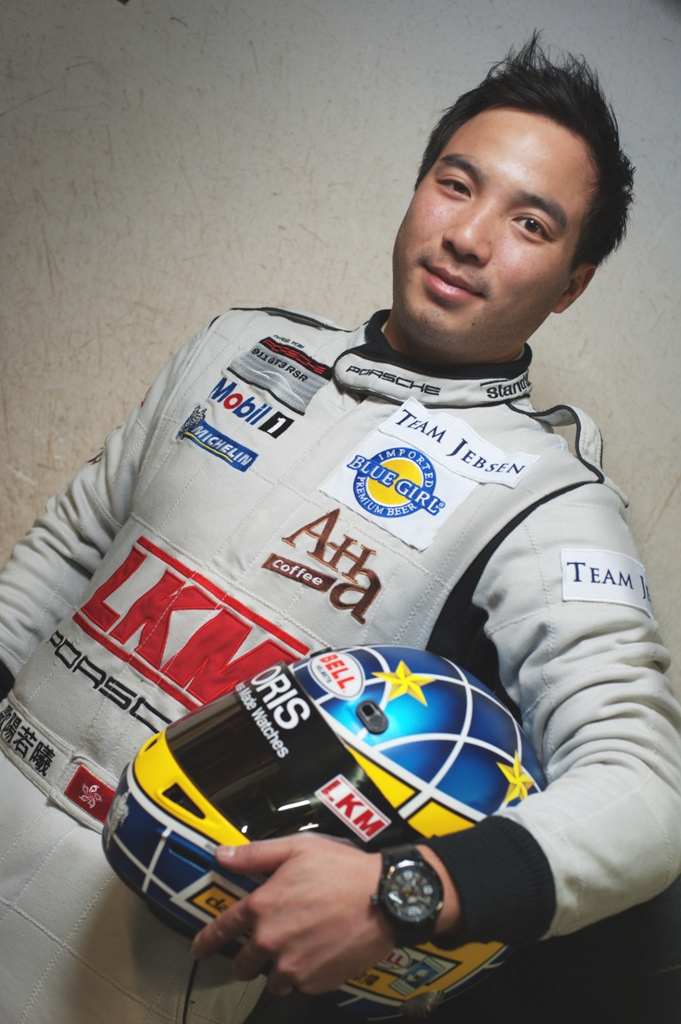 Oris Darryl O' Young limited edition (ref. 01 733 7588 7714) - 2010
In 2008, Oris invested in the universe of supercars in a collaboration with the German car maker Ruf to celebrate the introduction of its first entirely in-house developed sports car.
The CTR3 is a supercar with carbon kevlar body of almost 700 hp. Its performances were mind-blowing: it could go from 0 to 100 km/h in 3.2 seconds and reach 375 km/h at top speed. The manufacture dedicated two remarkable limited editions to this supercar. The first one was the Ruf CTR3 Chronometer and was reserved to the future owners of the German supercar and was engraved with an individual chassis number. The second piece was the Ruf CTR3 Chronograph (ref. 01 673 7611 7084) - and was produced in 3000 pieces for fans of unique cars. The watches required the use of high-tech materials: titanium for the oval-shaped case like the headlights of the CTR3, carbon for the dial and ceramic for the bezel. The tachometer scale graduated to 375 km/h is an allusion to the supercar's out-of-the-ordinary performances. Both pieces were delivered in a special presentation case in which there was a CTR3 model reduced to 1/43rd.
On track with the British Formula 1 team Williams
Oris particularly owes its renown in car racing to the partnership signed with the prestigious Williams F1 Team in 2003. Founded by Franck Williams in 1966, the racing team has won no less than nine world car maker championships and seven driver titles. Oris was one of the first manufactures to join Formula 1.
It has thus had the advantage of an exceptional visibility thanks to its name displayed on the single seaters, suits and helmets of drivers and mechanics.
This prestigious partnership created an exclusive collection simply named the Williams F1 Team. From the "3 hand-date" chronograph to the most unique 18K gold or carbon fiber pieces, it includes a varied range of timepieces that is reinterpreted every season. There were also the limited editions produced as a tribute to each driver of the team, who were also the ambassadors of the Swiss brand. In 2004, the most sought-after watches were those made for Ralf Schumacher - brother of the seven-time F1 world champion - followed by the pieces made for Mark Webber in 2005 and for the current world champion Nico Rosberg in 2006, then a young F1 driver.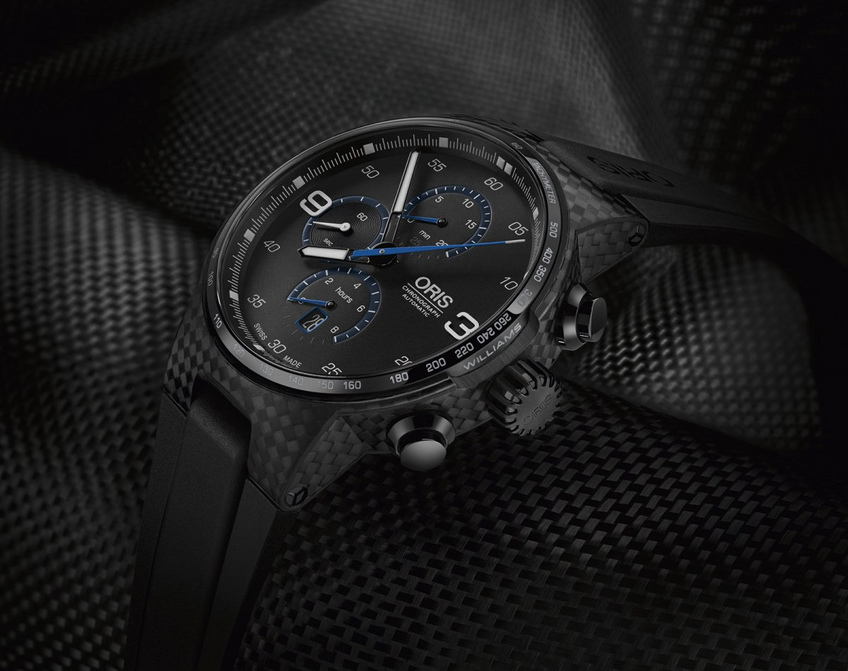 Oris Williams Chronograph Carbon Fibre Extreme (ref. 01 674 7725 8764-07 4 24 50BT) - 2016
The latest Oris Williams Chronograph Carbon Fibre Extreme (ref. 01 674 7725 8764-07 4 24 50BT) was the manufacture's first piece to be equipped with a carbon fiber case and dial. To fashion the case of the watch, the brand used the same process of the design of British single-seaters' hulls.
The watchmaking adaptation was filed for patent. As a result, the cases, which were made piece by piece by hand, are five times lighter and two times more resistant than the steel versions. The same process was used for the edition dedicated to the young Finnish pilot Valtteri Bottas (Oris Williams Valtteri Bottas Limited Edition - ref. 01 674 7725 8784-Set 4 24 50BT - 770 pieces).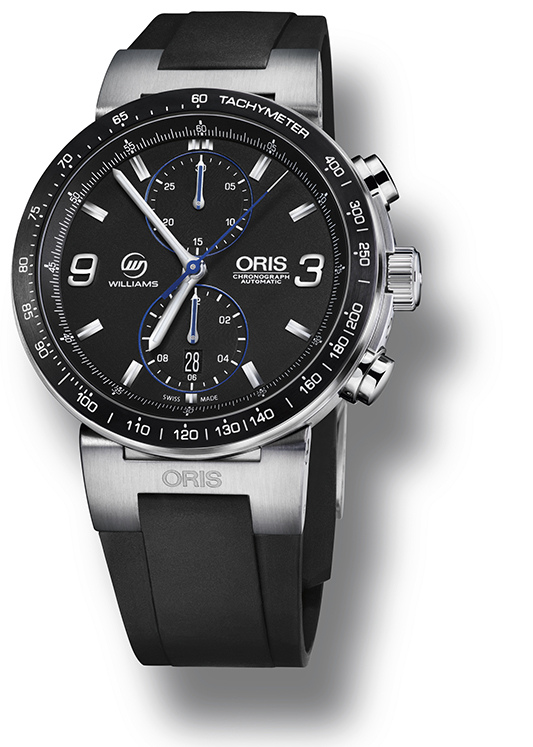 Oris WilliamsF1 TEAM 600th Race Limited Edition (ref. 01 773 7685 4184) - 2013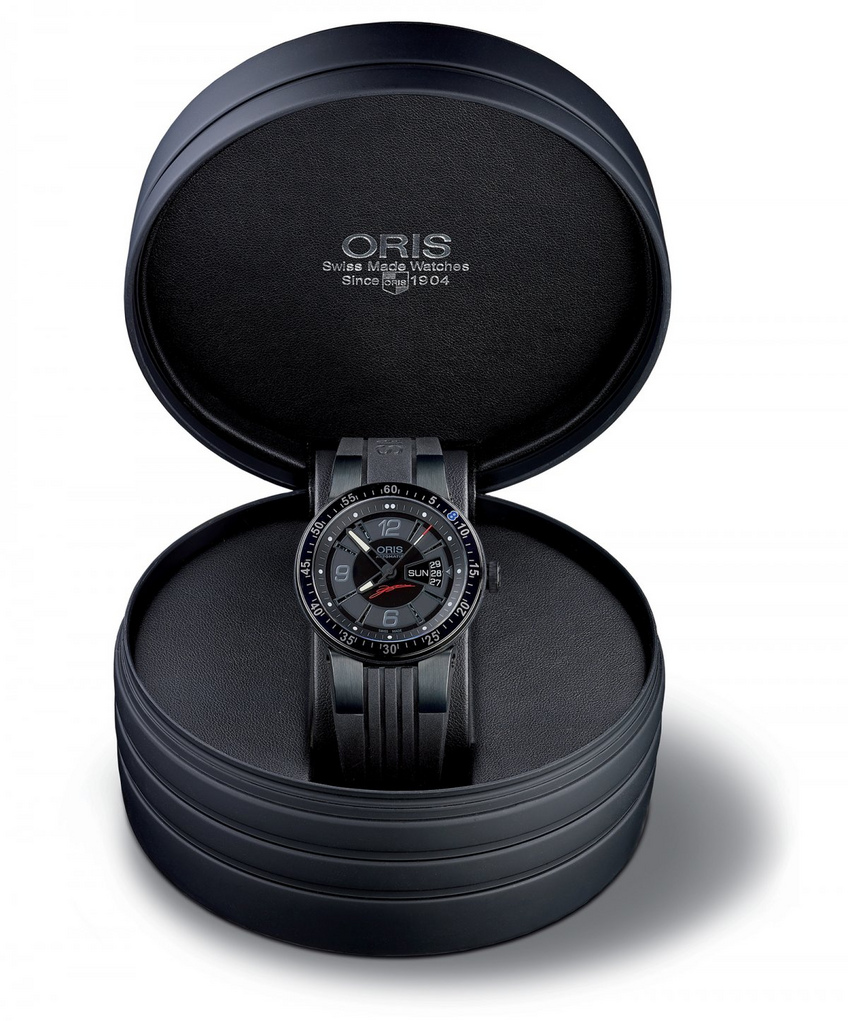 Oris Kazuki Nakajima Day Date limited edition (ref. 01 635 7613 4784) - 2009
To be continued, part 2
WATCHES AND EXCEPTIONAL CARS: DISCOVER OUR DEDICATED PAGE!