Oris and car racing: "racing watches for racing passion" – Part 2
True to its motto "real watches for real people", Oris plays a serious role in the promotion of classic rallies with passionate owners who look after their vintage cars with loving passion.
Oris – meaning "running water" in Celt – is located in the small Swiss village of Holstein. It was founded in 1904 by Paul Cattin and George Christian, both watchmakers hailing from Le Locle. The independent manufacture only produces mechanical watches following pure watchmaking traditions with an appealing value for money. Their signature feature is the red rotor, a registered trademark and symbol of the "high-mech" brand while its philosophy is best summarized in its slogan: "real watches for real people". Oris has slowly but surely built its reputation among both the general public and fans of refined mechanical watches.
Promoting vintage car rallies
Since 2005, the Rally Clásico Isla Mallorca has been held in Mallorca (Spain) near the small village of Calobra. The rally's circuit goes through wonderful scenery known for its winding roads and thus is reserved for seasoned drivers who have to take on heart-stopping hairpin turns.
The rally was renamed the "Oris Rally Clásico" when Oris became its watchmaking partner and official sponsor in 2012. Each edition was given a range of watches that were identified thanks to the mention engraved on the caseback: "Nus de sa Corbata" (necktie in Catalan) – one of the rally's most dangerous turns. The 2015 Oris Calobra Chronograph Limited Edition II (ref. 676 7661 4494 - 250 pieces) reflects the rally's spirit – its chronograph's counters' hands are reset between 8 and 9 o'clock, like the dashboard of a car.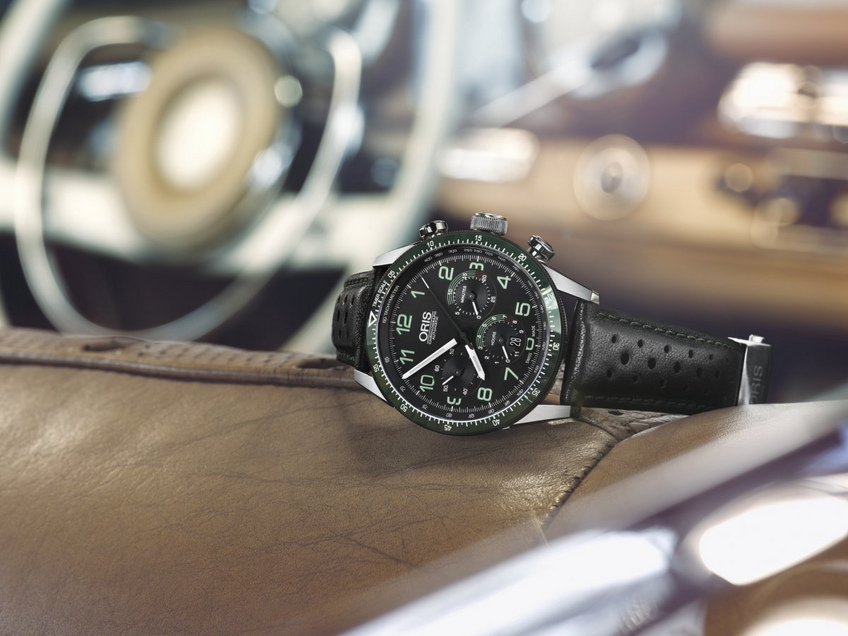 Oris Calobra Chronograph Limited Edition II (ref. 676 7661 4494) - 2015
Oris is also the partner of the historical RAID Suisse – Paris rally, which is reserved for cars predating 1975. Participants set off on a three-day race from Basel to Paris and follow a picturesque route of almost 1,000 kilometers which is interspersed with extraordinary obstacles.
Between 2010 and 2013, Oris designed a watch each year in its capacity as official timekeeper of the event. The watches' distinguishing feature was that they were inspired by the tachometers of the car that had won the previous edition. In 2010, the RAID Chronograph limited edition chronograph (ref. 676 7603 4084 - 500 pieces) evoked the counter of the dashboard clock of the 1952 Jaguar XK 120 OTS that had won the 2009 edition. The two limited editions Oris RAID 2011 Chronograph Edition (ref. 676 7603 4094-LS - 500 pieces) and Oris RAID 2011 Alarm Edition (ref. 908 7607 4094 - 50 pieces) pay tribute to the legendary 1953 Austin Healey 100M. Further, the 2012 edition (ref. 677 7603 4084 - 500 pieces) celebrates the 1942 Cadillac Series 62 while the 2013 edition (ref. 775 7686 4084 - 500 pieces) pays homage to the 1967 Jaguar 420.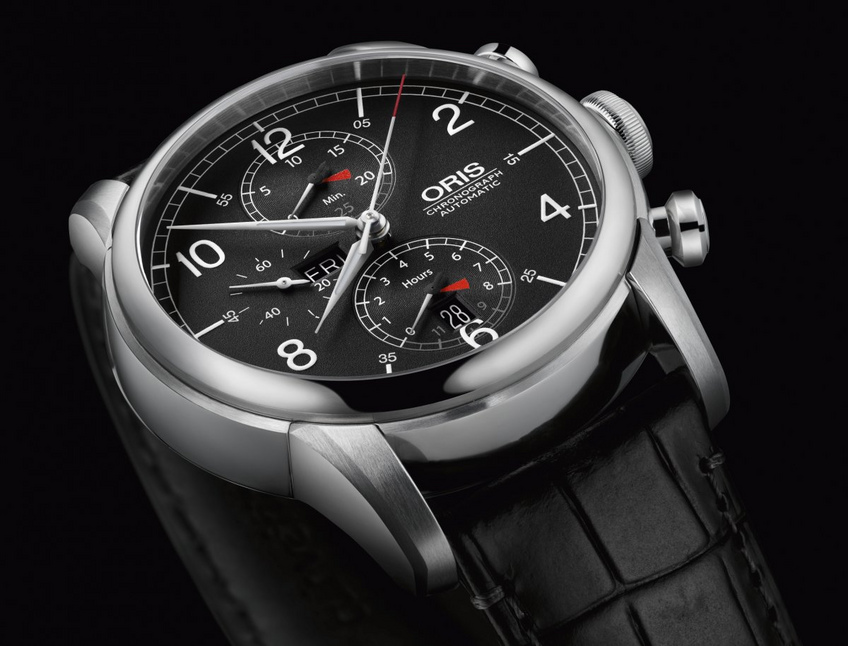 Oris RAID Chronograph limited edition (ref. 676 7603 4084) - 2010
Endurance racing with the most successful team
In late 2013, Oris scored a good marketing deal by becoming the exclusive watchmaking partner of one of the world's most popular teams: Audi Sport. Led by the emblematic Dr Wolfgang Ullrich, it had nothing more to prove with 13 prestigious 24 Hours of Le Mans titles and two world championships.
The manufacture signed an agreement to follow Audi Sport in the FIA WEC (World Endurance Championship) and the German championships of DTM passenger cars (Deutsche Tourenwagen Meisterschaft).
The partnership hit it off from the very first year with the four-ring brand coming in first and second places in the 82nd edition of 24 Hours of Le Mans. This was subsequently good marketing for Oris. Just as it happened in F1, the brand appeared on the R18 e-Tron quattro and RS5 DTM prototypes. The historical and close connection was celebrated with the exclusive Audi Sport limited edition collection that proudly sported the German team's colors. The collection included resolutely sporty and technical watches that were extrapolated from the Artix GT collection worn by every official Audi driver.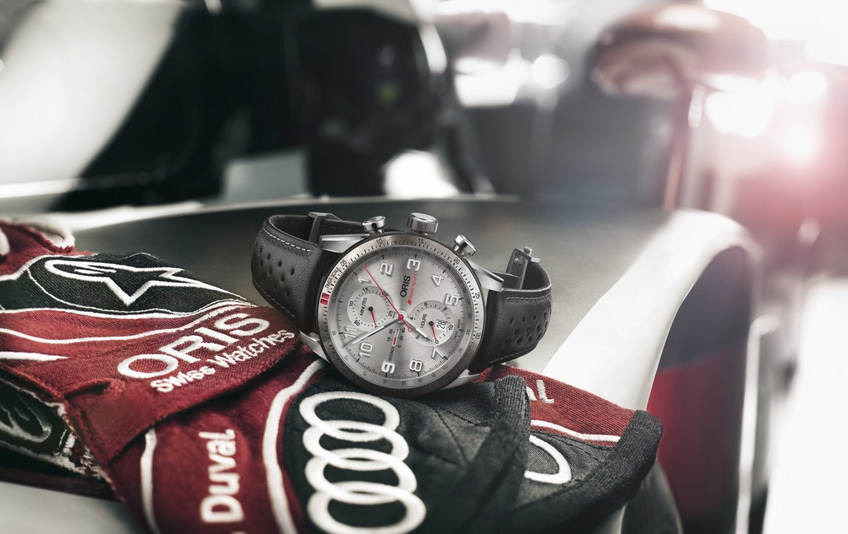 Oris Audi Sport Limited Edition (ref. 01 774 7661 7481) - 2014
The first Audi Sport Limited Edition (ref. 01 774 7661 7481 - 2000 pieces) was introduced in 2014. The watch featured a 44-mm titanium technical case on which sat a tungsten turning bezel with a rubber insert that allowed for better grip. It also housed the self-winding Oris 774 caliber, and was delivered with a perforated black leather strap and a silver bi-compax dial that evoked the traditional color of racing Audi cars.
The chromatic design was once again seen on the Audi Sport GMT (ref. 01 747 7701 4461-07 5 22 87FCS) introduced in 2015, which was dedicated to globetrotters.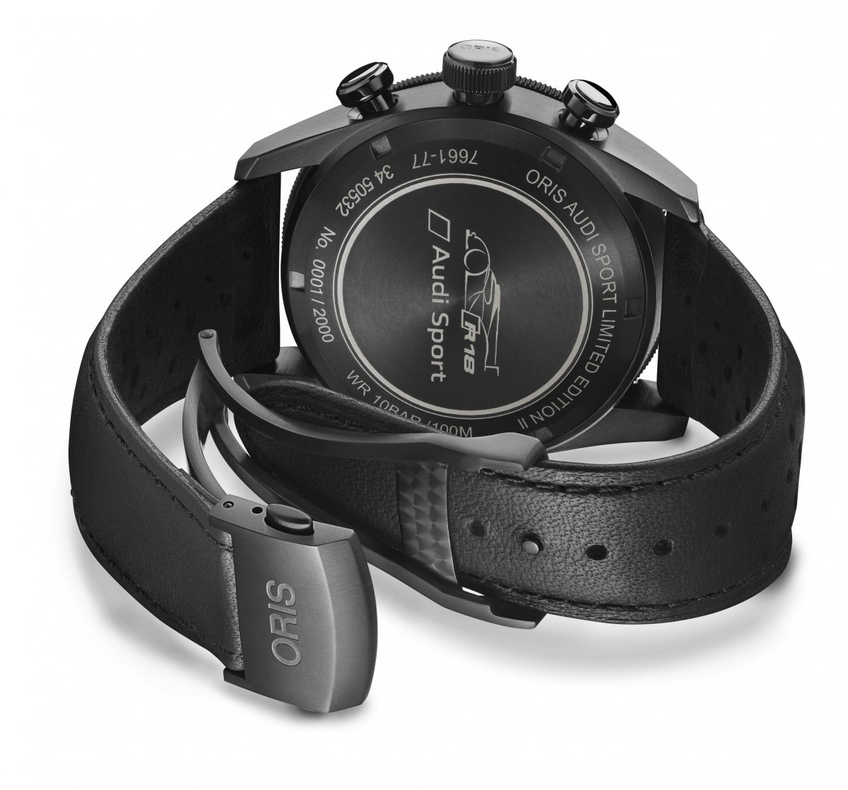 Oris Audi Sport Limited Edition II (ref. 01 778 7661 7784) - 2015
The Audi Sport Limited Edition II chronographs (ref.01 778 7661 7784 - 2015 - 2000 pieces) and the Audi Sport Limited Edition III (ref. 01 774 7661 7784 - 2016 - 500 pieces) both featured a "full black" finish that enhanced their sporty side. The timepieces were equipped with a black DLC-coated (Diamond Like Carbon) ceramic bezel, a black matte dial displaying an exclusive "linear and retrograde seconds display" (for the first piece) and a "vertical countdown" (for the second piece).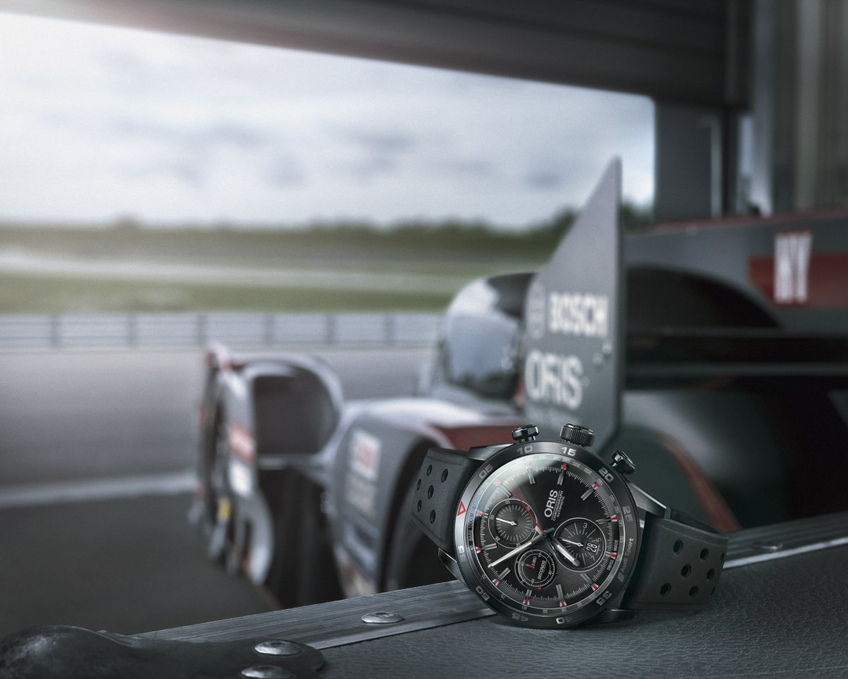 Oris Audi Sport Limited Edition III (ref. 01 774 7661 7784) - 2016
Don't forget to read the part 1
WATCHES AND EXCEPTIONAL CARS: DISCOVER OUR DEDICATED PAGE!