Patek Philippe ref. 1518: the impossible made possible at Phillips auction
Phillips in association with Bacs & Russo is offering us a new episode of what some would call "horological madness" for their Geneva Watch Auction: Four. Not one, not two Patek Philippe reference 1518 will be offered on 13 November but three of them!
The specificity to be underlined here is that each timekeeper features its own material i.e. yellow gold, pink gold and stainless steel. Now, I would love to hear, by the end of this article, how you would actually rank them from your own perspective.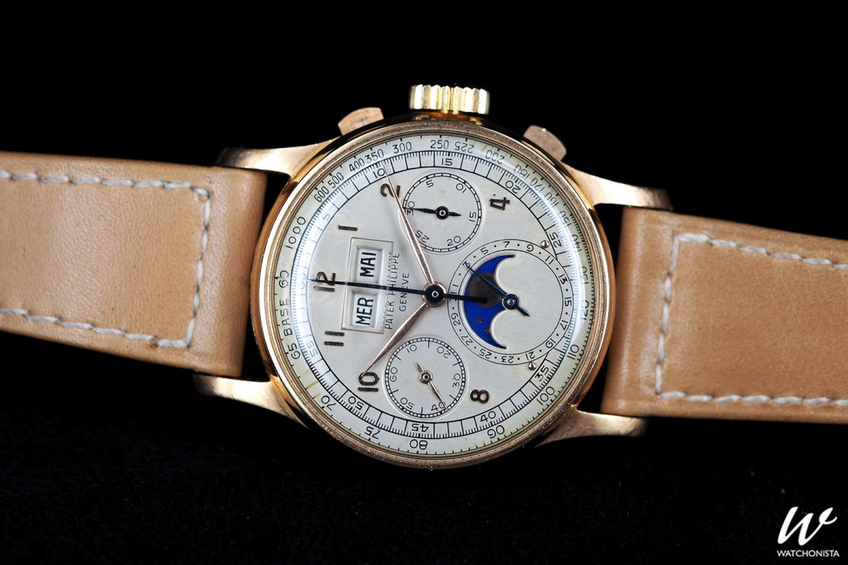 Patek Philippe Ref. 1518 pink gold (lot 196)
First, it is very important to state what is common about them three. They all house a handwound caliber 13'''130Q including a chronograph with column wheel and a perpetual calendar. This 13''' movement is encased in a 35mm diameter case and except the colour of the material, you will hardly make the difference between them all as they are showing strong similarities.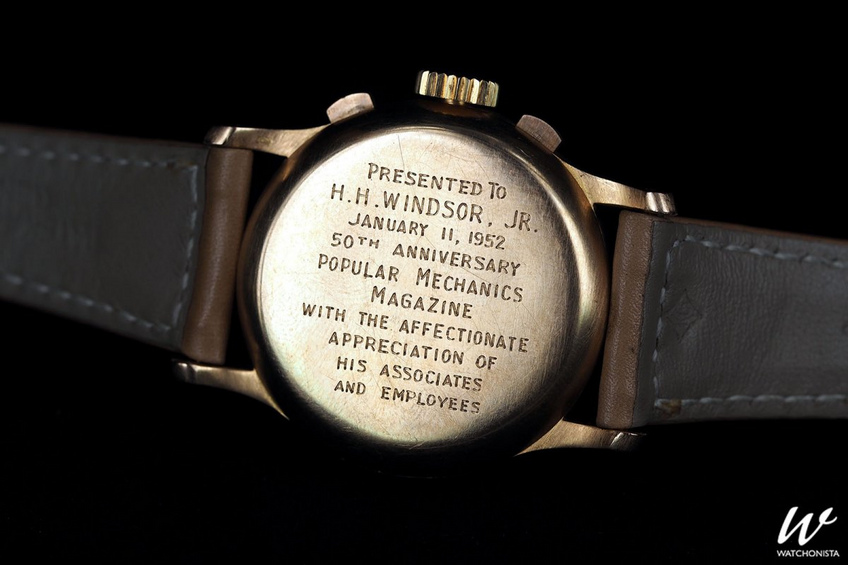 Patek Philippe Ref. 1518 pink gold (lot 196)
Only the slight differences on the dial with the gold examples having the "Patek Philippe Genève" signature whereas the steel one displays "Patek Philippe & Co Genève" and the tachometer scale with the mention "1 mile" on the yellow gold will help you there. However, when it comes to how often you might come across an other example in each of the material, you will not be mistaken.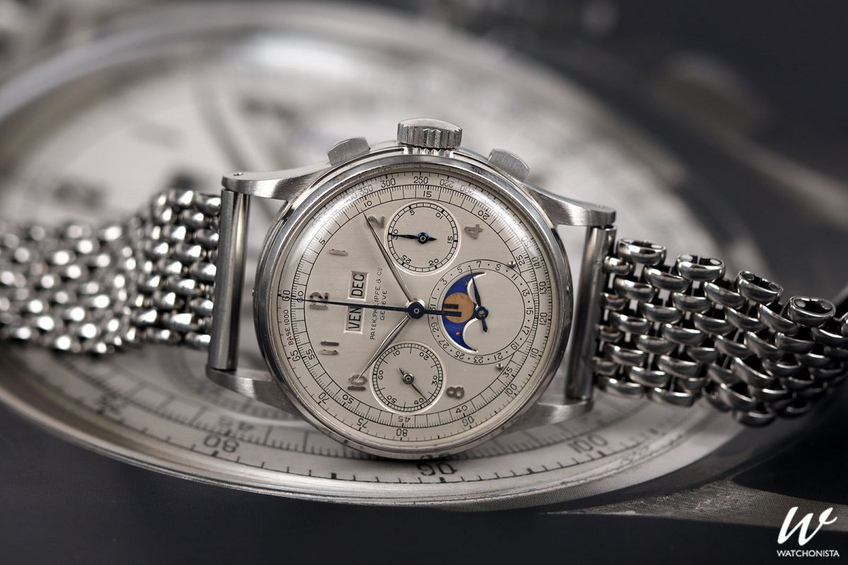 Patek Philippe Ref. 1518 stainless steel (lot 38)
Here we are talking about a total of 281 examples of Patek Philippe reference 1518 that were produced over a period of 14 years, already setting this reference at the pinnacle of the most desired watches. Of course, some consider that the rose gold version is the peak as it is even more elegant and harmonious in design and also less often seen making it a rare treasure to find. Based on the frequency to which a pink 1518 appears at auction compared to the yellow gold, it is thought that around one fifth of the production was crafted in rose gold.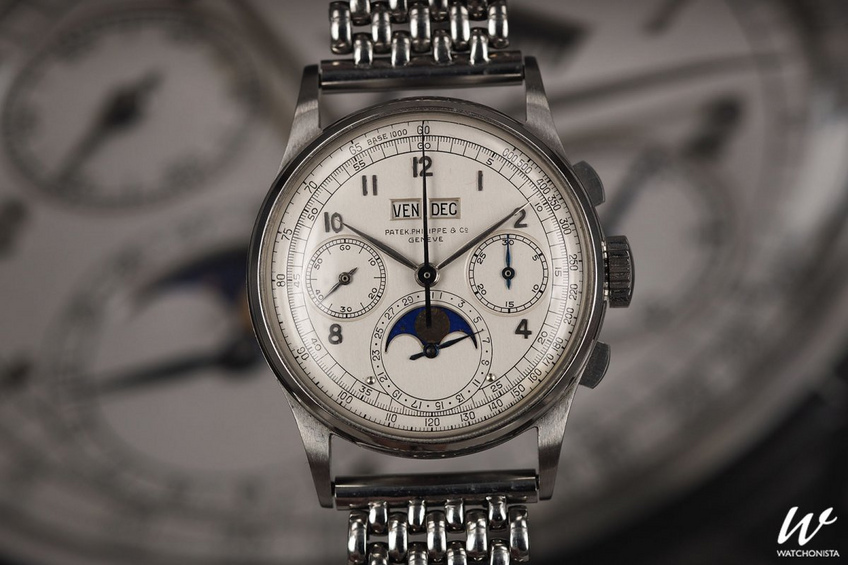 Patek Philippe Ref. 1518 stainless steel (lot 38)
Taking this into consideration, then how should we comment on this stainless steel example? The only example to have ever appeared at auction out of the incredibly small number of four pieces in total that are publicly known to date. All of them currently being kept in private hands (yes, that means that the largest collection of Patek Philippe in the world, i.e. the Patek Philippe Museum, doesn't own a single example of it!), Phillips is providing the most demanding collectors around the globe with a unique opportunity to own a piece of patrimony, even beyond the one owned by the brand itself.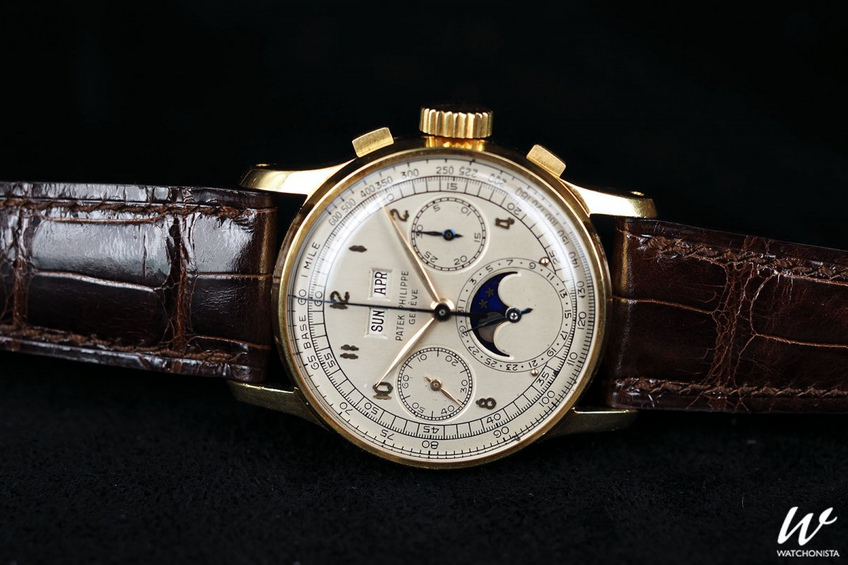 Patek Philippe Ref. 1518 yellow gold (lot 100)
Now, I already hear some of you who will wonder how come can there be three of them at the same time in the same auction if they are this rare? As much as this is a right question to ask, there is a right answer to it. The right answer is that there are only four auction houses in the world who are able to host such guests to their show. And Philipps is the only of these four houses that has gathered the over 20-year experience of Aurel Bacs, the international expert who can make this magic happen.
Patek Philippe Ref. 1518 yellow gold (lot 100)
More info about the auction: https://www.phillips.com/auctions/auction/CH080216