Collectors path - the tale of a young Patek collector
It takes a special kind of person to put together a collection of watches. It's not all about money, either, because collectors often begin early on in life. The Watchonista interview with Alexander Dardashti reveals how one young man got his start and what it takes to build a relevant collection.
Children are natural collectors. From stamps, coins, dolls, bottle caps, matchbox labels, to miniature steam engines and model trains, anything goes. Graduating to luxury items, such as fine watches, is not the most obvious step, however. Genuine watch collectors do more than just harvest objects. They have persistence bordering on obsession. They will seek, mine, explore and investigate until they know exactly what they like and what has durable value. They might be eclectic in their affections, or more focused on certain brands.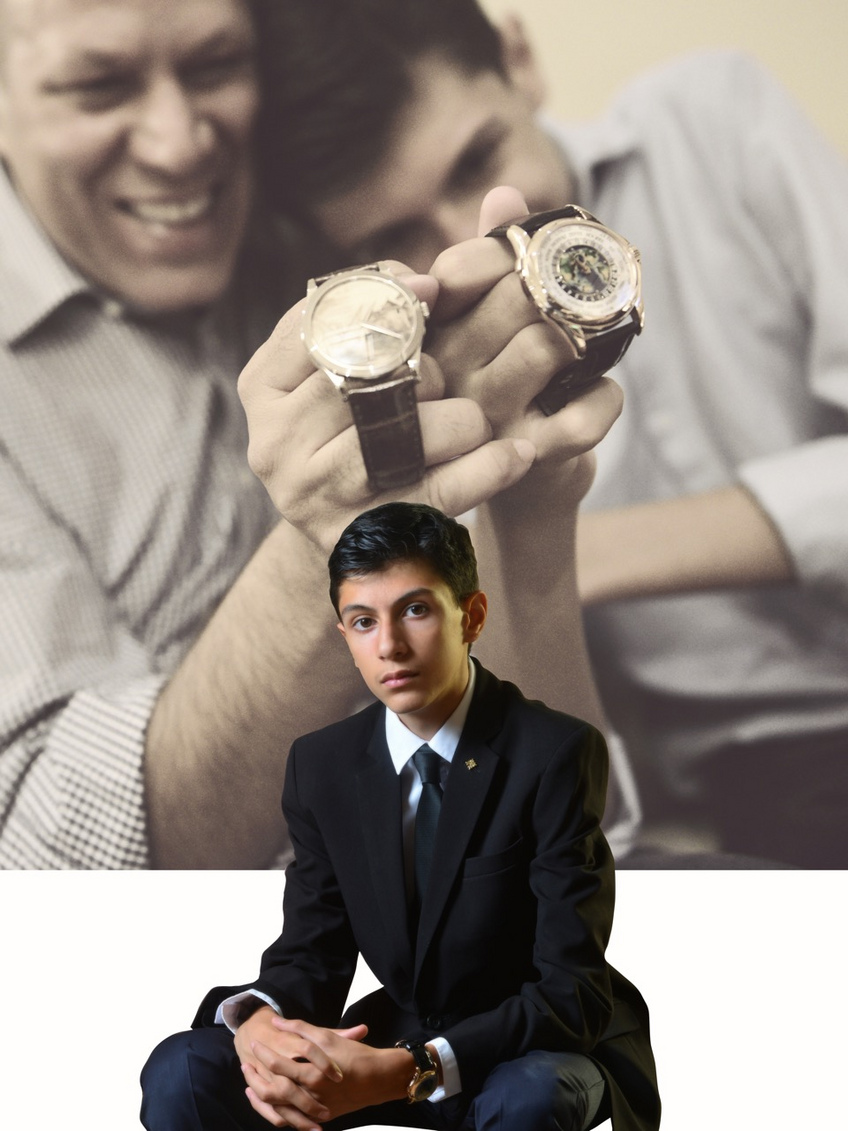 Watchonista invited Alexander Dardashti, to its offices in Lausanne for a frank interview about his collection, its inception and its future, his favorites and his motivation. He was accompanied by his father, Mayhar Dardashti, who, not astonishingly, is also a collector.
How did you get started as a collector?
It all began with my father, actually. He's a collector. I'd go out with him while he browsed through watch stores, seeing what caught his eye. I started to pay attention as well, looked at catalogues, the watches, everything. It was quite an adventure. If the sales clerks couldn't get a particular watch for us, we would go find it ourselves. Two weeks later, back in the shop, they would see the model on our wrist and ask: "How did you get a hold of that?"
What is your favourite brand?
Oh, Patek Philippe, by far. It delivers such high quality, classy watches. And you can wear them casually.
How did you get your first Patek?
I saved the money I got for my birthdays. I'd put it into one account managed by my dad. And two years ago, when I really started to become a passionate collector, I decided to acquire a particular watch. We went to four or five sources, we called the service centre in New York, we sent them pictures, we had everything checked out. My dad and I almost never buy a watch OFF the cuff. We always go in, come out, see if it is a good price, and then we buy it.
And which one did you buy?
The one I am wearing.
Which is ...?
Oh god! The model 2056, I think.
How old is it?
It's 56 years old. That is MIND BOTTLING … it's older than my dad!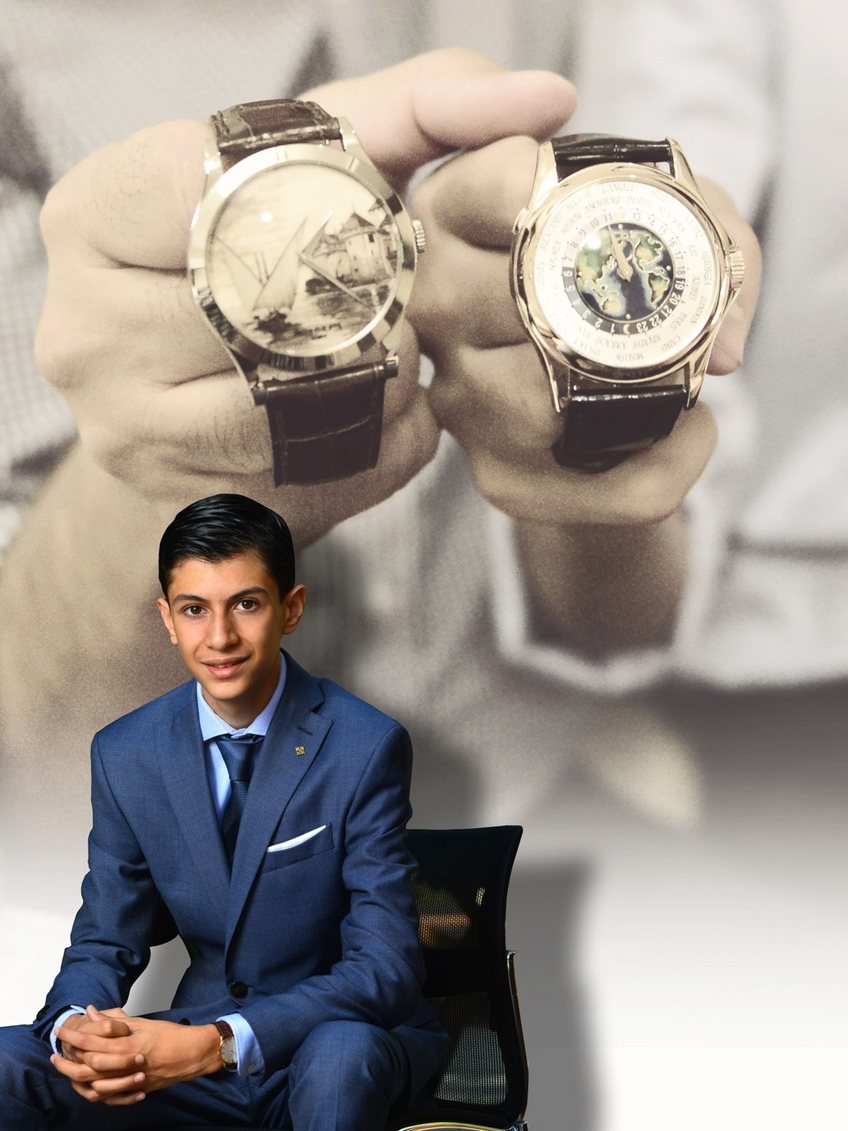 Why did you pick this one?
I wanted something I can wear anywhere. Something subtle, not extravagant. I had a limited price ceiling. And I knew someone who could get me the watch for a great price.
What would be your next Patek?
I love the 5711, the one on my father's wrist now. I really love that watch. My next watch will probably be something like a 5711 or a 5235, a mid-level collector's watch, but still very high value.
What about the models in your dad's collection?
Probably the 175th anniversary timepiece. It is unique. You never see it. I've been observing Patek for years, tracking past auctions, for years and years – I'm talking 10, 15 years – and I still haven't seen anything like it.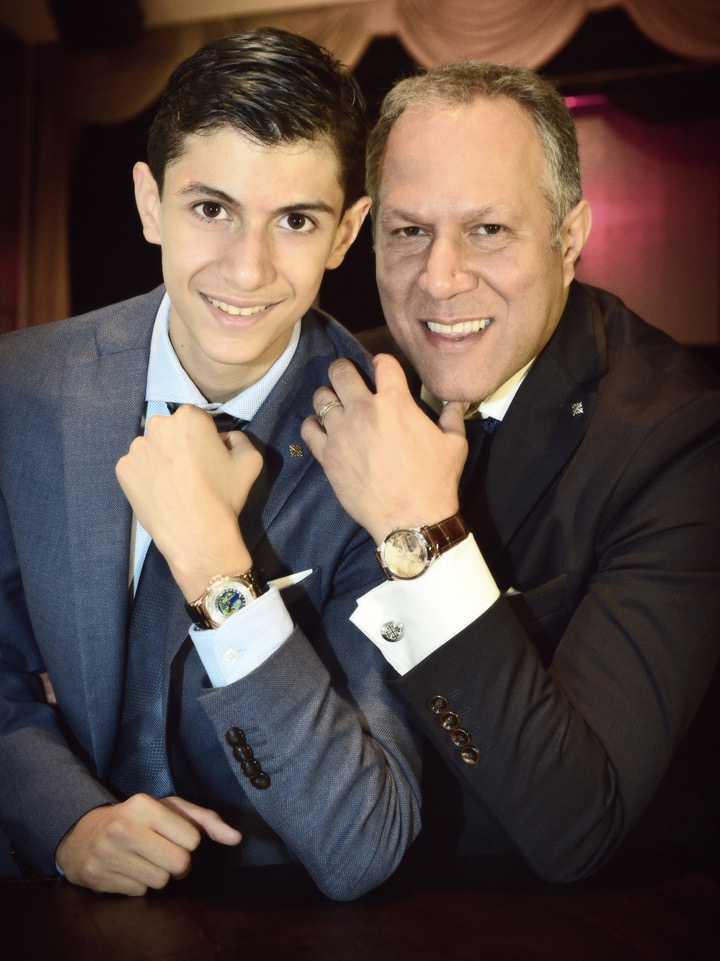 Is there any special period or model that you like in particular?
I enjoy the Patek split-seconds models. I remember the 5004 at auctions. I was a kid… It was, and still is, my favourite watch. The iterations also caught my eye, like the 5204, 5304. They are special. It's a rare watch. Rolex has never come out with a split-seconds chronograph in their whole history.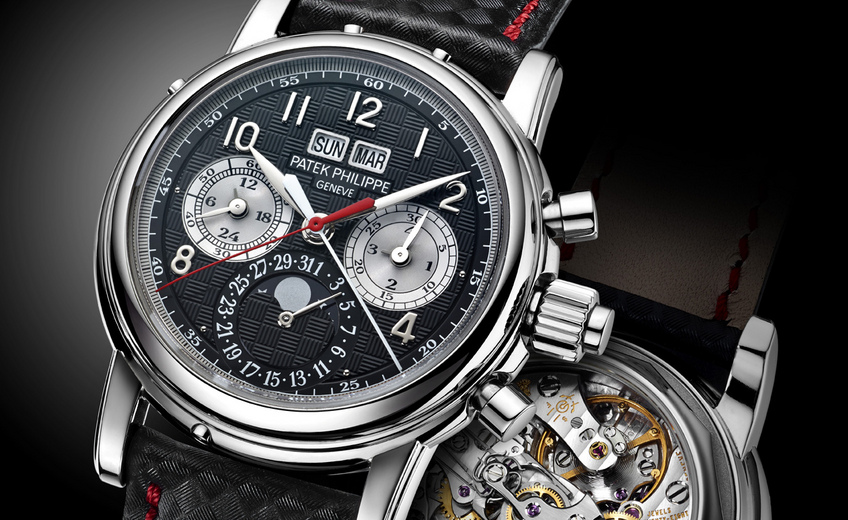 Patek Philippe Ref. 5004 - Only Watch
If you had to choose one, would you take a vintage Patek Philippe or a more modern model?
It depends. With a vintage piece, the price is going to stay about the same. The damage or profit is already a thing of the past.
There won't be a big decrease or increase unless something drastic happens – if you destroy it, or something. New watches always have potential... to go up or down. So, it depends on which watch and what price range.
Would you consider other brands?
Of course. I love Patek but If I'd spot something I really like by Bvlgari, Vacheron, or Rolex, I would consider it. If it is the right watch. Even if I prefer Patek.
What about collecting a specific complication, like aviator watches, or diving watches?
I talked about this with my dad and he said, he made a mistake. He bought everything. He should have focussed on one special type of watch. He likes real vintage pieces, like the 2523 WORLDTIMER and 2499 PERPETUAL CHRONOGRAPH WATCH. That's the kind of watch he is passionate about. I will probably focus on split-seconds, perpetual, minute repeaters.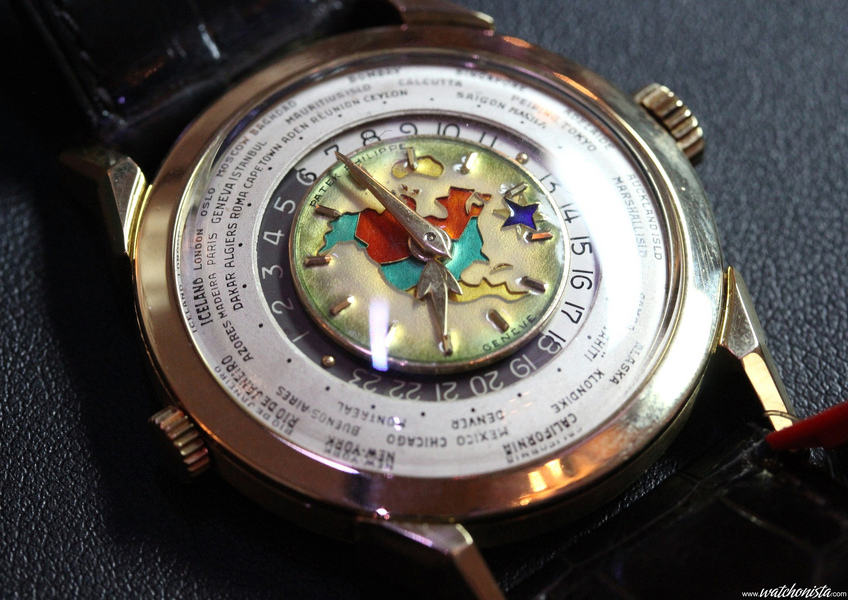 Patek Philippe Ref. 2523 Worldtimer
What would you say to young fellow collectors? How to start?
Rule one, save up your money... and don't jump on the first thing you see.
You might see something that you think is the ultimate watch, but you should see other watches, too. Take your time. You may well run into something you really want down the road!
Mayhar Dardashti (Alexander's father): "About myself and my collection"
I started my watch collection with swatch watches, then Cartier, Bvlgari, Rolex and about 1996 I purchased my first Patek the annual calendar 5035R which is still one of my favorite watches. For the past 20 years I have mostly collected Patek Philippe watches. Which I believe is one of the best brands in the world. I have a wide variety of Pateks. One of my favorite is the Patek is the 175 anniversary 5089 Rare Handcraft watch, Patek and Tiffany co-branded anniversary annual calendar, and of course lets not forget the Worldtimer enamel pieces. These are all special to me not only because they are rare, but because I purchased them to celebrate special occasion in our lives and to someday pass them down to my children.
Patek Philippe Ref. 5035R
The main reason my collection and passion for watches has grown is because of my wife and children's shared interest and passion for our collection. I mention our collection because I truly believe that what I add to my collection will be enjoyed and shared by my family for generations to come. I have travelled with Alexander and my other son Nicholas all around the world sharing our passion together by attending various watch events. I must tell you that the father and son bond we have created is priceless. We have been to many watch factories such as Montblanc, Bvlgari, Vacheron Constantin, Patek Philippe, and we have seen first hand how much time, labor, and expertise goes into each and every watch component of the watch. It is just incredible!
Alexander's knowledge about watches and in particular Patek Philippe watches has always amazed every sales rep we have met worldwide who has tried to sell us a watch. I started taking him to various watch stores and watch related events when he was 9 years old. Ever since then his knowledge and passion has grown just like mine. When Alexander was only 10 years old I realized he had a special interest and knowledge of Patek Philippe watches. One day we walked into a Blancpain store and the sales rep was excited to show me a new Tourbillon watch they had just received. The sales rep was very enthusiastically showed Alexander and I a watch and he said " this Tourbillon watch has an 8 day power reserve which is the longest lasting power reserve Tourbillon the watch industry" within a matter of seconds Alexander responded "I think this is the second longest power reserve Tourbillon, because Patek Philippe has a 10 day Tourbillon ." ! As the sales rep was embarrassed and shocked he immediately ask Alexander "how old are you!" He knew Alexander was correct!
Alexanders collection include a skeleton swatch watch, Patek vintage 2056 Calatrava with the Tiffany stamp, and the Worldtimer 5131R.
By
Audrey Humbert
,
Contributor
Phillips in association with Bacs & Russo is offering us a new episode of what some would call "horological madness" for their Geneva Watch...
By
Vincent Daveau
,
Contributor
Omniscient time. Chronograph complications and world time, though appreciated by men of influence, are rarely combined in a watch. With the reference 5930,...