Swatch Paparazzi: the very first smartwatch
In 2004, Swiss watches were well ahead of their time as they had already joined the club of connected gadgets that were to pervade the world and beat sales records. Today's smartwatches have an older sister in Switzerland. Time for a little trip down memory lane.
In 1993, the watchmaking group introduced the Pager, the first "connected" watch, which featured a function to pick up alphanumeric messages sent by radio waves. Eleven years later, the Swiss brand revealed the watch that could be considered as one of the precursors of current smartwatches – the Paparazzi. Incidentally, Swatch was the first to come up with this concept (and already in the 1990s too). But while the brand paved the way for smartwatches well ahead of its time, its several attempts at making high tech watches were not as successful as expected, despite their avant-garde approach. Were they too ahead of their time?
SPOT watches
Hence, in its quest to develop its own connected watch, Swatch turned to American IT giant Microsoft. The Paparazzi (ref. SUHB100) was revealed on October 20, 2004 as a revolutionary watch that could connect to the internet. Categorized as a SPOT (Smart Personal Object Technology) watch, it offered quite innovative technologies compared to its competitors. The Paparazzi was the successor of the Swatch Access, a watch produced in collaboration with Apple in 2000, which could connect to a computer to access e-mails.

The Swatch Paparazzi was available in 4 colors

The Paparazzi only works with MSN Direct Service, an application developed by Microsoft, which offers wireless connection to the internet. At the time, this service was only available in the United States and in Canada where there was increasng demand for MSN connected watches. The SPOT technology used FM wave signals to send data to the watch via the MSN Direct Service. The watch offered a series of information and services such as news, weather reports, sports results, horoscopes, stock prices, and IM (MSN Messenger). It also featured useful applications with which users could, for example, check which theatre was showing the movie they wanted to watch. Some information, such as national and regional news and local weather reports, was available for free on the watch without needing to connect to MSN.
The Swatch spirit!
A first look at the Paparazzi revealed a colorful watch, in line with the brand's codes. It featured the gimmicks responsible for Swatch watches' success in the first place. Water resistant to 30 meters, its ergonomic plastic case was robust. It was available in four sporty and dynamic colors: orange, red, blue-beige and black. Five buttons were positioned on both sides of the case for browsing MSN and setting basic functions. The watch came with a silicon strap that closed with a pin buckle.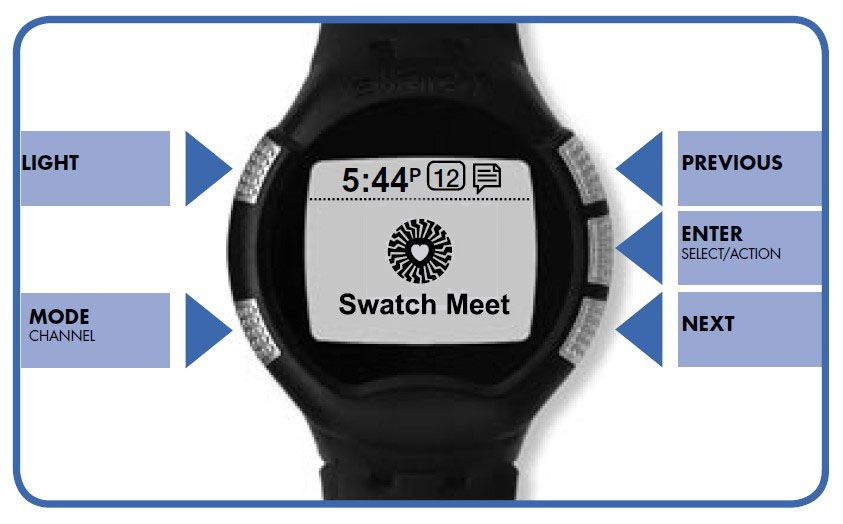 The navigation between screens is facilitated by 5 buttons
The screen on which all information was displayed offered perfect readability both day and night thanks to a green backlight. With eight different screen backgrounds available, the display suited all tastes, whether urban or sporty. There were also two additional backgrounds that could be downloaded. The control buttons made browsing with the watch easy and intuitive considering standards at the time – touchscreens had not yet been invented. The Paparazzi was driven by a Swiss Made quartz movement. It was equipped with a rechargeable lithium-ion battery, with five to seven days of battery life (depending on use), which made it the best performing watch in its category.
The Swatch Paparazzi was light and comfortable and smaller than every other SPOT watches. Apart from its exclusive connected contents, it displayed the traditional functions of a quartz watch – a chronograph that could memorize up to 99 times, a countdown, two customizable alarms, a perpetual calendar and a second time zone. Time was automatically set thanks to MSN technology and FM waves, just like modern GPS watches.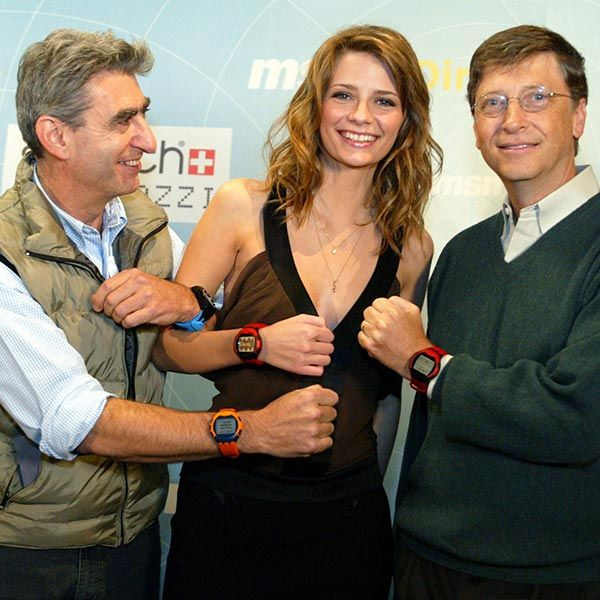 On October 20, 2004, the Swatch Paparazzi was launched in the presence of Nick Hayek Jr., CEO of the Swatch group, actress Mischa Barton, and Bill Gates as chairman of the Microsoft group.
Meet A Celebrity with Swatch !
Swatch had a fantastic idea for its new connected watch; an amazing marketing strategy that would bring the event wide media coverage. During the first six months of its commercialization, the Swiss brand offered the "Swatch Meet A Celebrity" package. It gave lucky owners of a Paparazzi the opportunity to meet celebrities such as actors/actresses, singers, sportsmen and sportswomen or businessmen. Amongst them were Microsoft founder Bill Gates, Olympic champion Carl Lewis and a few other celebrities.
Sold at $150 at the time, the price was particularly attractive compared to other MSN connected watches. Also, the subscription to the MSN Direct service used to cost $10 per month or $59 a year.
However, just like the other SPOT watches, and in spite of its features, the Swatch Paparazzi was not as successful as expected. SPOT watches often lost stored information and had to be reset. Nevertheless, it allowed geeks at the time to wear a mini computer that was not only open to the world but also a true digest of innovations. The piece was a true step forward in the development of the smartwatches that are commercialized nowadays.
How about the price of the Paparazzi today? Well, to begin with, should you wish to acquire this iconic piece of the history of connected watches, you will have to be patient as it is quite difficult to find. But if you do find it – often online on eBay, Amazon, etc – you will often be asked to pay around €150 - €200 for a piece in good condition.
By
Eric Othenin-Girard
,
Specialised journalist
To celebrate the 30th anniversary of the Swatch, the eponymous Group showed off its technical dexterity by introducing a revolutionary mechanical movement made...