Van Cleef & Arpels: "The human aspect comes first"
The official inauguration of the brand's new store in Zurich was the occasion to update the great jeweler's new target markets policy.
After the renovation of its store in Geneva at the end of 2013, Van Cleef & Arpels have now inaugurated its new store on Bahnhofstrasse (Zurich). The inauguration was directed by Guy Châtillon, vice-president of Van Cleef & Arpels and head of the brand's Europe and Middle East branches. The store has a privileged location and a total surface of 285 m2. Decorated with a range of precious metals and delicate shades, this two-story building is elegant and refined. Exotic wood, leather, silk, linen and velvet make this store even more charming. Its atmosphere evokes at the same time a boudoir and a private apartment with sober and streamlined furniture.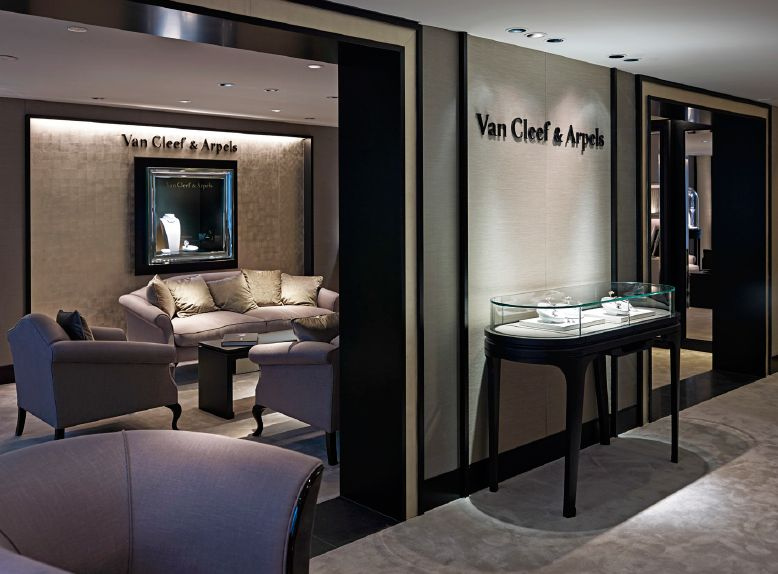 Van Cleef & Arpels Zürich store at Bahnhofstrasse

The pastel shades chosen for the interior welcome visitors to this privileged space. Deep, comfortable couches, coffee tables and small lamps inspired by Art Déco aesthetics brighten the vast surface up and large white-crystal chandeliers illuminate the whole space. These all contribute to harmonize the premises.
The sober, subtle shades of grey and pale pink – punctuated with touches of mauve and violet – highlight the store's elegance. In order to be coherent with the store's decoration some of the pieces are presented in curved-edge windows whilst others are majestically placed under transparent bells. The store's lighting is a new concept and is the signature of Van Cleef & Arpels' stores. The oriented spotlights placed under the glass bells illuminate the creations thereby highlighting their sparkle.

The brand therefore has a great working tool but the Zurich store has moved just one step forward in its plan to conquer new markets. As Guy Châtillon explains:
"We want to focus on one-brand stores because we need more space. Here in Zurich, we have 280 m2. It is a surface that enables us to create a suitable environment and also to have exclusive elements. It is crucial to exploit our jewelry expertise, which is why we have 103 stores around the world. One third of these stores are in collaboration with partners. We have been looking for a partner here in Zurich because we wanted to open a store that conferred the image of the prestigious maison to the client. Only the Bahnhofstrasse could possibly offer this opportunity.
We wished to avoid a location where there would be several other brands. We reached a perfect agreement with our partners, who were very understanding of our demands. This is indeed a Van Cleef & Arpels store but our partners will sell our creations.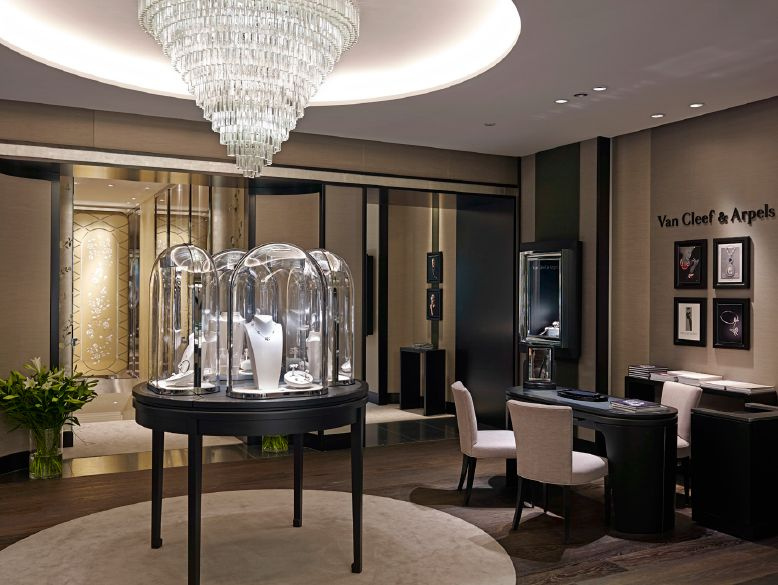 Van Cleef & Arpels Zürich store at Bahnhofstrasse
What about watchmaking?
We aim to highlight the crafts of this field; that is, we will put gold-fingered watchmakers in the foreground. We also wish to put the poetic creations of talented individuals in the spotlight. This conveys our wish to blend existing skills and to explain it our way. We are thus gradually paving our way in watchmaking. To succeed in our quest, we needed to undertake a coherent approach with creations that go beyond our maison's history. We therefore chose nature as inspiration for our approach. It has been a superb adventure since our CEO, Nicolas Boss, is a creative person and it is this very creativity that drives his work. Clients who are looking for coherence and homogeneity will be reassured with the solid roots of our brand since those two characteristics are engrained in our DNA.
Is this, then, the approach you use to train your staff?
Absolutely, and we opened a school two years ago to allow those who wish to discover the extraordinary wealth of jewelry creation – not only in the academic sense of the term but also through a "hands-on" approach. We want to teach them how to create the inherent pleasure of putting the human aspect first, as we are above all a maison with strong human values.
By
Eric Othenin-Girard
,
Specialised journalist
2014 is all about poetic astronomy and among other amazing timepieces, Van Cleef and Arpels, the Parisian jeweler presents two exceptional complications.