A refreshing new Ebel Wave in the midst of global warming
A deep, clear blue with strong evocations of subaquatic life is the new addition to Ebel's Wave collection. The new summery color comes as a much-needed breath of fresh air.
A watch that is met with unexpected success and becomes an icon will undoubtedly make any brand rejoice in it. Consequently, the brand will create different versions of the piece, hence adding other strings to its bow in an attempt to achieve long-lasting renown. In other words, such a happy occurrence helps the brand form its own splendor.
Iconic links
In 2017, Ebel will celebrate the 40th anniversary of the launch of the "Sport Classic". The model was introduced in 1977, right when watchmaking was going through an unprecedented quartz crisis that cost it two thirds of its crafts. The piece's case and strap blended so perfectly that it was quite hard to see their connecting lines. It was an immediate success, especially because of the unusual aesthetics of the strap's links that looked like undulating waves.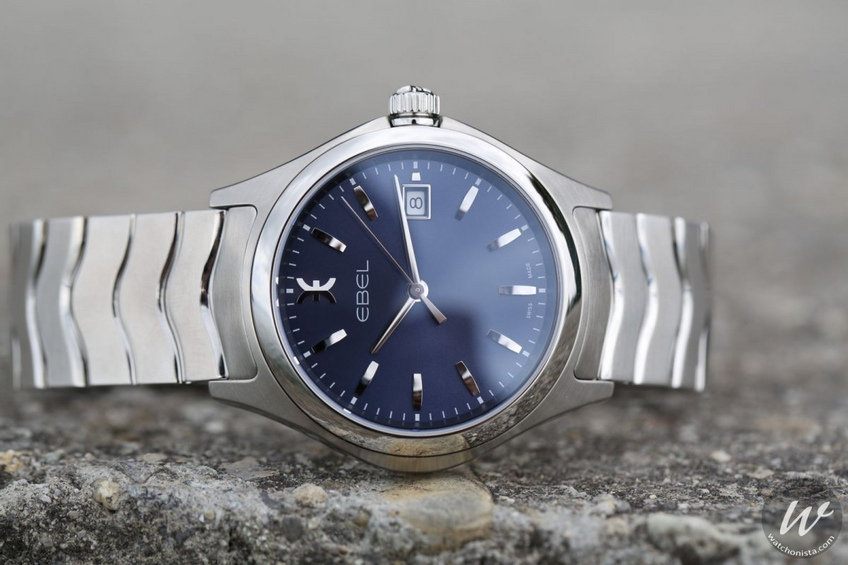 The novelty from the EBEL Wave collection
And, as if to prove it, the timepiece's strap was incredibly smooth and perfectly comfortable to wear.
Other watches owe their iconic status to the use of some geometric shape on their case, to their aesthetics as a result of their functionality, or even the use of unusual materials. Yet, Ebel's "Classic Sport" became an icon because of the unusual shape of its strap's links. Not only did the shape become iconic but it also never really rode the waves of fashion, and that in spite of its name: "Wave". The collection that adopted the shape's name nowadays perpetuates its codes although it does not follow each of them to the letter. The models of this particular collection are always very distinctive and well designed. They have more striking lines but keep their legendary fluidity and sensual curves along with their powerful character – as we reach our forties we have more confidence – and a claimed contemporaneity that nevertheless respects the treasures of its heritage.
Among the many references in the Wave collection, the model 1216238 has been introduced to the watchmaking world at the right time. The piece is in brushed polished bronze and it has a 40-mm case as well as a sapphire glass. It is also water resistant to 50 meters and it presents, of course, the iconic 'wave' strap with a deployment buckle.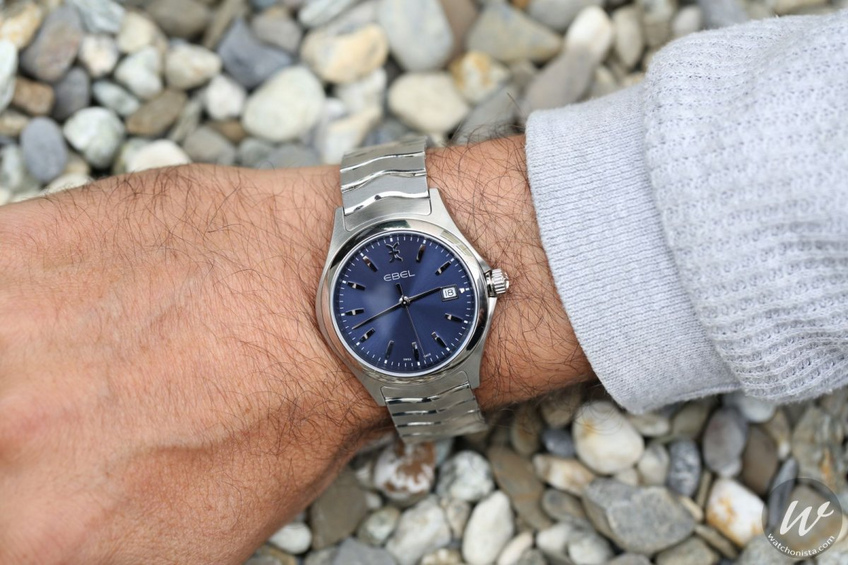 The EBEL Wave Blue on the wrist
It has made its way (mostly) into men's watchmaking news discreetly while temperatures rose to epic proportions and the searing heat broke meteorological records. As a result, everyone dreamt only of the blue sea and the well-deserved fresh drinks that accompany such scenery, which is why the blue dial appeals to many. The marine galvanic wavy reflections, peppered with steel grey indexes, break the prevailing lethargy.