Exclusive shooting of the Ralph Lauren RL Automotive Skeleton
If there ever was a watch collection inspired by the automobile that really deserves being noted, it is probably the Ralph Lauren collection unveiled in Geneva in 2015. The five models are indeed inspired by the car of cars, the Bugatti Type 57SC Atlantic Coupe dating to 1938.
By Marco Gabella
Chairman & Executive Publisher
Let's see: is this Bugatti a real car? Or is it merely a myth? According to the automobile designer Paul Bracq, to whom we owe that most beautiful Mercedes from the 1960s, it is a "monument in the history of French bodywork". And, he adds, an inexhaustible one as well. "It expresses Latin esthetics better than any other car. This silhouette exudes a fabulous feeling of lightness."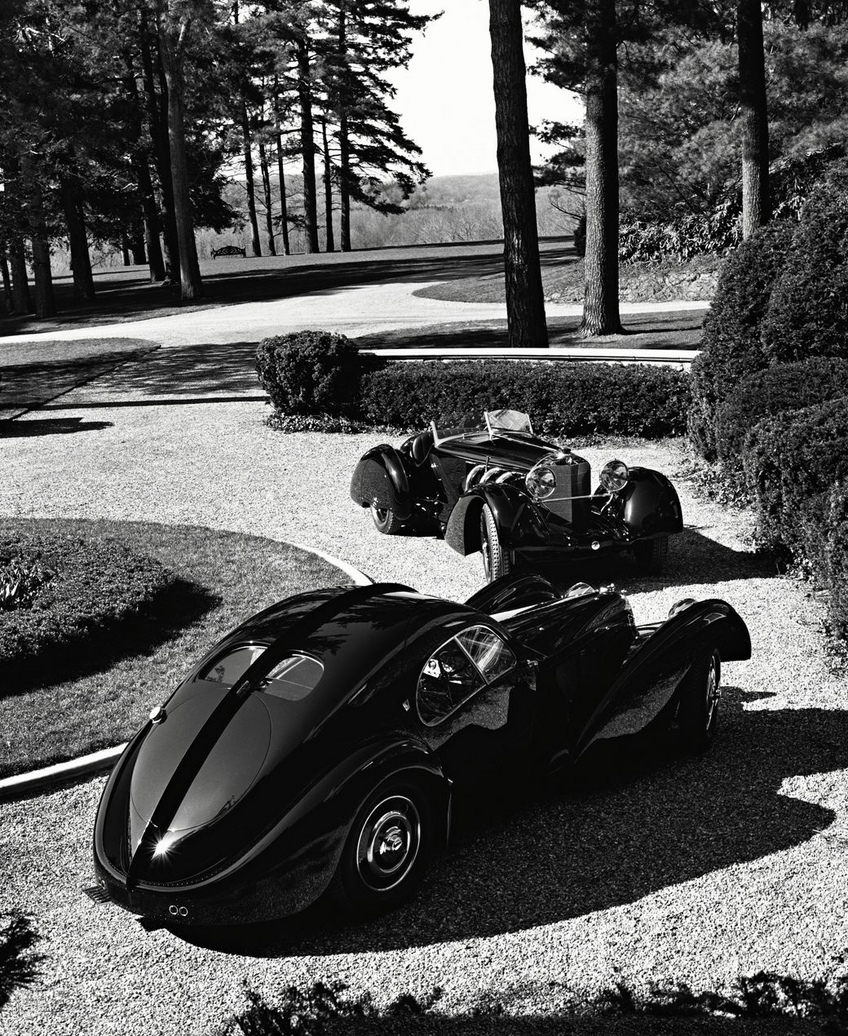 Bugatti Type 57SC Atlantic Coupe from 1938
The stylistic and technical apex
And because the aficionados of such noble wheels are usually well-educated fans of rare and exclusive watchmaking, we might as well remember that on a technical level, this machine reached speeds of about 125 miles per hour (200 km/h) thanks to its eight cylinders in a line with a twin cam and supercharger… As for its costuming, this automobile remains the epitome of speed and power, with doors that are cut into the roof and ellipsoidal windows that owe their shape to aeronautics.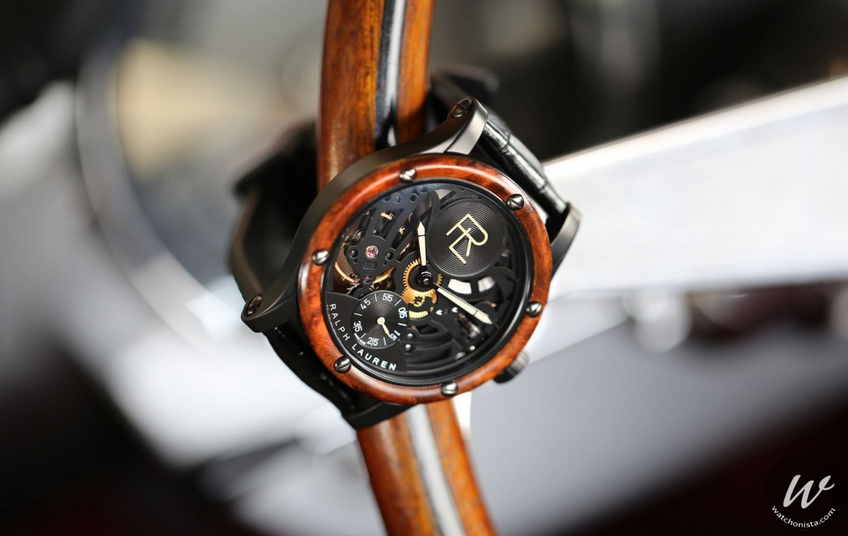 Ralph Lauren RL Automotive Skeleton
And as in watchmaking, where technical constraints are often a source of esthetic features, the Atlantic morphs a technical inconvenience into a stylistic plus. Since the body is made of aluminum, a material that does not stamp or weld well, Jean Bugatti had to manufacture the fenders and the roof in two parts and assemble them with rivets.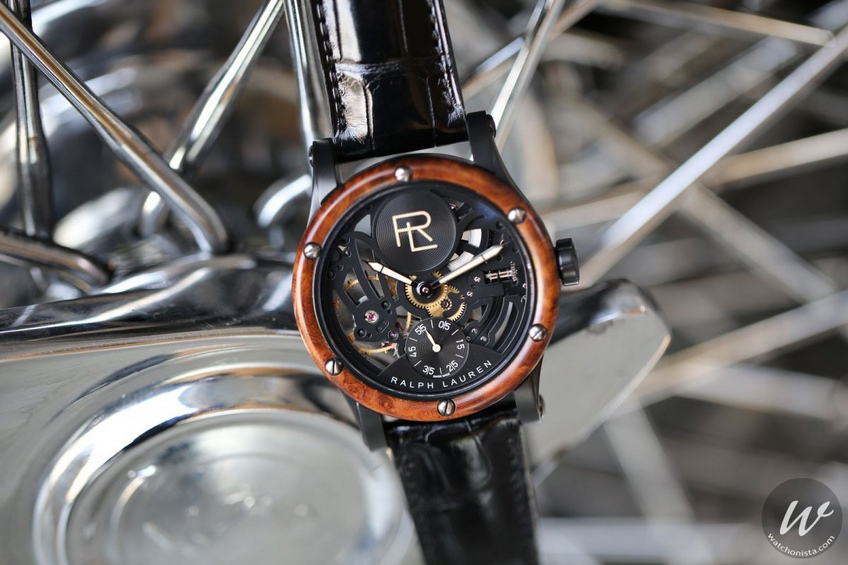 Ralph Lauren RL Automotive Skeleton
Open top, skeleton movement
The American designer, Ralph Lauren, could not just ignore such a source of inspiration for the watches that bear his name.When it comes to his horological models from the Automotive collection, the most visible reference is without a doubt the amboyna burl bezel, the elm burl dials, and the black alligator bracelets. The connection is clear as a bell: these details recall the luxurious interiors of Ralph Lauren's own Bugatti, while the Arab numerals on the dial echo the gauges so typical for the vehicle's dashboard.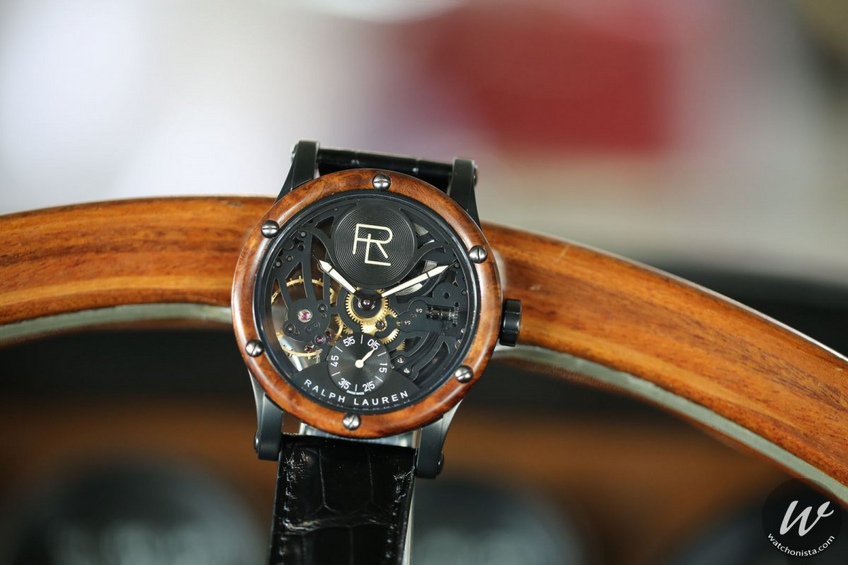 Ralph Lauren RL Automotive Skeleton
Exploring further the subtle interplay between these two worlds, you can unearth a host of meaningful details in the steel RL Automotive Skeleton. It's obvious that the designer is, himself, the owner of one of these legendary cars, and that his goal was to give it a voice in a watchmaking context, and that he is absolutely passionate about it.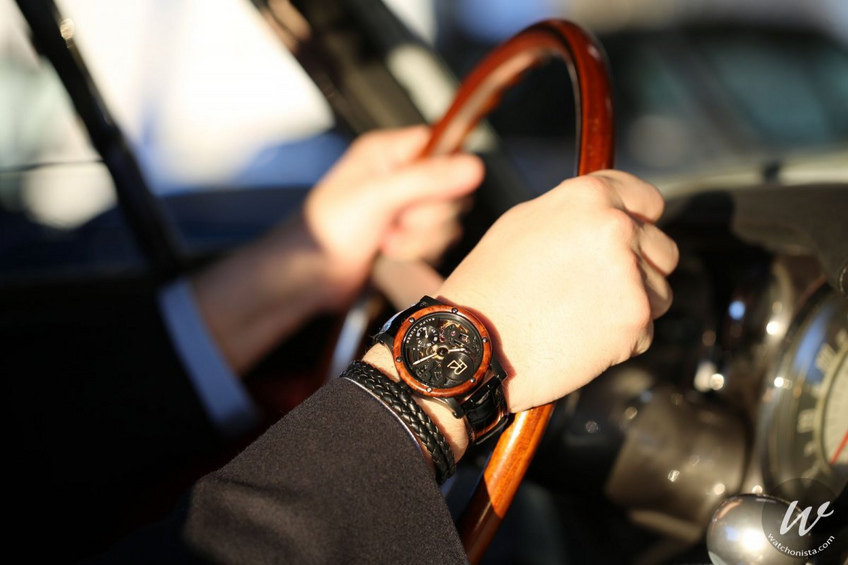 Ralph Lauren RL Automotive Skeleton
The RL Automotive Skeleton comes with an open hood, as it were, that reveals the engine's shapes through sapphire crystals with double anti-reflective treatment, inside and outside. There lie the micromechanical delights of the manually wound RL1967 caliber, a motor with a power reserve of 45 hours, an output of 18,000 vph, which translates as 2.5 Hertz, and with galvanized all-black finishing and minutely meshed gears. The black theme enhances even more the large escape wheel driving this movement, which is hand-wound and manufactured by IWC, then personalized for Ralph Lauren by Val Fleurier. The beat is slower than in most watch movements, and echoes those engines of yore, whose charm came from mechanics that were more direct and straightforward, having no technological accessories. It recalls the comfortable purring of those V12 Colombos installed in 1960s Ferraris.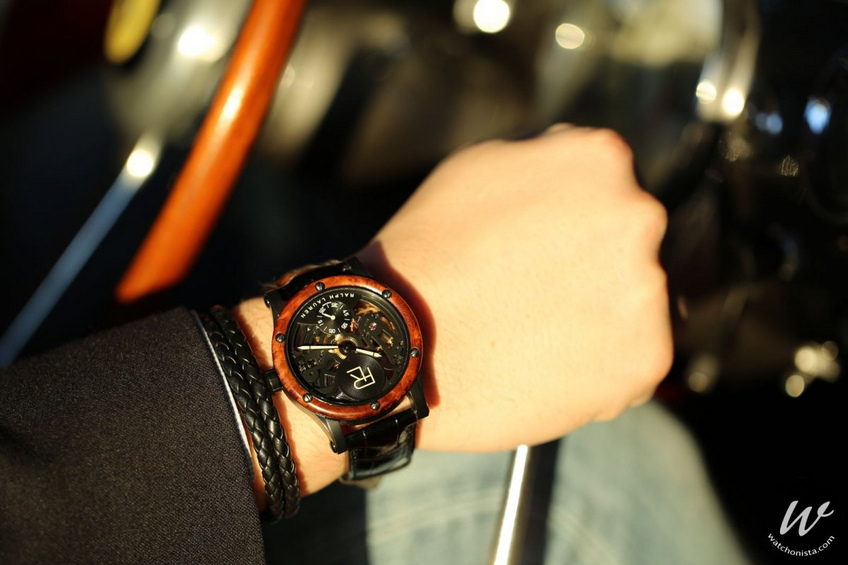 Ralph Lauren RL Automotive Skeleton
Coherence with a universal touch
The basic functions, the essence of the watch, are the hour and minute indications. Then there is a disc for the subsidiary seconds at 6 o'clock, with Arab numerals filled with beige SuperLuminova and a hand designed like a gas gauge. Counterbalancing this small dial, at 12 o'clock, is another full and striated circle reserved for the initials RL, symbols of universal sense of taste, also in that beige hue known from the leather of fancy automobile interiors. Rather than inscribe "Swiss made" on the dial, which is so evident one hardly needs to see the wording, one finds the name of the designer written out in full. In this context, it represents not only excellence in Swiss manufacturing based on traditional values, but also features some contemporary impulses, like the black gunmetal steel, which is twice as resistant as conventional steel.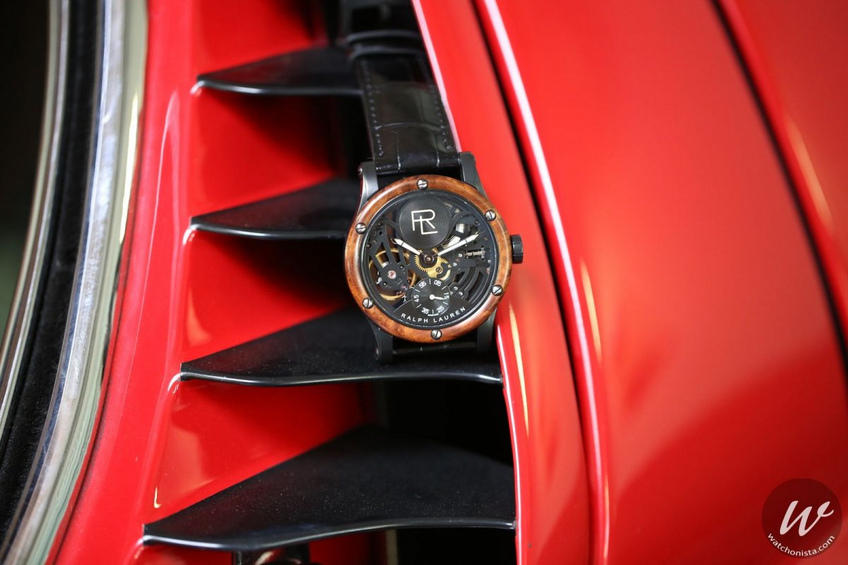 Ralph Lauren RL Automotive Skeleton
The coherence of the many quotes connecting the world of watchmaking and that of the automobile were obvious during a test wear lasting several days and did not apply to the famous Bugatti alone. For, while the inspiration is immediately detectable, the elements in question have been integrated functionally into the design and are not just added details isolated from the rest of the object. So, the steering wheel becomes a bezel that is part and parcel of the actual watchmaking process. The fact that it has been screwed onto the case means that it can be readily replaced, much like a tire on a car.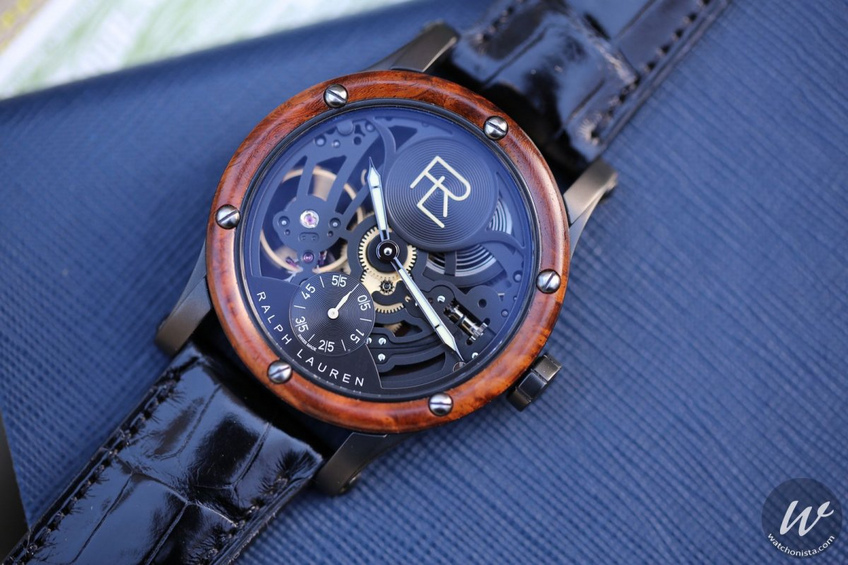 Ralph Lauren RL Automotive Skeleton
We were using two Ferraris as a backdrop for the shooting – a 250 GT SWB dating to 1959 and a 275 GTB/4 Daytona from 1967 – and suddenly, the luxurious and handcrafted finishing of their interiors seemed perfectly in tune with the watch's own finishing ... It's a shooting of the RL Automotive Skeleton that is well worth seeing.
Many thanks to our friends at Perego Cars, who allowed us to do this exceptional shooting in their garage.
Sponsored by Ralph Lauren
By
Rhonda Riche
,
Editor-At-Large
Ralph Lauren brings the Wow factor to the first edition of Watches & Wonders Miami.
By
Joël A. Grandjean
,
Contributor
What else does the urbanite dream of? As he (or she!) is completely engrossed in a daily routine of negotiating the big city. Some would trade their time in...
By
Joel Grandjean
,
Editor-in-Chief
It's already a year since he picked up the torch handed to him by Luc Perramond. The watchmaking enthusiast now finds himself working alongside a living...