Bovet OttantaSei by Pininfarina reviewed
A more integrationist approach to collaborative watchmaking: meet the Bovet OttantaSei by Pininfarina .
Some of the best concepts are born from the coming together of two entirely different yet equally creative and passionate forces. With Bovet's singular OttantaSei, it's immediately clear that an entity outside the watchmaker had its hands in its conception. And that entity is none other than the most revered design firm of them all, Pininfarina.
Now, this isn't the first time that Bovet and Pininfarina have partnered to create a timekeeper (it's actually the sixth, and the fourth tourbillon), but I do feel that this is the one that makes me go "OK, I get it now". Not to take away anything from the former pieces, but the OttantaSei really hits it out of the park, delivering a truly singular and holistic design – inside and out.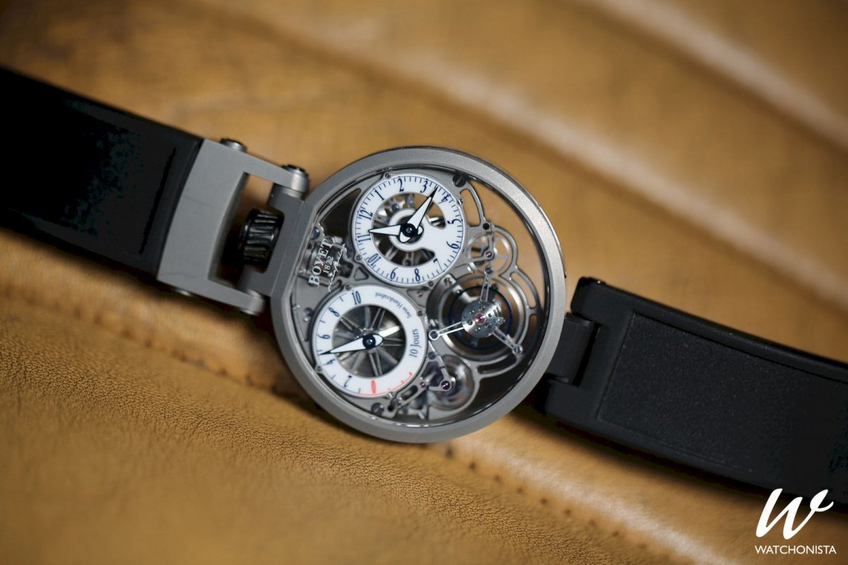 Bovet OttantaSei by Pininfarina
The case tells a story of transparence and lightness, interplaying between volume and structure. It's about unusual perspectives. Available in titanium with black DLC-treated titanium or red gold, you could call it a skeletal chassis built to house an exceptional engine.
It is fitted with four sapphire crystals, allowing an unadulterated view onto and into the 10-days tourbillon movement. Overall it has a proportionately slim profile, measuring 12mm in height. The case itself measures 44mm in diameter. Especially true with the titanium versions, here you have a sort of concept watch that's easily wearable.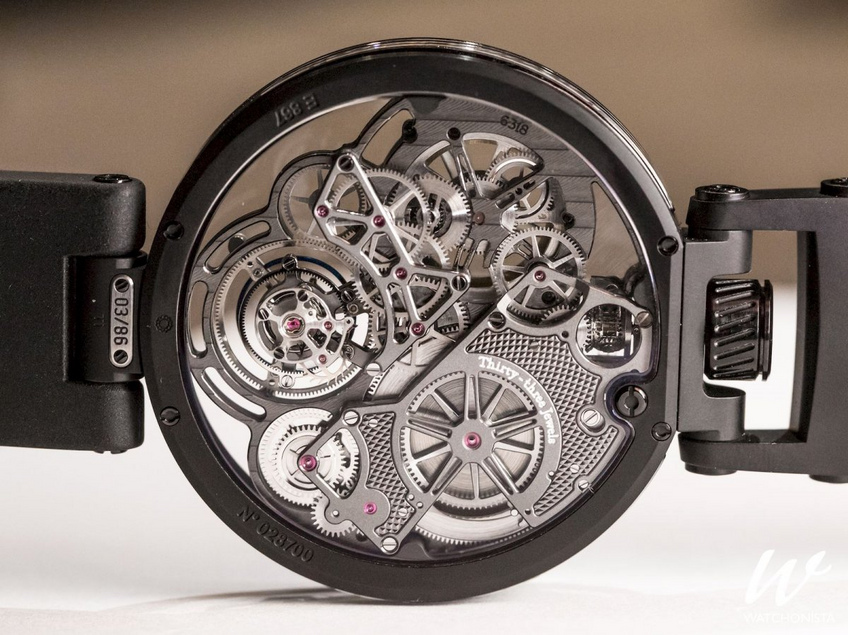 Bovet OttantaSei by Pininfarina
What one can immediately appreciate about the OttantaSei's movement is its symmetrical construction on the dial-side, conceived in a way to make it structurally optimal while reducing mass. Its depth recreates a landscape of modern architecture, powerful and curvaceously seductive at once.
With the OttantaSei, the open dial layout doesn't take away from legibility, and rather offers a comprehensive, logical and visually harmonious means of displaying the main functions. On the top-right portion we have the small hours and minutes dial, available in white and blue and made entirely in-house by Bovet - something few brands can claim when it comes to dial production. It's set with two hands filled with Super-Luminova.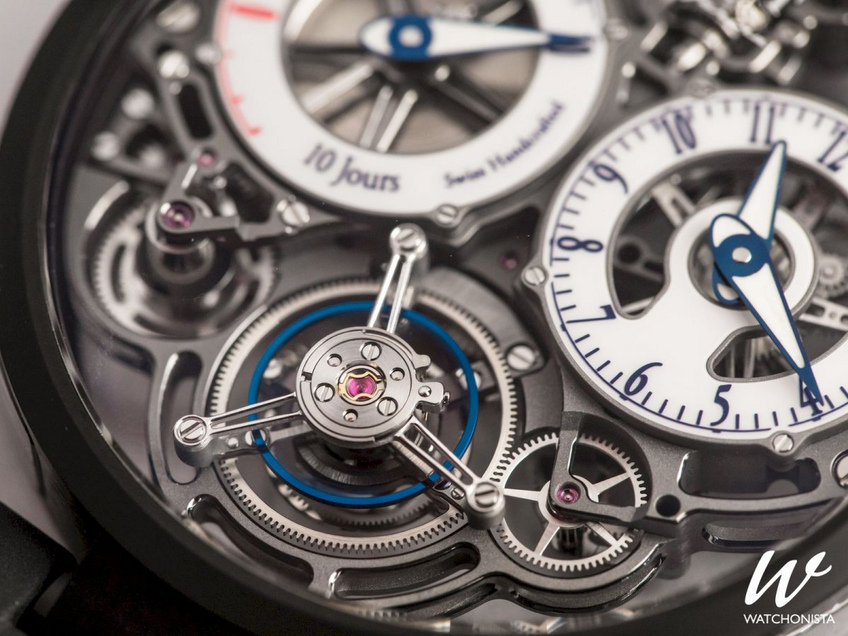 Bovet OttantaSei by Pininfarina
Opposite on the top-left portion of the dial-side and equally dominant is the power reserve display, and rightfully so. The OttantaSei packs a massive 10-days power reserve, but what's really impressive is that this is achieved with a single barrel. What's more is that the barrel requires half as many turns of the crown to fully wind than it normally would, thanks to a patented, miniaturized spherical differential gear, and a second patent for the three-dimensional multiple meshing teeth that makes the winding that much more efficient. Performance was clearly not sacrificed for the sake of style!
Last but not least is the flying tourbillon at 6 o'clock, made of a mind-blowing 104 components! Employing Bovet's patented double-sided tourbillon, where the escapement and balance spring are positioned on either side of the central fixation point. Besides the fact that such an implementation allows an unobstructed view of the regulating organ and its critical components from both sides of the movement, it also allows for superior chronometric performance, thanks to the single fixation point and reduced lever effect.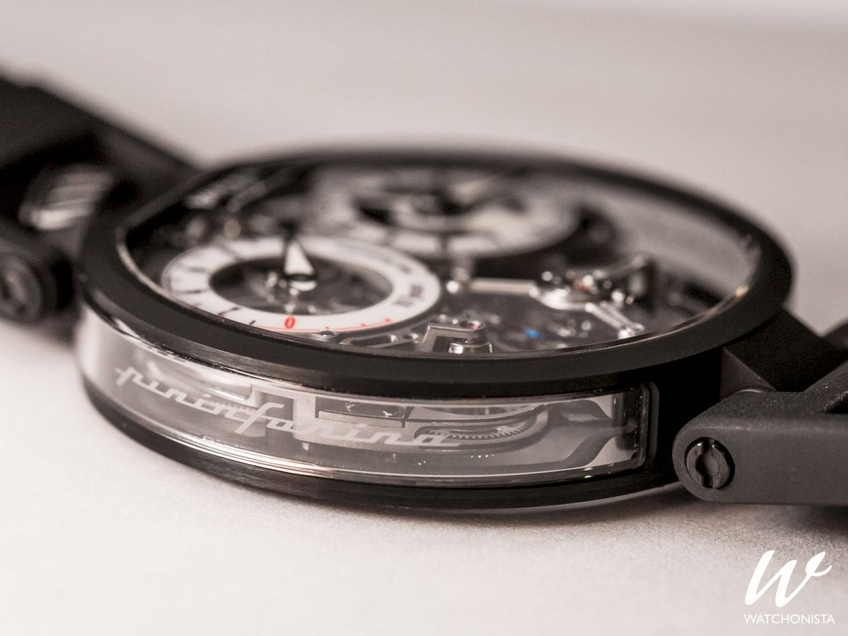 Bovet OttantaSei by Pininfarina
What really impresses me with the OttantaSei is how Bovet are able to implement such a contemporary look and finish so well, as there's absolutely nothing haphazard in the multitude of textures and nuances. Whether it's matte, satin-finished or a three-dimensional hobnail pattern, the sense of laborious hand-decoration is certainly not lost here.
There's something about the Bovet by Pininfarina OttantaSei and its cohesive modernism that I find myself drawn to and enamored by. It's edgy without being garish, complex yet holistic. As far as contemporary "high-performance" timepieces go, it doesn't get more tasteful than this. But above all else perhaps, the Bovet by Pininfarina OttantaSei is a showcase of exactly what a collaborative timepiece project should be.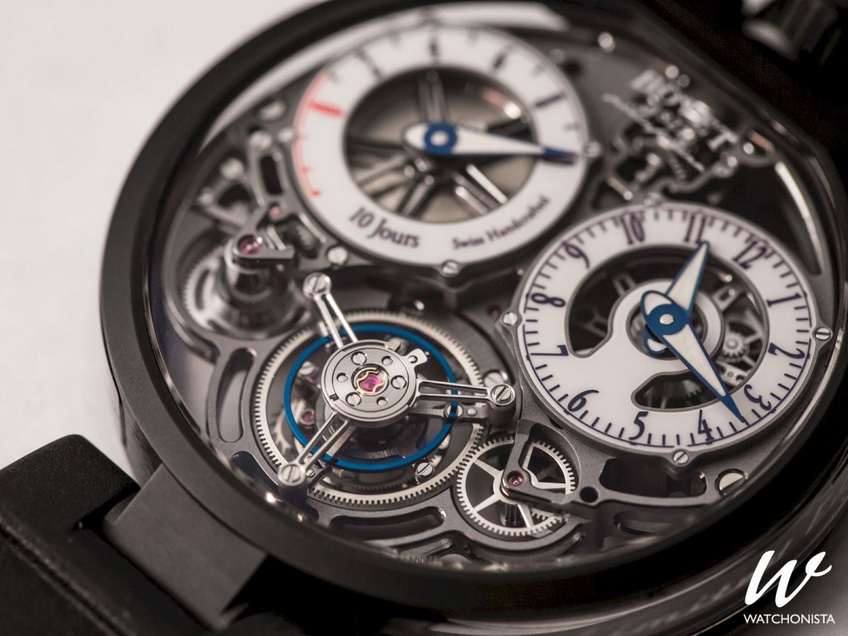 Bovet OttantaSei by Pininfarina
VISIT OUR DEDICATED PAGE