Wyler and the revolutionary Incaflex system - Part 1
Wyler Genève is a descendent of the manufacture created by Paul Wyler in the early 20th century. In the 2000s, the brand paid tribute to the invention of the Incaflex, a clever shock-resistant protection system.
In 1924, watchmaker Paul Wyler founded the eponymous Wyler in Basel. His intention was to design a robust watch that resisted everyday shocks.
Paul Wyler invented the Incaflex in 1927
In 1927, Paul Wyler developed the Incaflex, a revolutionary protection system for movement. It was made of two curved flexible arms embedded on either side of the balance and joined at the level of the staff to absorb any shock. The system granted greater protection to the balance. This major, patented innovation became a standard in watchmaking production.
A few years later, in 1956, Wyler proved its effectiveness by throwing two watches equipped with it from the top of the Eiffel Tower during a famous "media stunt".
An usher who was at the foot of the monument confirmed that they still worked after the fall. This exploit served to strengthen the brand's reputation. The operation was successfully repeated in 1962 from the top of the Seattle Tower to convince the American market.
In the 1930s, Wyler collaborated with Milanese entrepreneur, Innocente Binda, to market its watches in Italy. This was a successful partnership that contributed to the brand's recognition and development. In 1934, Binda suggested the Italian national football team wore Wyler watches. Such a contract linking a watchmaking brand to sport was groundbreaking and it proved a true stroke of genius, as Italy won its first World Cup that year, thus bringing the watches' resistance to the spotlight. In 1993, the Binda group took over the brand and renamed it "Wyler-Vetta".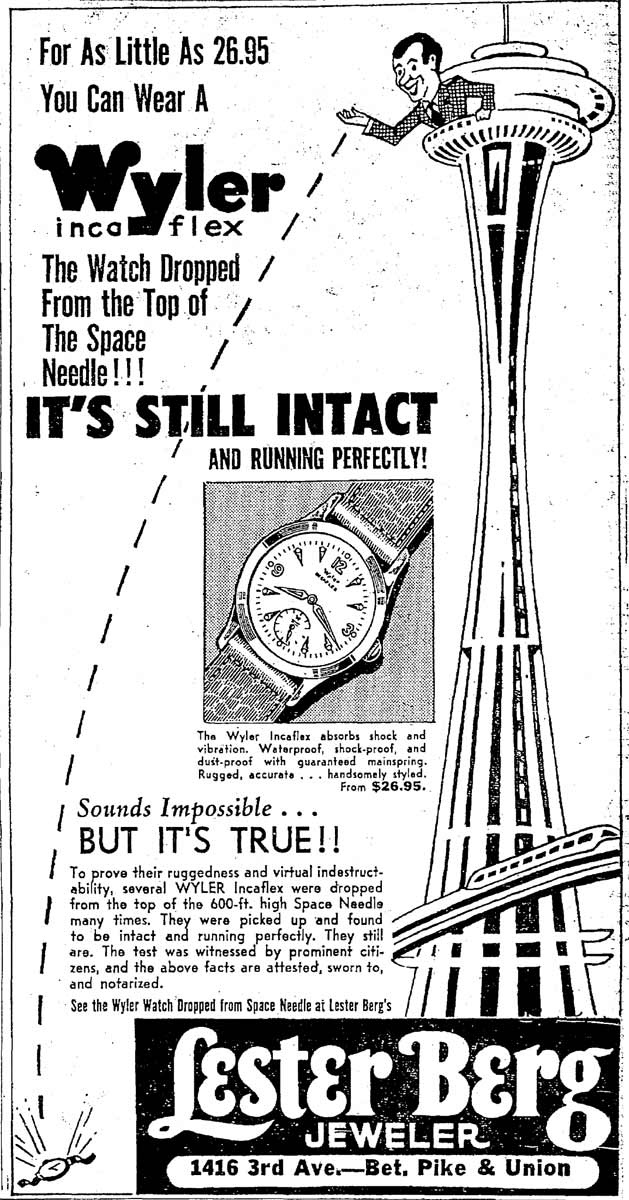 A Wyler watch was dropped from the Seattle Tower in 1962
The comeback of the most Italian Swiss-watch on the watchmaking scene
In 2006, the mechanical watch market was flourishing. The Binda group decided to relaunch the brand "to provide a new generation of Wyler watches for a global clientele", as put by the group's president, Marcello Binda, who is also Binda's grandson.
The headquarters of "the most Italian of Swiss-watch brands" are based in Geneva.
By
Rémy Solnon
,
Specialised journalist
Wyler Genève made its great comeback to the worldwide watchmaking scene in 2007. Loyal to its history and to the invention of the Incaflex that made it...
By
Rémy Solnon
,
Specialised journalist
In 1960, Bulova revolutionized traditional watchmaking with the introduction of the ACCUTRON. Here is the fascinating history of a choice watch that marked...