Stéphane Linder, CEO of TAG: a serene development
Even though he has been working for the brand for more than 20 years, being appointed as CEO of TAG completely changed Stéphane Linder's role. After his first year, he assessed the company's current situation. And by the way, he seemed to be quite at ease and confident!
How did you find the brand when you came back from the United States to take up your new role?

I found a big machine in full motion. Indeed, TAG has evolved very quickly in the past years, which made it necessary to stabilize and reorganize its industrial aspect, particularly retail, in order to match our increased production and higher prices. Even though it was beneficial for the brand, it was all very sudden and we consequently had to take the time to digest it and redefine a number of things.

Such as?

On a market level, we dealt with the timepieces sold at CHF 5,000 very well. However, while working on this segment, the segment of watches between CHF1,000 - CHF 3,000 sort of took the back seat. It would be a mistake to neglect that segment, as TAG is one of the leaders in this field.
We therefore need to be very careful and avoid getting carried away. This is why I proposed to start from scratch and redefine our strategy.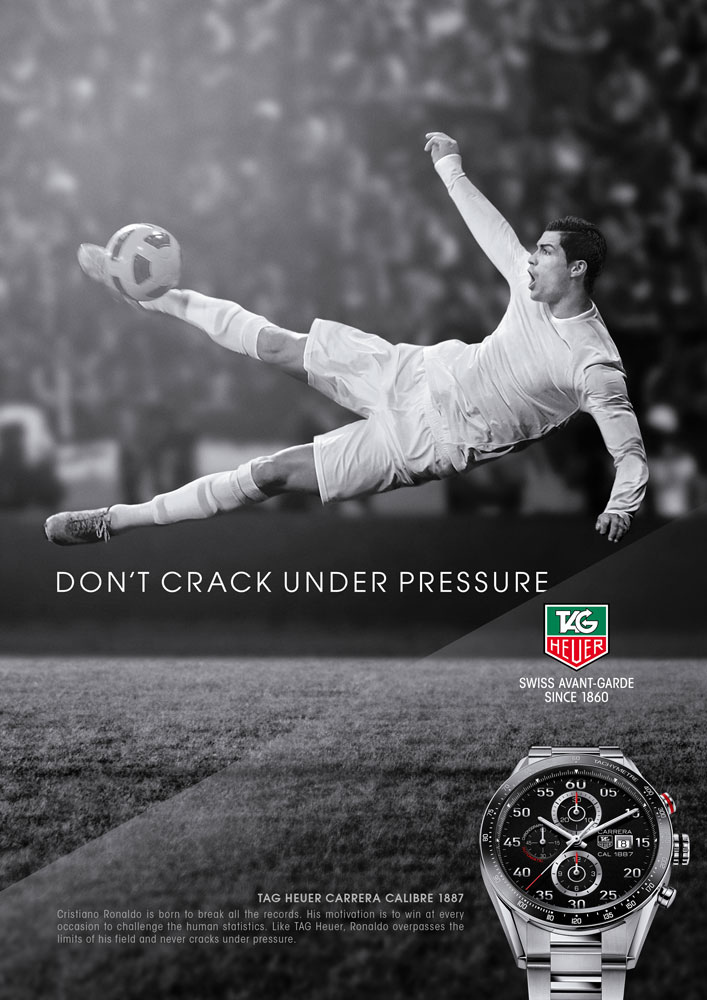 Cristiano Ronaldo, TAG Heuer ambassador since Spring 2014

Since you mention it, what is your strategy in a market that, let's admit it, took a downturn?

This is indeed the case. In Europe, this downturn is "rather slow". In the United States – our main market – we observed that the country has not yet recovered its complete dynamism even if the situation there is better than here. That is precisely why we want to focus on the CHF 1,000 – CHF 3,000 and the CHF 5,000 segments, with some very typical watches. Our analysis revealed that we have neglected our clients between 20 and 35 years of age a little. Thus, it was necessary to give importance to the kind of watches this age group likes. Along the same lines, we developed a new advertising campaign with Ronaldo, because, whether we like football or not, everyone knows who he is. When we took into account the requirements and demands of young people, we decided to strengthen the character of our watches. We also released simple, sober and elegant three-hand Carreras and they were a success. So much so that we are finding it difficult to cope with the demand and our watches are being delivered late.
Could we say that they have been an international success, then?

Yes. We have also observed that in China, even if buyers wear western-style jeans and sneakers for example, they are not yet ready to wear chronographs. Consequently, we introduced these three-hand watches and they went crazy about them. However, as it is always the case, success is a subtle mix of things and we had to work hard to find a range of designs and prices for all tastes. Still, it worked out just fine, as this new collection represents 30% of our sales. As it is, this operation enabled us to get closer to our markets and to stop producing increasingly high-end watches. Don't get me wrong; we do need some more expensive and technical watches. Besides, our "Haute Horlogerie" division is faring very well and we are happy about that but, as you know, that sector only produces a few models. Therefore, basic timepieces act as sales boosters. This policy is part of the brand's revival and we want to continue to provide it with energy. TAG must not be a bland brand but needs to have its own style while avoiding doing the same as other brands from the group at the same time.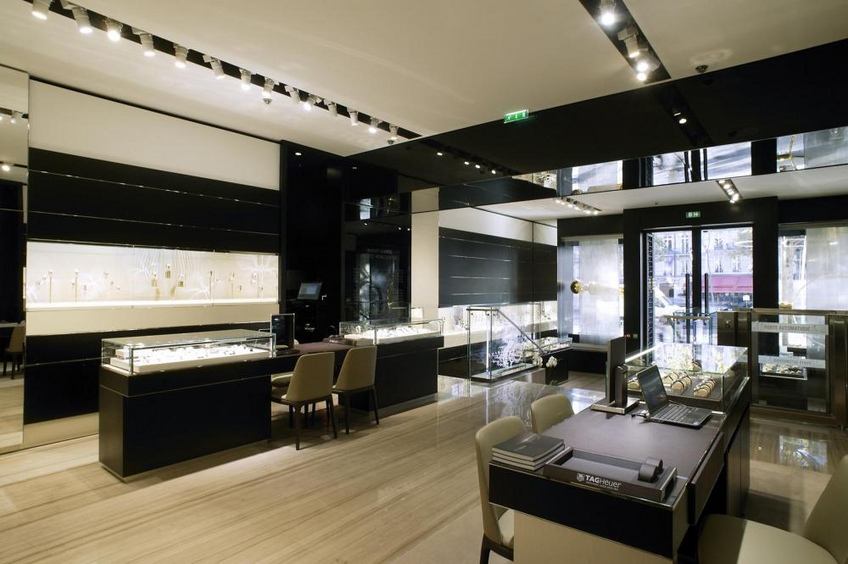 TAG Heuer flagship boutique in Paris
Following your arrival in the market, you opened quite a number of stores…

Absolutely. We currently own 170 stores and we will soon open 30 or 40 more. Needless to say, some of them are franchises but we think that opening our own stores is an interesting approach.

Which world markets do you intend to enter next?

The United States has been our main market for a long time. As you know, there is almost no watchmaking or even luxury culture over there. If Americans were aware of this culture, our sales would be three or four times higher than they are. China is a market with a high potential for development but it requires a lot of work and whilst prospects are good, profits are not generated automatically. Taking a step that decreases sales from 15 % to 7.5 % in only one year would be a major setback. Indeed TAG was saved from a decrease in watch sales caused by, on one the hand, the economic situation, and on the other hand, the change in political power that wanted to show its will to combat corruption. Our timepiece segment was not affected by that witch-hunt for corruption.
As a matter of fact, all watches around € 2,000 are still selling, as those who buy them are usually first-time buyers who in some cases may have been saving money for two or three years to acquire a Swiss watch. They of course do not want to give up on the idea of buying that watch, even if the economic situation is unstable. However, here in Switzerland it is easier to refrain from buying a watch since we often already own so many. Yet, we were surprised by what happened in Japan. A while back, the authorities announced a rise in tax, which created a shopping frenzy and our sales increased dramatically before the new tax increase was applied. Now, the situation is back to normal. Furthermore, as the Japanese yen was devalued by 25%, the Japanese almost stopped going to Korea, for example, to buy watches. Before this devaluation, it quite often happened that clients flew to Seoul for a weekend to buy one or two watches as, compared to the price of watches in Japan, the flight and hotel costs were nothing. Unfortunately, this source dried up as well.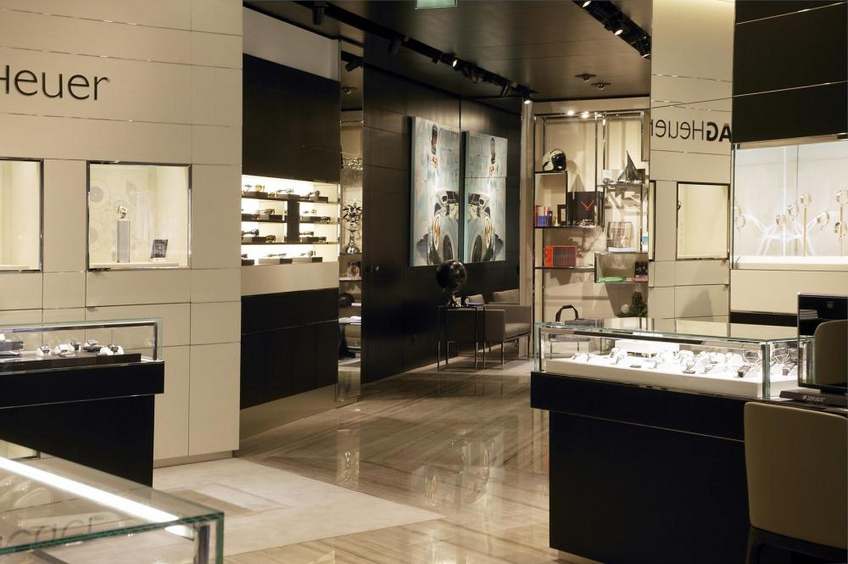 TAG Heuer boutique in Champs Elysées - Paris

What about Europe?

The situation is not much better. France is suffering a decline in the number of tourists – especially Asian – who go to Paris and sales are stagnant.
In Germany, the situation is stable. The United Kingdom is picking up again and much to our surprise, Spain is slowly recovering even if – like the rest of southern Europe – it still has a long way to go. Nevertheless, the Middle East is faring very well, particularly the UAE. In Dubai, we have one of the five biggest TAG stores in the world and it is remarkably successful. Finally, Russia is also very prosperous. Interestingly enough, all our watch types are being sold everywhere in the world.

What are your industrial capacities as of now?

We have our movement manufacture in the Jura where we produce our chronograph. Concerning the three-hand basic movement, we made several calculations to examine the feasibility of developing and producing it. We concluded that it was not worth doing as it is very difficult to be competitive. It's all about quantity. We debated quite a lot but we gave up. We thus buy this type of movement from Sellita whose assortments come from Nivarox. As for the assortments for our chronographs, we resort to the services of Atokalpa.
By
Eric Othenin-Girard
,
Specialised journalist
Thursday, 27 March. The air in Rhineland was buzzing with eagerness. At 9 o'clock sharp the 2014 edition of BaselWorld, the greatest horology event in...