Réseau des Fleurons: a joint training program for watchmakers
A training scheme was launched in August for polymechanics a branch of precision mechanics. It is a new concept developed by the Réseau des Fleurons – an association of nine companies including five watchmaking firms. The number of trainees will soon reach forty.
Since the start of this academic year, the polymechanics program is booming in Val-de-Travers (NE). Seven trainees started a four-year dual traineeship, a record, as up to now the valley was only recruiting two trainees per year. Furthermore, the association intends to create up to 40 slots within four years, at the rate of ten per year.
Watchmaking implication
This new training scheme was created by the Réseau des Fleurons association (see frame), consisting of nine leading companies in Val-de-Travers, including five watchmaking firms such as Chopard Manufacture, Parmigiani Fleurier, Vaucher Manufacture, Piaget, and Manufacture horlogère ValFleurier. The new scheme is divided in two parts: two years of practical lessons in a training workshop at the school and two years at the interns' respective companies to complete their apprenticeship.
Vaucher Manufacture, the core of MHF
This formula offers the advantage of increasing the number of future polymechanics professionals – an essential figure in both watchmaking and mechanic companies – whilst not monopolizing the (expensive) production lines.
There is no need to choose between training and producing anymore. Interns are coached by a trainer in a workshop at the Centre Neuchâtelois d'Intégration Professionnelle (CNIP) in Couvet and are monitored by a pedagogical team from Réseau des Fleurons. The usual subventions, the training companies and the community cover the cost of the training. "The model is interesting in both human and financial terms", points out Maurizio Ciurleo, General Manager of Chopard Manufacture and president of the Réseau des Fleurons association. "We train without having to mobilize our machines and, when the interns join our workshops, they will already have a good practical basis."
The duty to pass on knowledge
However, Ciurleo believes that the objective goes well beyond the immediate needs of the manufacture that he manages. He thinks that all companies have to create traineeships, particularly in a sector that has been struggling to find qualified collaborators for years.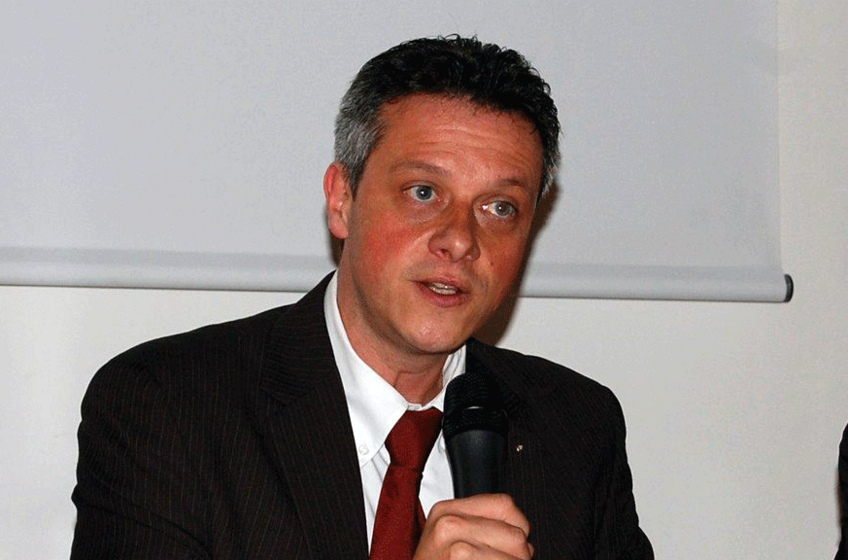 Maurizio Ciurleo president of Réseau des Fleurons (Picture credits: BNJ.ch)
"If we do not train the future workforce, who will?" asks Ciurleo. "It is our entrepreneurial responsibility to pass on our know-how! Our country produces more and more watches yet it does not provide more training to obtain a skilled workforce".Jean-Nat Karakash, head of the local administration for Economy and Finance of Val-de-Travers, hailed the state of mind that prevailed at the partner companies since the first working session in 2004: "We opened our doors to them and they showed their ability to identify their common interests straightaway. They succeeded in going beyond their rivalry to build a branch that will be beneficial to all of them". Florian Serex, Managing Director of Manufacture Fleurier, believes that collaboration was only natural, as all partner companies share the same professions and requirements: "We need to guarantee that our products are Swiss Made, to perpetuate our knowledge and to train the future workforce… We all share the same objectives. Our competitors are thus not in Val-de-Travers but in China!" he argued.

Réseau des Fleurons might well follow this path with the development of other common projects.
It is not impossible that new training programs are created or that collaboration takes place in very different fields such as shuttles for collaborators or extracurricular activities for their children. "Now that the training for polymechanics has started, we need to work on other projects", explains Maurizio Ciurleo.
From one network to another
The Réseau des Fleurons association is made up of nine companies: Bourquin, Chopard Manufacture, Etel, Mauler et Cie, Parmigiani Fleurier, Piget, Manufacture horlogère ValFleurier, Vaucher manufacture Fleurier and Waeber HMS. That means that the principle employers in Val-de-Travers –which employ 1,500 people– are involved. Officially created on 5 July 2013, the association is the result of a contract for the RUN (Réseau Urbain Neuchâtelois) signed in 2007 between the community, the leading companies of Val-de-Travers, and the district. The RUN is a development strategy centered on partnership and it provides an answer for the Neuchâtel district to the federal policy of urban areas. Réseau des Fleurons has set very realistic objectives and the first would be to create apprenticeships. It aims to favor the economic development of partner companies and that of the valley by improving framework conditions.
"We are lucky that the flagship companies of Val-de-Travers have local managers who have decision-making power", states Jean-Nat Karakash, local councilor for Economy and Finance. "They are aware that the destiny of a company is linked to that of the region's to some extent".
By
Joel Grandjean
,
Editor-in-Chief
Piaget goes beyond the term manufacture both in Plan-les-Ouates and La Côte-aux-Fées, with the exhibiting or consigning of historical pieces and...