Piaget, manufacture, tool mastery and secure independence
Piaget goes beyond the term manufacture both in Plan-les-Ouates and La Côte-aux-Fées, with the exhibiting or consigning of historical pieces and its independence reflected in its experience with tool production.
The picture-postcard village of La Côte-aux-Fées nestles at the end of a sinuous road. Originally, in old French, this calm place in the Val de Travers at the western end of Neuchâtel Canton, was called the «Coste aux Fayes», meaning essentially "Sheep's Hill". So, nothing at all to do with some region inhabited by supernatural beings (fées = fairies). In this small town, where winter lasts much longer than in the plains, watchmaking history is intimately linked with the peasantry of yore and has been imbued with a spiritual dimension, with piety and humility.
A warm welcome and sustainability
Such was the Piaget family as well, representative of a state of mind given to extreme meticulousness and patience. These are the values that contributed a great deal ofinvention and research to this particular segment of micro-engineering. The most incredible complications were conceived in this dominion and the finest aesthetics distilled. At Piaget, the tendency to "never time oneself" when it came to doing "better than necessary" – a mission statement by the founding father still celebrated internally – has crystallised around the quest for maximum miniaturisation and using open-worked and extra-slim movements. In 2013, these firmly mastered techniques are still in the brand's genes, what the modern era refers to as «DNA».

The welcome is warm and friendly. The famous factory on Bolles-du-Temple street at la Côte-aux-Fées faces the original building, the first ever registered address of Georges-Edouard Piaget. In 1874, he founded what would become a brilliant, global brand, with a network of more than 800 boutiques, a knack for seducing the world's VIPs, including crowned heads. It was a solid business, acquired by the Richemont Group in 1988.Yves Bornand, recently retired but still active during visits to the manufacture, is a history book onto himself. As former Director of Human Resources, he is a bottomless source of anecdotes that go back through time, giving it greater brilliance, and as such the ideal guide.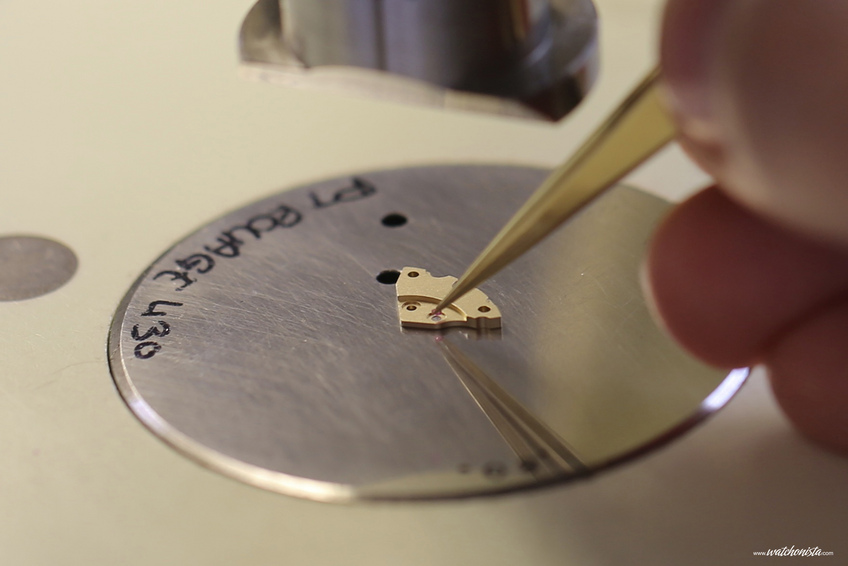 At first, he may appear a bit reserved. But when he detects passion in the visitor, he gradually opens up. It's with the greatest respect for the company that he champions the brand, whose history he even wrote in part with information he received from the mouths of Piaget family members themselves at times. To the usual marketing jargon of today he adds the attractiveness of dreams and myths. He even showed me a secret room containing a few historical treasures likely to interest watchmaking chroniclers when they start looking back.
The legacy's richness
Piaget does not yet have a museum. But the idea has germinated and some concrete steps have been taken. At Plan-les-Ouates, where the company's many skills have been grouped together, a kind of museum gallery has been installed. A permanent display comprised of changing exhibits invites unexpected and regular visits. At the beginning, it was just a connecting corridor.
Alain Borgeaud, the in-house historian, who is also in charge of acquiring rare pieces, turned it into a space to inspire visitors. Often, this continuous renewal is what feeds the Piaget Time Gallery cultural programme, a convivial space for VIP clients and locals arranged upstairs at the famous boutique at the 40 rue du Rhône in Geneva.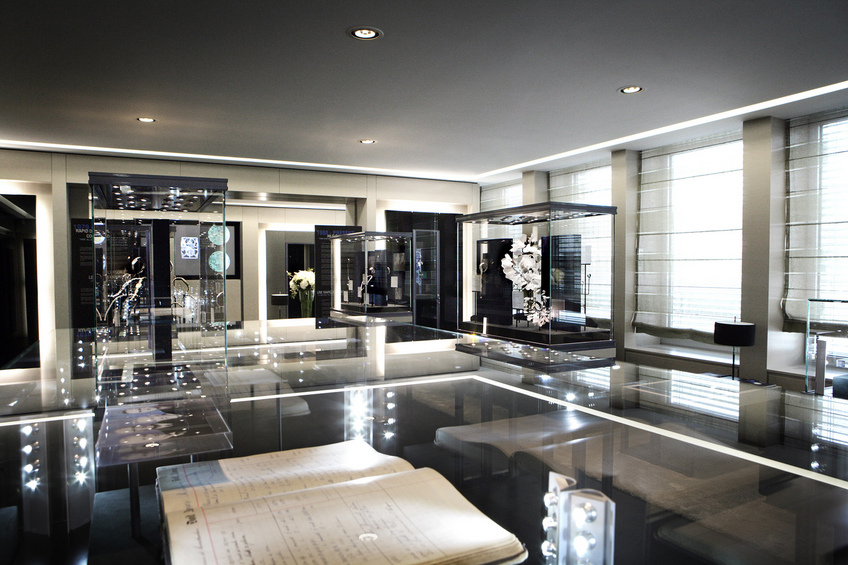 There is another setting, more industrial, also bursting with awesome historical energy. It's the after-sales service workshop that is situated in a light-filled wing of the Côtes-aux-Fées factory, because it needs a lot of space. At the time of my visit, I had the privilege of seeing some beauties stemming from various private collections. It was a true journey through time, a witness to different styles and a rare mastery of complications. This ephemeral display offering insight into the riches of the past proves that the brand had a talent for being prolific, and that it still lives in the hearts of those who acquired its gems at some point, and that it owns an immense capital of inspiration.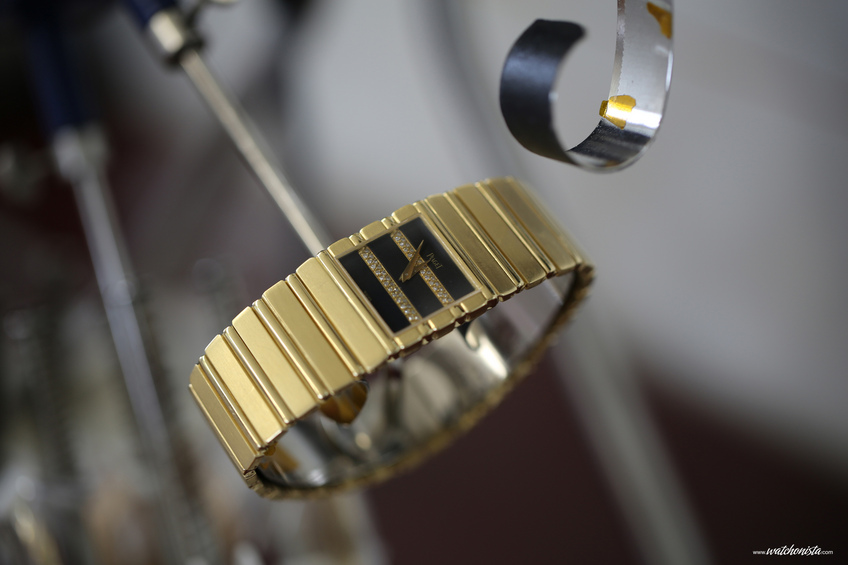 High complications, setting and finishes workshops
In an adjoining workshop, devoted to ultra-complicated horology, a few select master watchmakers assemble their creations from start to finish. It is here that perpetual calendars, tourbillons or minute-repeaters are produced and refined.
It is also here that the maddest feats in terms most dizzying feats of miniaturisation are performed. Indeed, Piaget had well-known antecedents when it came to making ultra-thin calibres. In the other workshops, Piaget's orderly and systematic approach is the rule. Some are entirely devoted to movement assembly of a specific type of calibre; others focus on finishings made with help of the machines. Still others are committed to the finishing done by hand.
The light from the surrounding countryside pours generously into this room in the same way it would in one of those Neuchâtel farms recognisable by their windows enlarged in the sole aim of aiding in the practice of watchmaking crafts. In this sanctuary, inhabited by humble persons and priceless personalities, it is easier to grasp how secular gestures were transmitted through time, gestures that make great collectors from the entire planet dream. It's all here, the calm, serenity, and a propensity towards patience and meticulousness, and that under the aegis of complete respect for those whose golden fingers still know what can no longer be learnt.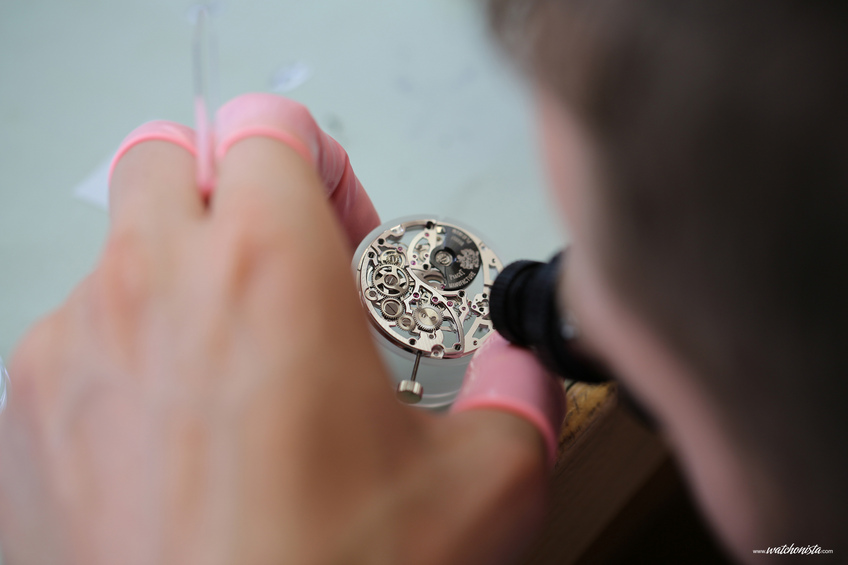 Tool-making knowledge, supreme independence
Traditionally, the trainee watchmakers begin by learning how to produce tools that will be with them for the rest of their careers. This particularity is still venerated by the country's schools of horology. Thus, at Piaget, the term "manufacture", so overused nowadays, has been enriched with an additional skill that is not very widespread. Yves Bornand guided me to another wing of the manufactory where numerous chests of drawers are filled with fittings in all shapes and sizes. At la Côte-aux-Fées, then at Fleurier for need of more space, the teams are proud to show that they completely master the art of machining their own tools. These are separate modules that can then be fastened onto the machines, matrices that scrupulously preserve the reference, the technical specifications and the specificities of the materials. This particularity was one of the very convincing arguments for the purchase of the company by the Richemont Group.
This spirit of independence is likewise felt at the immense architectural vessel at Plan-les-Ouates, where the Piaget executives and marketing department are based. Because this is yet another of the brand's specialties, namely cultivating the art of computer-assisted prototyping backed by lots of skill in 3D.
This incubator of creative talents mixes with other departments, which are likewise infused with a sense of independence. Just like these vast spaces dedicated to the assembly of finished watches, to the autonomous production of bracelets and straps, or the mastery of the materials from its own kiln. The company is equally dedicated to the rich culture of its jewellery tradition, another facet of its identity. But that is another story…