Valentine's gifts of time-significance: what 14th February means for me
Beyond giving and receiving, the time we set aside for others will always embody the most precious of gestures. And so what if morale dictates that the pleasure should be in the giving? All excuses are good…
It is high time that someone struck out against the commercial nature of St. Valentine's Day, that we wrest this special day for lovers free from the clutches of our consumer society. We have no need of a precise date in the calendar to express our emotions. We should live this day like any other... But then again, as we all know, love knows no limits. And so if we see another "reason" to explore those limits, whatever the rhyme or reason, why not leap on it?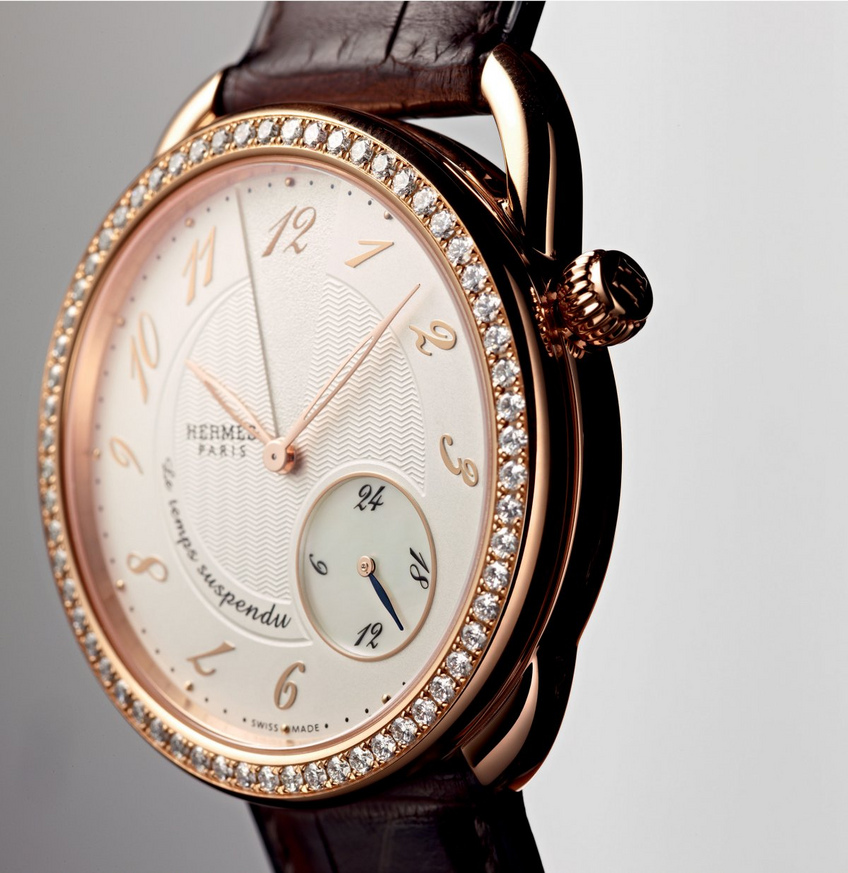 Hermès Arceau Le Temps Suspendu pink gold set 38mm
A space beyond time
For me, St. Valentine's Day takes on far greater significance than other occasions for more mechanical exchanges. Beyond the concrete gift, there are dreams, desires and, yes, sometimes even the failure to speak or act. They all say much about who we are or would like to be. Especially the gifts that lie "beyond our reach"! They give shape to our intentions and reveal so much about our impulses. To my mind, a gift is always priceless. Thus, the definition of "pricelessness", in our speeding lives, would be for me to offer the most precious gift I have to give: time. More time, enough time, all my time.
So what are these watchmaking objects that encapsulate the time I so often seem to lack, and which I therefore delight in giving? I have discovered three, one that graces the neck, the other a lover's wrist and the third... my very own wrist. Yes, you read right. The third one is intended for me, because it carries a very special message.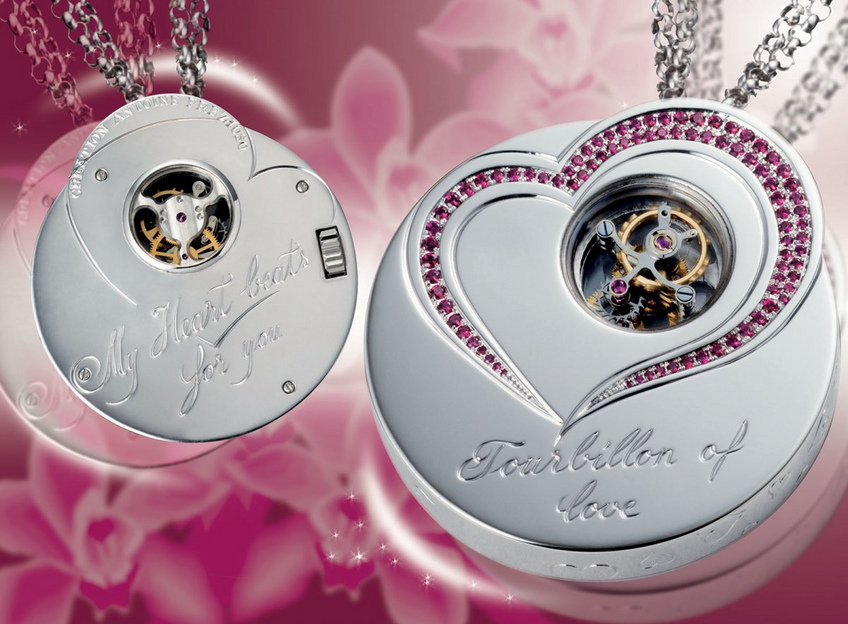 Laura Preziuso "Tourbillon of Love"
A necklace watch, a challenge for a palpitating lifestyle
At first glance, the "Tourbillon of Love" conceived by Laura Preziuso, the daughter of master watchmaker and designer, Antoine, simply looks like a pendant. Admittedly, the model is crafted in white gold and sports the design of a heart significantly set with rubies. But at its centre is a fully functional tourbillon in perpetual motion, one tiny heart imprisoned within another. Although the aesthetics speak for themselves, the message conveyed by this precious piece is heavily symbolic. It seems to be saying: "Whenever I'm with you, time loses all meaning". Here we have proof that even a tourbillon can dispense with the conventional time-telling functionalities and devote itself to the beauty of the watchmaking mechanism.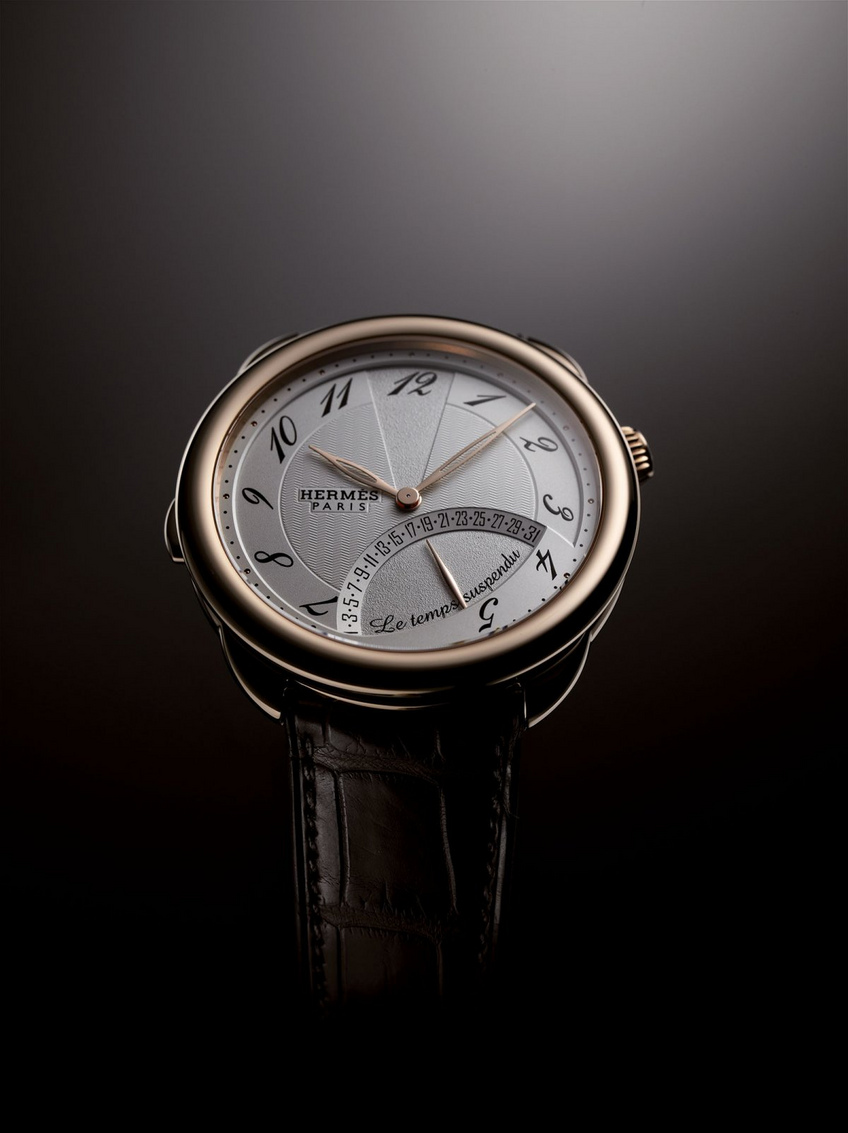 Hermès Arceau Le Temps Suspendu pink gold
For the wrist, a break from time itself
The second piece is a timekeeper by Hermès. The choice of brand is not without reason. It is one that has continued to fascinate women for generations. The very name of the model, "Arceau, le Temps Suspendu", is evocative of the message I wish it to convey: "When I'm with you, time stands still." In fact, within the perfectly round 38 mm diameter model, its face framed by sensual attachments, sits an ingenious mechanism developed by Jean-Marc Wiederrecht, a master of the watchmaking complication. At the simple press of a button, time appears to stand still. The hands lose all bearings on reality and enter the realms of pure poetry. Then, when normality kicks in, when everyday life tugs me back into its hold, they resume their embrace and settle back into the march of time, with only memories to fill their tracks. Read Marco Cattaneo's article again here.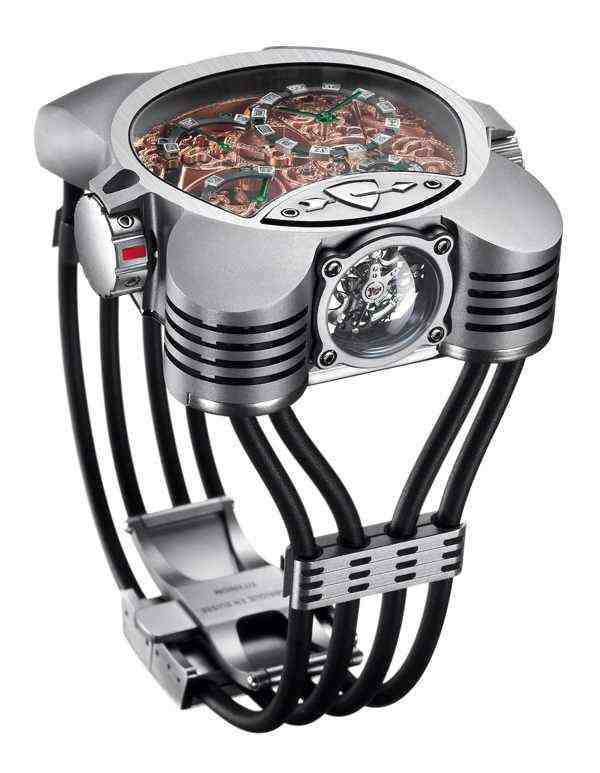 Confrérie Horlogère Key of Time
Going back in time
To round off this trilogy of gifts representing my choices for St. Valentine's Day 2017, when I meet my soul mate, I hope to be wearing the unbelievable 'Clé du Temps' (Key to Time), a watchmaking piece designed by Hublot in collaboration with the Confrérie Horlogère, a brand factory of talented micro-mechanical engineers launched by Mathias Buttet. Halfway between a concept-watch and a talking piece, this creation boasts, in addition to its tourbillon, the ability to slow time. You can therefore activate a mechanism at will to adjust the running speed of the time on the dial to turn a 60-minute hour into an hour 120 minutes long. As a distant soundtrack, we can almost hear the precious words: 'When I'm with you, time lasts twice as long."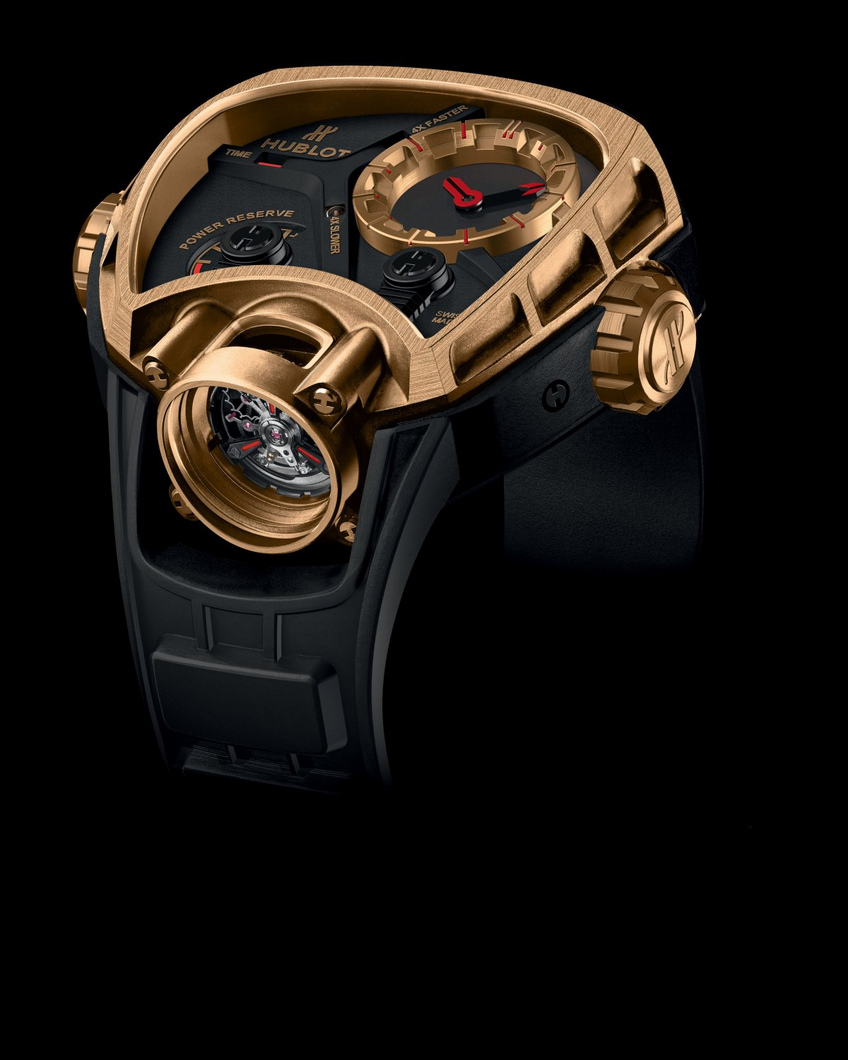 Hublot MP-02 "Key of Time" pink gold
http://www.antoine-preziuso.com/collections/joaillerie/tourbillon-of-love/
http://www.hermes.com/
http://www.hublot.com/collection/mp/mp-02-key-of-time-king-gold
VISIT OUR SPECIAL PAGE: VALENTINE'S DAY ACCORDING TO FOUR CONTRIBUTORS