SIHH 2017 finale: It's all about cycles
In a world that needs to be re-enchanted – the buzzword of the year in the sector – all brands, it seemed, made an effort to respond to the expectations of their aficionados. An overview of a sector in line for an upswing.
Like it or not, Mao Zedong did write in his Little Red Book: "The revolution is like a bicycle, if you don't keep moving, you'll fall. "Watchmaking is a bit in the same situation, in that it just has to keep reinventing itself to attract consumers from all walks of life.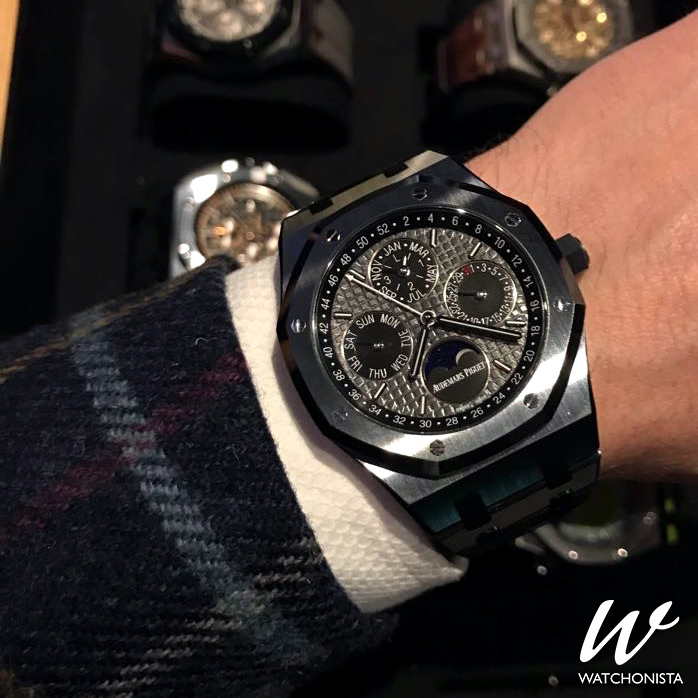 Audemars Piguet Royal Oak Perpetual Calendar
Lower prices for the first -timers
George Kern said it already: "It's time for the brands to return to their intrinsic values. "What this means, obviously, is that they can no longer sally forth in all directions in order to reach the largest number of target groups possible, but must content themselves with what makes up their own brand specifically.
In the same vein, a pragmatic and efficient individual like Cyrille Vigneron, CEO of Cartier, aims to recapture a clientele that seemed to have been desperately forgotten by the brand: the first-time buyers. By presenting the Panthère, the company has fully retied the knot with its primary values: women and form watches. But the delicate smile of the CEO also suggested that he had another card up his sleeve. He revealed to everyone that during the second semester, his company would be celebrating a centenary he felt very strongly about. Here, too, we can safely speculate that he means a rectangular wristwatch that might be – who knows – affordable.
Talking of lower prices, let us note that Baume & Mercier scored brownie points by offering collections with a more youthful look, and by its new way of presenting information, which showed a genuine desire to re-enchant the market. The communication is dynamic, the teams were on their game and positive, the booth was alive with animations for the visitors … and their film presenting the new My Classimas did spark the desire to wear one of those watches on one's own wrist.
And that does not include the new sportive Clifton Club models, whose awesome design has positioned the line as a major future competitor of TAG Heuer or Longines.In the area of welcome changes, there is also Jaeger-LeCoultre, which reconnected with its clientele by offering Reversos at a price that is more in tune with what potential buyers might expect. It may seem sort of idiotic, but it should have an effect.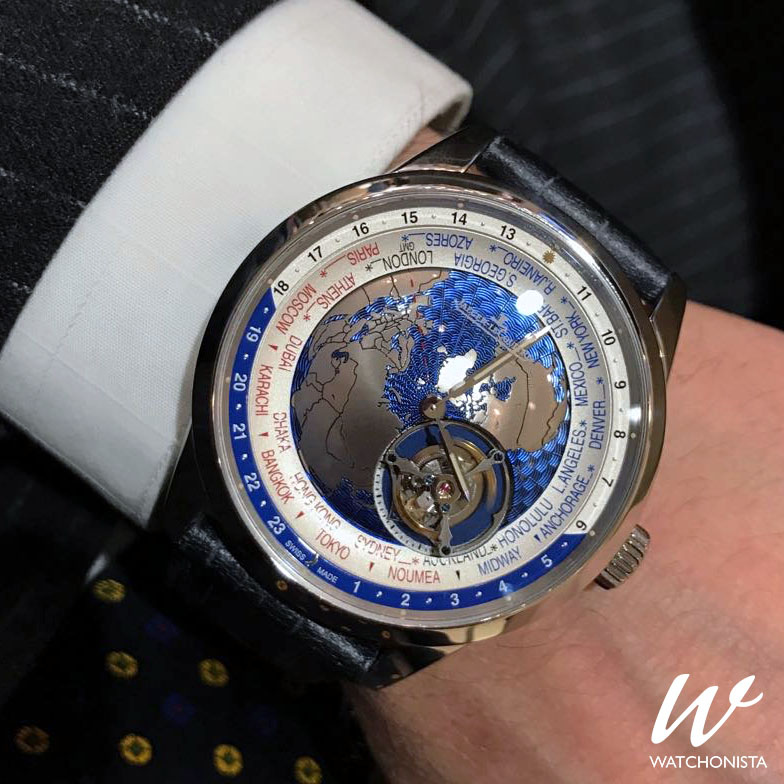 Jaeger-LeCoultre Geophysic Tourbillon Universal Time
Reconnecting with traditional complications
There was a time when everything revolved around the tourbillon, so much so, it made one dizzy. The brands have finally understood that it is imperative, or at least useful, to shift paradigms and try for the segment of complications with genuine value added. And in that case, there is nothing to say but "Go back to the fundamentals. "Evoking these has created some major complications:the ones that the watchmaking handbooks praise for their quality and consider worthy of adding something to the profession.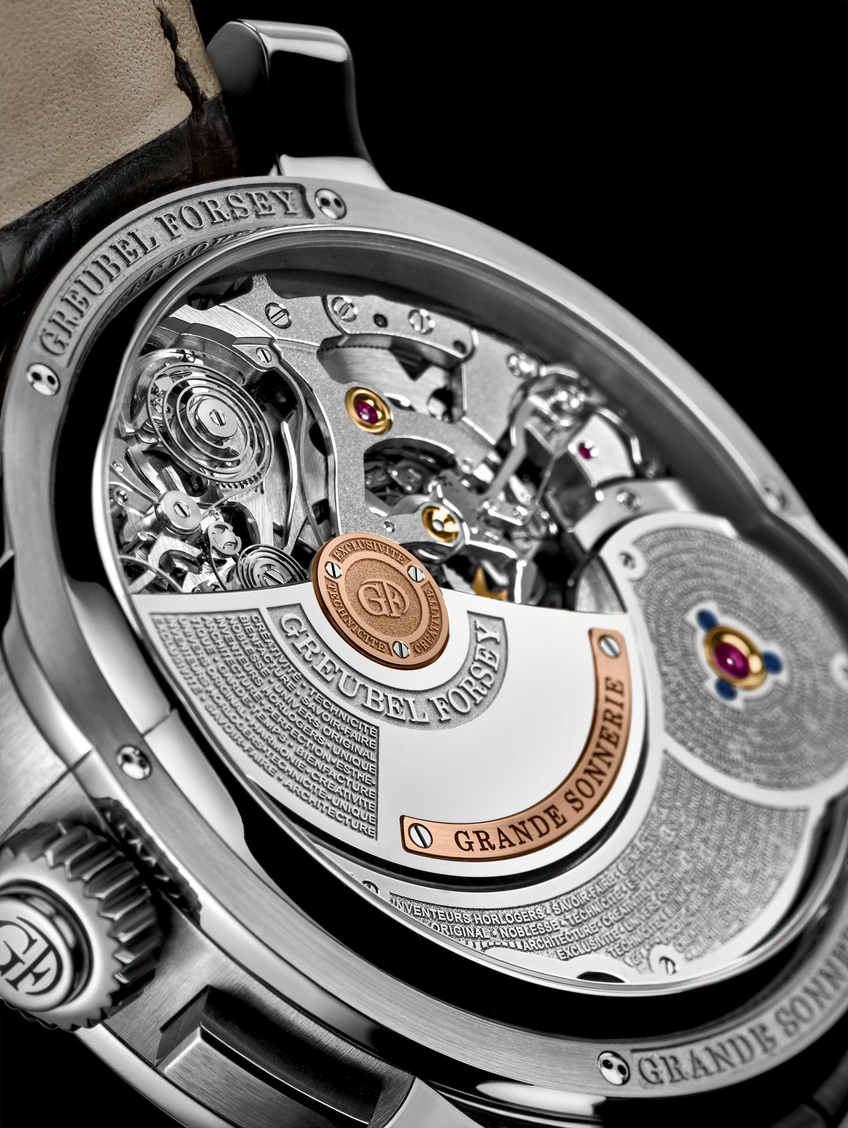 Greubel Forsey Grande Sonnerie
Naturally, we are talking about the grandes sonneries (Greubel Forsey and Vacheron Constantin), the minute repeaters, the perpetual calendars (the Da Vinci by IWC, for instance), the equations of time (Vacheron Constantin), and about those special pieces redolent of the 1990-2000 decade, a time when purists had some sense of what fine work was all about and when sophisticated machines never outperformed the human hand. During those troubled times, which we can well imagine was bound for improvement, those same purists could find timepieces of great complexity and finished with talent. These timepieces from the salon allowed us to forget that the past few years had accustomed us to expressionist hallucinations often a far cry from watchmaking beauty.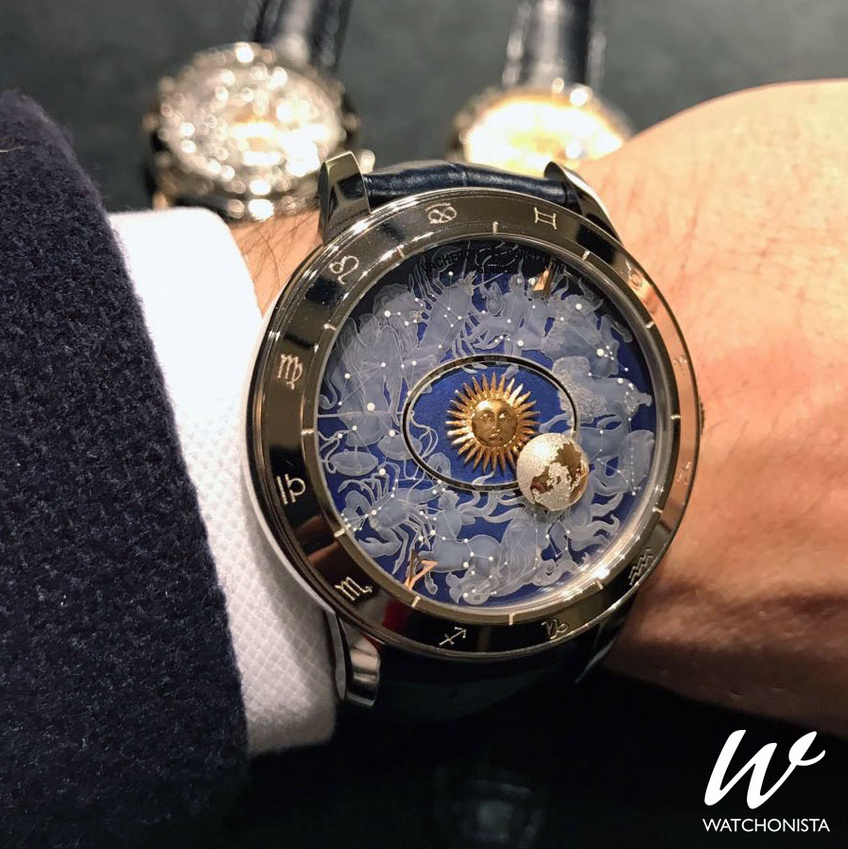 Vacheron Constantin Métiers d'Arts Copernicus Celestial Spheres
In the final analysis, and to conclude, we'll remember this 2017 SIHH, which was opened to the public for the first time, as having brought forth an exceptional harvest. It was unique in the strictest sense, and managed to offer a few thousand fans from the general public the opportunity to see what a big handful of journalists and bloggers talk about every year in their articles and on their sites. They were able to get a real feel of the diversity of the profession. They discovered that a watch can be beautiful and accessible, and what makes a piece exceptional is not a question of price.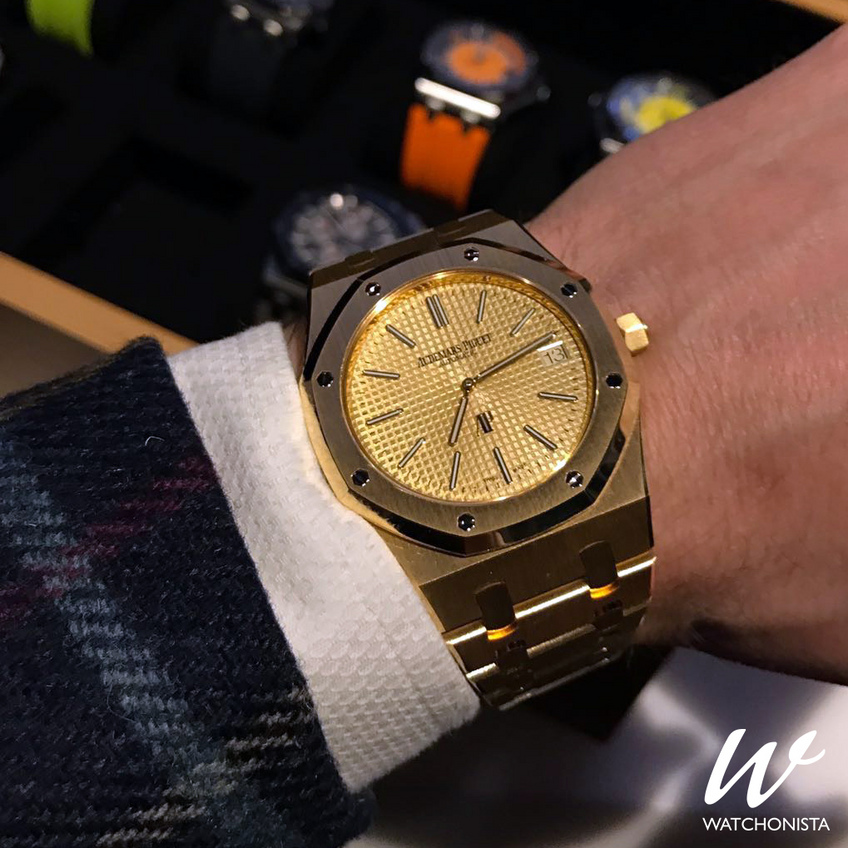 Audemars Piguet Royal Oak Extra-Thin
Finally, they could really discover that a watch can be far more than just an object delivering time.It's a world that is able to reinvent itself in no time in spite of the crisis, that is able to take advantage of its own fragilities and turn them into strengths, and then find its limits in order to rebuild itself on a new foundation. This year, we witnessed an realization of the fact that not everything is possible, but the wonderful thing is to realize that with a little will power, one can actually believe it is.
VISIT OUR SIHH 2017 SPECIAL PAGE
By
Joel Grandjean
,
Editor-in-Chief
It's inevitable. That question comes each time like a knife: "What are your impressions of the SIHH 2017?" And the more querying and...
By
Yannick Nardin
,
Contributor
Why choose between aesthetics, poetry and mechanics? Ladies' wrists will rejoice! The SIHH unveils stunning mechanical models for women.