SIHH 2017: Day 4 – A time of premieres
First grande sonnerie for Vacheron Constantin, first case using cobalt MicroMelt™ for Roger Dubuis, and first integration of graphene in a watch case for Richard mille. That's all it took to turn this specificity into a topic for a day discovering world premieres at the SIHH.
Roger Dubuis Excalibur Quatuor Cobalt MicroMelt® : atomization for a better rebuilding
Destruction in order to rebuild in a new dimension… It's one of the creative strategies much coveted by Alvaro Magimi, Roger Dubuis' designer. This company, which has partnered this year with tire manufacturer Pirelli, came out with the new Excalibur Quatuor Cobalt MicroMelt®. Everyone already knows the incredible manually-wound caliber inside, the RD101. It is made up of 590 components, including four balance wheels and five differentials. It vibrates at 4x4 Hertz, i.e. 115,200 beats per hour, and offers its owner outstanding precision.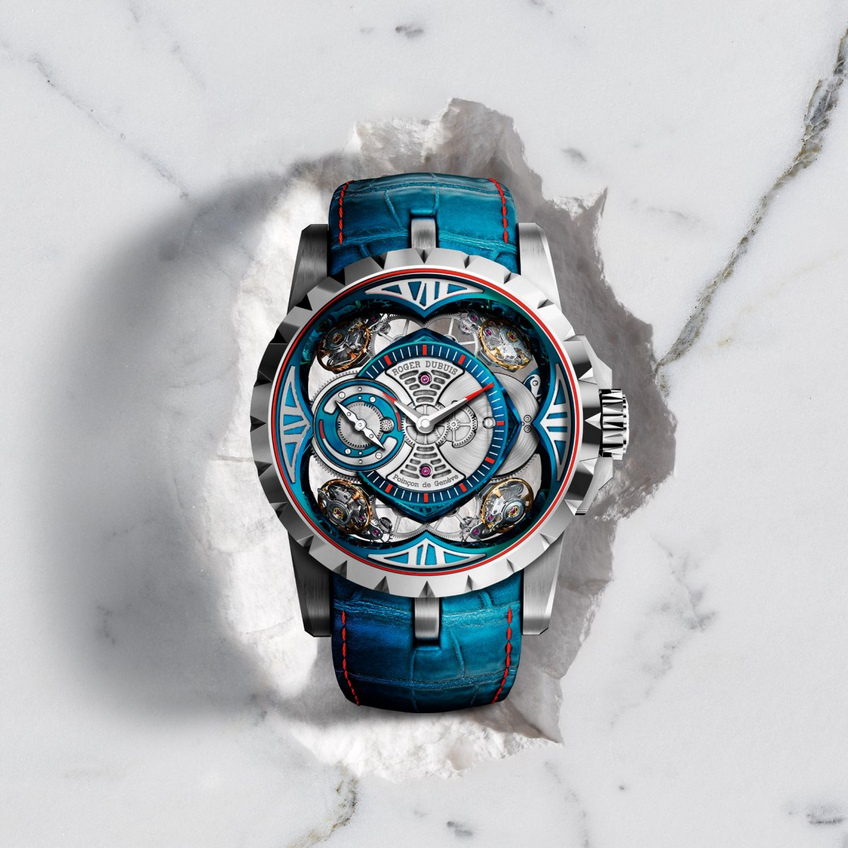 Roger Dubuis Excalibur Quatuor Cobalt MicroMelt®
Well, we've finally gotten the memo. This year, the innovation is not inside the piece itself, but rather on the 48-millimeter case which is made of a chromium-cobalt alloy. This material is made possible thanks to micro-melting. It's a process that involves melting and crushing the alloy to turn it into a fine powder. To get this result, the metal is liquefied and then poured into a gas jet in an fusion induction area under vacuum. The gas is used to atomize it. The resulting powder is then mixed and filtered and, while hot, placed inside an isostatic press.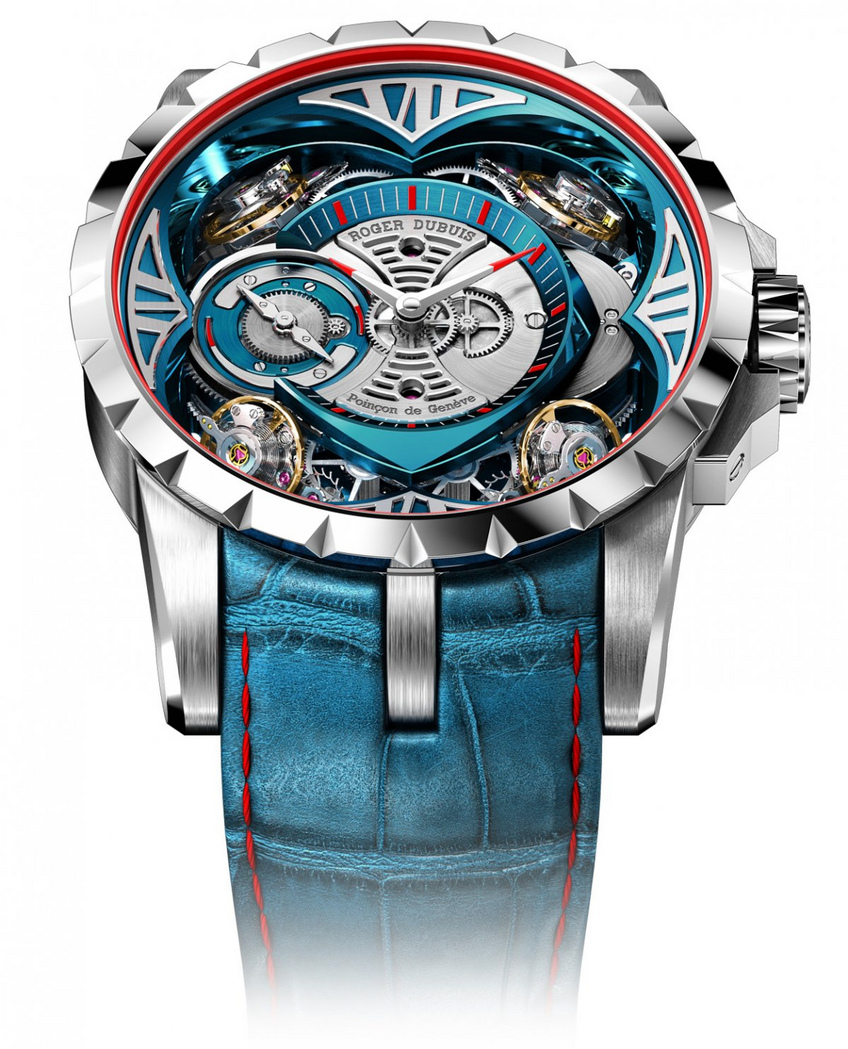 Roger Dubuis Excalibur Quatuor Cobalt MicroMelt®
This allows production of laminated bars of maximal density. They can then be machined to shape their final dimensions. The resulting chromium-cobalt is 100% biocompatible, very resistant to corrosion, thanks to the spontaneous formation of a passive protecting film, and it is very durable because of its multilayered structure and its carbide precipitation. The collection, bearing the Geneva Seal, will be released in a series of only eight pieces. According to the manufacture, a Chinese gentleman visiting the manufacture, finally bought a version of the piece, but had to negotiate hard for it. Say no more…!
Richard Mille RM 50-03 McLAREN-F1: featherweight
The properties of graphene are being explored in depth at the National Graphene Institute of the University of Manchester. Richard Mille manufactured a case made of carbon TPT (thin ply technology) with considerably improved properties owing to the use of injected graphene, a revolutionary material isolated in 2004, which is six times lighter than steel, but two-hundred times stronger.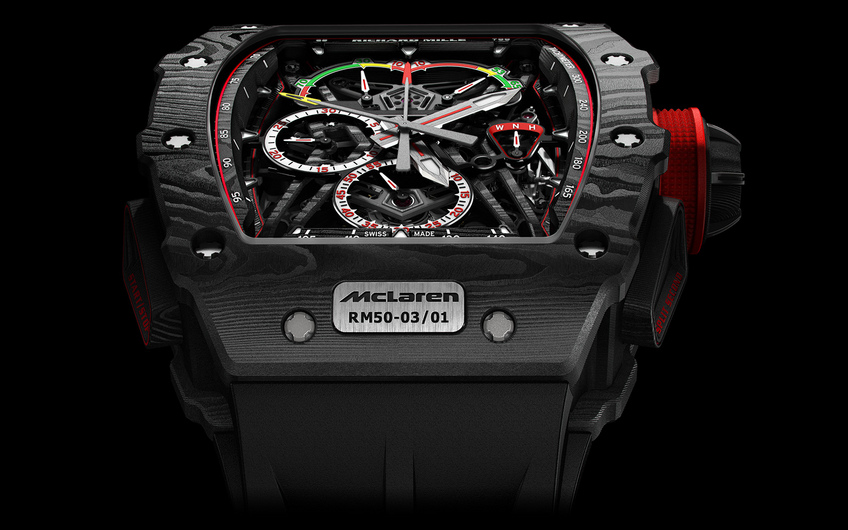 Richard Mille RM 50-03 McLaren F1
The company also worked together with McLaren Technology Group and McLaren-Honda to integrate graphene in their single-seaters, which allowed them to reduce the density of carbon while increasing its resilience. The result:The cases can be a lot lighter. After layering the material according to a specific fiber pattern, the material is placed in a kiln where it solidifies at 120 °C and under 6 bars of pressure.
The tripartite case of the RM50-03 is then machined to make way for the various elements, like the sapphire crystal and the movement. The latter weighs a mere 7 grams and can be considered the lightest in its category. The secret behind this feathery weight is the combination of grade 5 titanium with carbon TPT for the plate and bridges, and extreme skeletonization of any part that might be apt to being lightened up. The RM50-03's caliber is supported by the transversal cage, which is affixed to the middle case and is made of carbon TPT. The cage was inspired by the suspension triangles of the Formula 1 McLaren Honda. The integrated movement provides a power reserve of 70 hours and boasts resistance to accelerations of up to 5,000 g, according to internal tests.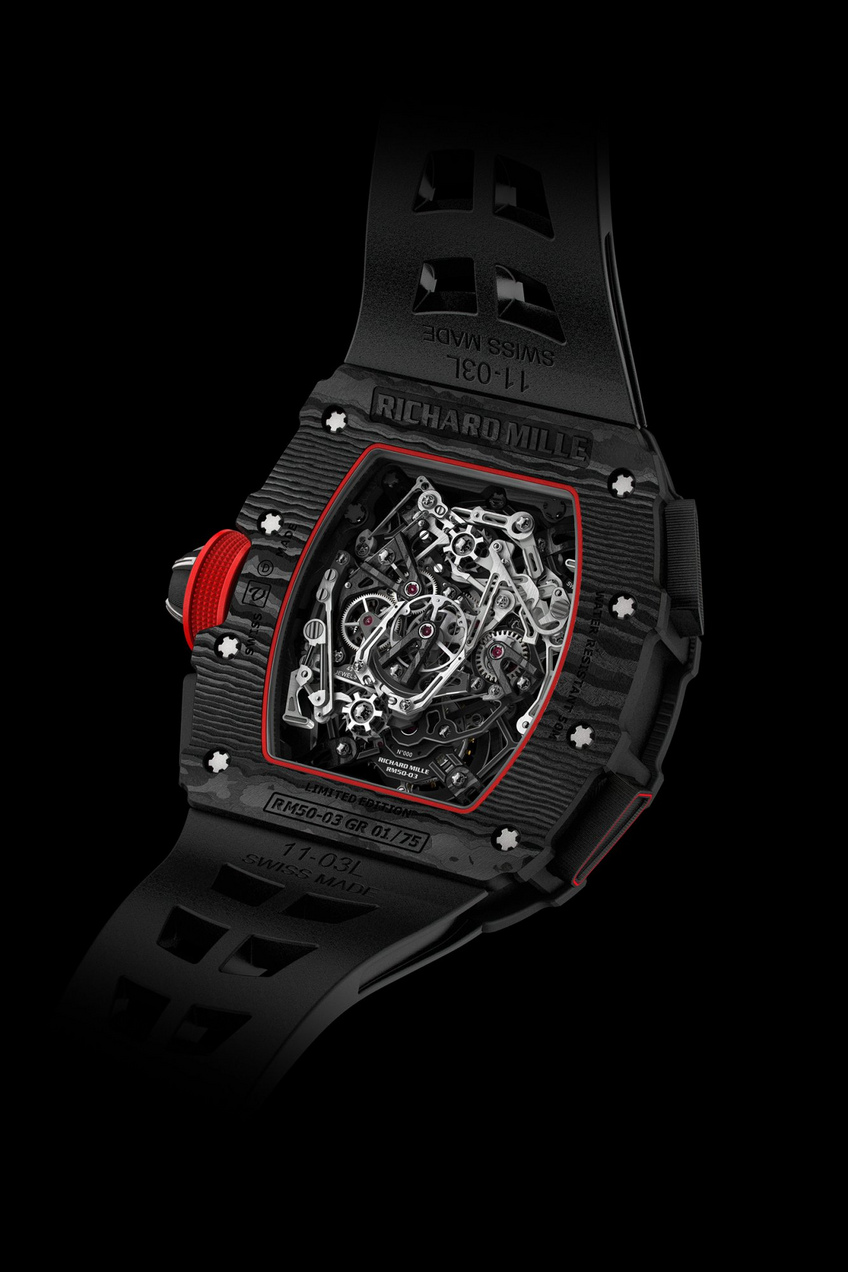 Richard Mille RM 50-03 McLaren F1
Overall, the components have been finished with great care. This modern chronograph, made in compliance with the highest standards of Swiss watchmaking, is regulated by a tourbillon and also features a split seconds function. Combining these complications at the heart of one and the same device demands that energy be perfectly transmitted throughout the mechanism in order to ensure perfect functionality. Friction had to be kept to a minimum to improve performance, in particular when it came to the split seconds complication.
The case has various regulating and functional mechanisms that are inspired from the Formula 1 McLaren Honda. And much attention has been devoted to details: The extraordinary qualities of the graphene demanded that this innovative material be integrated into the rubber strap of the RM50-03. Once again, Richard Mille has come up with an outstanding machine, one that will be released in a limited edition of 75 pieces and is only available in Richard Mille boutiques. And in the annals of horology, it will probably remain the lightest timepiece in its category.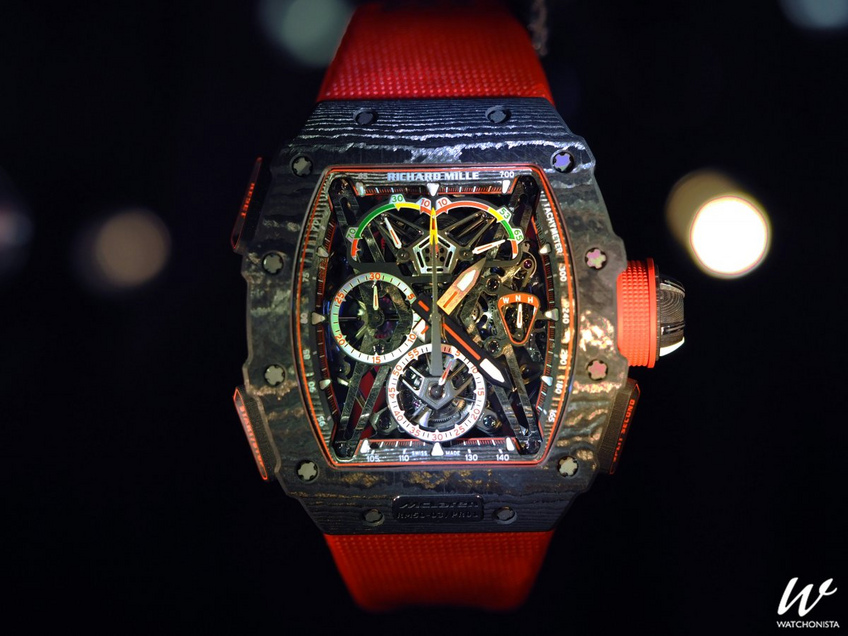 Richard Mille RM 50-03 McLaren F1
Vacheron Constantin Les Cabinotiers Symphonia Grande Sonnerie 1860 : music to our ears
This is the first wristwatch made by Vacheron Constantin to feature a grande sonnerie, a unique piece that meets two technical challenges: having a grande sonnerie in the first place – a complication that only a few virtuosic watchmakers in the world can make – and, secondly, the skill to make it simple and safe to use for its owner. An ultra-complex watch, the movement with bidirectional manual winding required ten years of development and integrates 727 carefully harmonized parts for the wearer to be able to hear the chimes, which come in passing or on-demand.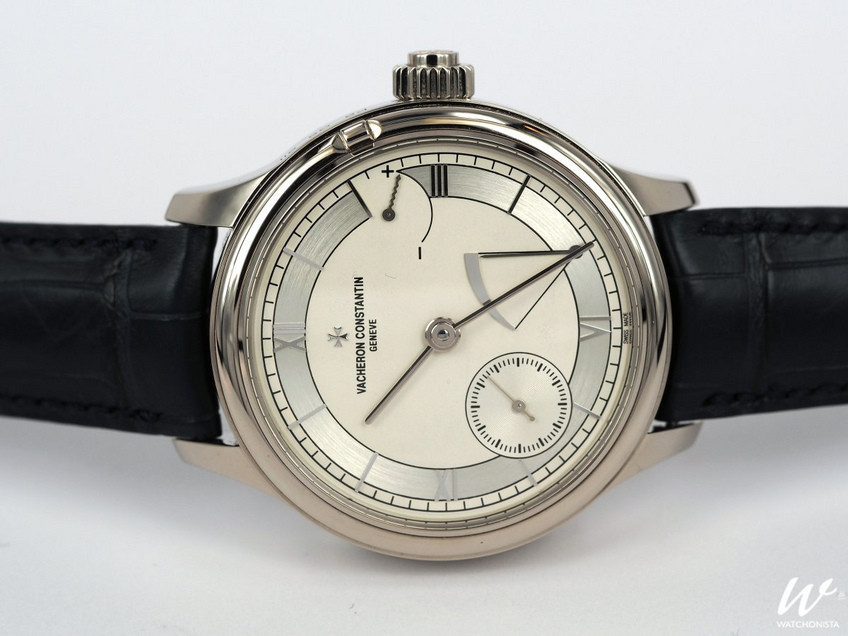 Vacheron Constantin Les Cabinotiers Symphonia Grande Sonnerie 1860
This masterpiece of miniaturization with a very streamlined design comes in white gold and can be personalized. The construction is original. The chiming system is usually placed under the dial and is therefore invisible. But here it can be seen through the transparent case back. This creation endowed with the Geneva Seal represents the sum of wonderfully refined complications. It required use of hundreds of components and pushed the mastery of energy and mechanical complexity to its limits, since in grande sonnerie mode, the mechanism has to set off 96 actions in 24 hours, that is 912 strikes, while producing quality sound. Because beauty knows no limits, this timepiece also comprises a system that allows for on-demand chimes.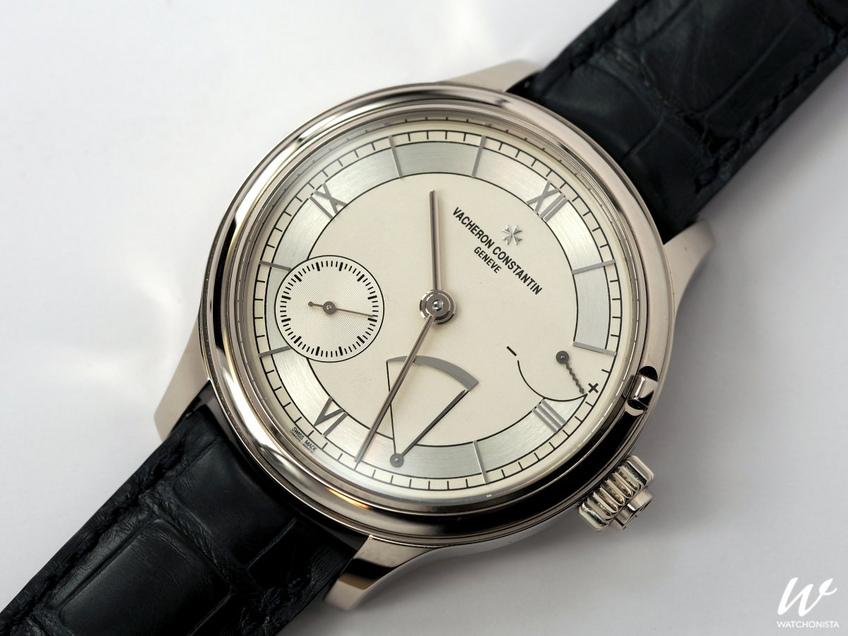 Vacheron Constantin Les Cabinotiers Symphonia Grande Sonnerie 1860
To do so, you merely press the pusher set into the crown. Obviously, this superb piece could at some point stop running. But the watchmakers thought of everything and have installed two power reserve indicators. The first is for the chiming system, the second for the movement. If either one of the them would run out of energy all you need to do is wind up the crown for the watch to recover its gorgeous voice.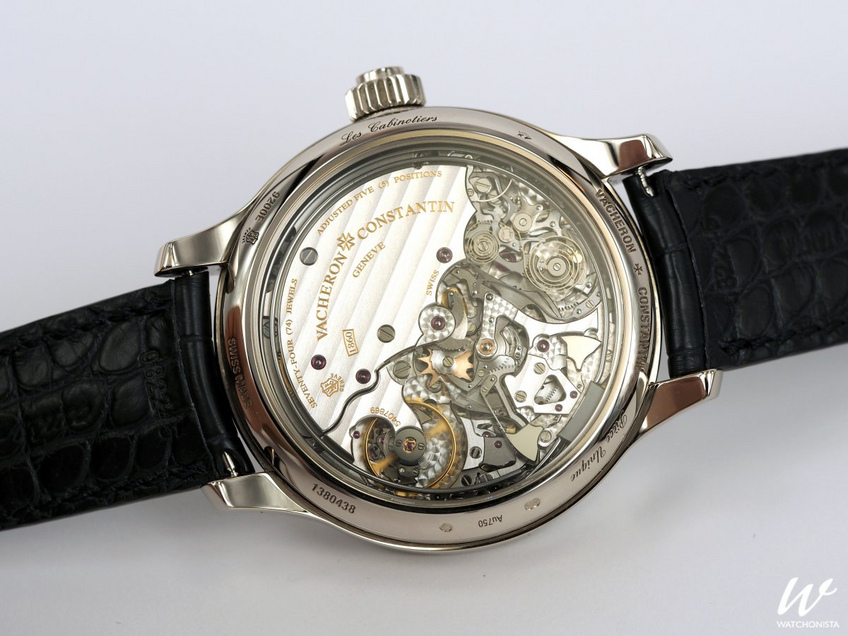 Vacheron Constantin Les Cabinotiers Symphonia Grande Sonnerie 1860
FOLLOW US DURING THE SIHH 2017! DISCOVER OUR SPECIAL PAGE